(Tokohan Senso)
---
Crew
Director – Shinsuke Sato, Screenplay – Aiko Nogi, Based on the Books by Arikawa Hiro, Producer – Tsujimoto Tamako, Photography – Taro Kawazu, Music – Yu Takami, Visual Effects Supervisor – Makato Kamiya. Production Company – Toho/Tokyo Broadcasting System.
Cast
Nana Eikura (Iku Kasahara), Junichi Okada (Atsushi Dojo), Chiaki Kuriyama (Asako Shibasaki), Sota Fukushi (Hikaru Tezuka), Jun Hashimoto (Ryusuke Genda), Koji Ishizaka (Iwao Nishina), Kei Tanaka (Mikihasa Komaki), Naomi Nishida (Maki Orikuchi)
---
Plot
It is Japan in the year 2019. The government has instituted the Media Betterment Committee to impose censorship on books. Strongly opposed to the MBC is the Library Defence Force, which draws on a law that allows libraries the unimpeded freedom to collect printed materials. With the MBC becoming increasingly militaristic in their tactics, the Library Defence Force has created its own standing army to defend each library. Iku Kasahara is a new recruit to the LDF assigned to Kanto Library Base. As a teenager, she was in a bookshop when it was raided by the MBC and one of the LDF soldiers stepped in to save her. Even though she doesn't know who it was, she regards her saviour as her prince and this has inspired her with admiration for what the LDF does. On the force, she comes into conflict with Atsushi Dojo, the commander of her unit, who regards her as badly disciplined. Fighting against her fear of failure, she becomes embroiled as the MBC determine to raid Kanto to destroy copies of a banned book that is supposed to have inspired a serial killer and then a massive defence to protect a private library whose owner recently died as the MBC move in to incinerate its contents.
---
Library Wars began as a series of four so-called 'raito noberu' (light novels), a popular publishing form in Japan usually for Young Adult readers where all the stories run to around novella length and frequently come illustrated. Arikawa Hiro published four of the Library Wars light novels between 2006 and 2007, as well as a spinoff series. These proved to be best-sellers and were duly adapted into a manga Library Wars: Love and War (2007-14) and an anime series Library Wars (2008) from Production I.G., which ran to thirteen episodes. There was also one feature film spawned from the anime with Library Wars: The Wings of Revolution (2012), followed by this live-action film.
I am unable to find much English-language information on Arikawa Hiro but am willing to bet that prior to writing Library Wars and several other romantic light novels, she had a career as a librarian. The basic premise of the series is a variant on the charter of freedoms that all Japanese libraries swear by – this is even repeated at the start of the film. It seems a peculiar premise for a film but out of it Hiro builds a work that, though in a lightweight guise, is about standing for freedom from censorship. The ghost of Ray Bradbury's Fahrenheit 451 (1953) – for which see the film version Fahrenheit 451 (1966) – with its image of a book-burning dystopian future and the fight for intellectual freedom in such a world casts a clear shadow over Library Wars. Even though it is essentially a Young Adult work, the film's writing makes strong and potent points about the stupidity of blaming books/films as the source of social ills.
My main problem with Library Wars was that I had difficulty finding the social scenario it posits credible. Essentially we have a future Japan where the forces of government have imposed draconian censorship that is backed by military force. Opposed to this are the libraries, which are defending themselves with their own private armies. You do a double take when you try and parse the reality of what this would mean – ie. the creation of a heavily militarised private militia to defend itself from government forces as they set about doing their appointed job. Irrespective of whether the MBC are painted as the bad guys, why would any sane government allow a private army, and one that is violently opposed to any incursion by the forces of authority, to exist? Not to mention that this is a militia that is engaged in heavily armed battles in the midst of densely populated civilian areas, which would result in a good deal of collateral damage to property and almost certain loss of innocent lives.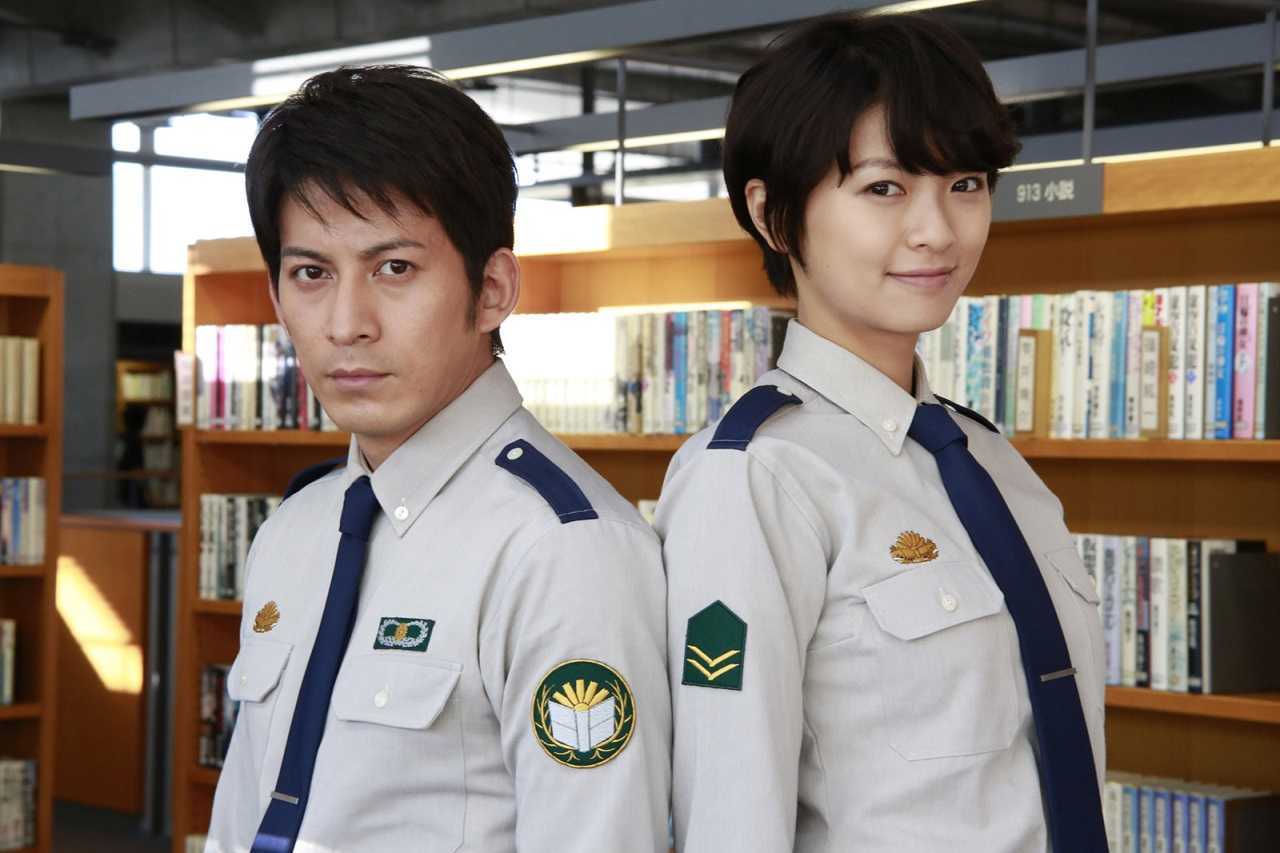 In almost any real world setting, the Library Defence Force would be regarded as dangerous seditionists and all efforts would be made by the government to stamp them out. Why, for instance, doesn't the government just change the law that grants the libraries freedom? Or for that matter, how do the libraries, which are usually funded by municipal government, get the funding for all their heavy armaments and helicopters? Not to mention that this is a society whose ideas of censorship seem to be based on the absence of an internet where surely all of the banned works could simply just be uploaded by someone.
Where Library Wars works the best is less its scenario or action scenes but in its love story. It is a variant on the standard where two couples must ether give up their stubbornness or where one simply has to realise that the object of their affections is right in front of her face. In her part, Nana Eikura has a natural vivaciousness that immediately warms you to her. Opposite her, Junichi Okada has a sternly controlled resolve but one that also radiates an enormously genteel calm and trust. Everything has a predictability in the very girlish way that shoujo manga and anime does but it works with far more of a natural and warm likeability than the absurd over-the-top romanticism of say the Twilight series.
The film is adapted by Shinsuke Sato who has also directed the science-fiction film Princess Blade (2001); the family film All About My Dog (2005); the romance Sand Clock (2008); Gantz (2010) about people forced to participate in a game hunting aliens; the anime Oblivion Island: Haruka and the Magic Mirror (2013); the zombie film I Am Hero (2015); Death Note: Light Up the New World (2016), an entry in the popular Death Note series; the superhero anime adaptation Inuyashiki (2018); and the manga adaptation Bleach (2018).
Shinsuke Sato later made two sequels with Library Wars: The Last Mission (2015) and the tv movie Library Wars: Book of Memories (2015).
---
---