(Burichu)
---
Crew
Director – Shinsuke Sato, Screenplay – Daisuke Habara & Shinsuke Sato, Based on the Manga by Tite Kubo, Photography – Taro Kawazu, Music – Yutaka Yamada, Production Design – Iawo Saito. Production Company – Warner Bros. Pictures Japan/Bleach Film Partners.
Cast
Sota Fukushi (Ichigo Kurosaki), Hana Sugisaki (Rukia Kuchiki), Miyavi (Byakura Kuchiki), Ryo Ishizawa (Uryo Ishida), Erina Mano (Orihime Inoue), Yosuke Eguchi (Isshin Kurosaki), Taichi Saomtome (Renji Abarai), Yu Koyanagi (Yasutora Sado), Hiroto Yamada (Keigo Asano), Seichi Tanabe (Kisuke Urahara), Kokoro Harasawa (Yuzu Kurosaki), Miyu Ando (Karin Kurosaki), Masami Nagasawa (Masaki Kurosaki)
---
Plot
Ichigo Kurosaki is a teenager a high school in Karakura Town. Ever since he was a child, Ichigo has had the ability to see and talk to ghosts. A strange girl Rukia Kuchiki suddenly appears in his room. She says she is a Soul Reaper and despatches one of the ghosts. Not long after, a monstrous Hollow creature bursts into the house and snatches Ichigo's younger sister. Ichigo runs to tackle the monster and again encounters Ruika. However, the Hollow proves too powerful for her to stop. Rukia's only hope is to transfer her powers to Ichigo, which involves stabbing him through the heart. So armed, Ichigo goes on to defeat the Hollow. The next day, Ichigo encounters Rukia at school. Having transferred her powers to Ichigo, she cannot retrieve them until he regains his strength. Thus she is stuck on Earth and unable to return to Soul City and so has taken on the guise of a regular schoolgirl. With no home, she moves into Ichigo's closet. Rukia's brother Byakura then arrives from Soul City and orders her to kill Ichigo or face execution herself. The only hope to save them both seems to be Ichigo stepping up to start training as a Soul Reaper and defeating the powerful Grand Fisher.
---
Bleach was a popular manga that first appeared in Weekly Shonen Jump magazine and ran from 2001 to 2016. As essentially recounted in the film, the manga concerns teenager Ichigo Kurosaki who inherits the powers of a Soul Reaper from Rukia Kuchiki and must battle a series of supernatural entities. The manga gained a good deal of popularity and was adapted into an anime tv series Bleach (2004-12). There were also four anime films spun off from the series with Bleach: Memories of Nobody (2006), Bleach: The Diamond Dust Rebellion (2007), Bleach: Fade to Black (2008) and Bleach: Hell Verse (2010). There has even been a series of stage musicals, several light novels and videogames and a trading card series.
The live-action film version is taken up by Shinsuke Sato who had previously directed the science-fiction film Princess Blade (2001), the family film All About My Dog (2005), the romance Sand Clock (2008), Gantz (2010) about people forced to participate in a game hunting aliens, the anime Oblivion Island: Haruka and the Magic Mirror (2013), the manga adaptation Library Wars (2013) and its sequels Library Wars: The Last Mission (2015) and Library Wars: Book of Memories (2015), the zombie film I Am Hero (2015) and Death Note: Light Up the New World (2016).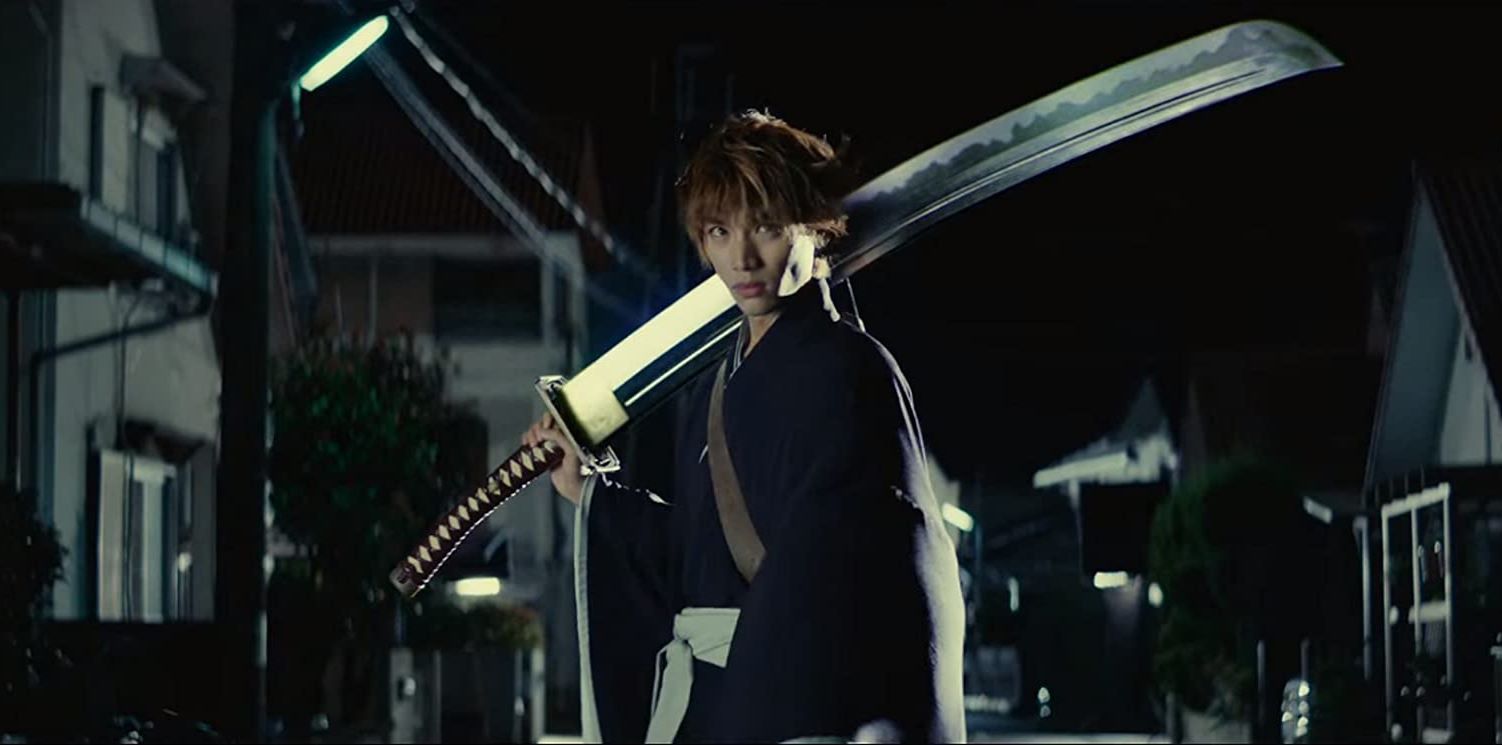 Bleach falls into much of a muchness as these adaptations manga go. I feel like I have watched just a few too many of the same or similar Japanese films in the last few years, all concerning teenage protagonists who are in high school, have unusual powers and lead secret lives where they engage in world-shattering battles with non-human forces. See also the likes of Death Note (2006) and sequels, Parasyte Part 1 (2014) and Tokyo Ghoul (2017), among others.
Beyond that, Bleach plays out as a standard superhero origin story (even if the film itself can be considered more of a martial arts/monster hunter story). There's the hero in inheritance of powers he barely understands; the standard training sequence montage; his being forced to accept the mantle of responsibility and take on a vastly more powerful enemy despite his lack of expertise; and are all the complications of maintaining a secret identity away from his superheroic life. These latter scenes have some amusements but all of this is standard by the book stuff.
We have seen a good deal of the same thing – sword battles and power blasts with giant monsters – play out in the MCU and assorted other superhero works in recent years. Shinsuke Sato does get everything together in the effects department for a reasonable, well-scaled series of scenes with Sota Fukushi fighting the Grand Fisher and in particular during his climactic showdown in the streets with Byaura and Ichigo's refusal to be defeated and continuing to keep coming back.
---
---