---
Crew
Director/Screenplay – Casey Affleck, Producers – Casey Affleck, John Powers Middleton & Teddy Schwarzman, Photography – Adam Arkapaw, Music – Daniel Hart, Visual Effects Supervisor – Erin Barnea, Special Effects Supervisor – Gary Minielly, Production Design – Sara K. White. Production Company – Black Bear Pictures/Sea Change Media/Middleton Media.
Cast
Casey Affleck (Dad), Anna Pniowsky (Rag), Tom Bower (Tom), Elizabeth Moss (Mom), Monk Serrell Freed (Young Man), Deejay Jackson (Counter Man), Hrothgar Mathews (Calvin)
---
Plot
It is several years after the collapse of society due to the QT Virus, which had killed off all women. A father attempts to stay alive along with his daughter Rag who was born just as the virus struck and has remained unaffected. The two live in the woods where he insists that she cut her hair short and introduces her to all they come across as his son. However, in their attempts to find refuge, her presence draws others.
---
Casey Affleck is best known as an actor. One of his first roles was a supporting part in older brother Ben's Good Will Hunting (1997) and he has since gone on to roles in films like Ocean's Eleven (2001), Soul Survivors (2001), 'The Assassination of Jesse James by the Coward Robert Ford (2007) in which he played said coward and accrued an Academy Award nomination, Gone Baby Gone (2007), The Killer Inside Me (2010), Ain't Them Body Saints (2013), Interstellar (2014), A Ghost Story (2017) and winning an Academy Award and several other leading awards/nominations for Manchester By the Sea (2016), among other roles. In between these, Affleck also made his directorial debut with the Joaquin Phoenix mockumentary I'm Still Here (2011).
Light of My Life was an unknown when I watched it. The title did nothing to suggest a genre film – it feels more like an inspirational drama about a parent and child that would be made for say the Lifetime network. In fact though, it is a post-holocaust film. Although rather than anything that approaches Mad Max 2 (1981) and large junk pile of action-driven imitators, Casey Affleck takes his directorial lead from The Road (2009). There is an almost identical story in both films focused on the relationship between a parent and their child on a journey across a desolate landscape.
Light of My Life joins a spate of films influenced by The Road that include the likes of Into the Forest (2015), The Survivalist (2015) and Here Alone (2016) – all of which turn their back on post-holocaust action scenarios and craft similar small, intimate stories of survival. Light of My Life also has surprising similarities to Only (2019), which premiered two month later, and had a very similar plot about the last woman remaining in a world where a plague has killed off all women. Not long after both these came out there were two tv series based around the premise of all men in the world but one being killed off with Creamerie (2021- ) and Y: The Last Man (2021).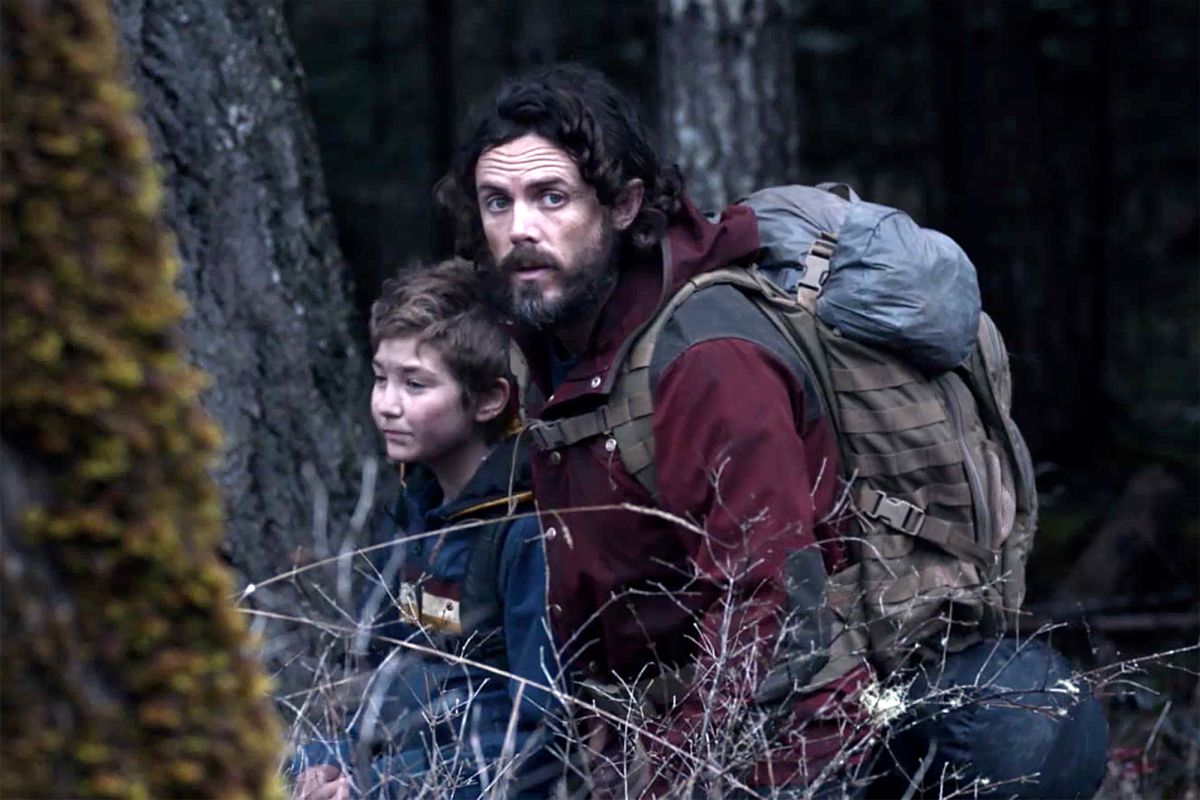 In fact, I would argue that Affleck actually does a better job of crafting the relationship between parent and child than John Hillcoat did in The Road. It is a film shot with a soft tenderness – often in two shots or scenes filmed by candlelight. Affleck is eccentric enough to give us a twelve-minute long opening scene that is an almost entirely unbroken shot looking down on him and Anna Pniowsky lying side-by-side in a tent in which he tells a highly creative interpretation of the story of Noah's Ark. Many of the scenes are just Affleck turning the camera on himself – one of the best of these is an hilariously scene that goes on for several minutes as he awkwardly tries to tell Anna Pniowsky about the birds and the bees.
What strikes most about the film is Casey Affleck's sparseness. The film is beautifully photographed in areas of British Columbia's Okanagan Valley, much of it taking place outdoors. Like The Road and most of the films in this survivalist genre cited above, Affleck keeps details about what happened to a minimum. We only ever piece together things from the newspaper headlines in the attic. It is here when we learn that all of the women in the world have been killed off. It is only after we see this, which comes some way into the film, that other touches early in the show – Casey Affleck's insistence to the man they meet in the woods that Anna Pniowski is his son and the man's casually tossed-off comment "that's a comely boy" and Casey's immediate decision to pack up and move camp – become apparent.
It is an enormously subtle film with many small and understated things. The dialogue is often surprisingly thoughtful – there are not many other films out there that offer up discussions about the difference between morals and ethics. Not to mention it has perhaps the nicest carjacking ever depicted on screen.
(Nominee for Best Actress (Anna Pniowsky) at this site's Best of 2019 Awards).
---
---