aka Bad Blood; The Night is Young
---
Crew
Director/Screenplay – Leos Carax, Photography – Jean-Yves Escoffier, Special Effects – Guy Trielli, Art Direction – Jacques Dubus, Thomas Peckre & Michel Vandestein. Production Company – FR3/Les Films Plains Chants/Soprofilms/Unite 3.
Cast
Denis Lavant (Alex Lavognan), Juliette Binoche (Anna), Michel Piccoli (Marc), Hans Meyer (Hans), Julie Delpy (Lise), Carroll Brooks (The American Woman)
---
Plot
Paris in the near future. Streetwise cardsharp Alex Lavognan is recruited by two criminals, Marc and Hans, to help steal a vaccine to SYPO, a virus that causes people to have sex without love. In the restless heatwave created by the approaching Halley's Comet, Alex however falls in love with Marc's melancholy daughter Anna.
---
French Cinema is often something maddening to people raised on a diet of American commercial cinema – it is elliptical and indifferently paced, frequently pretentious and pseudo-intellectual as hell, and often not about anything at all. I have a lack of patience with some of the acclaimed names to emerge from the so-called French new Wave and their tedious experimentalism foisted off on audiences.
Mauvais Sang, known under various English-language translations listed above but mostly under its French title, is certainly a film that is not about much at all. Director Leos Carax has almost no interest in the thriller aspects, the very scanty science-fictional elements or even the AIDS allegory that the premise seems to be shaping up to be. Indeed, Carax is a director who by his own confession regards a script as vague and encourages his cast to improvise their own lines.
For all its central aimlessness and lack of focus, Mauvais Sang is a film where everybody is clearly having a ball. Leos Carax successfully avoids pretensions and produces a film that bursts with its own vitality. Some of the scenes, like the image of Denis Lavant dancing through the streets to David Bowie's Modern Love (1983), or his little impressions and ventriloquist's tricks to try and cheer Juliette Binoche up, run with an unadulterated joy.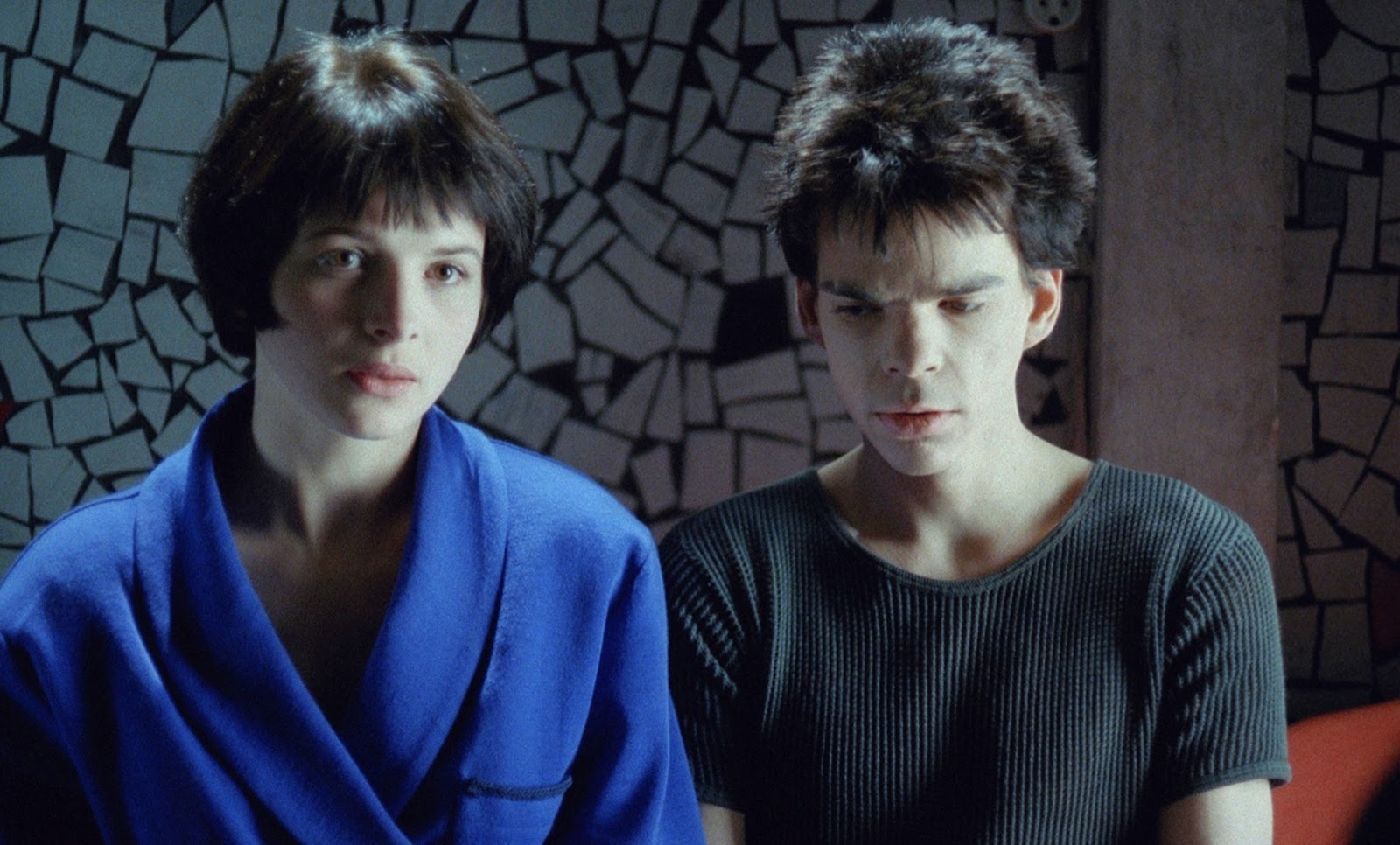 Some of Carax's camera set-ups are irritatingly obtrusive – he has a fondness for closeups from behind people's heads – but other scenes – the long lyrical scene with Denis Lavant parachuting with the unconscious Juliette Binoche in his arms, or of he peculiarly affectionately carrying her across a street; and the bizarre image of a fight with both opponents squashed out-of-shape up against a full-length window – are inventive.
Denis Lavant plays with a rough-faced independence but it is the women who come off best, especially melancholy, disaffected waif Juliette Binoche, who is capable of lighting up the entire screen with one of her infrequent smiles, and Julie Delpy as Piccoli's wild, striking girlfriend. (Both Binoche and Delpy were almost completely unknown faces at the time). It does wind down a little at the end, with a very silly hostage scene that plays exactly like a serious version of the one in Blazing Saddles (1974), as though Carax had no idea how to end the film.
This was the second film Leos Carax who subsequently emerged one of the most exciting and consistently interesting French directors in subsequent years. Carax later went onto the acclaimed romantic film Amants du Pont-Neuf/The Lovers on the Bridge (1991), also featuring Juliette Bioche and Denis Lavant, Pola X (1999). Carax later returned with the arthouse hit of the surrealist Holy Motors (2012) starring Denis Lavant in multiple roles and the surreal musical Annette (2021).
---
---