---
Crew
Director/Story – Duncan Jones, Screenplay – Michael Robert Johnson & Duncan Jones, Producers – Stuart Fenegan & Ted Sarandos, Photography – Gary Shaw, Music – Clint Mansell, Visual Effects Supervisor – Marty Waters, Visual Effects – Atomic Arts (Supervisors – Justin Cornish & Brooke Lyndon-Stafford), Cinesite (Supervisor – Salvador Zalvidea) & The Senate Visual Effects, Special Effects – Nefzer Special Effects (Supervisor – Ulrich Nefzer), Makeup Effects – Twilight Creations, Production Design – Gavin Bocquet. Production Company – Liberty Films/Studio Babelsberg
Cast
Alexander Skarsgård (Leo), Paul Rudd (Cactus Bill), Justin Theroux (Duck), Seyneb Saleh (Naardirah), Robert Sheehan (Luba), Lea-Marie Bastin & Mia-Sophie Bastin (Josie), Noel Clarke (Stu), Gilbert Owudor (Maksim), Ulf 'Herman the German' Nadrowski (Gunther), Jannis Niewuhner (Nicky Simsek), Dominic Monaghan (Oswald), Andrzej Blumenfeld (Akim), Niki Lamborn (Rhonna), Daniel Fathers (Sergeant Robert Klokowski), Florence Kasumba (Tanya), Melissa Holroyd (Ms Cunc), Anja Karmanski (Kathy), Barbara Ewing (Edna Ayers)
---
Plot
Berlin in the future. Leo is a barman who grew up in an Amish family but is mute because his parents forbade modern medical surgery. He very much loves Naardirah who works as a waitress at the same club he does. One evening, she abruptly disappears. Distraught, Leo begins searching for her, tracing her movements. This takes him into the underworld of the area and dealings with shadowy criminal figures. At the same time, Cactus Bill, an American living in Berlin and working as a blackmarket surgeon, is determined to obtain the fake passports he needs so that he and his daughter Josie can get out of the city. The two paths that Leo and Cactus Bill take run in the same circles and pit them on a collision course..
---
Mute was the fourth film from Duncan Jones who made a splash with the SF film Moon (2009) and subsequently went onto the likes of Source Code (2011) and the videogame adaptation Warcraft (2016). Jones had wanted to make Mute for many years. He says that he considers it a sequel to Moon (even though there are no characters or elements within the film that suggest the two follow on from one another – at one point, Jones had wanted to have Sam Rockwell make a cameo appearance). Mute was originally planned for a theatrical release but this was changed and the film instead premiered directly on Netflix where it received almost unanimously negative reviews.
The film is set in Berlin – I have been unable to ascertain if that is the way that Jones originally intended it or if that is something that was made due to the co-production deal with Studio Babelsberg. Of course the Berlin setting has some undeniable associations for Jones. His father David Bowie made his own hugely iconic trilogy of albums – Low (1977), "Heroes" (1977) and Lodger (1979) – back when the city was still West Berlin during the 1970s and these are an undeniable part of imagery associated with Berlin of that era.
Mute also reminds of another famous Berlin filmmaker Wim Wenders who made at least a couple of science-fiction works with Until the End of the World (1991) and The Million Dollar Hotel (2000), as well as several film noirs that tell similar human stories of people against the backdrop of modern society.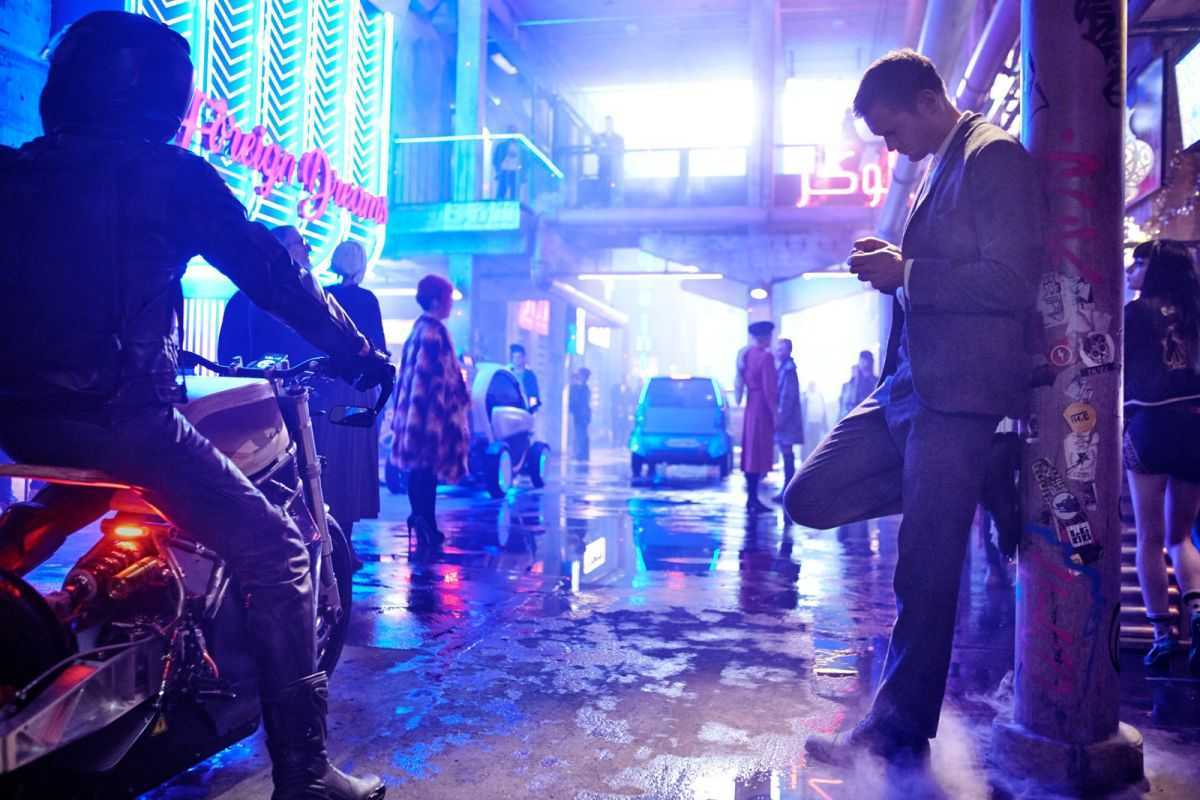 I didn't quite get a handle on Mute before it was released but seeing it it turns out to not be too much more than a standard work of neo-noir. Jones taps the whole future noir/Cyberpunk look that Ridley Scott patented with Blade Runner (1982) – Berlin a densely cluttered city teeming with different characters; neon Day Go nightclubs; advertising signs and perpetual night or rain; flying cars, cyborg attachments and other nifty pieces of future tech. It looks at once instantly familiar and tired.
One of the drawbacks is that the main drag of the city looks just like one big set on a soundstage. This does expand out in some of the later scenes, particular during Alexander Skarsgård's road-bound chase of the flying car, which have clearly been shot on location, but the main big set where much of the story takes place just doesn't have enough of a budget outlaid on it to open up sufficiently to seem convincing.
The other problem is the plot. It is a classic noir story – the man obsessed with finding his missing girl on a search that takes him down into a dark and twisted underworld – but what it crucially isn't oddly enough is a science-fiction story. Indeed, take away the futuristic setting and the entire plot could play out in contemporary Berlin or almost any other metropolis with no changes to any significant part of the story.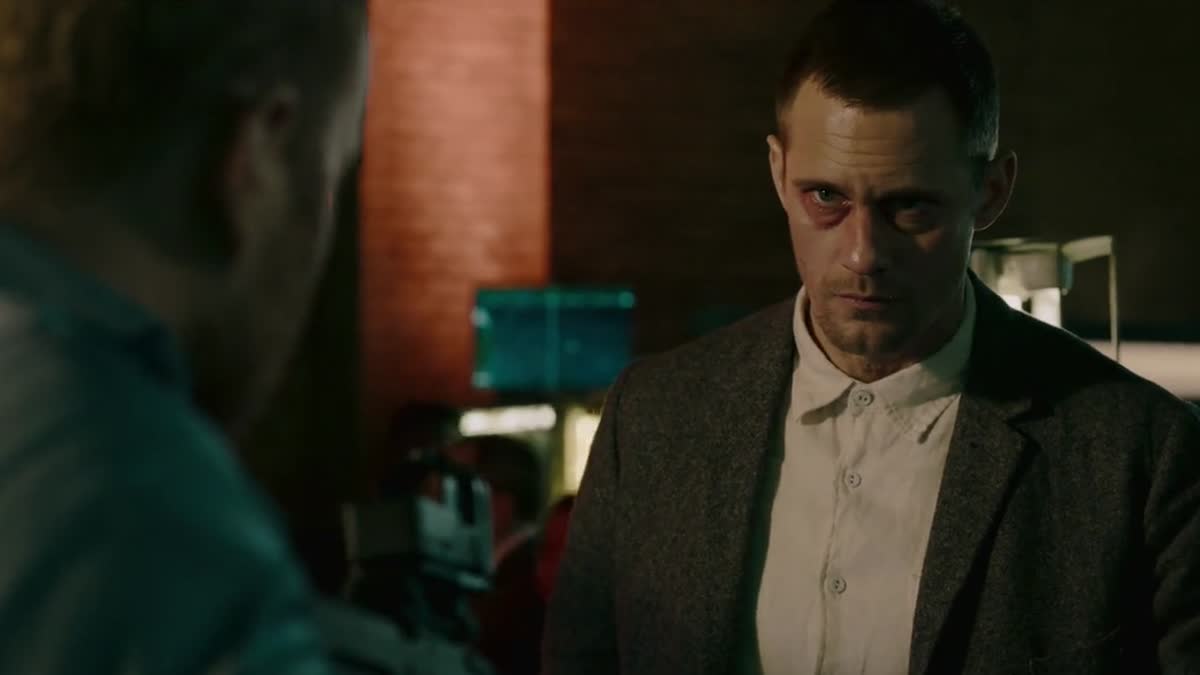 As a noir story, it travels along without gripping you. For one, there are two story strands that overlap but only ever connect at the end. For a long time, you sit following Paul Rudd and his various escapades and keep wondering what the significance of these are and where the story is going.
Certainly, the two things that give the story drive are the two principal actors – Alexander Skarsgård and Paul Rudd. Skarsgård plays the mute role with fierce regard, his whole body in iron determination, leaping across the bar and pounding his fist on tables to make his point. It is the intense determination of his performance that drives the film far more so than the plot does. Paul Rudd plays at almost opposite extreme. Usually seen as a hapless or milquetoast average guy in comedy roles, here he gives a lazy laidback performance with an eventual aggressive turn to it. His story is one that doesn't seem to go anywhere for a long time but it is equally his very blasé presence that drives the film during these scenes.
(Nominee for Best Actor (Alexander Skarsgård) at this site's Best of 2018 Awards).
---
---