---
Spain/UK. 2004.
Crew
Director – Brian Yuzna, Screenplay – Alberto Vazquez Figueroa, Based on His Novel El Perro, Additional Dialogue – Miguel Tejada-Flores, Producers – Julio Fernandez & Brian Yuzna, Photography – Javier Salmones, Music – Mark Thomas, Visual Effects – Infinia (Supervisor – Mariano Liwski), Animatronics – Vincent Guastini Productions, Makeup Effects – Pepe Quetglas, Production Design – Balter Gallart. Production Company – Filmax International/Future Films Limited/Fantastic Factory/Canal + Espana/Institut Catalao de los Industrios Cultura/ICF/Instituo de Credito Oficial/Castelao Productions S.A./Media/Egeda.
Cast
William Miller (Dante), Paulina Galvez (Alyah), Irena Montala (Ula), Ivana Baquero (Esperanza), Lluis Homar (Guard Borg), Paul Naschy (Kufard), Nicholas Aaron (Sugarman), Cornell John (Dongoro), Lolo Herrero (Nacho), Ilario Bisi-Pedro (Aranda), Ramata Koite (Berta)
---
Plot
The year 2018 at a prison camp in southern Spain. Two prisoners, Dongoro and the American refugee Dante, make an escape chained together. Dongoro is attacked and killed by a rottweiler guard dog but Dante gets free after the dog chews Dongoro's hand off. Dante flees across countryside, trying to find the way back to his girlfriend Ula. He and Ula smuggled into the country illegally but were captured by the brutal Warden Kufard who forced himself onto Ula while Dante watched. Dante is recaptured by a guard and his rottweiler but makes an escape by shooting both the guard and dog. However, the rottweiler is a cyborg that comes back to life. It now ruthlessly pursues Dante, killing every person that he encounters in his cross-country flight.
---
Brian Yuzna is a genre director who has managed to produce a body of always interesting films. Starting out as a producer on films for Stuart Gordon like Re-Animator (1985), From Beyond (1986) and Dolls (1987), Yuzna then made his directorial debut on the amusingly perverse Society (1989). Yuzna since went onto direct other genre films such as Bride of Re-Animator (1990), Silent Night, Deadly Night 4: The Initiation (1990), Necronomicon (1993), Return of the Living Dead III (1993), The Dentist (1996), The Dentist 2 (1998) and Progeny (1999). In 2000, Yuzna formed Fantastic Factory and set up shop in Spain. The intent with Fantastic Factory was to act as a studio making quality low-budget genre films. Under the Fantastic Factory label, Yuzna has directed Faust: Love of the Damned (2000), Beyond Re-Animator (2003), Rottweiler, Beneath Still Waters (2005) and Amphibious 3-D (2010). Fantastic Factory have also produced various other films where Yuzna has acted as producer, including Arachnid (2001), Stuart Gordon's Dagon (2001), Darkness (2002), Romasanta: The Werewolf Hunt (2004), The Nun (2005) and Takut: Faces of Fear (2008).
Unfortunately for Brian Yuzna, while his American-made films are filled with a perverse humour, most of his Spanish-made ones (so far) seem lacking. Compare Yuzna's Rottweiler to the fine Romasanta made by Paco Plaza at Fantastic Factory the same year and one can see the difference. Rottweiler is based on El Perro (1975), a novel by Spanish writer Alberto Vazquez Figueroa, which had previously been filmed as El Perro/The Dog (1976). The Figueroa novel appears to be written as a political allegory but in Brian Yuzna's hands, even though Figueroa conducts the film adaptation himself, the basics are transplanted from a contemporary Latin American dictatorship into the future. The dog, which in the original was a metaphor for cruel authoritarianism, is turned into a routine killer dog with a cyborg skeleton – sort of a canine version of The Terminator (1984). Out has gone all allegorical elements and Rottweiler seems to be nothing more than a standard Watchers (1988) sequel.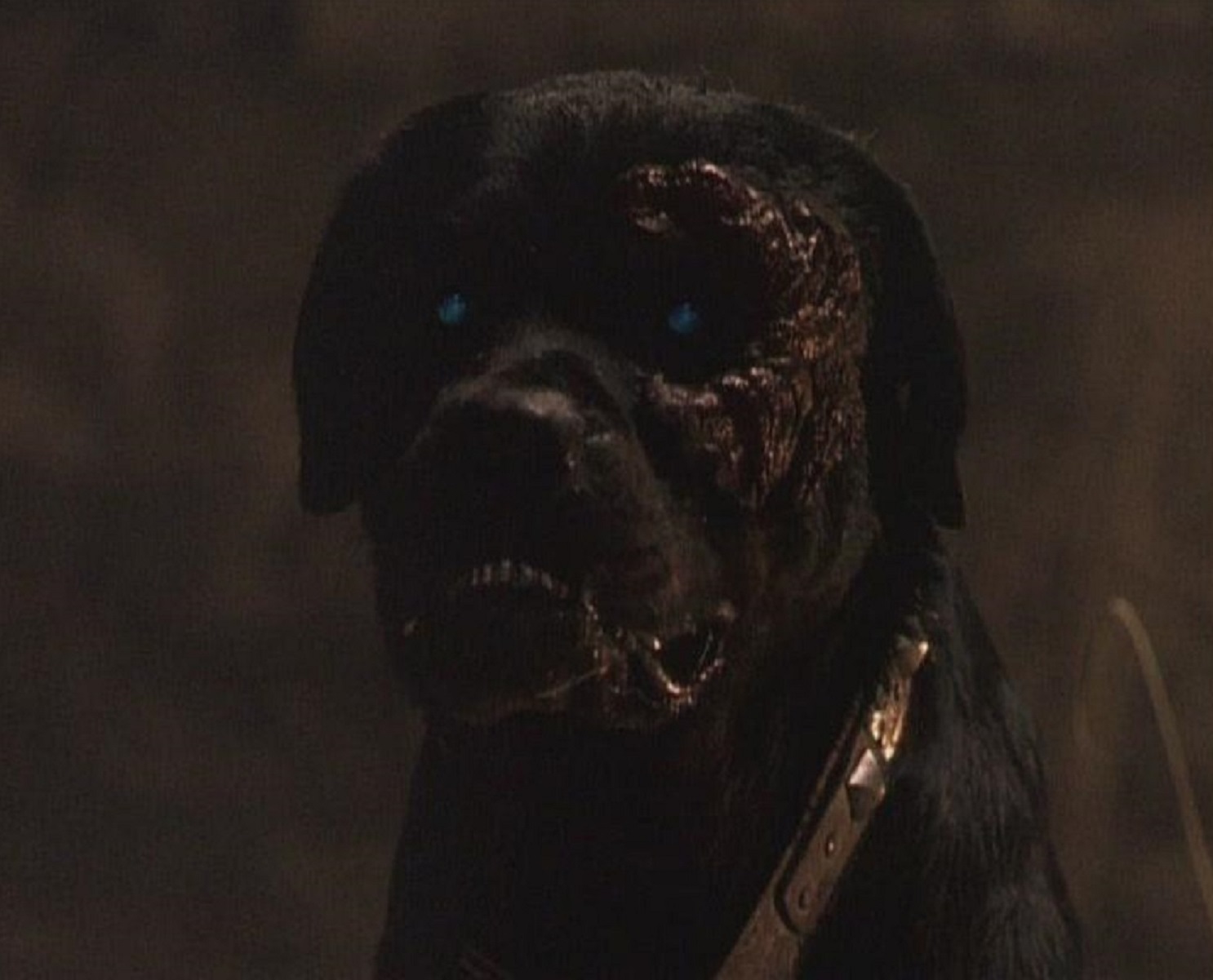 For a long time, Rottweiler doesn't feel like it is going anywhere – William Miller escapes prison and flees across the countryside, encounters and escapes from a guard (Lluis Homar), comes across some drug dealers, has various flashbacks. There is little to do with the rottweiler during this time. Indeed, not much happens at all – the film is incredibly thinly plotted. Most of it feels like padding and even then Yuzna fails to give us adequate explanations for what is happening – for much of the first half, it is never particularly clear if the rottweiler is a cyborg or what, or why it came back from the dead. We never find out why William Miller has amnesia about what happened to his girlfriend. Also the details concerning the reasons that Miller and Irena Montala were refugees in the first place are never mentioned. To Yuzna's credit, he generates a reasonable degree of suspense during the scenes with the rottweiler attacking Paulina Galvez's house and bursting into the prison van. Rottweiler is also a very gory film at times. Brian Yuzna often likes to throw perverse sexual elements into his films, although the scene here where Paulina Galvez forces William Miller to have sex just as the dog starts attacking comes out as silly.
One of the more notable things that Brian Yuzna does with Rottweiler is to bring Spanish actor/director Paul Naschy/Jacinto Molina out of semi-retirement for the role of the sadistic warden. Paul Naschy is better known as an actor in numerous Spanish horror films, most notably as the wolfman Waldemar Daninsky in a host of sequels beginning with Frankenstein's Bloody Terror (1968). At age seventy, Naschy plays with a cruelty that stands out above the anonymous performances of the leads.
---
Trailer here
---