---
Crew
Director – Simon McQuoid, Screenplay – Dave Callaham & Greg Russo, Story – Greg Russo & Oren Uziel, Based on the Videogame Created by Ed Boon & John Tobias, Producers – Todd Garner, Simon McQuoid, E. Bennett Walsh & James Wan, Photography – Germain McMicking, Music – Benjamin Wallfisch, Visual Effects Supervisor – Chris Godfrey, Visual Effects – Artisan Post Group, Fin Design + Effects, Kojo, Method Studios (Supervisors – Avi Goodman & Glenn Melenhorst), Mr. X (Supervisor – Jason Billington), Resin, Rising Sun Pictures (Supervisors – Dan Bethell & Dennis Jones) & SlateVFX (Supervisors – David Booth & Bryn Farrelly), Special Effects Supervisor – Peter Stubbs, Prosthetic Makeup Supervisor – Larry Van Duynhoven, Production Design – Naaman Marshall. Production Company – New Line Cinema/Atomic Monster/Broken Road.
Cast
Lewis Tan (Cole Young), Jessica McNamee (Sonya Blade), Josh Lawson (Kano), Joe Taslim (Bi-Han/Sub-Zero), Mehcad Brooks (Jax), Ludi Lin (Liu Kang), Laura Brent (Allison), Matilda Kimber (Emily), Tadanobu Asano (Lord Raiden), Chin Han (Shang Tsung), Max Huang (Kung Lao), Hiroyuki Sanada (Hanzo Hasashi/Scorpion), Sisi Stringer (Mileena), Nathan Jones (Reiko), Mel Jarnson (Nitara), Daniel Nelson (Kabal), Yukiko Shinohara (Harumi Hasashi), Ren Miyagawa (Satoshi 'Jubei' Hasashi)
---
Plot
Cole Young supports his family by participating in fight tournaments for cash. He suddenly comes under attack by Bi-Han, nicknamed Sub-Zero for his ability to project cold. He is saved by the former soldier Jax who urges Cole to get his family to safety and find Sonya Blade. Sonya reveals to Cole that Sub-Zero is agent from Outworld who is hunting and eliminating all who have the same birthmark that Cole does. The birthmark makes them the ones chosen to defend Earth in the Mortal Kombat. Outworld has defeated Earthrealm in nine of the ten Mortal Kombats tournaments – if Outworld win the tenth tournament, they will be able to enslave the Earth. Sonya has the Australian mercenary Kano, who also has a birthmark, a prisoner. As they come under attack, Kano offers to lead them to the temple of Lord Raiden. There they are greeted by Raiden, the god of lightning, and his acolyte Liu Kang. Though the other defenders have been eliminated, Raiden sets about training those that remain. However, Sub-Zero and Shang Tsung, the ruler of Outworld, comes determine to kill them before the tournament begins.
---
Mortal Kombat (1992) was a computer game, initially released to video arcades and later for home computer. In the game, players can choose roles as various fighters where they would engage in combat up against opponents and pass through increasingly tougher levels. The creators had started out wanting to make a ninja game and were at one point in talks to make one starring Jean-Claude Van Damme, while they stated that they took inspiration from Hong Kong Wu Xia Cinema of the 1980s. The game was titled 'mortal kombat' is order to avoid potential copyright issues with 'mortal combat', which had already been claimed. The game was massively popular and there have been ten follow-up games, plus several ancillary games. The popularity of the game has also seen the release of several soundtrack albums, a collectible card game and even a live touring stage show in 1995.
The videogame came to the screen with Paul W.S. Anderson's Mortal Kombat (1995), which was one of the very first videogame adaptations on screen and the first not to be completely terrible. (See Videogame Adaptations). The popularity of the film led to the universally disliked follow-up Mortal Kombat: Annihilation (1997). There was also a short-lived live-action tv show Mortal Kombat: Conquest (1998-9), which ran for 22 episodes, and the animated tv series Mortal Kombat: Defenders of the Realm (1996). More recently, the franchise underwent a revival with the entertainingly ultra-violent animated film Mortal Kombat Legends: Scorpion's Revenge (2020) and other films subsequent to this Mortal Kombat Legends: Battle of the Realms (2021) and Mortal Kombat Legends: Snow Blind (2022).
A third Mortal Kombat film was always planned back in the 1990s, although ended up being killed off by the flop of Annihilation. There have been periodic on/off announcements of such throughout the 2000s. Things did not become serious until the involvement of James Wan, director of Saw (2004), The Conjuring (2013) and Aquaman (2019) among others, in 2015. Wan was rumoured to direct but merely produces the final result while the director's chair goes to Simon McQuoid, an Australian who had won awards for his work in commercials and makes his feature-film debut here.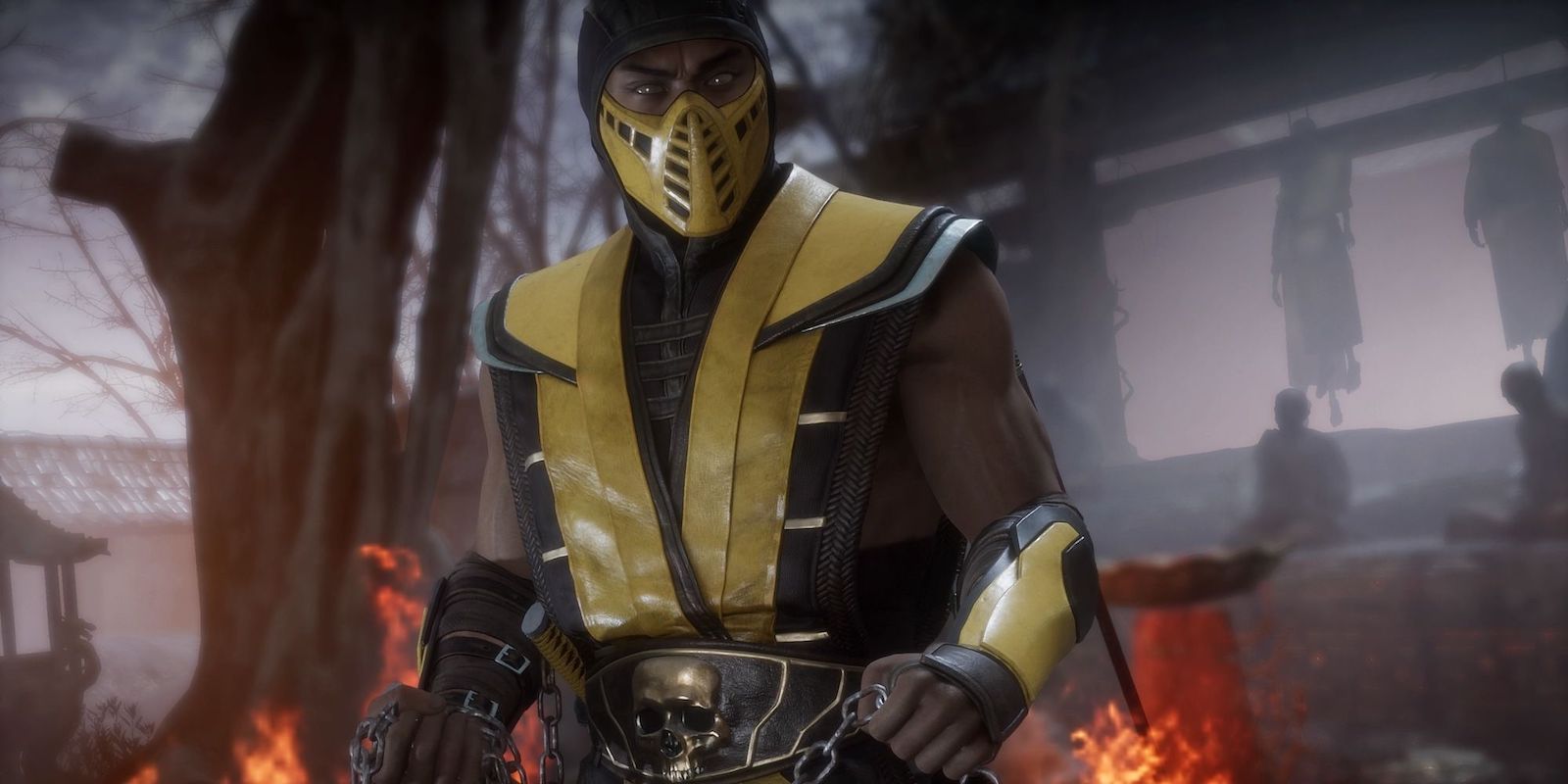 Mortal Kombat 2021 emerges as a similar but quite different beast to Mortal Kombat 1995. The 1995 film was a self-contained entity, which can be viewed as complete in itself without the need to be seen alongside its sequel. Back in 1995, the whole concept of the MCU and the multi-film series did not exist. By contrast, the 2021 film comes as part of an effort to launch an ongoing franchise. (This is something that James Wan seems to be looking to do with just about everything he touches – see the Saw and The Conjuring series, while the latter has produced secondary spinoff series like the Annabelle films, and there was even an attempt to spin the monsters in Aquaman off in their own film). It feels very much like what we have here is an introductory effort designed to lay the groundwork for a series of films.
In effect, Mortal Kombat 2021 is a superhero origin story. This is literally the case – whereas in the other films, the characters are just a ragtag group of fighters, here all the kombatants are Chosen Ones who have the mark of destiny and each discovers some kind of superpower through the course of the show. It is a story that has been set up to explore the backgrounds of each character – we see Scorpion's death and resurrection, how Jax obtained his mechanical arms, while the throwaway at the very end indicates that Cole Young (an original character not in the games) will become Johnny Cage. More crucially, while Mortal Kombat 1995 and Scorpion's Revenge both take relatively short times before they get the characters to the tournament, here the film is all prologue set around their training and never actually has the characters arrive in Outworld or enter the tournament, which will presumably form the basis of the next film.
There have been various debates as to whether this new film respects videogame canon and treatment of characters. I am not a gamer so by and large this does not concern me. The film does seem to be making an effort to incorporate a number of characters from the games and give each of them fair time and a reasonable workout, as well as develop origin stories and backgrounds for the main players. Cinematically at least, this works reasonably well. The story here is much stronger and more cohesive than any of the other Mortal Kombat films, which essentially throw the characters together as quickly as possible and then has them start fighting.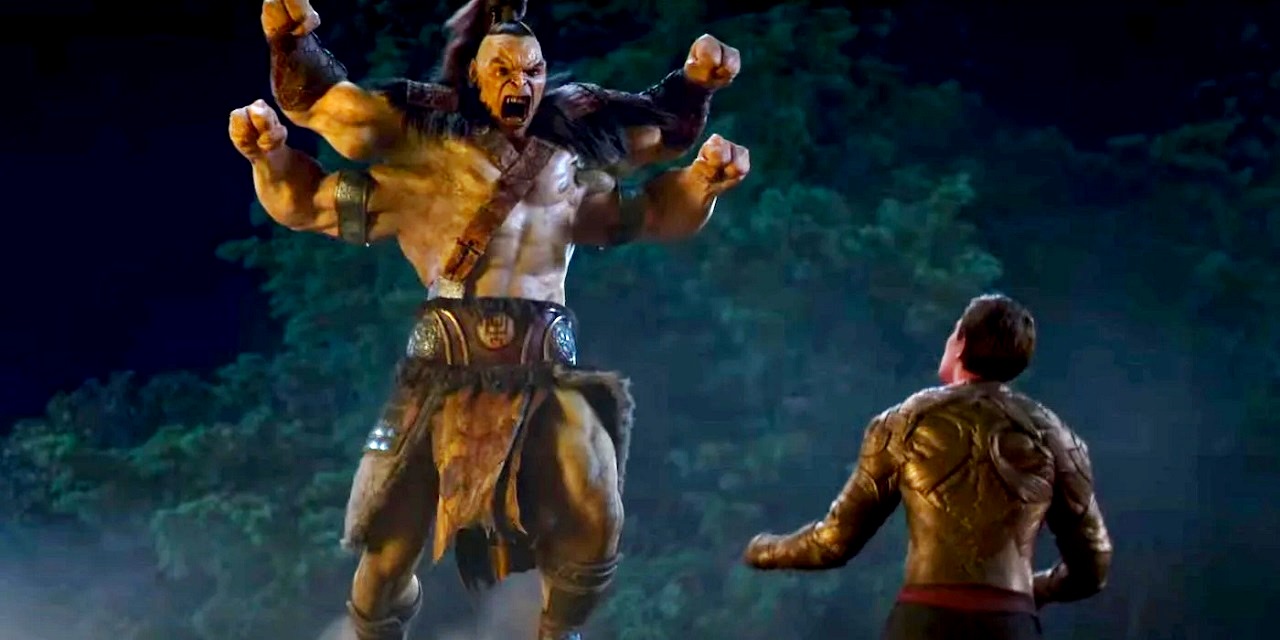 That said, of the characters, the only one who majorly stands out and imprints himself on the film is Josh Lawson who seems to be having an enormously good time as the crass and obnoxiously loud Aussie mercenary Kano. One of the great disappointments is the complete lack of memorable presence projected by Chin Han as Shang Tsung, who is supposed to be the game's Big Boss.
Simon McQuoid directs the action with solid effect. The film gets off a fine opening with Hiroyuki Sanada eliminating a whole troupe of Outworld assassins. What strikes about this is how brutal and bloody the fight gets. The film keeps this up throughout with assorted limb hackings and heads being splattered. This is no longer a Mortal Kombat being made for children's audiences, which is surely signalled by the fact that the film was able to release a Red Band trailer. (Although none of this goes quite to the extremes that Scorpion's Revenge did with its buckets of gore and in showing x-rays of skulls and bones as they were penetrated by weapons). The fault one might accuse Simon McQuoid of is that none of his action sequences quite leave you breathless with excitement or wow you, they are merely kinetic and enjoyable. Nevertheless this new Mortal Kombat emerges as solidly enjoyable.
Other videogame adaptations include:- Super Mario Bros. (1993), Double Dragon (1994), Street Fighter (1994), Wing Commander (1999), Final Fantasy: The Spirits Within (2001), Lara Croft, Tomb Raider (2001), Resident Evil (2002), House of the Dead (2003), Alone in the Dark (2005), BloodRayne (2005), Doom (2005), DOA: Dead or Alive (2006), Silent Hill (2006), Hitman (2007), In the Name of the King: A Dungeon Siege Tale (2007), Postal (2007), Far Cry (2008), Max Payne (2008), Prince of Persia: The Sands of Time (2010), Tekken (2010), Dead Rising: Watchtower (2015), Angry Birds (2016), Assassin's Creed (2016), Warcraft (2016), Rampage (2018), Pokemon Detective Pikachu (2019), Monster Hunter (2020), Sonic the Hedgehog (2020), Werewolves Within (2021), the tv series Halo (2022- ), Uncharted (2022), Gran Turismo (2023) and the tv series The Last of Us (2023- ).
---
Trailer here
---