---
Crew
Directors – Val Guest, John Huston, Kenneth Hughes, Joseph McGrath & Robert Parrish, Additional Direction – Val Guest, Screenplay – John Law, Wolf Mankowitz & Michael Sayers, Suggested by the Novel by Ian Fleming, Producers – Jerry Bresler & Charles K. Feldman, Photography – Jack Hildyard, Music – Burt Bacharach, Special Effects – Les Bowie, Cliff Richardson & Roy Whybrow, Production Design – Michael Stringer. Production Company – Columbia/Famous Artists.
Cast
David Niven (Sir James Bond), Peter Sellers (Evelyn Tremble), Ursula Andress (Vesper Lynd), Joanna Pettet (Mala Bond), Orson Welles (Le Chiffre), Woody Allen (Jimmy Bond), Deborah Kerr (Mimi), Barbara Bouchet (Miss Moneypenny), Daliah Lavi (The Detainer)
---
Plot
Sir James Bond has retired from spying and now lives on a country estate where he prefers to grow roses and play Debussy. A delegation of foreign secret service heads led by M go to see Bond in an effort to persuade him to come out of retirement to deal with SMERSH who are killing off agents everywhere. Bond refuses but then M is killed as the estate is shelled. Bond agrees to become the new head of British Secret Service. There he creates a corps of agents able to resist sex, whom he all names James Bond in order to create confusion. Bond then recruits Evelyn Tremble, author of a book on card playing, to enter the Casino Royale and play against the master card player Le Chiffre, who is a SMERSH agent. Behind the SMERSH plot is eventually found to be Bond's diminutive nephew Jimmy who suffers from an inferiority complex and is planning to release a bacillus that will kill off every man in the world over the height of 4'6″.
---
Trivia question:– Who was the first actor to play James Bond? If you replied Sean Connery you are wrong. The answer is in fact Barry Nelson who played James Bond in a 1954 one-hour live adaptation of Ian Fleming's first Bond novel Casino Royale (1953), which appeared as an episode of the tv anthology series Climax (1954-8). The show however had Bond unforgivably played as a rough diamond American card player, facing off against a Le Chiffre played by Peter Lorre.
During the midst of the 1960s Bond craze created by the Sean Connery films, someone remembered Casino Royale, the only of two James Bond novels not owned by producers Albert R. Broccoli and Harry Saltzman – the other being Thunderball (1961) – and resurrected it as a spoof of the spy craze. Although a spoof of the spy craze, coming when the genre was being dominated by the likes of Dean Martin in the Matt Helm films – The Silencers (1966), Murderers Row (1966), The Ambushers (1967) and The Wrecking Crew (1969) – and James Coburn Our Man Flint (1966), might well have seemed redundant. For more detail about such see Spy Films.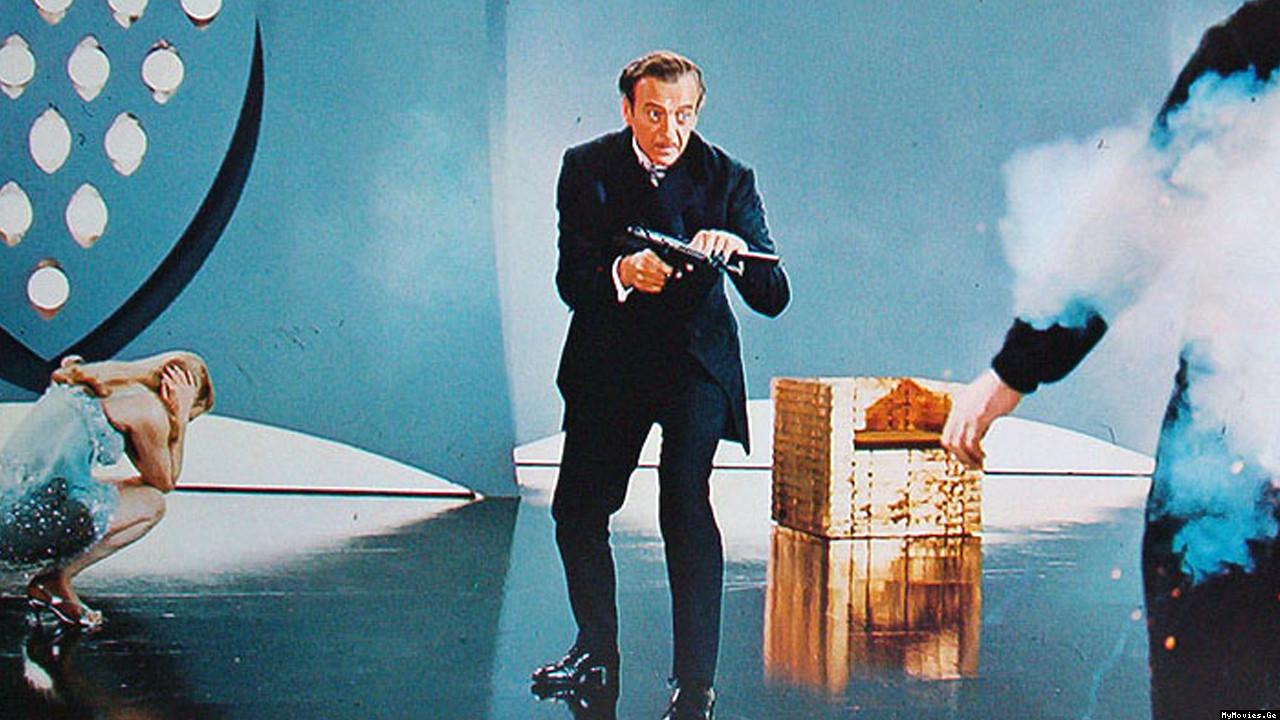 Casino Royale ended up being one of the largest follies ever committed to film. Nobody apparently had any consistent idea of the film they were trying to make. Producer Charles K. Feldman had the film made by five different directors (and about as many uncredited), using over a dozen different scripts, at three different studios and on as many soundstages at once. Feldman's idea was to talk some star into coming and playing for the day and then write scenes around them. The budget spiralled up to $6 million, which was a considerable amount for the day. Part of the problem was a difficult Peter Sellers, who started as the star of the film but developed an intense dislike of Orson Welles and refused to appear in the same shots he did and then became fed up and went AWOL from the set without telling anyone.
Not surprisingly, Casino Royale is a sprawling, incoherent mess. Colossal dance sequences rub shoulders with performing animals, UFOs and Frankenstein monsters. Sets are designed as optical illusions or mazes of angular stairs like something out of The Cabinet of Dr Caligari (1919). Peter Sellers is tortured and for no apparent reason thrown into a dream sequence filled with Scottish pipers, one of whom is Peter O'Toole who asks Sellers if he is Richard Burton, to which Sellers' reply is no, that he is Peter O'Toole.
By the end, whichever director it is has realised the absurdity of the enterprise and staged a free-for-all fight in the Casino, throwing in the Cavalry, the French Foreign Legion, the Keystone Kops, performing seals, parachuting and dancing redskins with machine-gun bows-and-arrows and flying roulette wheel gadgets, before the entire Casino is blown up by Woody Allen having swallowed an atomic bomb pill. In the fade-out, most of the cast are seen as angels standing on clouds playing harps. (The sole connection between the film and the Ian Fleming novel is the names of Vesper Lynd and Le Chiffre and the showdown between Bond and Le Chiffre over a card game).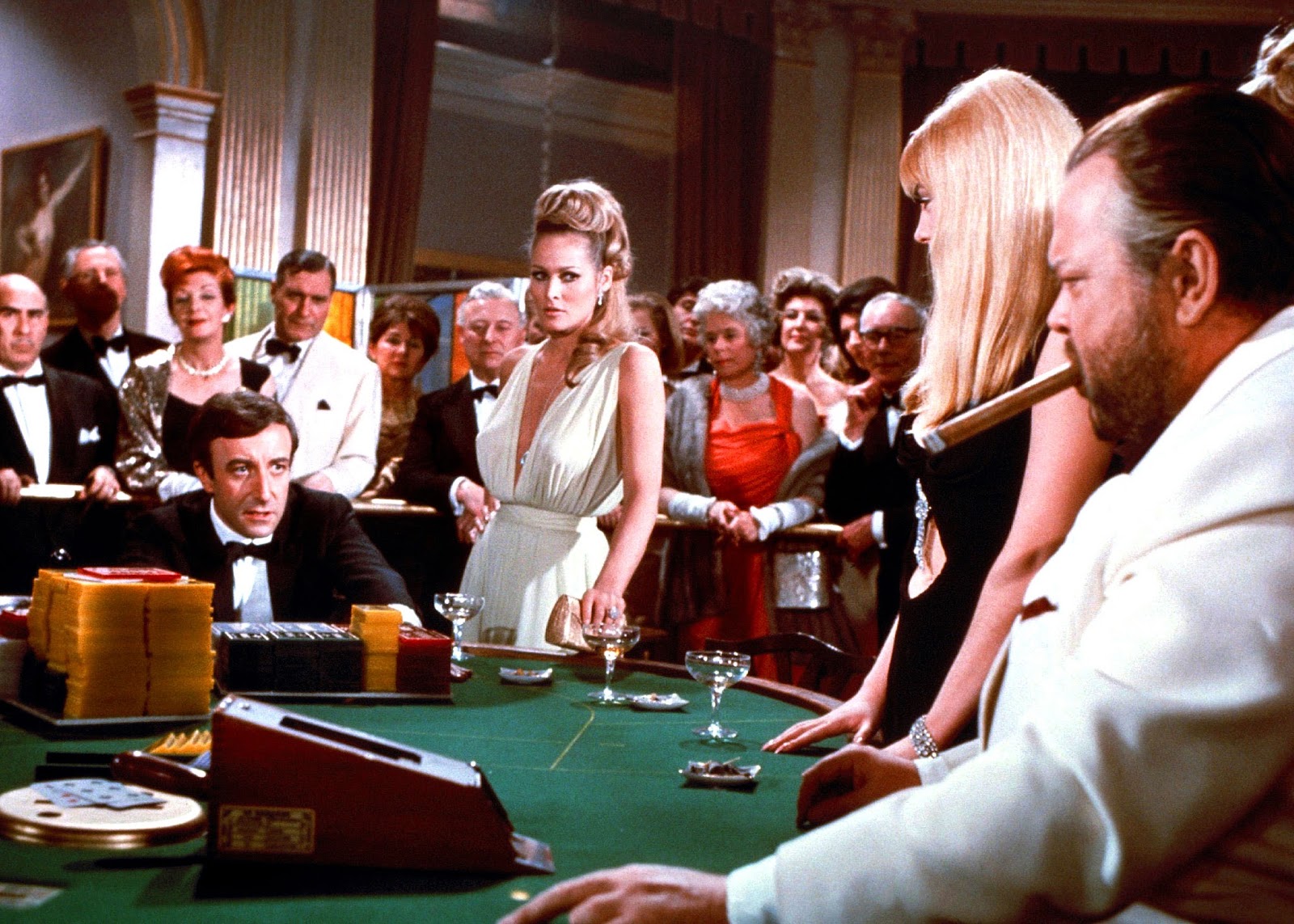 In all of this, there is little that is amusing. The sequence that work reasonably in its droll raucous way is the Scottish interlude near the beginning, which contains a spirited performance from Deborah Kerr who does amazing things with a Scottish accent and at the end runs off – in a shot that recalls Julie Andrews in The Sound of Music (1965) – across the heather in a negligee and gumboots to join a convent. The sequence makes the film's most atrocious pun – David Niven presents all that remains of M, his toupee, to M's widow Deborah Kerr, inquiring if it is a family memento, to which Kerr's natural reply is "It can only be regarded as an hair-loom."
The other sequences that work amusingly are the ones with Woody Allen, doing his usual schtick – most amusingly put up before a firing squad: "Do you realize I've got a very low tolerance of death – my doctor says that bullets entering my body could be fatal for me? Couldn't I say that I'm pregnant? Do you realize this means a very angry letter to The Times?" These momentary respites are however matched by as much of the film that is lumbering and overblown.
Following MGM''s inheriting the rights to the book in the late 1990s, the idea of a Casino Royale remake surfaced. At one point, this was intriguingly touted by Quentin Tarantino, who wanted to cast the role with Pierce Brosnan. The Casino Royale property was eventually brought up by the holders of the rights to the other James Bond films and this was mounted as Casino Royale (2006) starring Daniel Craig as Bond. The remake was one of the best James Bond films in some years, having an intelligent script that stripped Bond back to basics (and was surprisingly faithful to the Ian Fleming novel) and casting Daniel Craig who played the part with a thuggish brutality.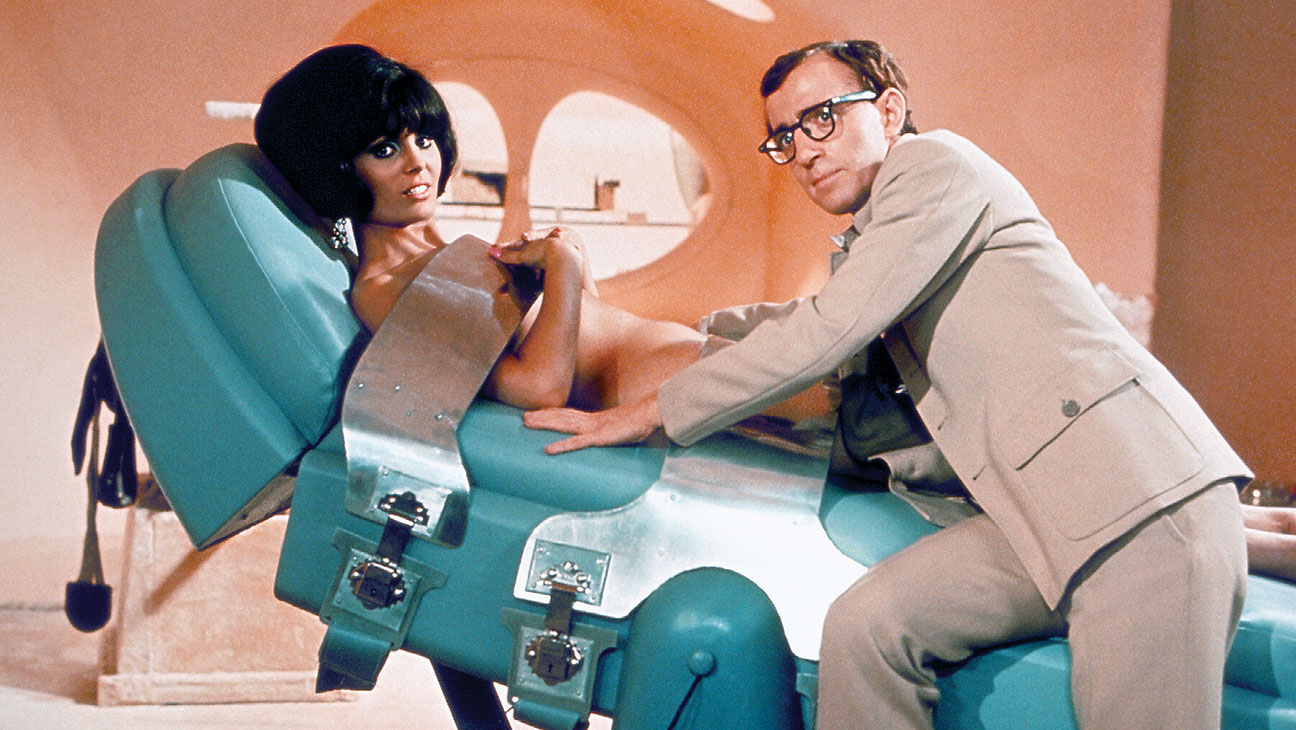 The making of Casino Royale 1967 is also briefly depicted in the Peter Sellers biopic The Life and Death of Peter Sellers (2004).
The other James Bond films are:– Dr No (1962), From Russia with Love (non-genre, 1963), Goldfinger (1964), Thunderball (1965), You Only Live Twice (1967), On Her Majesty's Secret Service (1969), Diamonds Are Forever (1971), Live and Let Die (1973), The Man with the Golden Gun (1974), The Spy Who Loved Me (1977), Moonraker (1979), For Your Eyes Only (non-genre, 1981), Octopussy (1983), A View to a Kill (1985), The Living Daylights (non-genre, 1987), License to Kill (non-genre, 1989), GoldenEye (1995), Tomorrow Never Dies (1997), The World is Not Enough (1999), Die Another Day (2002), Casino Royale (non-genre, 2006), Quantum of Solace (non-genre, 2008), Skyfall (non-genre, 2012), Spectre (2015) and No Time to Die (2021). Never Say Never Again (1983) is a further non-series Bond film.
---
---