---
USA. 1987.
Crew
Director – Paul Weiland, Screenplay – Jonathan Reynolds, Story/Producer – Bill Cosby, Photography – Jan de Bont, Music – Elmer Bernstein, Visual Effects – Richard Edlund, Production Design – Geoffrey Kirkland. Production Company – Sah Enterprises.
Cast
Bill Cosby (Leonard Parker), Tom Courtenay (Freyn), Pat Colbert (Allison Parker), Gloria Foster (Medusa Johnson), Victoria Rowell (Jean Parker), Joe Don Baker (Snyderburn), Anne Levine (Nurse Cavahlo), Moses Gunn (Girogio Flendorosi)
---
Plot
A organisation of mad vegetarians is planning retaliation against all meat eaters. They mastermind a series of attacks against CIA agents using a sonic control sphere that turns animals and fish into killers. The CIA decides they need to recall superspy Leonard Parker out of retirement to combat the menace. Leonard now manages a restaurant in San Francisco and has had difficulty handling life after his wife left him. It is only when the vegetarian mastermind Medusa Johnson has his wife and daughter abducted that Leonard agrees to go back into the fray.
---
When The Cosby Show (1984-92) became tv's No. 1 rating show several years running, it made Bill Cosby tv's prime funny man and the highest paid entertainer of the decade. While Cosby seemed to have found an unassailable spot on tv screens, it was a success that he spectacularly failed to carry over to cinema screens during that period. He ventured out onto the big screen twice, with this and Ghost Dad (1990), both of which were disastrously received. Leonard Part 6, for instance, won that year's Golden Raspberry Award as Worst Picture. Nor did any of Cosby's subsequent ventures back into tv ever hit the same stride that The Cosby Show did.
Leonard Part 6 has a reputation of legendary awfulness – Cosby even reviled it and used the publicity tour as an opportunity to advise people not to see it (even though he actually produced the film and conceived the story for it, which would at least lead one to think he would have had a good say in what ended up on screen and plenty of opportunity to intervene).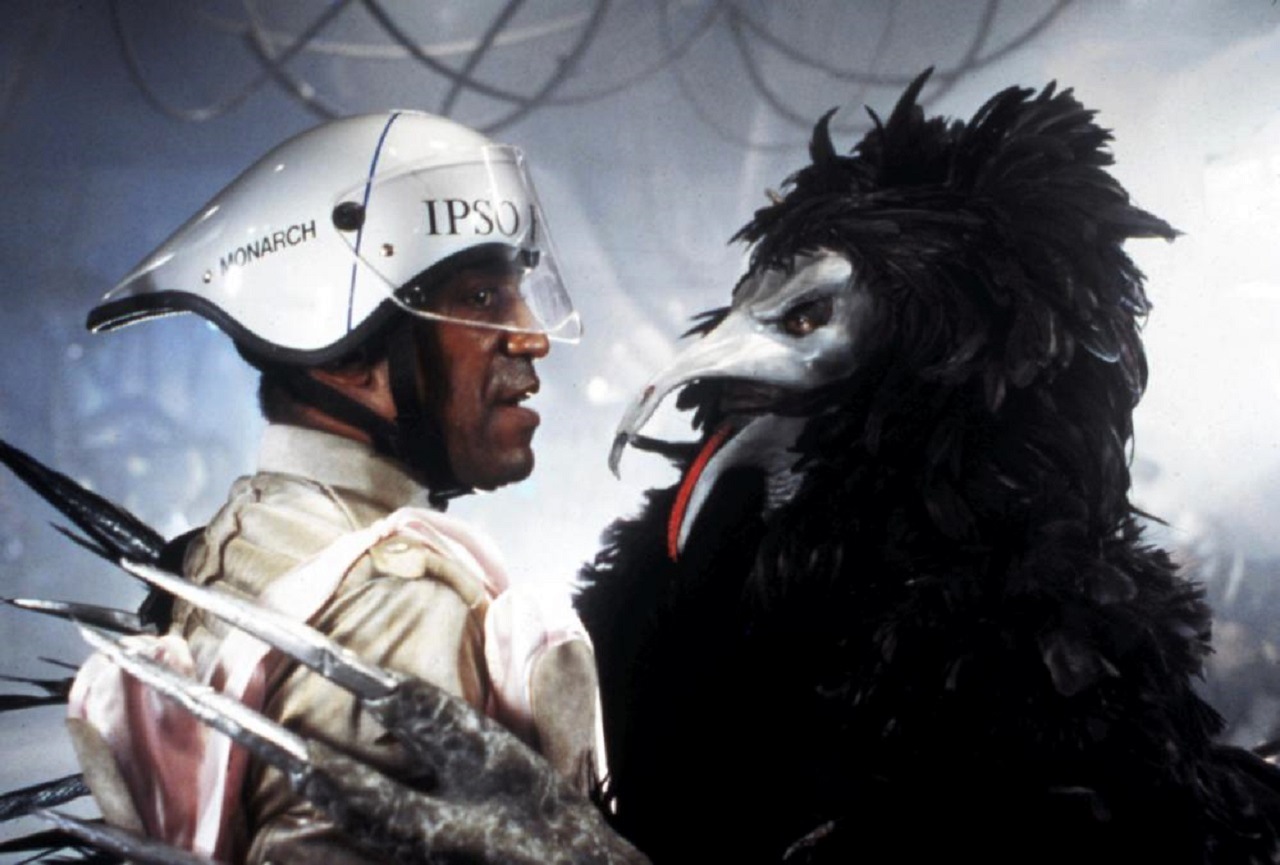 For all its legendary badness, there are moments where Leonard Part 6 is almost a likable film. There are some moments of complete absurdity to it – like the image of a car being hopped into the ocean by a horde of frogs, or of Cosby wading into combat against a group of feathered birdmen assassins wielding an electric razor. On the other hand, when it is not being funny, the film goes on far too long.
Cosby certainly has a highly engaging persona but this is an item rather too meanderingly written around him. Still I loved the opening gag with the killer trout being shown a photo of its victim and heading off to attack, momentarily skidding aside to take in a copy of Playboy. It is so daft that it is funny, and that's what earns the film one more star than it should by all rights get.
---
Trailer here
---