---
UK. 1967.
Crew
Director – Lewis Gilbert, Screenplay – Roald Dahl, Based on the Novel by Ian Fleming, Producers – Albert R. Broccoli & Harry Saltzman, Photography – Freddie Young, Music – John Barry, Special Effects – Roy Field & John Stears, Production Design – Ken Adam. Production Company – Eon Productions.
Cast
Sean Connery (James Bond), Tetsura Tamba (Tiger Tanaka), Mie Hama (Kissy Suzuki), Akiko Wakabayashi (Aki), Donald Pleasence (Ernst Stavro Blofeld), Bernard Lee (M), Desmond Llewellyn (Q), Charles Gray (Dikko Henderson), Karin Dor (Helga Brandt), Lois Maxwell (Miss Moneypenny)
---
Plot
A mysterious rocket appears in orbit, swallowing up both Russian and American space launches. This leaves both nations at each other's throats on the brink of war. British Secret Service fakes James Bond's death so that he can go undercover to Japan and investigate the area where it is believed the rocket is landing. Investigation leads Bond to a vast SPECTRE operation hidden inside a fake volcano and run by his old nemesis Ernst Stavro Blofeld.
---
You Only Live Twice was the fifth James Bond film. Goldfinger (1964), the third entry in the series, had been the defining Bond film, the one where everything that would become identified with the Bond film formula was determined and the film that every subsequent Bond film would look to as model in one way or another. The subsequent entry Thunderball (1965) fell too much in Goldfinger's shadow – it seemed to be consciously trying to up Goldfinger in terms of the spectacular, only to end up becoming a series of colossal-sized set-pieces, not always easily glued together. It is a curse that similarly dogs You Only Live Twice.
On script this time was macabre and children's story writer Roald Dahl, a friend of Ian Fleming, whose most famous work was probably Willy Wonka and the Chocolate Factory (1971). All the James Bond films up to this point had adhered closely to the Ian Fleming source novel. You Only Live Twice was the first film to abandon the book almost entirely, a trend that was followed by every subsequent film based on a Fleming title with the exception of the next film On Her Majesty's Secret Service (1969).
You Only Live Twice (1964) was the eleventh and last of Ian Fleming's Bond novels – excepting for the uncompleted The Man with the Golden Gun (1965). In the book, which is generally recognised as one of Fleming's best, Bond is sent to Japan on a mission to obtain Soviet communication codes, which takes him to an island where he has to penetrate a garden of deadly plants where Japanese come to commit ritual suicide (that is secretly run by Blofeld) and then enter a booby-trapped castle.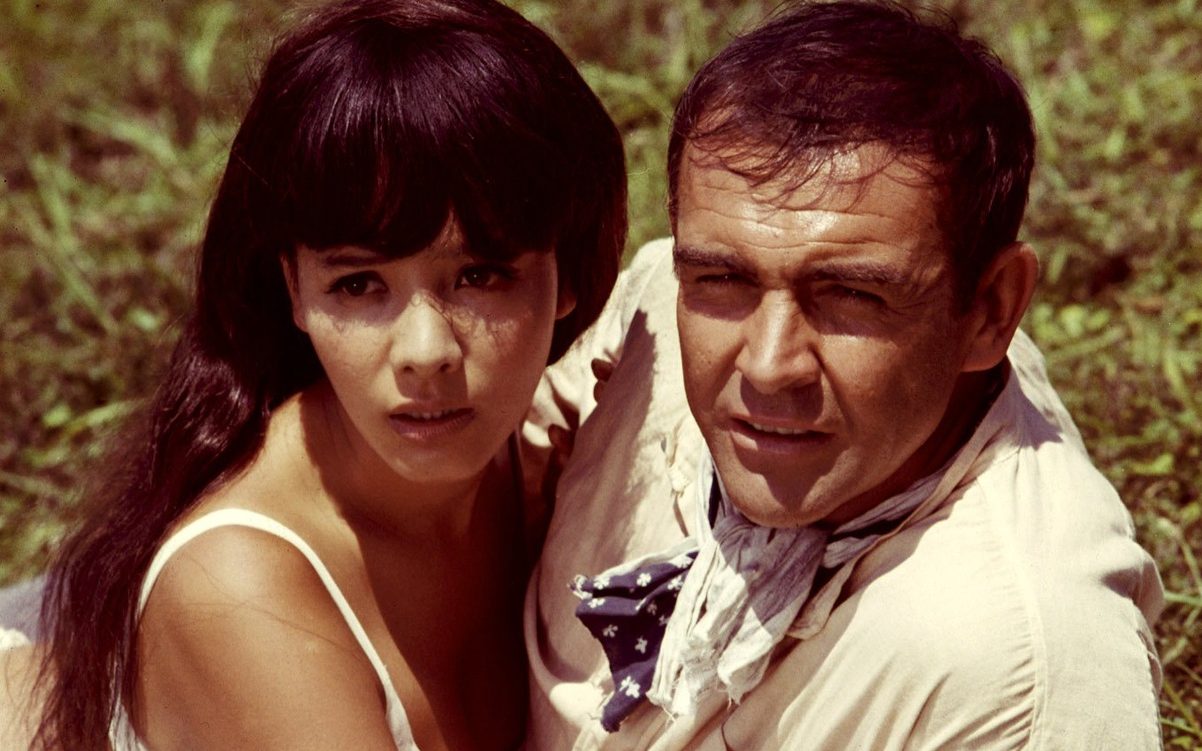 There are occasional points of connection between the book and the film – Roald Dahl retains character names such as Kissy Suzuki, Tiger Tanaka and Dikko Henderson and in roughly equivalent roles they had in the book, as well as one of two scenes such as Bond's ninja training and his joining the Japanese women pearl divers. Other than that, the film's plot has almost entirely been invented by Dahl. Interestingly, for the film, the explanation of the title comes at the beginning (Bond's death is faked to lead SPECTRE off his trail), whereas in the book it comes at the ending (where Bond is left amnesiac in Kissy's arms and presumed dead by British Secret Service).
You Only Live Twice introduced a new director to the series in Lewis Gilbert, who had previously made a number of British War films – Reach for the Sky (1956), Carve Her Name With Pride (1958), Sink the Bismark (1960) and HMS Defiant (1962) – and had just had a big hit with the Michael Caine comedy Alfie! (1966). What is impressive about Lewis Gilbert is the breathtakingly full use he makes of the Panavision widescreen – like the amazing sequence where a helicopter picks up a car with a magnetic clamp and dumps it in the ocean, with Gilbert pulling back until both helicopter and the car swinging beneath are dwarfed by the azure of the water; or a tracking shot from above down the entire length of a freighter during a chase. Gilbert creates some impressive action sequences – a fight that entirely ruins an office; or Bond taking on SPECTRE helicopters in the Little Nellie autolight.
The film outdoes itself at the climax set around Ken Adam's stupendous hollowed-out volcano interior set, so big that it had to be built on a Pinewood backlot instead of inside a soundstage, which comes with its own interior monorail, even a piranha pool for Blofeld to feed recalcitrant lackeys into, and featuring rockets landing and a climactic battle with an invading army of ninjas. It is one of the most dropjaw sets and climaxes ever constructed in a Bond film.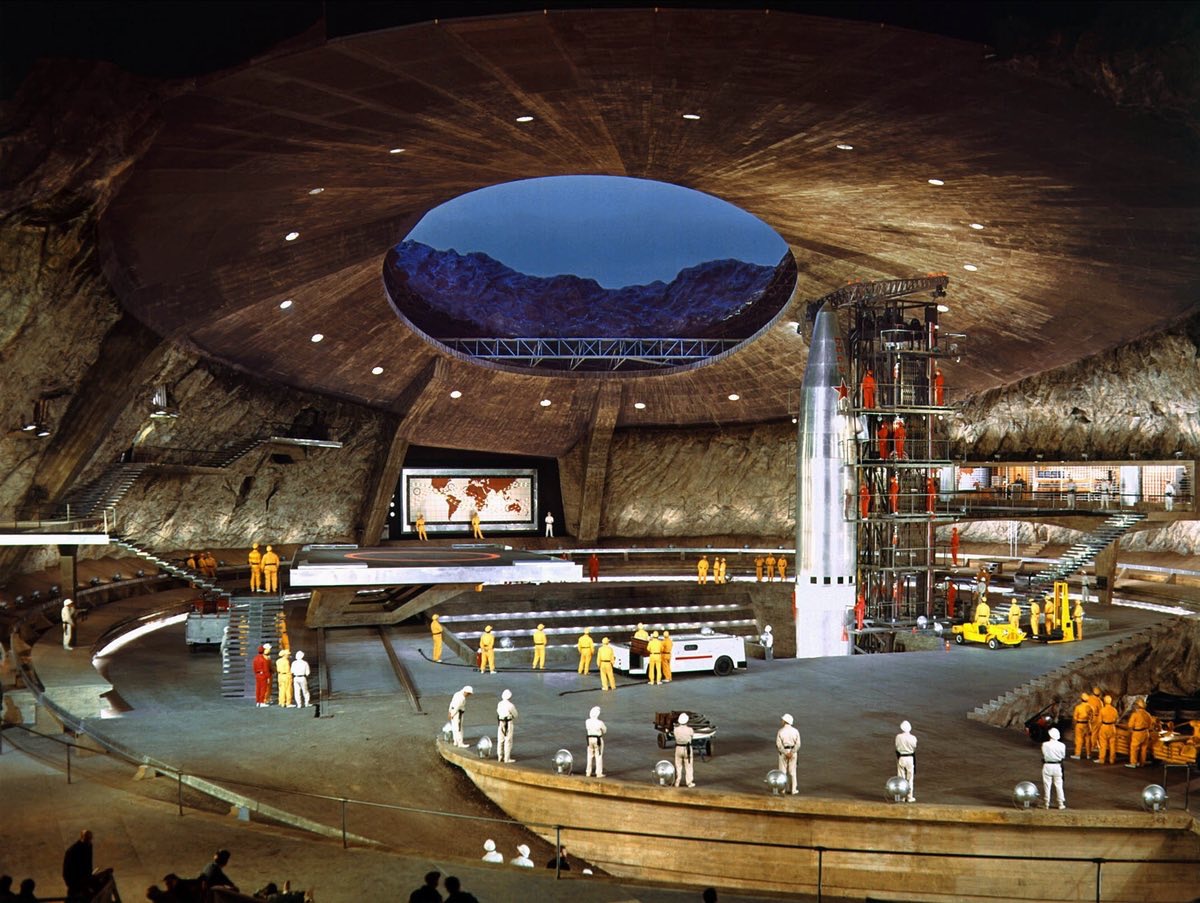 At other times, You Only Live Twice drags, most noticeably the scenes where it comes closest to the book – the scenes with Bond training as a ninja, 'marrying' Kissy, joining the divers and where he is (thoroughly unconvincingly) made up to look Asian. The effects work is variable – the model rockets do not look particularly convincing, the back projection screens are badly visible in places and a wire is clearly seen during the full-size rocket's landing.
One of the film's biggest problems with the film was Sean Connery. Connery became fed up with harassment from the press – Japanese paparazzi had purportedly followed and tried to photograph him in the men's room at one point – and the excessively long shooting schedules of each Bond film. He announced halfway through production that he would not be doing any further Bond films. On screen, Connery seems to be coasting through the part, the one-liners don't have the same zing and his part lacks the suave panache. Look at his performance here alongside the one he gave in Goldfinger and you will see what I mean.
The two Japanese actresses of the show are also eminently forgettable – neither spoke English and had to deliver their lines phonetically, later to be dubbed over by an unidentified actress, and there is no spark to their performances. You Only Live Twice is also the film that defined the bald-headed, cat-stroking Blofeld, later to be spoofed by Mike Myers in Austin Powers, International Man of Mystery (1997) and sequels. (Blofeld had first appeared in Thunderball but his face was not seen). While Donald Pleasence makes a good Blofeld, the character is a forgettable villain. His appearances are surprisingly brief and when he does turn up there is little of the charged, larger-than-life menace there was surrounding previous villains like Joseph Wiseman's Dr No or Gert Frobe's Goldfinger. (In a trivia note, Charles Gray, who later portrayed Blofeld in Diamonds Are Forever (1971), also appears here as a British agent).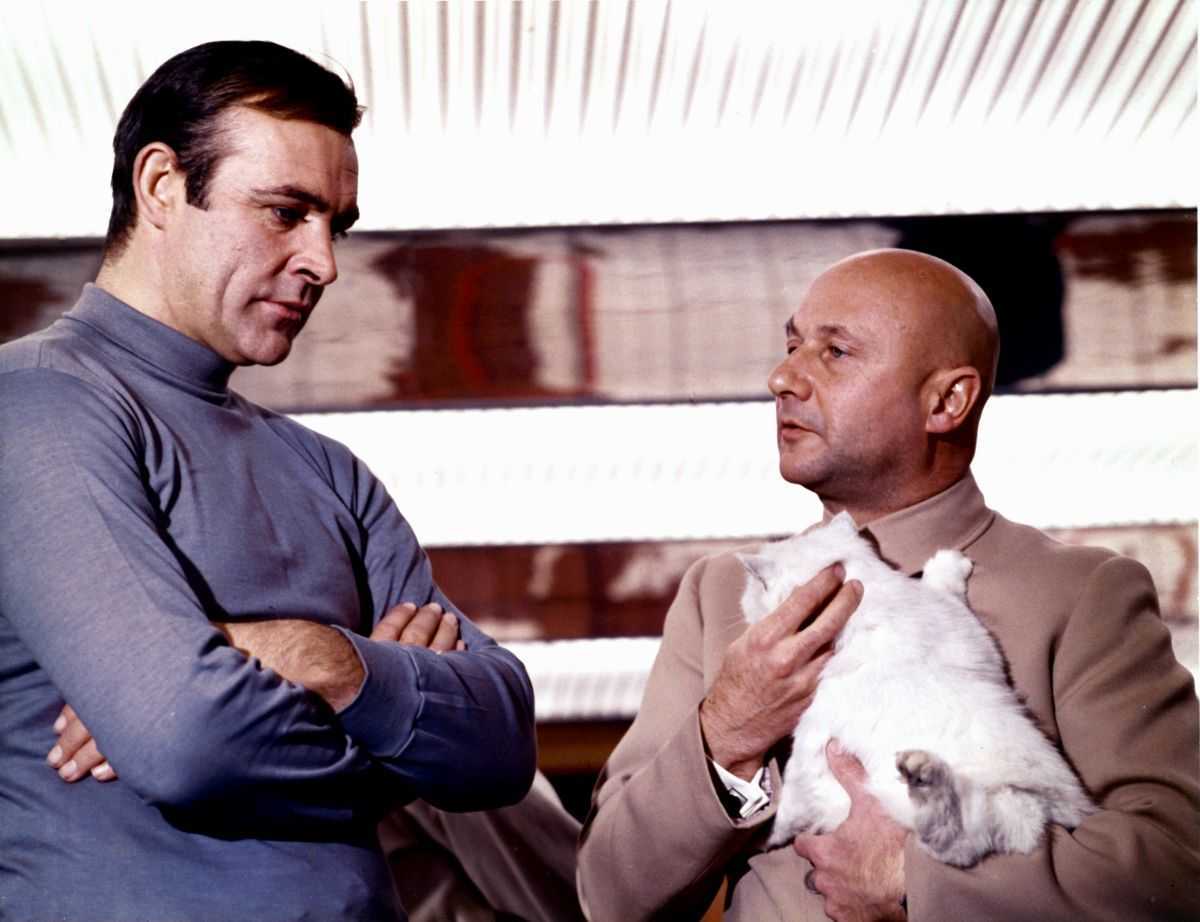 Lewis Gilbert would go onto craft two later Bond entries The Spy Who Loved Me (1977) and Moonraker (1979). The Spy Who Loved Me interestingly rehashes many elements of You Only Live Twice, including the world domination plot of space launches being abducted and swallowed up with a larger vehicle, but using nuclear submarines instead of rockets; and featuring a climactic attack on the control room in the villain's lair. Gilbert also later directed the interesting ghost story Haunted (1995).
The other James Bond films are:– Dr No (1962), From Russia with Love (non-genre, 1963), Goldfinger (1964), Thunderball (1965), On Her Majesty's Secret Service (1969), Diamonds Are Forever (1971), Live and Let Die (1973), The Man with the Golden Gun (1974), The Spy Who Loved Me (1977), Moonraker (1979), For Your Eyes Only (non-genre, 1981), Octopussy (1983), A View to a Kill (1985), The Living Daylights (non-genre, 1987), License to Kill (non-genre, 1989), GoldenEye (1995), Tomorrow Never Dies (1997), The World is Not Enough (1999), Die Another Day (2002), Casino Royale (non-genre, 2006), Quantum of Solace (non-genre, 2008), Skyfall (non-genre, 2012), Spectre (2015) and No Time to Die (2021). Casino Royale (1967) and Never Say Never Again (1983) are non-series Bond films. Everything or Nothing (2012) is a documentary about the Bond series.
---
---