aka Death Angel; I Come in Peace
---
Crew
Director – Craig R. Baxley, Screenplay – Leonard Maas Jr & Jonathan Tydor, Producer – Jeff Young, Photography – Mark Irwin, Music – Jan Hammer, Special Effects Supervisor – Bruno Vanzeebroeck, Makeup Effects – Tony Gardner & Larry Hamlin, Production Design – Phillip M. Leonard. Production Company – Vision p.d.g.
Cast
Dolph Lundgren (Jack Caine), Brian Benben (Arwood 'Larry' Smith), Betsy Brantley (Dr Diane Pallone), Matthias Hues (Talec), Jay Bilas (Azeck), Jim Haynie (Captain Malone), David Ackroyd (Switzer), Mark Lowenthal (Bruce), Michael J. Pollard (Boner)
---
Plot
While making a drug bust, police detective Jack Caine is witness as a tall blonde man with milky white eyes slaughters the drug dealers and his partner. Determined to avenge the murder of his partner, the rule-bending Caine is partnered with tightass, regulation-quoting FBI agent Larry Smith. The two of them realise that the person they are chasing is in fact an intergalactic drug dealer who injects people with massive doses of heroin in order to harvest the high doses of endorphin produced in the brain, which are prized intergalactically as a drug.
---
Dark Angel/I Come in Peace was one of a body of early 1990s sf/action hybrid films that took their inspiration from the cops vs aliens plot of The Hidden (1987). Others amid this fad included Peacemaker (1990), Abraxas: Guardian of the Universe (1991), The Cat (1992), Monolith (1994), The Silencers (1996) and the tv mini-series Something is Out There (1988). Although, what lay behind all of these in terms of inspiration was probably a desire to copy the success of The Terminator (1984) – almost certainly the character of Matthias Hues' tight-lipped killer alien here has been an attempt to create another invincible Arnold Schwarzenegger-type non-human nemesis.
Dark Angel proves surprisingly entertaining, far more than the mere actioner it might seem to be at first glance. It has been very well put together – the action is slick, tight and spectacular. (Director Craig R. Baxley used to work as a stuntman). The scenes in particular of the aliens' weaponry in operation – vibrating killer CD's and guns that fires pulsed explosions – are top notch. The idea of aliens harvesting human brains for heroin was first conducted in the amusingly sarcastic Liquid Sky (1982).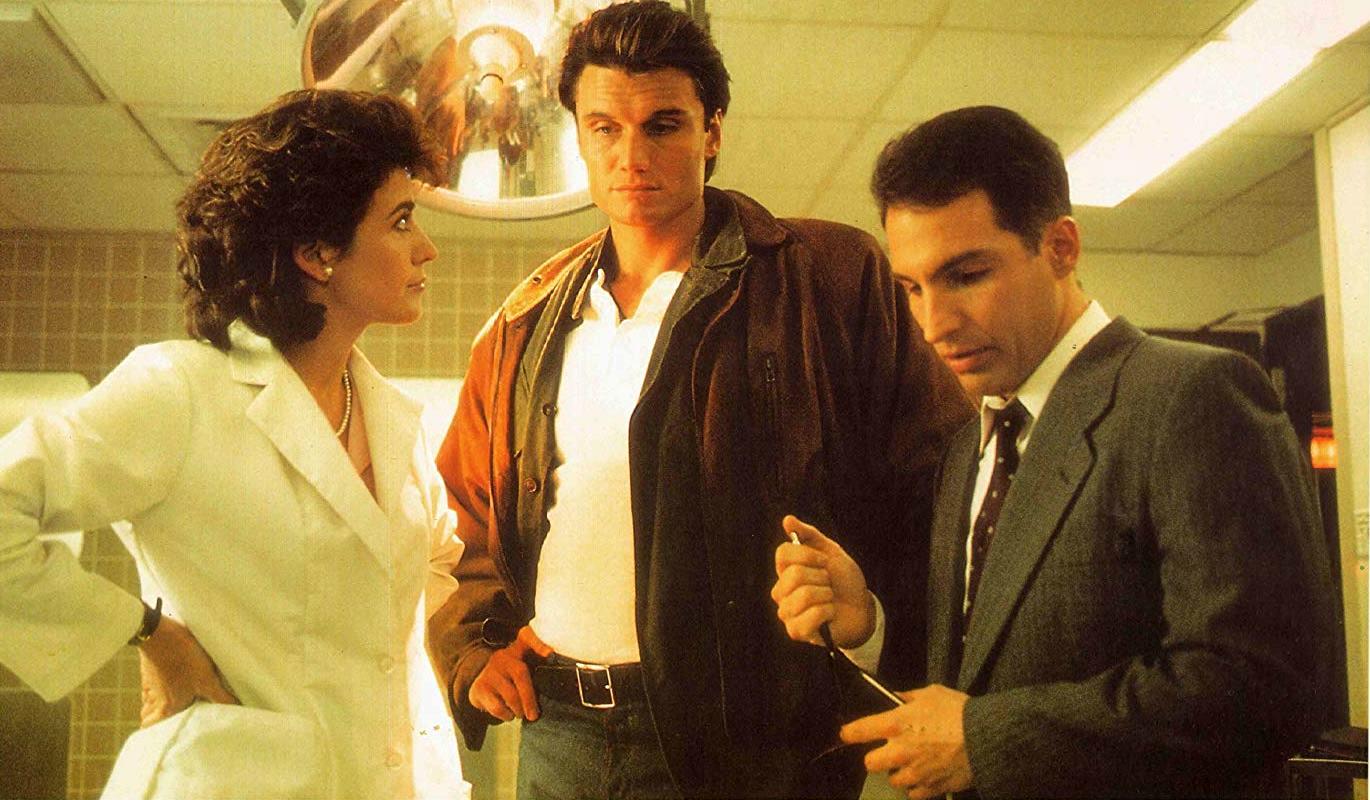 The one element that raises Dark Angel considerably are the characters. Dark Angel came out not long after the Mel Gibson hit Lethal Weapon (1987) and buddy cop films were all the rage and it is almost certain that that has some influence here. Dark Angel does this with a highly enjoyable spin. Dolph Lundgren and Brian Benben are inspiredly cast as diametrically opposed personalities – Lundgren wittily plays into the part that he is usually typecast as of the macho cop who operates by instinct and bends the rules, while Brian Benben is cast as a slick, cocksure Ivy League by-the-book regulation-quoter. It is the joy of the interplay between these two completely opposed characters that makes the film so entertaining.
Director Craig R. Baxley had previously made Action Jackson (1988) and went onto to maintain a reasonable career as a genre director. His other films include the incomprehensible Deep Red (1994) about the search for a child carrying an alien virus; the worthwhile psycho-thriller Under Pressure (1997) with Charlie Sheen as a fireman who snaps and starts terrorising his neighbours; and the Christian Anti-Christ film Left Behind: World at War (2005). Baxley has made a host of Stephen King tv mini-series' including Storm of the Century (1999), Rose Red (2002), The Diary of Ellen Rimbauer (2003) and Kingdom Hospital (2004). Baxley has also made a variety of genre tv movies including the superhero film Chameleon II: Death Match (1999), The Glow (2002) about a conspiracy of immortals, the mini-series The Triangle (2005) about the Bermuda Triangle and the amazing The Lost Room (2006) about a quest for everyday objects with mysterious powers.
---
---