---
USA. 2015.
Crew
Director/Screenplay – John Baumgartner, Producer – David Michael Latt, Photography – Ben Demaree, Music – Christopher Cano, Visual Effects Supervisor – Joseph J. Lawson, Makeup – Tracey Rosen, Production Design – Kalise Wallace. Production Company – The Asylum.
Cast
Jhey Castles (Professor Molly Dunn), Jason Woods (Nick), Grace Van Dien (Ali), Lane Townsend (Hank), Bill Voorhees (Miles Kaplan), Elaine Partnow (Edna Lowenstein), Robert Evans (Arnold Lowenstein), Alex Diehl (Jackson), Blaire Chandler (Jessica), Ron Jantz (Himself), Nicola Lambo (Sun), Allison Adams (Teen Molly), Kenny Santiago Marrero (Xavier), Tinasha Laraye (Barista Andrea)
---
Plot
Molly Dunn is a professor of seismology who has perfected a series of sensors that give alerts of the micro-tremors that prefigure earthquakes. She has just finished setting up the sensor array when it picks up a major quake coming. She tries to warn people to leave the coffee shop she is in and is forced to resort to saying her student Nick has a gun in order to get everybody out. The quake then hits and she is proved right. However, Molly registers that more quakes are on the way and that these are of an unprecedented 12 on the Richter Scale. As the quakes start hitting, Los Angeles is devastated. Molly realises that Nick is secretly her stepdaughter Ali's boyfriend. The two of them set out across the devastated landscape to rescue Ali where she is trapped in an elevator at the downtown hotel where she works.
---
The Asylum is a company specialising in low-budget films that come out mimicking the titles of big-budget, high-profile releases in the hopes that punters won't look too closely or notice the difference. It is a strategy they call 'mockbusters' and has produced titles such as Snakes on a Train (2006), Transmorphers (2007), Allan Quatermain and the Temple of Skulls (2008), The Day the Earth Stopped (2008), The 18 Year Old Virgin (2009), Paranormal Entity (2009), Battle of Los Angeles (2011), Abraham Lincoln vs. Zombies (2012), Age of the Hobbits (2012) and others.
San Andreas Quake was The Asylum's mockbuster version of the big-budget Dwayne Johnson-starring disaster film San Andreas (2015) and was released six days before San Andreas went into wide release. The two films have the similar character of the father who is a rescue helicopter pilot (Dwayne Johnson in San Andreas, Lane Townsend here) who sets out flying through the disaster to the rescue of his family. The difference of course is that here he is not the lead character, which is Jhey Castles' seismologist wife. Her equivalent character in San Andreas would have been the one played by Paul Giamatti but he was killed off partway through. Equally, Townsend's pilot, rather than be the hero, is sidelined halfway through – he is accompanied by two tourists from Hawaii and the last we see of them is the tourists offering to pay a mechanic to get a small plane running but nothing of any of them after that point.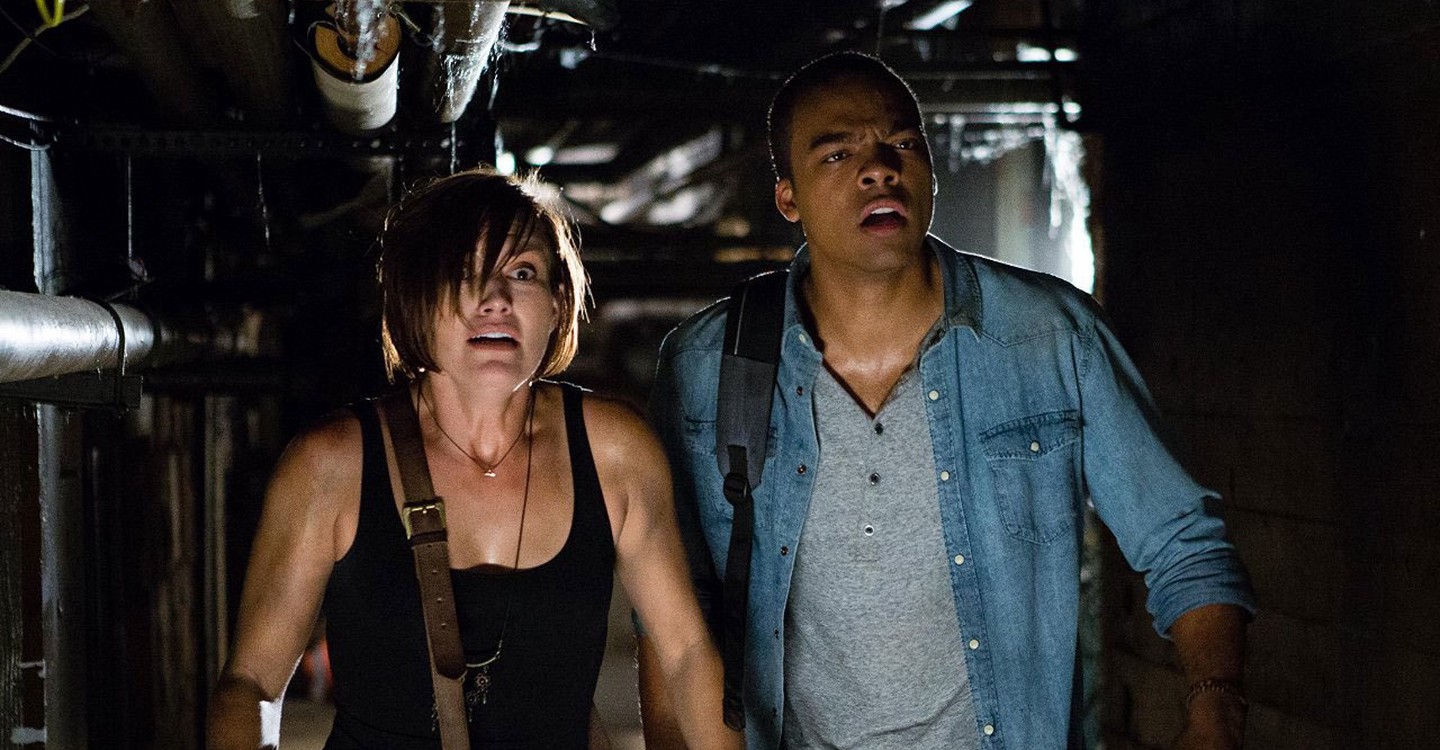 San Andreas Quake is passably watchable as The Asylum's films go – not as cheap and terrible as some, about the level of the average filler tv movie. The special effects are to a not bad standard for them, with the exception of some very shabby optically inserted escaped hippopotami.
The plot arcs are fairly predictable – the semi-discredited scientist with the theory that could save everybody if only they would listen has become a disaster movie cliche. There is the more amusing arc where Jhey Castles sets out accompanied by sceptical student Jason Woods only to find out along the journey that he has secretly been her stepdaughter's boyfriend.
---
---