---
Crew
Director – Scott Wheeler, Screenplay – Shane Van Dyke, Producer – David Michael Latt, Photography – Mark Atkins, Music – Chris Cano & Chris Ridenhour, Visual Effects – Tiny Juggernaut (Supervisor – Scott D. Wheeler), Production Design – Hillary Harper. Production Company – The Asylum.
Cast
Bruce Boxleitner (Hadley Ryan), Shane Van Dyke (Jake Van Ryberg), Alana Dimaria (Madison Ryan), Jennifer Rubin (Dr Jo Summers), Londale Theus (Mayor Ethan Holt), Iona Thonger (Dr Collins), Dana DiMatteo (Lucius), Lana O'Brian (Grandma), Amy Van Horne (Liz)
---
Plot
In Bakersfield, California, patrol officer Hadley Ryan pulls over a diplomat's daughter for talking on her cellphone while driving. Moments later, she is attacked as her cellphone come to life, causing her to fatally crash. Homeland security scientist Dr Jo Summers arrives to investigate and questions Hadley. Hadley also has to deal with his daughter Madison's ex-boyfriend Jake Van Ryberg, an Iraq War veteran who is now working as a cable repairman, when he pulls a gun during the repair of Madison's grandmother's cable dish, claiming it came to life. All around the town, there are reports of machines coming to life and killing people. Hadley, Jake, Madison and Jo come to the realisation that they are in the midst of an invasion by a hostile alien force that can take over machinery.
---
The Asylum is a low-budget US company that specialises in 'mockbusters' – cheap films that seek to capitalise on the publicity of upcoming big-budget releases with soundalike titles. Various Asylum films have included the likes of Snakes on a Train (2006), Allan Quatermain and the Temple of Skulls (2008), The Day the Earth Stopped (2008), The 18 Year Old Virgin (2009), Paranormal Entity (2009), Battle of Los Angeles (2011), Abraham Lincoln vs. Zombies (2012), Age of the Hobbits (2012), among others.
Transmorphers (2007) was The Asylum's low-budget attempt to copy Michael Bay's Transformers (2007). It ended up being a far better film than you had any right to expect due to an enormous effort by director Leigh Scott in trying to depict a man-machine war on a low-budget. When Bay released his sequel Transformers: Revenge of the Fallen (2009), The Asylum responded with their own sequel (in actuality a prequel) with Transmorphers: Fall of Man.
Quite whether the Transmorphers franchise is of any substance that the world was burning for a prequel/origin story is a matter of debate. More than anything, this proves to be an economy move that allows The Asylum to cut costs. In other words, it is a film designed to minimise sets and effects scenes by relocating the action and shooting contemporarily. Rather than Leigh Scott's epic low-budget battles, all that Fall of Man gives us a few sporadic Transmorphers turning up to attack people. Indeed, with the Transmorphers appearing out of everyday objects like cellphones, cable dishes and vehicles, what the film resembles is less a Transformers copy than it does Stephen King's Maximum Overdrive (1986).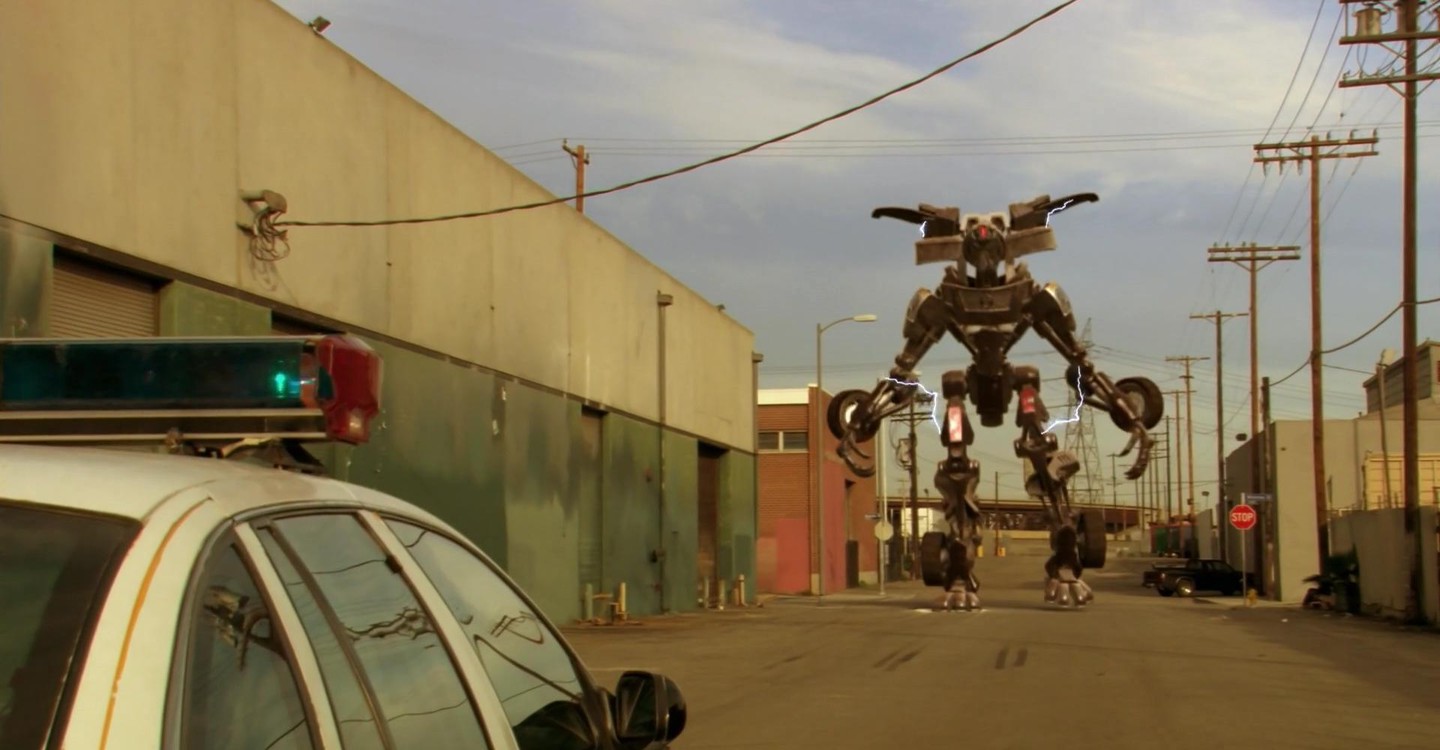 Certainly, you have to admit that some of the effects scenes are amusing. The film opens on a scene where diplomat's daughter Amy Van Horne is driving while talking on her cellphone only to be pulled over by patrol officer Bruce Boxleitner and then let go with a warning whereupon she continues talking on her phone – only for it to transform into a Transmorpher and attack her. In another amusing scene, the driver of an SUV is told by his GPS "You have five seconds to exit the vehicle … Prepare to be eliminated." There are some passably cheap effects of the Transmorpher transformations. On the other hand, the sequel lacks the amazing ambition that Leigh Scott's original did and that makes it simply a regular cut-price Asylum mockbuster with one or two novelty effects scenes.
The film has the benefit of Bruce Boxleitner, an actor who seems able to project authority with effortless ease and friendliness. He has some very affable scenes dealing with Amy Van Horne or defusing Shane Van Dyke as he waves a gun. Also not too bad is Jennifer Rubin, an actress that should have had more of a profile than she did. Shane Van Dyke, who plays the ex-marine boyfriend, is also the screenwriter and has written several other Asylum films with The Day the Earth Stopped (2008), Street Racer (2008) and Battledogs (2013) and directed several films for them with Paranormal Entity (2009), 6 Guns (2010), Titanic II (2010) and A Haunting in Salem (2011), plus scripted films for other companies with the likes of Chernobyl Diaries (2012) and The Sacred (2012).
Director Scott Wheeler is mostly known as a visual effects supervisor on numerous low-budget films. He has directed several films for The Asylum with Journey to the Center of the Earth (2008), Milf (2010), Celebrity Sex Tape (2012), Martian Land (2015) and Sinbad and the War of the Furies (2016), as well as Avalanche Sharks (2013), Sink Hole (2013) and Attack of the Killer Donuts (2016) for other companies.
---
---