---
Crew
Director – Rob Pallatina, Screenplay – Scotty Mullen, Producer – David Michael Latt, Photography – Marcus Friedlander, Music – Christopher Cano & Chris Ridenhour, Visual Effects Supervisor – Glenn Campbell, Makeup Effects – Jake Corrick, Production Design – Adam Assad. Production Company – The Asylum.
Cast
Andrew Liberty (Captain Rogers), Dominique Swain (Dr Eris), Greg Furman (Lieutenant Hass), Damian Quinn (Grey), Michael Claman (St. John), Matthew Amerman (Brisco), Travis Thomas (Collins), Tom Sizemore (Colonel Forrester), Robert Moss (Dr Von Straten), Anthony Jenson (President)
---
Plot
It is the midst of World War II. Captain Rogers is commended by his commanding officer for his bravery in killing a German soldier with his bare hands. He is recruited for a special mission – to travel into Nazi-occupied Rumania and find abducted British scientist Dr Eris. Rogers recruits a team and heads behind enemy lines. Once there however they discover that Dr Eris has not been abducted but has defected to the Nazis. Moreover, she is planning to launch a virus carried by genetically-engineered insects that will kill all the unvaccinated.
---
The Asylum is a company regularly produce low-budget films designed to copy the titles of big-budget releases and are released just as the other work comes out so as to capitalise on the other film's publicity and anticipated interest. The Asylum's Mockbusters have included copycat titles such as The Da Vinci Treasure (2006), Snakes on a Train (2006), AVH: Alien vs Hunter (2007), The Hitchhiker (2007), I Am Omega (2007), Transmorphers (2007), Allan Quatermain and the Temple of Skulls (2008), The Day the Earth Stopped (2008), 100 Million BC (2008), Sunday School Musical (2008), The 18 Year Old Virgin (2009), Almighty Thor (2011), Battle of Los Angeles (2011), Abraham Lincoln vs. Zombies (2012) and Age of the Hobbits (2012), among others. Nazi Overlord was intended as a mockbuster copy of the J.J. Abrams-produced Overlord (2018), which featured a very similar plot about American soldiers encountering Nazi mad science while on a mission behind enemy lines.
There have been a great many Nazi B movies made since the 1960s with the likes of The Flesh Eaters (1964), They Saved Hitler's Brain (1964), The Frozen Dead (1966), Flesh Feast (1970) and the big-budget The Boys from Brazil (1978). Indeed, The Asylum even produced one of these before with Nazis at the Center of the Earth (2012), which I am of the opinion is their best film. The Nazi zombie film has even gained its own niche with the likes of Shock Waves (1977), Night of the Zombies (1981), Oasis of the Zombies (1981), Outpost (2007) and Dead Snow (2009). (For a more detailed overview see my essay Nazis in Fantastic Cinema).
Nazi Overlord is a Nazi mad scientist B movie – no particular problem as almost of the abovementioned have fallen into the same vein. It is notedly on the cheap side – a scene where the convoy into Rumania is stopped by a tree fallen across the road, which only turns out to consists of a single branch, is laughably feeble. This is compounded by the subsequent firefight where the explosion of a lorry is only digitally represented. To his credit, Rob Pallatina, who comes from The Asylum editing department, does a decent job keeping the screen looking busy with quick cutting during the journey into occupied territory.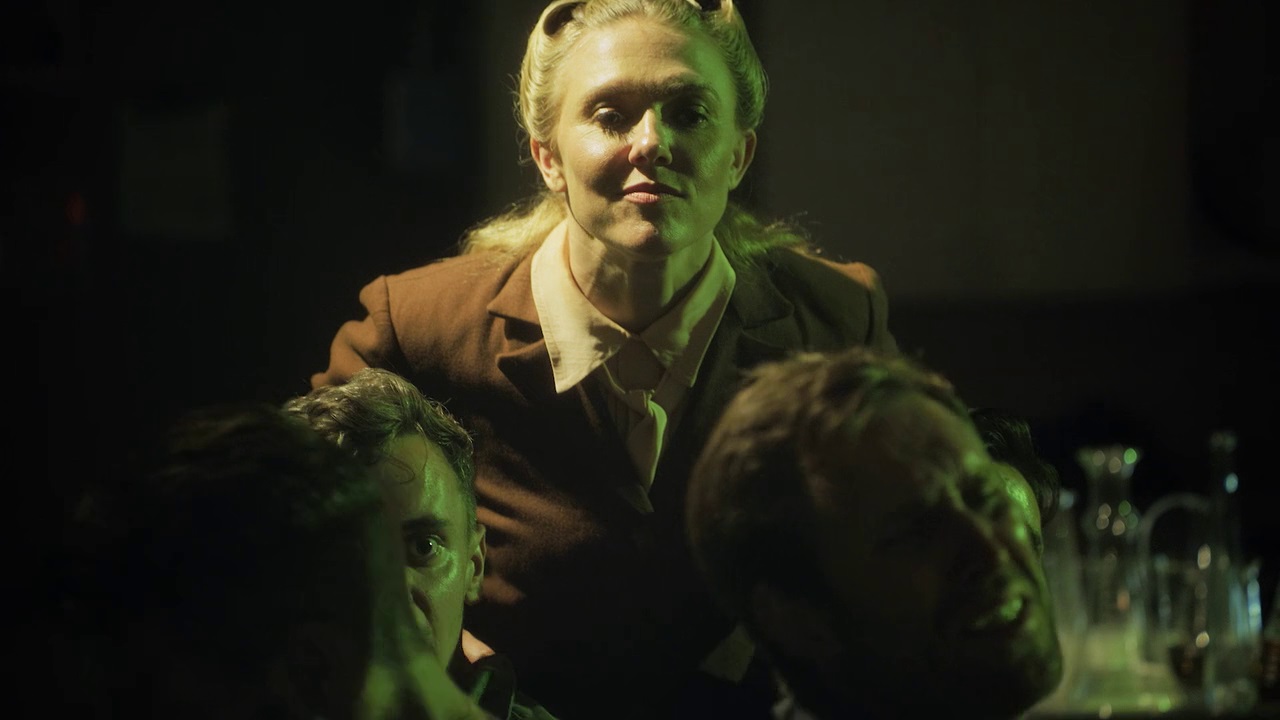 Surprisingly enough it is half the film before we get to any genre material. When it arrives, this proves a letdown. Nazis creating a swarm of plague-bearing insects is not that interesting a menace and this half of the film sinks slowly like a punctured balloon. We do get one of the promised genetic mishaps – two soldiers that have been joined by a section of bone at their sides – but this looks rather lame. It is certainly a heavy disappointment when you compare it to the phantasmagoric creations we had in the similar Frankenstein's Army (2013).
The Nazi mad scientist is played by Dominique Swain, a far cry away from when she was upheld as a teen starlet after appearing in Lolita (1997). Swain's career has clearly fallen on hard times – she was also in Nazis at the Center of the Earth and several other films for The Asylum. Here she lacks what it takes to scale the heights of gloriously mad over-acting that a good B movie villain should and instead comes across as rather flat. However, much of this is forgiven by the spectacular bad movie scene where she strips off and walks into the insect room topless where she is surrounded by buzzing insects that cause one of the other soldiers to explode and shower her in blood.
The only other name present is Tom Sizemore, once a promising actor in works like Strange Days (1995), Saving Private Ryan (1998) and Black Hawk Down (2001), whose career ended up in the dogs due to reports of drugs, drunkenness and woman battering. Sizemore, who has also been appearing in a number of films for The Asyum, for all his top-billing has only about five minutes of screen time as Andrew Liberty's commanding officer where it is clear that his hard-partying lifestyle is catching up with him and he is showing his age. Andrew Liberty is at least a convincing lead – I could easily believe him in the role and this could well stand him in stead for bigger things.
Rob Pallatina is a regular editor at The Asylum who branched out as a director and also made Fortune Cookie (2016), Alien Convergence (2017), Alien Siege (2018), Flight 666 (2018), The Doctor Will Kill You Now (2019) and Airliner Sky Battle (2020) for them.
---
---