---
Crew
Director – Casper Van Dien, Screenplay – R. Dessertine, Producer – David Michael Latt, Photography – Ben Demaree, Music – Joseph Metcalfe, Visual Effects Supervisor – Joseph J. Lawson, Special Effects Supervisor – Atanas Apostolov, Makeup – Greta Velikova, Production Design – Kess Bonnet. Production Company – The Asylum.
Cast
Finn Jones (Barrow), Grace Van Dien (Princess Dawn), Olivia d'Abo (Queen Tambria), Edward French (Prince Jayson), Casper Van Dien (King David), Catherine Oxenberg (Queen Violet), Gil Kolirin (Gruner), Dylan Vox (Jacob), Clive Sawyer (Earlin), David Elliot (Wilhelm), Maya Van Dien (Newt), Michael York (Narrator)
---
Plot
A daughter Dawn is born to King David and Queen Violet of the kingdom of Olivetta. All the fairies come to give their blessings but the witch queen Tambria is angry at not being invited and places a curse on Dawn – that on her sixteenth birthday she will prick her finger on a spindle and die. The other fairies are able to transform the curse into one that will make the whole kingdom go to sleep instead. Dawn grows up, kept in seclusion in the tower. She is allowed out for her sixteenth birthday only for a magically disguised Tambria to appear and prick her finger with a spindle. The whole kingdom goes to sleep. One hundred years later. In the neighbouring kingdom of Lipscomb, Barrow is the whipping boy of the prince Jayson. Barrow discovers a map to the castle of Olivetta but this is taken by the self-important Jayson who desires to find a kingdom and treasure for himself. Jayson sets forth on an expedition with Barrow and a group of soldiers in tow. Reaching the castle, they try to fight their way in, dealing with the monsters in the moat and the resurrected dead that roam the castle halls in order to bestow the kiss that will awaken the princess.
---
The Asylum is a company that specialises in 'mockbusters' – low-budget films that copy the titles of big-budget studio releases and exploit their publicity by coming out at the same time, not to mention seek to fool unsuspecting browsers into thinking they are watching the other film. The Asylum's mockbusters have included the likes of The Da Vinci Treasure (2006), Pirates of Treasure Island (2006), Snakes on a Train (2006), I Am Omega (2007), Transmorphers (2007), Allan Quatermain and the Temple of Skulls (2008), The Day the Earth Stopped (2008), Death Racers (2008), 100 Million BC (2008), Sunday School Musical (2008), The 18 Year Old Virgin (2009), Paranormal Entity (2009), The Terminators (2009), Almighty Thor (2011), Battle of Los Angeles (2011), Abraham Lincoln vs. Zombies (2012), Age of the Hobbits (2012) and Atlantic Rim (2013), among others.
In the early 2010s, there was a spate of big-budget fairytales, all given a dark adult spin with the likes of Red Riding Hood (2011), Mirror Mirror (2012) and Snow White and the Huntsman (2012), among others. The Asylum leapt aboard these with their own set of cheap fairytale adaptations, all designed to come out at the same time. These include Grimm's Snow White (2012), Hansel & Gretel (2013), Jack the Giant Killer (2013) and Little Dead Rotting Hood (2016). Sleeping Beauty was released to come out at the same time as Disney's live-action Sleeping Beauty reworking Maleficent (2014).
Sleeping Beauty was directed by actor Casper Van Dien, known for a great many genre roles in the likes of Starship Troopers (1997), Tarzan and the Lost City (1998) and a whole mountain of B movies – he was also Rumpelstiltskin in The Asylum's subsequent fairytale mash-up Avengers Grimm (2015). Casper brings his family with him. He and his wife Catherine Oxenberg (who divorced him shortly after the film came out!) play Sleeping Beauty's parents, Sleeping Beauty herself is played by his daughter Grace, while his other daughters Celeste and Maya also have small roles in the film.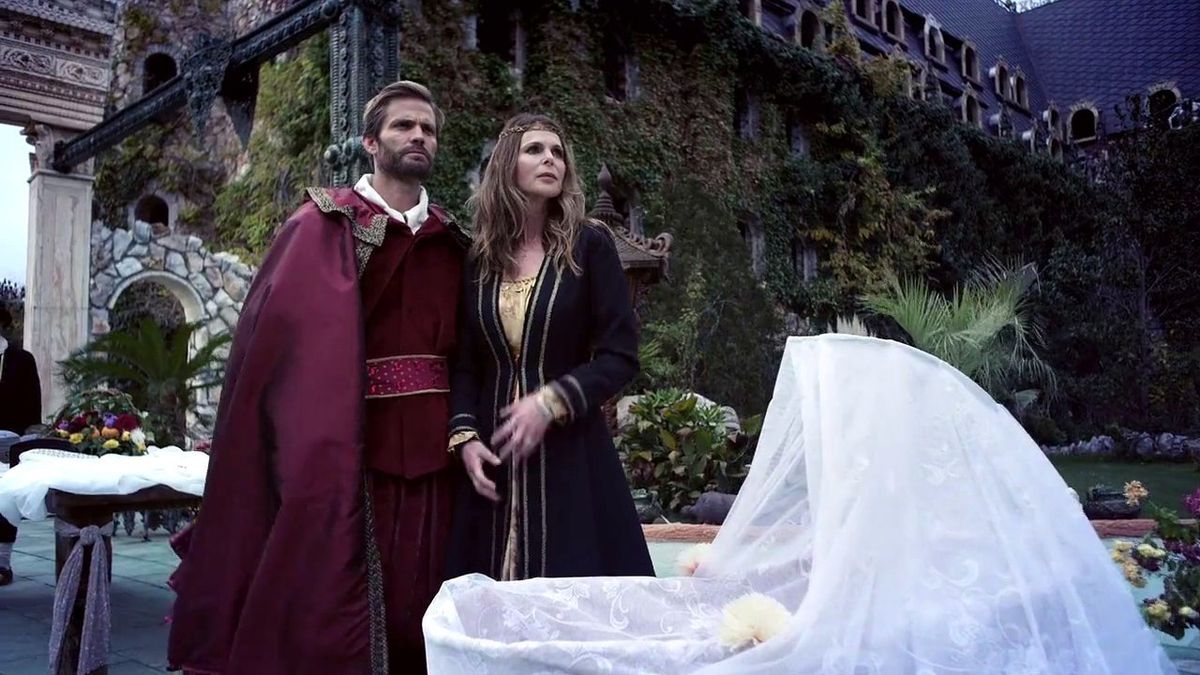 Sleeping Beauty is cheaply made. It is however not uninteresting. For one, the story takes a very different interpretation than other versions of the tale – namely in that it takes the point-of-view of Prince Charming as he sets out on his expedition (where here he is no more than the serf of another self-styled rescuer). The film then becomes more of a fantasy adventure about them entering the castle grounds and encountering various monsters and zombies.
Though Sleeping Beauty is cheaply made, it has been shot in the grounds of Bulgaria's picturesque Ravadinova Castle, which adds considerably to the look of the film. This is occasionally brought down by some tatty CGI effects and rather ridiculously affected attempts to write cod-mediaeval dialogue – "You paltry little nymph," Olivia d'Abo, the broadest of the performers, is fond of saying.
Sleeping Beauty was a directorial debut for Casper Van Dien. He subsequently went on to make Patient Killer (2015) and Storage Locker 181 (2016).
---
---