---
Crew
Director – John McTiernan, Screenplay – Larry Ferguson & Donald Stewart, Based on the Novel by Tom Clancy, Producer – Mace Neufeld, Photography – Jan de Bont, Music – Basil Pouledoris, Visual Effects – Industrial Light and Magic (Supervisor – Scott Squires), Underwater Subs – Boss Film Co, Production Design – Terrence Marsh. Production Company – A Mace Neufeld-Jerry Sherlock Production.
Cast
Alec Baldwin (Jack Ryan), Sean Connery (Captain Marko Alexandrovich Ramius), Scott Glenn (Captain Bart Mancuso), Sam Neill (Captain Vassily Borodin), Courtney B. Vance (Seaman Jones), Joss Ackland (Andrei Lysenko), Richard Jordan (Jeffrey Pelt), Jeffrey Jones (Skip Tyler), James Earl Jones (Admiral Jim Greer), Tim Curry (Dr Petrov), Peter Firth (Ivan Putkin)
---
Plot
1984. The new Russian submarine Red October is launched, built with a new silent drive that is undetectable to sonar, making it perfect for sneaking up on an enemy coast and launching missiles undetected. Immediately out to sea, the Red October's captain Marko Ramius announces that he is going to defect to the USA. The Russian Navy hurriedly tries to find his trail, while telling the US Navy that Ramius has gone rogue and is intending to attack the US in order to stop them getting their hands on the Red October. Only CIA analyst Jack Ryan deduces Ramius's real intentions to defect and tries to get to him first. However, he faces the impossible task of finding an undetectable submarine that could be anywhere in the world.
---
This was the first adaptation of one of Tom Clancy's mega-successful best-selling spy thrillers about CIA analyst (and later US President) Jack Ryan. Former insurance salesman Clancy incorporated his longtime enthusiasm for naval and military hardware when he first wrote The Hunt for Red October (1984). The book became a best-seller after being given a huge endorsement by then President Ronald Reagan who called it "unputdown-able". Tom Clancy went onto become a best-selling sensation, writing a further eleven Jack Ryan novels (and four co-authored ones) before his death in 2013, as well as spinning off several series of sharecropped techno-thrillers – the Op Center, Net Force and Power Plays books, written by other authors but published under his by-line (and a later series of videogames).
Since then the term 'techno-thriller' has been coined to describe not only his type of book but also the entire type of genre that has sprouted up around similar thrillers that specialise in military hardware and densely researched operational detail. (Techno-thrillers on films are discussed in more depth in the essay Techno-Thrillers). Clancy has become a darling of the US Armed Forces who rank among his highest fans. Clancy himself is a true red, white and blue patriot, a gun enthusiast who confessedly divides the world into two types of people – where good guys are children, doctors and people in uniform, and bad guys are lawyers, journalists and Communists.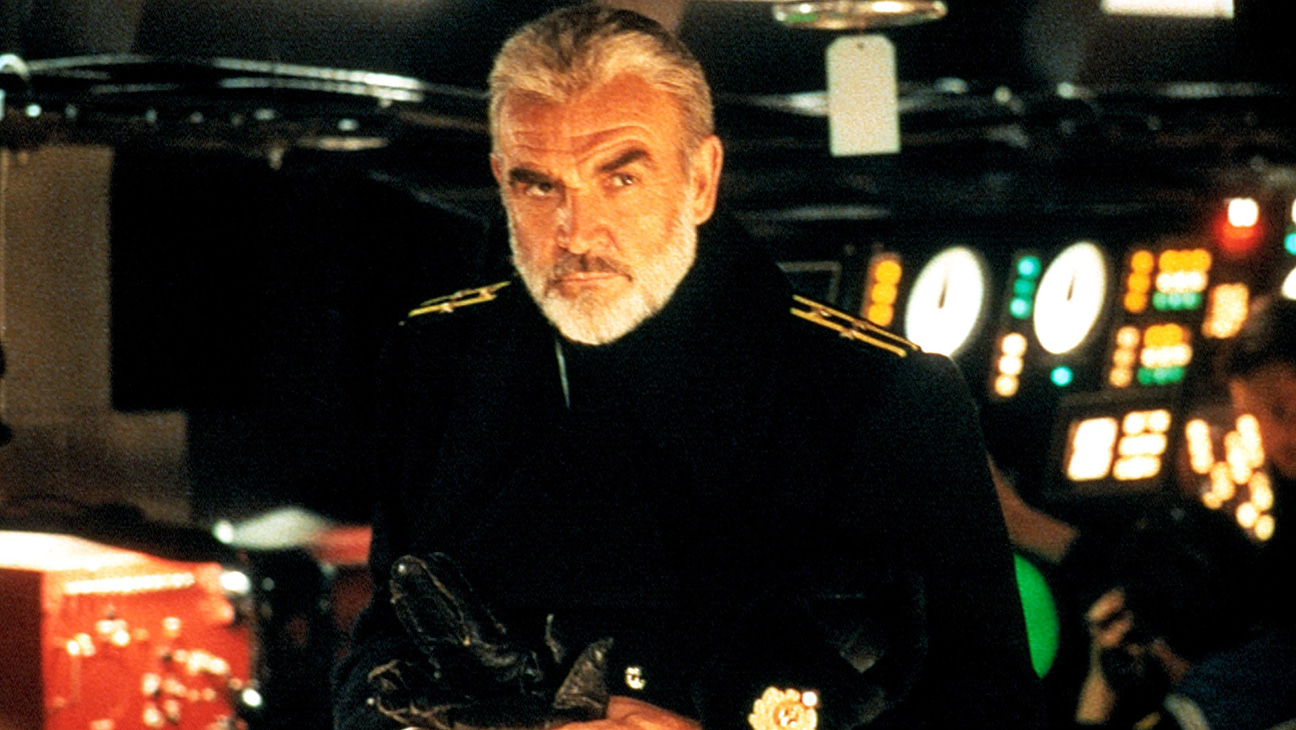 It is not too surprising that Ronald Reagan and the armed forces so enthusiastically endorse Tom Clancy's work as it holds an underlying conservative bias that draws upon outmoded Cold War black-and-white's – US military as good guys and world policemen, USSR as the bad guys. It was probably of great regret to Clancy, not to mention Le Carre, Deighton and the James Bond producers that Mikhail Gorbachev ended the Cold War. It has at least made their livelihoods considerably more difficult in the search for worthwhile villains. They should have sued Gorbachev. This film version of The Hunt for Red October came out the same year as the Berlin Wall fell and officially ended Communism. It will probably go down in history as the last Cold War thriller ever to be made. Even when it arrived on screens, there was already something dated about it – it has, for example, to backdate its setting to 1984 to still be able to credibly tell a Cold War story.
Not that that stands in the way of a gripping thriller. The film was directed by John McTiernan, one of the most underrated action directors in the US mainstream, who had just come from the phenomenal success of Die Hard (1988). The film does a fine job in adapting Clancy's best-seller – it is a top drawer piece of movie-making all the way, gloriously expansive and expensive-looking, yet the plot kept neat, compact and tightly-wound. John McTiernan has a particularly suspenseful grip on the film and keeps the story constantly twisting and always on the move. There are some intensely exciting seat-edge games with submarines creeping up behind each other and people trying to psychologically outguess the other.
In fact, the large screen seems a far better place for Tom Clancy's thrilling but stolidly stoic writing style than the printed page. The cast certainly give Clancy's characters – which have improbably comic-bookish names like Bart Mancuso, Jeffrey Pelt, Skip Taylor and are usually wooden in the writing – far more life than Clancy himself does. Ramius is the sort of wily sea dog role that Sean Connery can do in his sleep, even if it becomes difficult to swallow a Russian captain with a Scots brogue.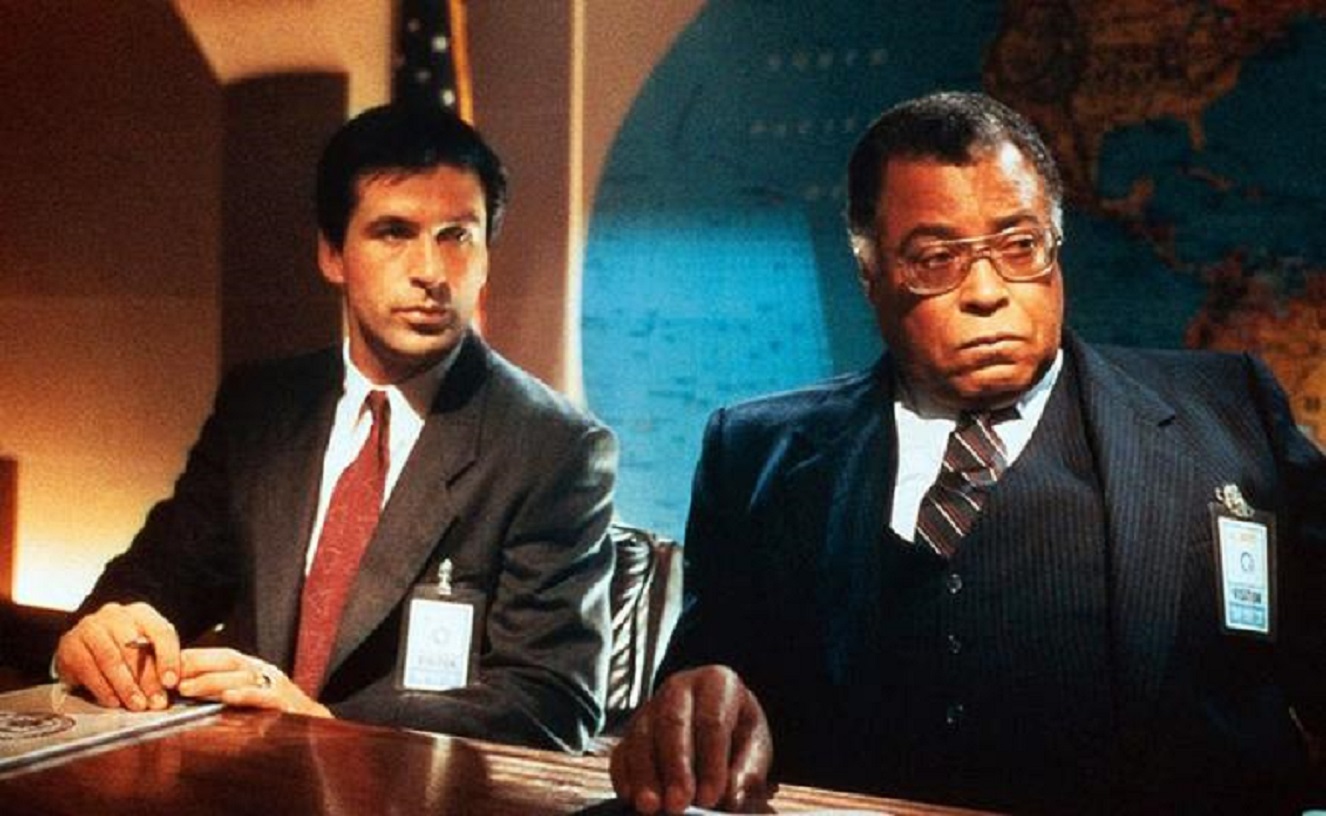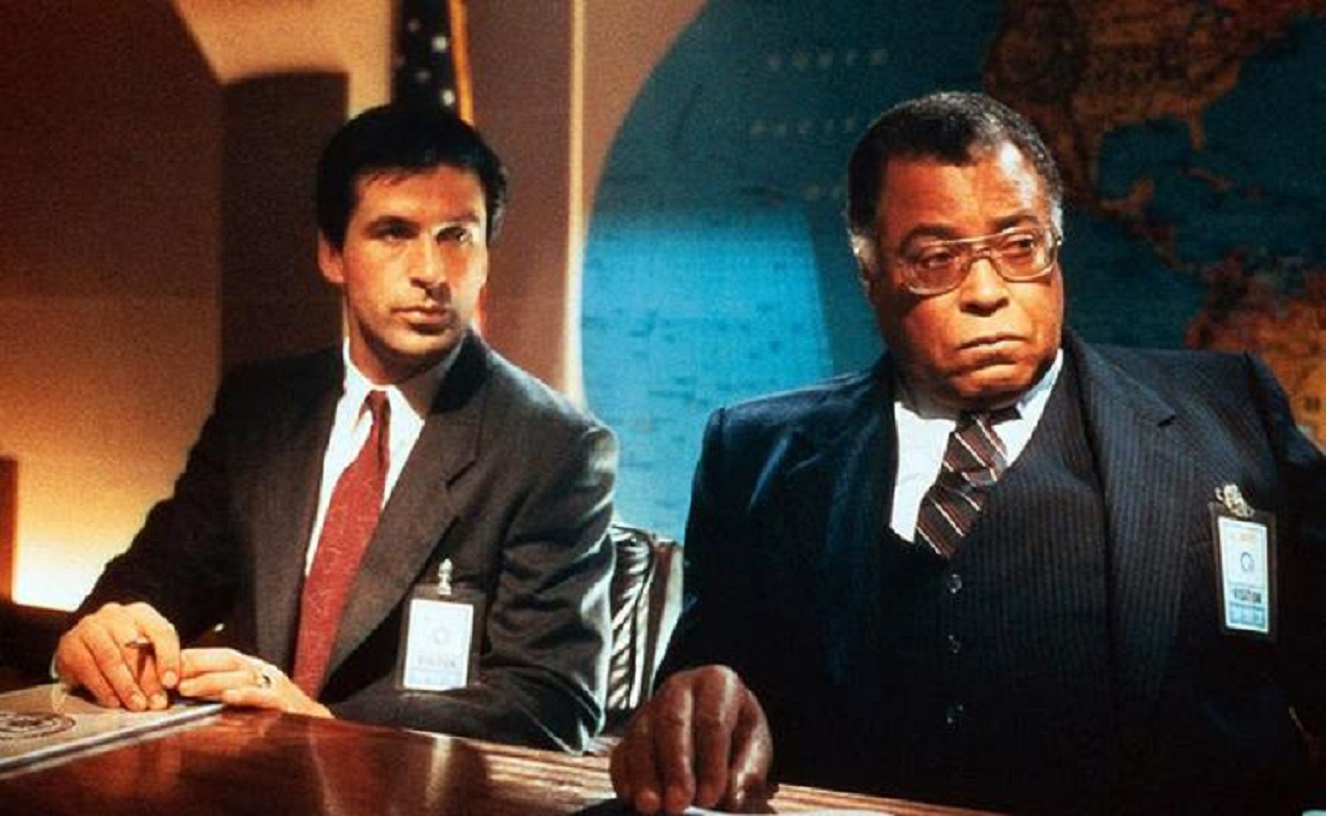 The one who rises out of the large number of arrayed names is Alec Baldwin who gives a sharp, intelligent and convincingly urgent performance as Ryan. The pairing of the two – Baldwin's sharpness and Connery's wily screen-filling presence – fills the film. Courtney B. Vance also gives a fine performance as the sonar operator, he being able to hold the entire theatre to silence simply by raising his hand.
There were three further Jack Ryan films, the banal Patriot Games (1992) wherein he faces IRA terrorists, and the box-office underperforming but otherwise surprisingly good Clear and Present Danger (1994) with Ryan facing Central American drug barons and a Presidential coverup. In both of these, Harrison Ford took over the role of Ryan. The Sum of All Fears (2002), a dull film about nuclear terrorism, miscasts Ryan with an much younger Ben Affleck, while a further reboot Jack Ryan: Shadow Recruit (2014) starring Chris Pine failed to go anywhere. The Jack Ryan series was subsequently spun out as the tv series Tom Clancy's Jack Ryan (2018– ). Other Tom Clancy works on screen have been the tv mini-series Op Center (1995), about the theft of nuclear weaponry, which Clancy later expanded out as the basis of his series of sharecropped books of the same name; the futuristic tv mini-series Net Force (1999) from Clancy's other series of books; and Without Remorse (2021) based on one of Clancy's other series.
John McTiernan's other films are:– Nomads (1986), Predator (1987), Die Hard (1988), Medicine Man (1992), Last Action Hero (1993), Die Hard with a Vengeance (1995), The Thomas Crown Affair (1999), The 13th Warrior (1999), Rollerball (2002) and Basic (2003).
---
---