USA. 2002.
Crew
Director – Guillermo Del Toro, Screenplay – David S. Goyer, Based on the Comic Book Created by Gene Colan & Marv Wolfman, Producers – Peter Frankfurt, Patrick J. Palmer & Wesley Snipes, Photography – Gabriel Beristain, Music – Marco Beltrami & Buck Sanders, Additional Music – Daniel Saber, Visual Effects Supervisor – Nicholas Brooks, Digital/Creature Effects – Tippett Studios (Supervisors – Blair Clark & Craig Hayes), Visual Effects – Framestore CFC (Supervisors – Robert Duncan & Robert Parker), Additional Visual Effects – C.O.R.E. Digital Pictures (Supervisors – Terry Bradley, Justin Martin & Nordin Rahhali), The Image Resolution Inc, Pacific Title and Digital, Pixel Magic (Supervisor – Raymond McIntyre Jr) & R!ot Pictures, Special Effects Supervisor – Nick Allder, Makeup Effects – Steve Johnson's XFX, Production Design – Carol Spier. Production Company – Amen Ra Films/Imaginary Forces.
Cast
Wesley Snipes (Blade), Kris Kristofferson (Whistler), Leonor Varela (Nyssa), Norman Reedus (Scud), Ron Perlman (Reinhardt), Thomas Kretschmann (Eli Damaskinos), Luke Goss (Jared Nomak), Danny John-Jules (Assad), Daz Crawford (Lighthammer), Matt Schulze (Chupa), Marit Vaille Kile (Verlaine), Tony Curran (Priest), Donnie Yen (Snowman), Karel Roden (Kounen)
---
Plot
The vampire hunter Blade rescues his good friend Whistler who has been imprisoned and tortured by the vampires for several years. Vampires then approach Blade, offering a truce. Blade is taken before the vampire king Eli Damaskinos who shows him evidence of a deadly new form of mutated vampire, the Reaper, which bites and infects humans and vampires alike, transforming them into its own ravenous kind. Blade is asked to head the Bloodpack, a crack commando team of vampires that have been formed to hunt and eliminate the Reapers. In an uneasy truce, Blade and the Bloodpack head to Poland and set about hunting down the Reapers and their leader, only to find that the Reapers cannot be killed by any traditional means of dispatch.
---
Blade II was a sequel to the highly successful Blade (1998), which was adapted from a Marvel comic-book. The sequel reunites stars Wesley Snipes, Kris Kristofferson and screenwriter David S. Goyer. The director this time was the then rising Guillermo Del Toro who first caught international attention with the vampire film Cronos (1993), followed by Mimic (1997) and The Devil's Backbone (2001). Del Toro went onto make a duo of further comic-book adaptations with Hellboy (2004) and Hellboy II: The Golden Army (2008) and gained considerable acclaim with the award-winning fantasy Pan's Labyrinth (2006) and The Shape of Water (2017).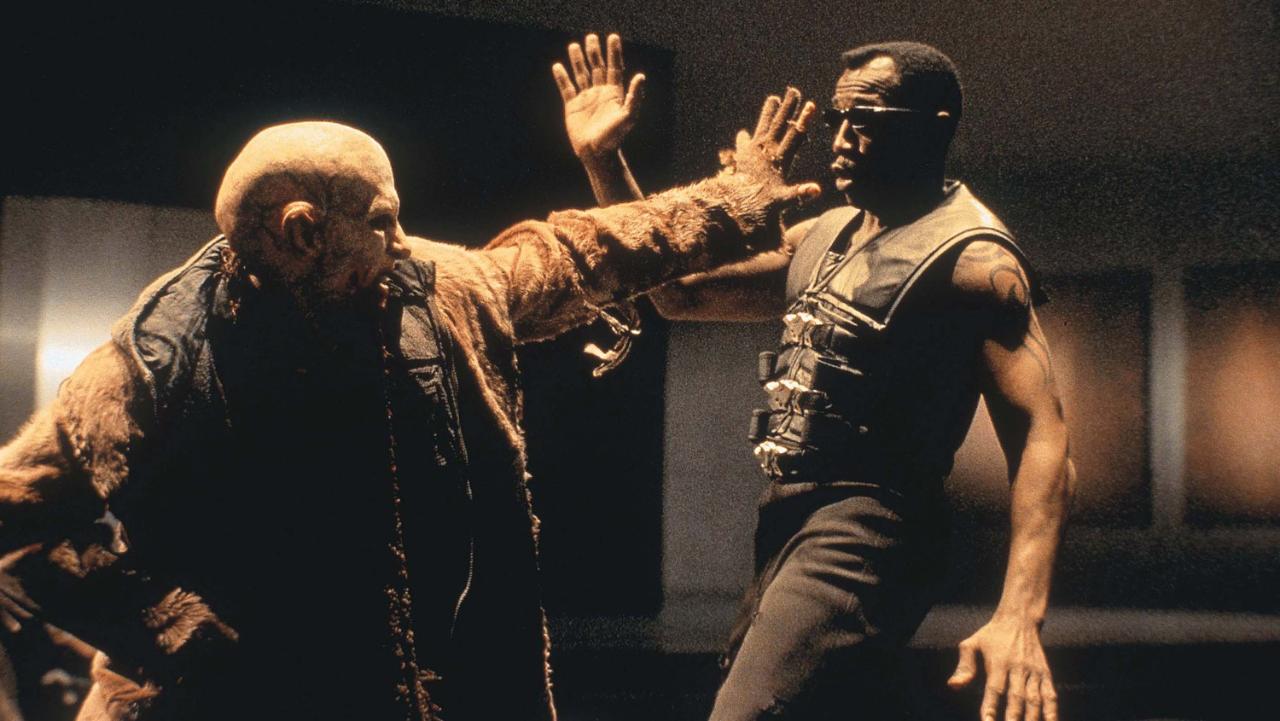 Blade II is a sequel, not unlike Mad Max 2 (1981), that takes a quantum leap in quality over its predecessor and, like Terminator 2: Judgment Day (1991), reimagines the original on a much more spectacular and ambitious scale. Of course, what has happened in between the release of Blade and Blade II is the twin successes of The Matrix (1999) and Crouching Tiger, Hidden Dragon (2000). Guillermo Del Toro demonstrates a wonderfully adept ability at grasping the pyrotechnic balletics of the modern post-Matrix action film and leaps in with all the usual martial arts moves, with people bouncing off and climbing up walls, camera moves following combatants twirling in mid-air, slow-motion bullets trails and a requisite pounding techno soundtrack underscoring everything.
There are some amazing makeup effects with the Reapers and their startling anatomical secrets, and a nifty array of digital effects with the vampires incinerating down to the skeleton and piles of blown ash as they are killed. Del Toro also understands the fetishism that exists in many of these post-Matrix films and almost overdoses on the look of the glistening shiny black leather and PVC, the jutting masculinity of the big guns, the muscles and designer tattoos. Blade II is an immensely satisfying and assuredly confident blend of horror and modern action. Resident Evil (2002) tried the same thing around the same time but failed tepidly – Blade II is all that Resident Evil should have been.
There is no plot to Blade II, so much as there is just a series of set-ups. Certainly, David S. Goyer toys with some interesting ideas around the edges of the action but mostly the film works best when it sets a bare stage for Guillermo Del Toro and the stunt people do their stuff. In the latter quarter, when the film tries to rely more on plot, offering up some surprise betrayals and vampire in-politicking, it is much more contrived and less interesting.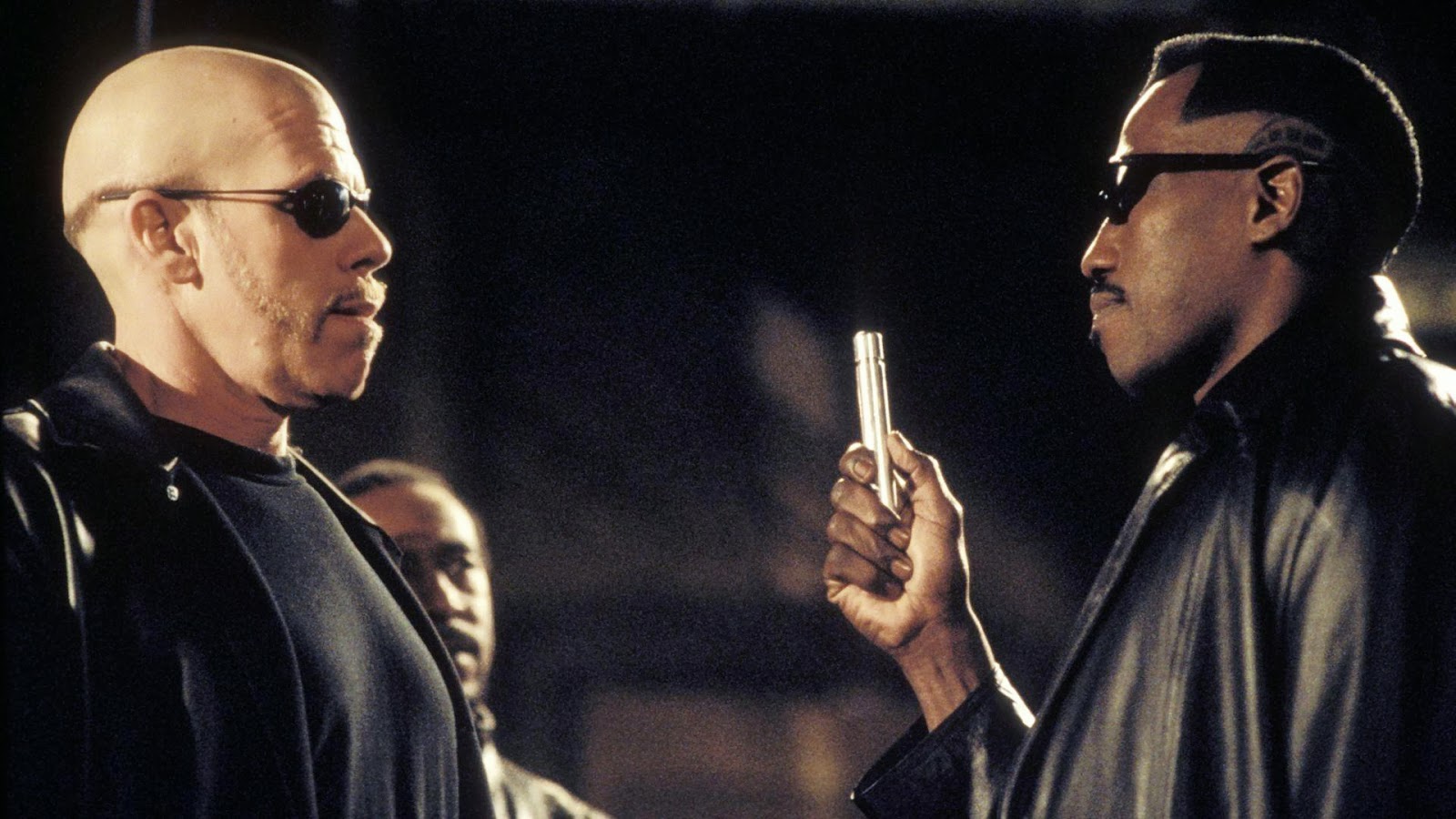 The best aspect is in the scaling of the plot up over the first film – in creating a deadly new enemy and a situation that requires a cautious cooperation between Blade and his traditional enemies. The shaded ambiguities that exist here – the uneasy truce, the suggestion of attraction between Blade and the vampire woman Nyssa, the uncertainty over whether Whistler is cured of vampirism – add fascinating grey areas to the original. Best of all is Del Toro regular Ron Perlman as the Bloodpack leader Reinhardt, a character that is construed as a vampiric counterpart of Blade himself, and who unfortunately never gets the screen time he deserves.
Blade II was followed by a further entry in the series, the also worthwile Blade Trinity (2004), wherein this film's screenwriter David S. Goyer was allowed to inherit the director's chair. Blade was also spun out into a tv series Blade: The Series (2006) with Sticky Fingaz in the title role, although this was cancelled after twelve episodes.
Guillermo Del Toro's other genre films include:- the vampire film Cronos (1993), the intelligent bug film Mimic (1997), the Spanish Civil War ghost story The Devil's Backbone (2001), the comic strip Hellboy (2004), the greatly acclaimed, awards-winning fantasy film Pan's Labyrinth (2006), Hellboy II: The Golden Army (2008), the giant robot film Pacific Rim (2013), the ghost story Crimson Peak (2015) and the amphibian man romance The Shape of Water (2017), which won Del Toro an Academy Award as Best Director. He also co-writes The Hobbit: An Unexpected Journey (2012), The Hobbit: The Desolation of Smaug (2013) and The Hobbit: The Battle of the Five Armies (2014). Del Toro has also produced other genre works like Chronicles (2002), Hellboy Animated: Sword of Storms (2006), Hellboy Animated: Blood and Iron (2007), The Orphanage (2007), While She Was Out (2008), Julia's Eyes (2010), Splice (2010), Don't Be Afraid of the Dark (2011), Kung Fu Panda 2 (2011), Puss in Boots (2011), Rise of the Guardians (2012), Mama (2013), The Book of Life (2014), Kung Fu Panda 3 (2016) and Pacific Rim: Uprising (2018), as well as the tv series The Strain (2014-7) based on his novel.
(Winner in this site's Top 10 Films of 2002 list. Winner for Best Director (Guillermo Del Toro), Best Makeup Effects and Best Sequel/Remake, Nominee for Best Supporting Actor (Ron Perlman) at this site's Best of 2002 Awards).
---
---