---
Crew
Director – Jordan Vogt-Roberts, Screenplay – Max Borenstein, Derek Connolly & Dan Gilroy, Story – John Gatins, Producers – Alex Garcia, John Jashni, Mary Parent & Thomas Tull, Photography (3D) – Larry Fong, Music – Henry Jackman, Senior Visual Effects Supervisor – Stephen Rosenbaum, Visual Effects Supervisor – Jeff White, Animation Supervisor – Scott Benza, Visual Effects – Industrial Light and Magic (Supervisor – Robert Weaver), Special Effects Supervisor – Mike Meinardus, Production Design – Stefan Dechant. Production Company – Legendary Pictures/Tencent Pictures.
Cast
Tom Hiddleston (James Conrad), Samuel L. Jackson (Colonel Preston Packard), Brie Larson (Mason Weaver), John C. Reilly (Lieutenant Hank Marlow), John Goodman (Bill Randa), Corey Hawkins (Houston Brooks), Shea Whigham (Captain Earl Cole), Toby Kebbell (Major Jack Chapman), Jing Tian (San Lin), John Ortiz (Victor Nieves), Jason Mitchell (Glenn Mills), Thomas Mann (Reg Slivko), Will Brittain (Young Marlow/Marlow's Son), Miyavi (Gunpei Ikari), Richard Jenkins (Senator Willis)
---
Plot
In 1973, Bill Randa, who is obsessed with cryptozoology, persuades the US government to fund an expedition to Skull Island in the Pacific, an area that has remained unexplored due to freak weather conditions. Randa also requests military backup and is assigned a unit, commanded by Colonel Preston Packard, that has just been decommissioned from duty in Vietnam. They are also joined by James Conrad, a British ex-soldier turned tracker, and war photographer Mason Weaver. Arriving on the island, their initial helicopter sortie is batted out of the air by the appearance of Kong, a hundred foot tall ape. Stranded in the jungle and separated, various of the party try to make it back to the rendezvous point but find the jungle teeming with giant creatures. Packard becomes obsessed with killing Kong. However, after they encounter Hank Marlow, a US pilot who has been stranded on the island since WWII, they realise that Kong is actually protecting the island from far worse monsters that have emerged from the underworld.
---
King Kong is one of the greatest of all movie monsters. The original Kong wound its way into moviegoers' hearts with its peculiar affection for Fay Wray and tragic death atop the Empire State Building in King Kong (1933). The original has been remade twice as the disastrous campy Dino De Laurentiis production King Kong (1976) starring Jessica Lange and as the fine Peter Jackson CGI version King Kong (2005) with Naomi Watts in the Fay Wray role. There have been numerous sequels and spinoffs – RKO made a sequel to the original with The Son of Kong (1933); the copyright was licensed to Toho in the 1960s who pitted Kong up against their own creation in King Kong Vs. Godzilla (1962) and then against a robotic counterpart in King Kong Escapes (1967); and King Kong Lives (1986), a sequel to the 1976 remake that was even more ridiculous than its predecessor. And that's not counting animated spinoffs like The King Kong Show (1966-9) and Kong: The Animated Series (2000-1). Kong even makes a cameo in The Lego Batman Movie (2017).
What emerges as Kong: Skull Island was circulating as a project for a number of years. Neil Marshall, director of The Descent (2005), was attached to an earlier version Skull Island: Blood of the King, based on a graphic novel, which would have acted as a direct sequel to the original and featured Carl Denham's son returning to Skull Island. This morphed into a reboot that passed through several hands, including directors David Slade and Joe Cornish, before eventually arriving under Jordan Vogt-Roberts, a relative newcomer who had only previously made the Coming of Age tale The Kings of Summer (2013).
Kong: Skull Island emerges into a very different cinematic world to any of its predecessors (excepting perhaps the Japanese versions). This version now comes into the era when Marvel Comics have had massive success by creating a series of films that link together their superheroes. Every other studio seems to be trying to do the same thing. Around the same time, DC were frenetically trying to play catch-up with Marvel, while Universal tried to do similar things with their classic monsters.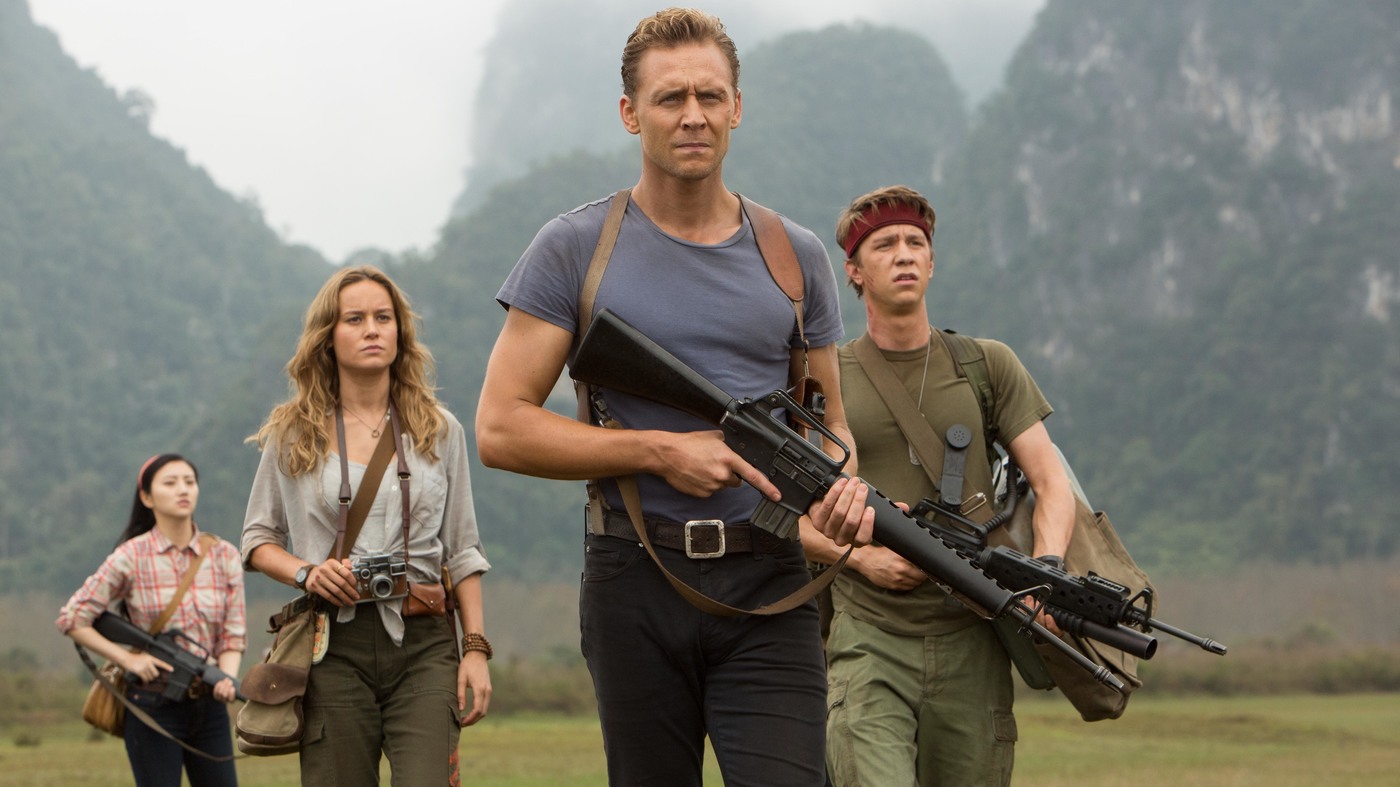 In this respect, Warner Brothers have attempted to tie Kong: Skull Island to their recent remake of Godzilla (2014) in what they are now calling their Monsterverse. There is reference made to a MUTO at one point here, while the end credits coda shows film footage of cave drawings of Godzilla, Mothra and Ghidorah. This was continued in the subsequent Godzilla, King of the Monsters (2019), which introduces other Japanese monsters and contains several references to Kong and Skull Island, and the two monsters then came together in Godzilla vs. Kong (2021). In their reconception of Kong as part of a wider universe, what we have is a film that is no longer a tragic monster movie about an ape that becomes captivated by a beautiful girl and is brought down by civilisation but about a giant ape that has become the heroic defender of humanity. It is not dissimilar to the way Godzilla went from rampaging monster to good guy hero in the 1960s Toho sequels.
It is also noticeable what Kong: Skull Island removes from the traditional telling of King Kong. We still have Skull Island and a giant ape. There are natives on the island but they are very peripheral to the action and don't conduct any sacrifices to Kong – indeed, he seems highly protective of them. There are no dinosaurs on the island, although we have some other monsters, including the MUTOs and various giant bugs. There is no film crew, although there is an exploratory mission, which is conducted by a cryptozoologist accompanied by a detachment of US soldiers. And there is no third act where Kong is captured and taken back to civilisation before meeting his tragic end atop the Empire State Building.
Perhaps the most egregious aspect of Kong: Skull Island is that there is no equivalent of Fay Wray. The nearest we get is Brie Larson who Kong sort of forms an association with and saves from near drowning, carrying her to safety in his paw. However, there is nothing here about he taking her captive and becoming obsessed with her, which has possibly been removed because the filmmakers decided that abduction and cross-species romance doesn't play out so well today.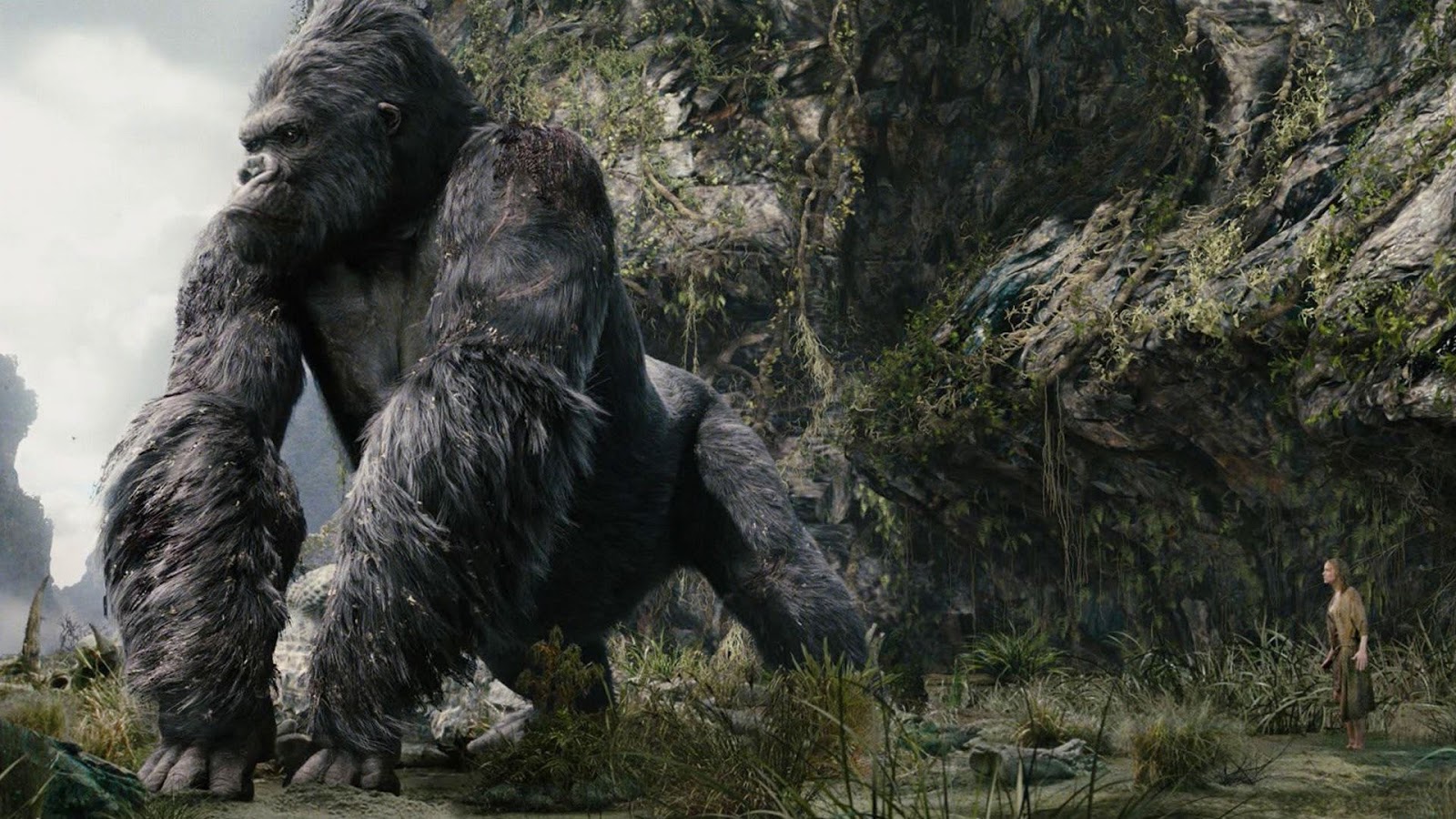 On its own terms and as long as you don't spend too much time comparing it to the other incarnations of Kong, Kong: Skull Island works fairly well. It has been construed first and foremost as an adventure film. In the 1933 film, the scenes with the explorers venturing through the lost world of the jungle were part of the film. These were certainly more substantial in the 2005 version. Here however they are extruded to become the whole of the film. Director Jordan Vogt-Roberts goes to town on all the jungle adventure, splitting the plot off into several different strands as we follow various characters. The island is filled with all manner of fascinating wildlife – giant chameleon-like stick insects that people assume are fallen trees; spiders that are almost as big as Kong; a battle between Kong and a giant octopus; even giant water buffalo.
I don't think Industrial Light and Magic quite make Kong as distinctive a character as Peter Jackson and the Weta Workshop did – or at least don't put him through as wide a gamut of behaviours and expressions – nevertheless the fine detail that has gone into crafting the character is still a work of art. All the creature battles are top-notch in terms of technical skill. The climactic battle between Kong and the MUTO is enthralling knockdown stuff. Full marks also to Jordan Vogt-Roberts who has a way of crafting Kong in iconic images that take the breath away – his face peering through a wall of flames to eyeball Samuel L. Jackson; his paw coming down into the river in slow motion to snatch up a drowning Brie Larson.
(Nominee for Best Special Effects at this site's Best of 2017 Awards).
---
---