---
USA. 1997.
Crew
Director – Guillermo Del Toro, Screenplay – Guillermo Del Toro & Matthew Robbins, Based on the Short Story by Donald A. Wollheim, Producers – Ole Bornedal, B.J. Rack & Bob Weinstein, Photography – Dan Laustsen, Music – Marco Beltrami, Visual Effects Supervisor – Brian Jennings, Digital Effects – C.O.R.E. Digital Pictures & Hybride Technologies, Digital Visual Effects – Digiscope, Special Effects Supervisor – Ted Ross, Creature Effects – The Character Shop (Supervisor – Rick Lazzarini), Creature Effects Design – Rob Bottin & Tyruben Ellingson, Makeup Effects – FXSmith (Supervisor – Gordon Smith), Production Design – Carol Spier. Production Company – Dimension Pictures.
Cast
Mira Sorvino (Dr Susan Tyler), Jeremy Northam (Dr Peter Mann), Charles S. Dutton (Leonard), Alexander Goodwin (Chuy), Giancarlo Giannini (Manny), Josh Brolin (Josh), F. Murray Abraham (Dr Gates), Alix Koromzay (Remy)
---
Plot
In order to stop a plague that is killing New York's children, entomologist Susan Tyler genetically engineers an insect designed to kill off the cockroaches that carry the plague. Three years later, Susan is called in to examine bodies found in a church. In investigating, Susan discovers that the insect has evolved into a dangerous new form of life that lives in the subway tunnels. The insect has learned to mimic and disguise itself in human form and is now preying on humans.
---
Mimicwas the second film from then largely unknown Mexican director Guillermo Del Toro. Del Toro had suddenly appeared on the festival circuit with the acclaimed vampire film Cronos (1993) and in the next decade ahead went on to become one of the major forces in fantastic cinema. (See below for Del Toro's other films).
On one level, Mimic is simply another copy of Alien (1979) with people running down darkened tunnels being pursued by a creature and with a thin patina of science to justify the goings-on. It was one of several Alien-inspired copies that came out in the late 1990s conducted on A-budgets. While not straying too far from its generic confines, Mimic does the basics rather well. The script incorporates some imaginative ideas from the world of insects – mimicry, pheromones – to put an intriguing and original spin on the creature.
Mostly, the effectiveness of Mimic is due to Guillermo Del Toro. The film comes with a nicely subdued quietude. When it comes to the sequences in the tunnels, Del Toro keeps the suspense taut. Although, one thing you keep thinking is that ten years ago, Mimic would have been made on a B-budget – the $60 odd million it is here would have been unthinkable back then.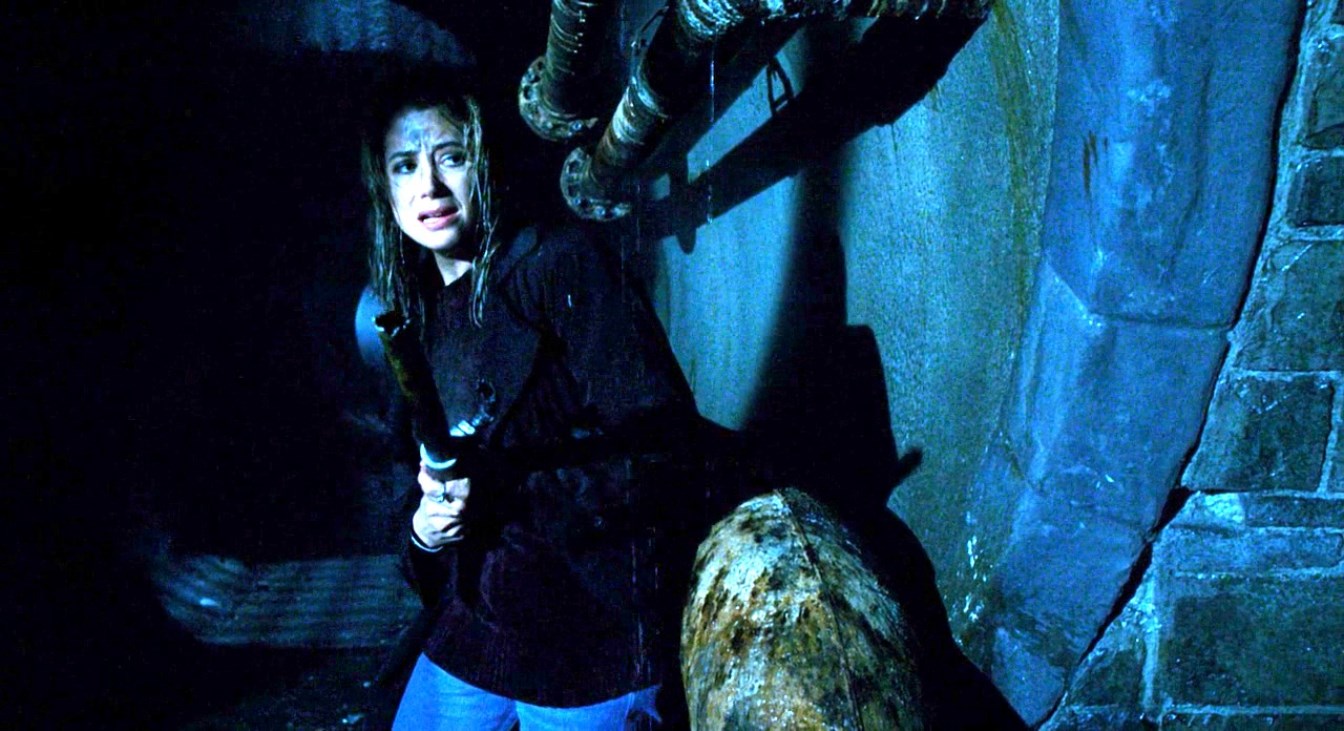 Mira Sorvino, a screamingly funny delight in Woody Allen's Mighty Aphrodite (1995), makes negligible impact in a role that could have been played by anybody, as could be said for fairly much any of the cast, most of whom have gained greater renown since.
There were two video-released sequels Mimic 2 (2001) and Mimic: Sentinel (2003).
Guillermo Del Toro would go onto direct the worthwhile likes of the Spanish Civil War ghost story The Devil's Backbone (2001), the exhilarating vampire action film Blade II (2002), the graphic novel adaptation Hellboy (2004), the critically acclaimed fantasy film Pan's Labyrinth (2006), Hellboy II: The Golden Army (2008), the giant robot film Pacific Rim (2013), the ghost story Crimson Peak (2015) and the amphibian man romance The Shape of Water (2017), which won Del Toro an Academy Award as Best Director, the fake clairvoyant film Nightmare Alley (2021); and as co-director of the stop-motion animated Guillermo Del Toro's Pinocchio (2022). Del Toro also wrote/produced wrote/produced Don't Be Afraid of the Dark (2011), Scary Stories to Tell in the Dark (2019), The Witches (2020) and the tv series Guillermo Del Toro's Cabinet of Curiosities (2022- ) and co-wrote The Hobbit: An Unexpected Journey (2012), The Hobbit: The Desolation of Smaug (2013) and The Hobbit: The Battle of the Five Armies (2014).
The script comes from Matthew Robbins, who with his writing partner Hal Barwood had made several fine genre films – Dragonslayer (1981) and the cute UFO film Batteries Not Included (1987), and to write the zombie film Warning Sign (1985) and the Guillermo Del Toro films Don't Be Afraid of the Dark (2011), Crimson Peak (2015) and Guillermo Del Toro's Pinocchio (2022).
(Nominee for Best Makeup Effects at this site's Best of 1997 Awards).
---
---