---
Crew
Director – David Leitch, Screenplay – Rhett Reese, Ryan Reynolds & Paul Wernick, Producers – Lauren Shuler Donner, Simon Kinberg & Ryan Reynolds, Photography – Jonathan Sela, Music – Tyler Bates, Visual Effects Supervisor – Dan Glass, Visual Effects – DNEG (Supervisor – Mike Brazelton) & Framestore (Supervisor – Stephane Naze), Visual Effects/Animation – Method Studios (Supervisor – Sean Konrad) & Weta Digital Limited, Special Effects Supervisor – Mike Vezina, Makeup Design/Supervisor – Bill Corso, Production Design – David Scheunemann. Production Company – Marvel Entertainment/Kinberg Genre/Maximum Effort/TSG Entertainment.
Cast
Ryan Reynolds (Deadpool/Wade Wilson), Josh Brolin (Cable), Julian Dennison (Firefist/Russell Collins), Morena Baccarin (Vanessa Carlysle), Zazie Beetz (Domino), Stefan Kapicic (Voice of Colossus), Karan Soni (Dopinder), Brianna Hildebrand (Negasonic Teenage Warhead), T.J. Miller (Weasel), Eddie Marsan (Headmaster), Shioli Kutsuna (Yukio), Leslie Uggams (Blind Al), Jack Kesy (Black Tom), Juggernaut (Voice of Juggernaut), Rob Delaney (Peter), Lewis Tan (Shatterstar), Bill Skarsgard (Zeitgeist), Terry Crews (Bedlam), Randal Reeder (Buck), Brad Pitt (Vanisher)
---
Plot
Thugs burst into their apartment to attack Deadpool. In the midst of the fracas, Vanessa is killed by a stray bullet. Afterwards, a devastated Deadpool makes repeated efforts to kill himself but keeps regenerating from every attempt. He is eventually picked up by Colossus and taken back to Professor Xavier's school. There Colossus attempts to rehabilitate Deadpool into one of the X-Men. On their first assignment out, they are called to the Essex House for Mutant Rehabilitation that promises to 'cure' mutants where young Russell Collins has rebelled against their harsh treatments and gone amok with his fireball blasting abilities. Deadpool intervenes to try and help Russell, only to make the situation worse by shooting one of the school's attendants. During the midst of the battle, they are interrupted by Cable, a tough mercenary time-travelled back from the future to eliminate Russell. Both Deadpool and Russell are captured and sentenced to The Icebox, a prison for mutants. There Deadpool shrugs off Russell's insistence that they are friends. He is able to escape when Cable breaks into the prison to eliminate Russell but is forced to leave Russell behind. He realises this was a mistake and decides to rescue Russell during a prison transfer. To do this, Deadpool recruits a team of other mutants that he names X-Force. However, things go awry with most of the team eliminated in a series of accidents before the mission begins. They then discover that Russell has teamed with the hulking, near-invincible Juggernaut. Afterwards, Cable comes to Deadpool asking for an alliance. He explains that if Russell is not eliminated he will become something monstrous in the future, killing Cable's wife and child. Deadpool agrees as long as he can get a chance to redeem Russell before he makes his first kill. They set out to stop Russell as he returns to incinerate the Essex school and kill its headmaster.
---
Deadpool (2016) was a sleeper success among the deluge of Marvel Comics adaptations filling the screens. Pushed as a personal project by its star Ryan Reynolds, the film became a considerable box-office success, even when it was not expected to be. This success ironically saw the cinematic comic-book adaptation making a turn towards more adult content. Deadpool 2 is a sequel. It comes with the addition of a bigger budget and is even more confident about the type of film it now is. Ryan Reynolds is now truly the guiding force behind it, serving not only as star and producer but also co-writer.
The script comes with all the fourth wall breaking gags that the original did. The prologue features Deadpool blowing himself up on several drums of explosive, wittily digging in to the previous X-Men outing Logan (2017) – "Fuck Wolverine," Ryan Reynolds announces in voiceover. "First he rides my coattails with the R-rating and then that hairy motherfucker ups the ante by dying. Well, guess what, Wolvie? I'm dying in this one too." Among the excuses Ryan Reynolds offers Morena Baccarin for being late home is "I was fighting a caped badass but then we discovered that his mom is named Martha too" parodying the much ridiculed "Martha" line from Batman V Superman: Dawn of Justice (2016). There are all sorts of lines comparing the first film's gross to The Passion of the Christ (2004) and referring to how the X-Men were created as a dated metaphor for racism. At one point, Reynolds turns to Randal Reeder after he has a rambling line about Elisabeth Kubler-Ross's stage of grief "Fuck, no more speaking lines for you" and later redresses Cable: "You're so dark. Are you sure you aren't part of the DC Universe?"
The benefit of a bigger budget has allowed more lavish action scenes. The first film's director Tim Miller has been replaced by David Leitch, a former stuntman, stunt coordinator and second unit director. Leitch had purportedly uncreditedly directed action scenes for John Wick (2014) before making his debut with Atomic Blonde (2017), a film I hated, and subsequently went on to Fast & Furious Presents: Hobbs & Shaw (2019) and Bullet Train (2022). Despite low prospects on the basis of Atomic Blonde, Leitch redeems himself considerably with Deadpool 2. In Leitch's hands, the film comes with a series of slickly polished and enormously exciting action sequences, easily topping those in the first film.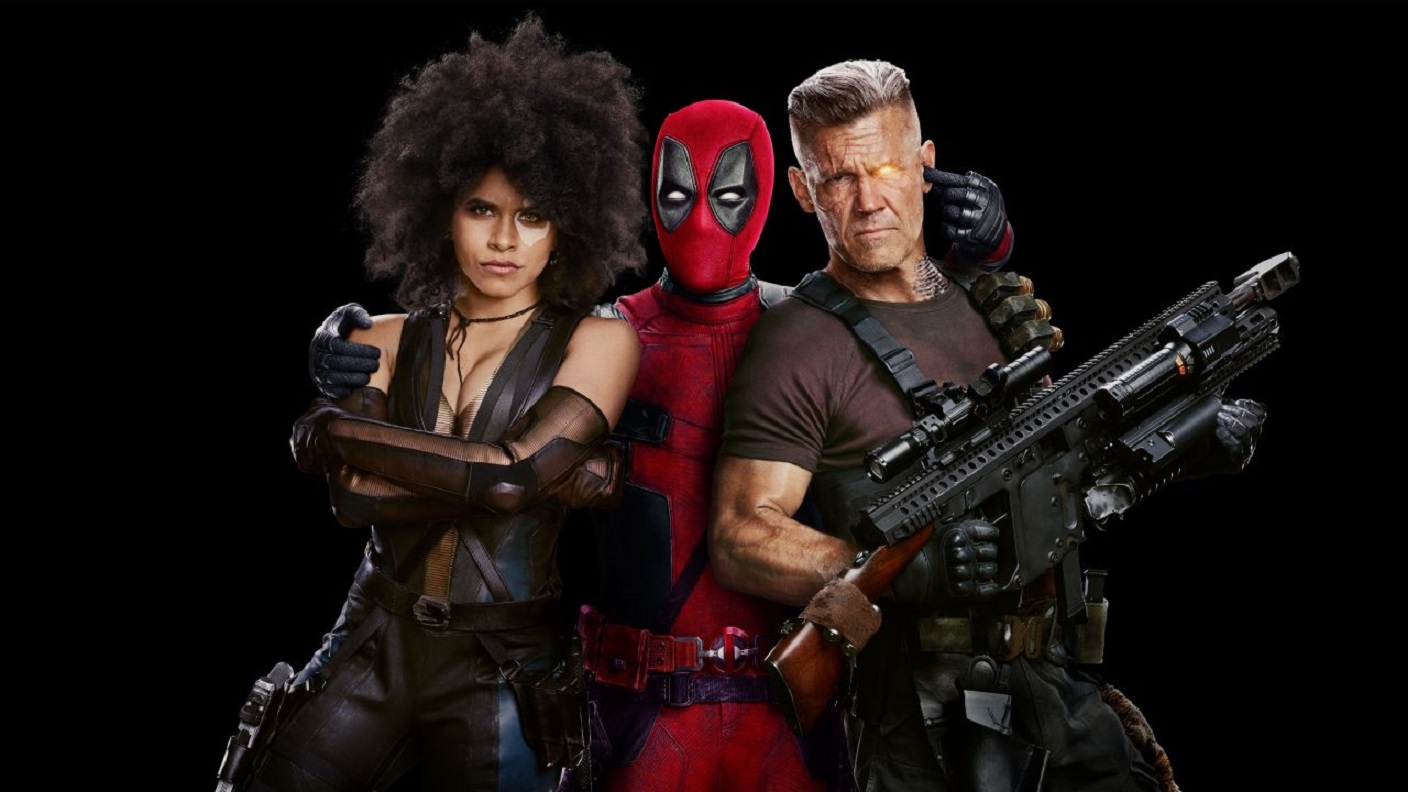 David Leitch also demonstrates an ability to balance action with a considerable sense of humour, which is not always an easy task. The scene where Ryan Reynolds goes in to stop Julian Dennision as he runs amok outside the Essex School is side-splitting in its juggle of competing elements, Reynolds' smart-ass one-liners and his trying to deflate the situation only to end up doing everything that goes against the X-Men code with hilariously wrong results.
Things become even funnier with the introduction of X-Force and the planning of the mission only for most of the team to end up being killed as they parachute into action. The mission itself is an exhilarating set-piece in and around downtown Vancouver (one that left me gasping at seeing local landmarks and bridges being trashed), all hilariously underscored by Reynolds' flip sense of humour and the bizarrely over-the-top coincidences of Domino's luck.
The film comes with a script that is smart and adept. The gags and one-liners keep on coming with machine gun rapidity. There is a side-splitting sequence playing on Deadpool's regenerating baby legs. Deadpool's death scene at the end is one that manages to play all the violin string cliches of the cinematic death scene in generating quite a reasonable degree of pathos at the same time as it manages to spoof the hell out of them. The soundtrack makes hilarious sarcastic use of tracks from everybody from Barbra Streisand to Dolly Parton and the Annie (1976) musical.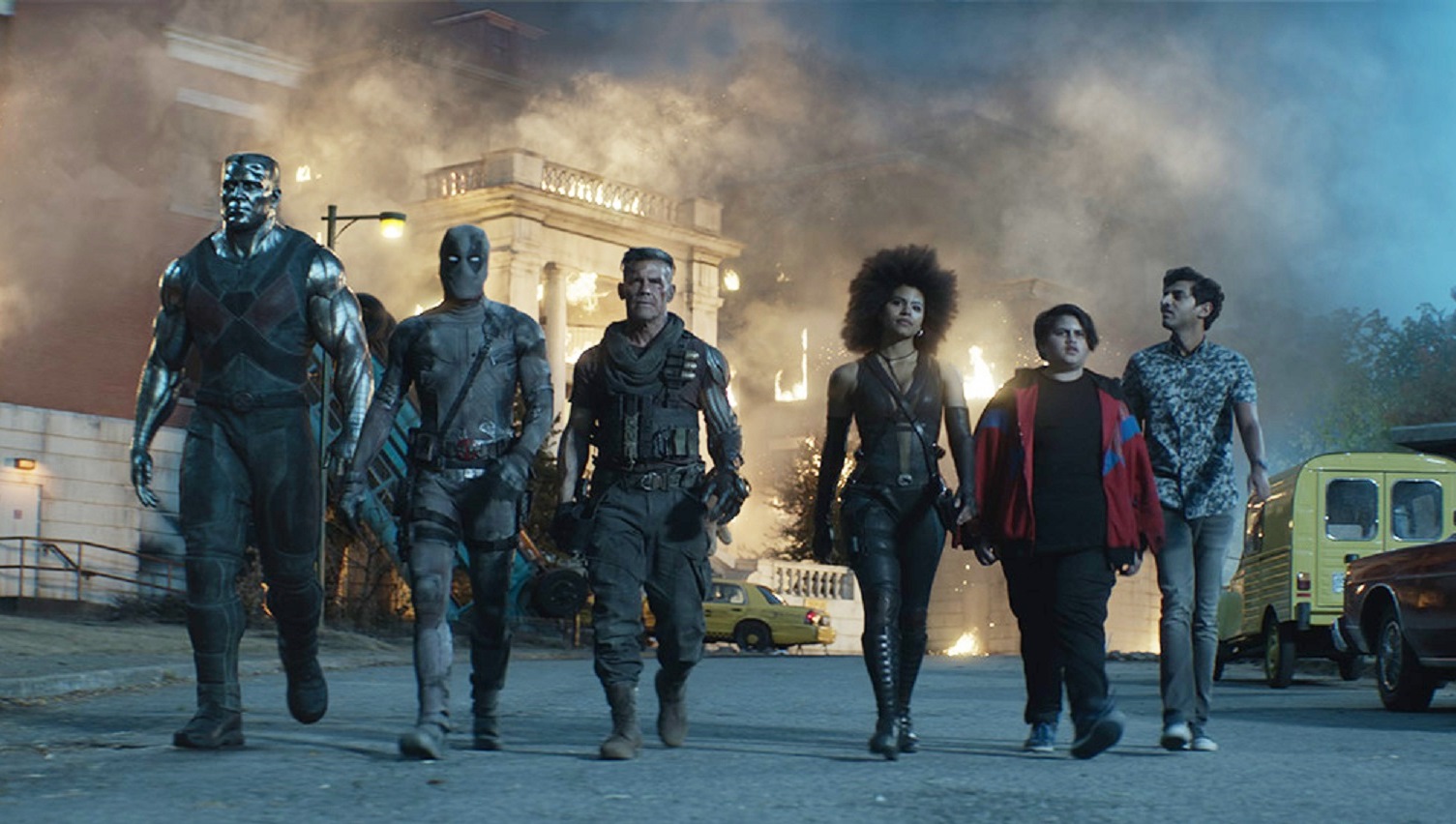 The gags even keep going throughout the credits, which [PLOT SPOILERS] show Ryan Reynolds venturing through time to shoot himself in the head as he is about to pick up the script for Green Lantern (2011) and a gag about picking up the infant Hitler.
It is also a script with some uncommonly good writing. Cable is introduced as a bad guy, only for the film to pull the carpet out in a mid-film twist to reveal his motivation and cast him in a surprisingly more sympathetic light – essentially imagine The Terminator (1984) being introduced and then suddenly spun about as a good guy of Terminator 2: Judgment Day (1991) all in the space of one film. Marvel films are not exactly known for creating super-villains with a three-dimensional roundedness, however Josh Brolin has managed the near-impossible grand slam of playing two such Marvel super-villains that would be at the top of the very short list, appearing as both Cable here and Thanos in Avengers: Infinity War (2018) in the space of less than a month. Julian Dennison, the kid from Hunt for the Wilderpeople (2016), also ranks memorably as Firefist.
In amusing stunt the film was re-released several months later in a Christmas edition entitled Once Upon a Deadpool (2018) with all the foul-language edited down to a PG-rating
(Winner in this site's Top 10 Films of 2018 list. Winner for Best Supporting Actor (Josh Brolin) Nominee for Best Director (David Leith), Best Adapted Screenplay, Best Actor (Ryan Reynolds), Best Supporting Actor (Julian Dennison) and Best Supporting Actress (Zazie Beetz) at this site's Best of 2018 Awards).

---
---