---
USA. 2014.
Crew
Director – Jay Oliva, Screenplay – Heath Corson, Based on the Graphic Novel Justice League: Origin by Geoff Johns & Jim Lee, Music – Kevin Kliesch, Animation – Mai Animation Studios (Directors – Hyeongki Kim, Seil Oh, Jinseok Park & Seunghoon Yu). Production Company – Warner Bros. Animation.
Voices
Jason O'Mara (Batman/Bruce Wayne), Alan Tudyk (Superman/Clark Kent), Justin Kirk (Green Lantern/Hal Jordan), Shemar Moore (Cyborg/Victor Stone), Christopher Gorham (The Flash/Barry Allen), Michelle Monaghan (Wonder Woman), Sean Astin (Shazam), Zach Callison (Billy Batson), Steve Blum (Darkseid), Rocky Carroll (Professor Silas Stone), Richard McGonagle (President), Bruce Thomas (Desaad), George Newbern (Steve Trevor), Hynden Walch (Hannah Grace), Roger Rose (Pinstriped Loudmouth), John Mariano (Ice Cream Vendor)
---
Plot
Batman and Green Lantern meet for the first time over the skies of Gotham City as they both attempt to tackle a cyborg creature. Despatching it, Batman puzzles over the fact that it was attempting to plant a mysterious box. In Central City, The Flash has brought a similar box to S.T.A.R. Labs for Professor Silas Stone to examine. Batman and Green Lantern go to Metropolis to investigate the existence of Superman and end up fighting with him as they tackle another creature that is attempting to plant a box. Meanwhile, Silas Stone's son Victor is a star football player for The Titans but feels disappointed that his father is always too busy to come and see him play. After a match, Victor meets young runaway kid Billy Batson who has snuck into the locker room. At the same time, Steve Trevor takes Wonder Woman to a meeting with The President. All at once, the boxes opens Boom Tubes that allow the cyborg parademons of Darkseid, the overlord of the planet Apokolips, to invade the Earth en masse. Victor is badly damaged by the explosion of the box at S.T.A.R. Labs. His father realises the only hope to save him is to use some of the alien tech he has been examining – only for it to fuse with Victor's body and he to emerge as a tough fighting cyborg. In trying to deal with the mass invasion of the parademons and the arrival of the near-invincible Darkseid, Batman realises that the only hope is for all of them – he, Green Lantern, Superman, Wonder Woman, Cyborg, The Flash and young Billy Batson who is capable of turning into the lightning-empowered Shazam – to come together as a united fighting force.
---
Justice League: War was the eighteenth in the DC Universe Original Animated Films. It follows Superman: Doomsday (2007), Batman: Gotham Knight (2008), Justice League: The New Frontier (2008), Green Lantern: First Flight (2009), Superman/Batman: Public Enemies (2009), Wonder Woman (2009), Batman: Under the Red Hood (2010), Justice League: Crisis on Two Earths (2010), Superman & Batman: Apocalypse (2010), All-Star Superman (2011), Batman: Year One (2011), Green Lantern: Emerald Knights (2011), Batman: The Dark Knight Returns Part I (2012), Justice League: Doom (2012), Superman vs. The Elite (2012), Batman: The Dark Knight Returns Part II (2013), Justice League: The Flashpoint Paradox (2013), Superman Unbound (2013), Batman: Assault on Arkham (2014), Son of Batman (2014), Batman vs. Robin (2015), Justice League: Gods and Monsters (2015), Justice League: Throne of Atlantis (2015), Batman: Bad Blood (2016), Batman: The Killing Joke (2016), Justice League vs Teen Titans (2016), Batman and Harley Quinn (2017), Justice League Dark (2017), Teen Titans: The Judas Contract (2017), Batman: Gotham By Gaslight (2018), The Death of Superman (2018), Suicide Squad: Hell to Pay (2018), Batman: Hush (2019), Justice League vs The Fatal Five (2019), Reign of the Supermen (2019), Wonder Woman: Bloodlines (2019), Justice League Dark: Apokolips War (2020), Superman: Man of Tomorrow (2020), Superman: Red Son (2020), Batman: Soul of the Dragon (2021), Batman: The Long Halloween Part One (2021), Batman: The Long Halloween Part Two (2021), Injustice (2021), Justice Society: World War II (2021), Batman and Superman: Battle of the Super Sons (2022), Catwoman: Hunted (2022), Green Lantern: Beware My Power (2022), Batman: The Doom That Came to Gotham (2023), Justice League: Warworld (2023) and Legion of Super-Heroes (2023).
The New 52 was a highly publicised continuity reboot that DC conducted in 2011 where all ongoing fifty-two published issues were reset to Issue Zero and the often wildly divergent continuity harmonised into a single universe with origin stories rewritten, the universe interwoven and characters set up to follow arcs over the course of several years ahead. Critics of The New 52 have seen this as a marketing move – moreover, one that has substantially failed to change DC's sales figures. Justice League: War was the first film to be made from The New 52, as was the subsequent Justice League: Throne of Atlantis (2015), which follows on from this in continuity. Here The New 52 has been expanded to rewrite the continuity of the animated films, which are now clearly being billed as the 'DC Animated Universe' in an effort, one suspects, to appeal to the interconnected universe that Marvel has been conducting so successfully in their live-action films.
The older comic-book fan in one goes ho-hum. Ever since Crisis on Infinite Earths (1986), DC Comics continuity has existed in a state of constant flux, rebooting and retconning before everything is then changed back to the way it was a few years later. Superman was killed and then resurrected; Green Lantern went insane after the destruction of Coast City by Parallax and the ring was inherited by others before Hal Jordan returned in 2004; Batman has seen a roster of different Robins; The Flash was killed off and his nephew took up the role before Barry Allen was eventually brought back; both Supergirl and Superboy was killed off and then kept being revived in different forms.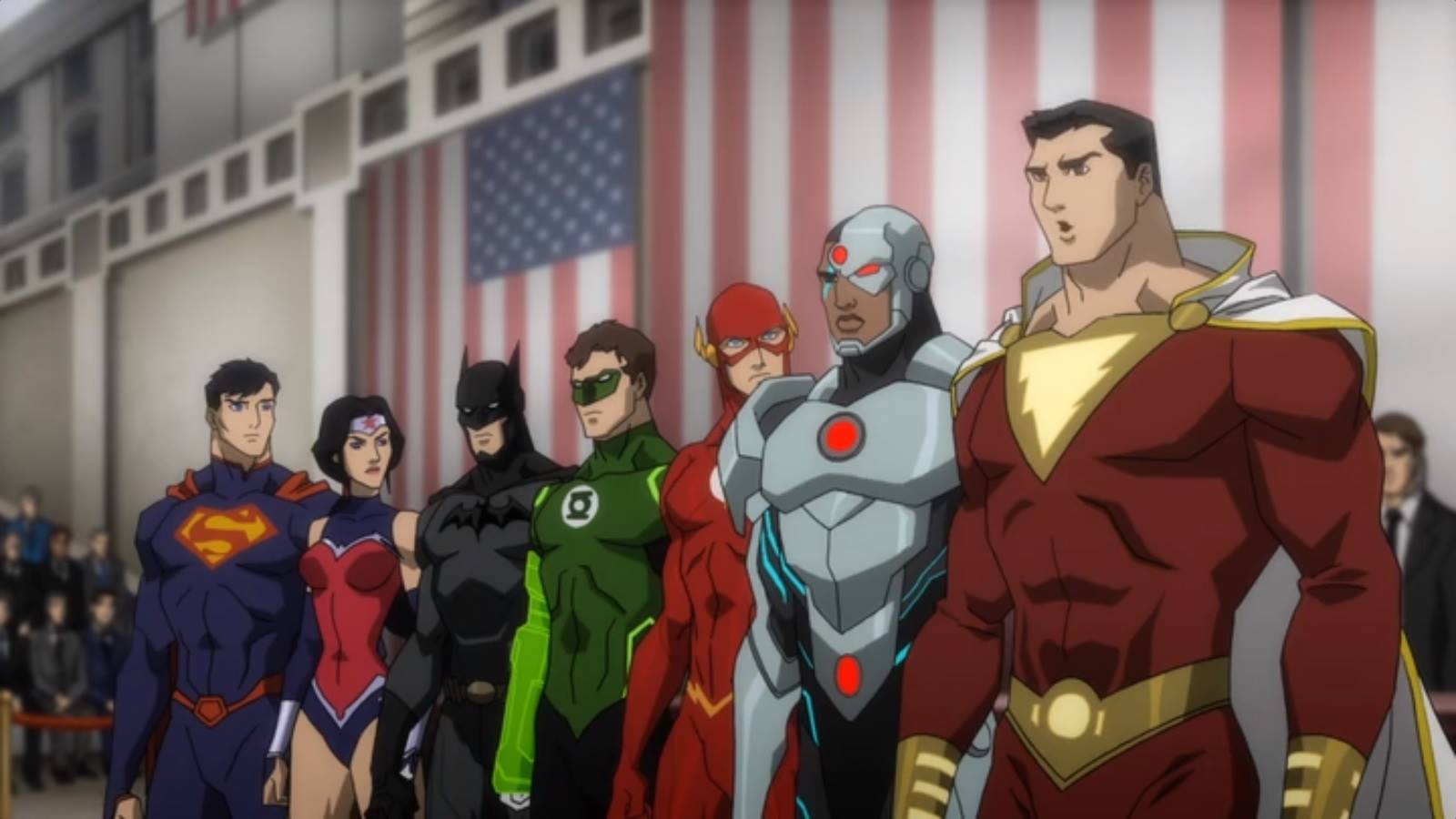 This is even more evident in the DC Universe Animated Films where we only see 2-3 stories per year adapted from comics all over different eras, resulting in some abrupt and wild changes from one film to the next. The New 52 feels like just another retcon – one that seems modelled on what Marvel did more successfully with The Ultimates a few years ago – but it also disrupts the familiar in unnecessary ways – Lois Lane has been sidelined and Superman is now dating Wonder Woman, for instance. Perhaps the most grating change is the dropping of Superman's familiar costume in favour of a pair of jeans. Can you say this really adds anything new at the cost of alienating an older fanbase that have grown accustomed to the way things were?
Here we are watching a story that reboots the entire Justice League continuity to have all the familiar characters improbably coming together and emerging as superheroes around the same time. They are familiar but different – both Superman and Wonder Woman have very different costumes than the ones we are used to. The character I had the biggest problem with was Captain Marvel, who is now named Shazam, which was always traditionally the magic word that Billy Batson used to transform. Shazam has always been fairly much of a lightweight and you feel that he doesn't belong as a member of the Justice League, while the Martian Manhunter who has always been a part of the Justice League is dumped for no real reason. Moreover, the characterisation here of Billy Batson as a runaway kid and Shazam as a hero with an attitude problem is very different to what we are used to. It is the constant question of why the film sees the need to have to screw with the familiar.
Yet for all that, Justice League: War is a film that is dependent on our recognition and familiarity with the characters. This gives a certain snappiness to the opening scenes – which have Batman and Green Lantern meeting, neither knowing who the other is and Green Lantern (who is played much more cocky and headstrong than usual) coming out with lines of astonishment like "Wait, you're just a man in a bat costume?" Or where Batman and Superman meet for the first time and surprise each other with the knowledge of the other's secret identity. (The other part of you keeps wondering how in the contemporary round the clock news cycle it would be possible that all of these superheroes could be at large in different cities of the US and barely aware of the other's existence or exploits).
Justice League: War never amounts to a particularly outstanding DC Universe Animated film. Jay Oliva turns up some vigorous action scenes but nothing truly standout. There is the introduction of Darkseid, one of the great DC villains introduced in Jack Kirby's Fourth World saga – but this remains a flat and uninspired use of Darkseid as a villain who has largely been stripped of all the beautifully complex mythology that Kirby created.
---
---