(Tetsuo)
---
Crew
Director/Screenplay/Producer/Special Effects/Art Direction – Shinya Tsukamoto, Photography (b&w) – Shinya Tsukamoto & Kei Fujiwara, Music – Chu Ishikawa. Production Company – Kaiju Theatre.
Cast
Tomoroh Taguchi (Salaryman), Kei Fujiwara (Salaryman's Girlfriend), Shinya Tsukamoto (Young Metals Fetishist), Nobu Karaoka (Woman in Glasses)
---
Plot
A fetishist who inserts pieces, even entire bars, of metal into his body is run down in the street by a young office worker. After touching a lump of metal in the subway, a woman goes insane and transforms into a bio-mechanical demon and pursues and later anally rapes the office worker with a giant pipe emerging from her crotch. The office worker starts to transform into a bio-mechanoid. He tears his girlfriend apart when his penis transforms into a high-speed drill bit during sex. As the salaryman becomes more and more machine, the fetishist returns to exact revenge.
---
This minusculely budgeted Japanese film is one of the most extraordinary pieces of underground filmmaking to have emerged in the 1980s. Precisely what Tetsuo – The Iron Man is is difficult to pigeonhole – it is neither wholly science-fiction, neither wholly horror, nor outright surrealism but somewhere between all three. If one is searching for some way to describe Tetsuo – The Iron Man, it might if anything be likened to an Eraserhead (1977) after David Lynch had gone away and done a crash reading of William Gibson. Cyberpunk on hallucinogens maybe.
From the first few minutes in, Tetsuo – The Iron Man hits you with a raw, full-on ferocity. The film's poor production values, grainy soundtrack and crude handheld camerawork is immediately transformed in a stomach-churning scene where director Shinya Tsukamoto himself, playing the fetishist, cuts open his leg and inserts a threaded iron bar. The rest of the film makes no sense whatsoever on a narrative level, but exists as a series of surreal images of genuinely outlandish intensity.
In one scene set in a subway, a mousy bespectacled secretary touches a strange pulsating lump of machinery and is transformed into a crazed woman with a writhing mechanical hand who pursues the hero through the subway toilets. The subsequent scene defies belief – the beleaguered salaryman returns home only to have the woman from the subway, now transformed into a gleeful, jelled and punked-out demon figure, burst into his garage, developing a massive metre-plus long phallic pipe, which she lasciviously licks then anally violates him with.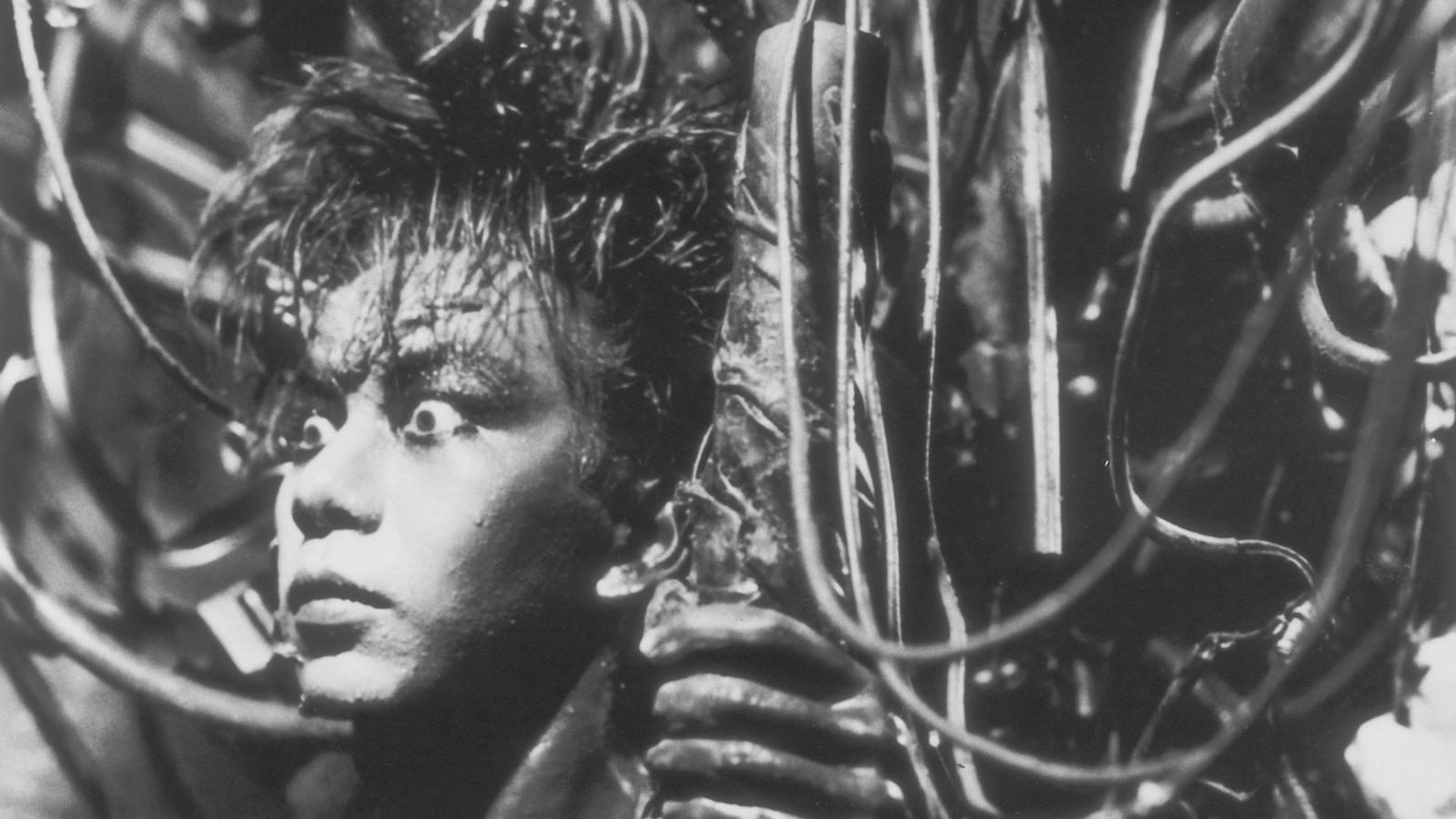 One has no idea whether this scene is intended as dream, fantasy or reality – it seems to make no particular difference to Tsukamoto – and the story progresses on as though such an incident never happened. As if the anal rape scene was not wild enough, Tsukamoto then comes up with a scene where the salaryman and his girlfriend are having sex and the salaryman's genitalia suddenly turn into a huge high-speed drill bit, which bores a hole through a coffee table before tearing her apart.
The climactic scenes between the salaryman and the fetishist is an amazing progression of imagery – the fetishist walking through the streets warping everything metal in his path and attracting to himself all objects not nailed down; he mutating a cat and incarnating himself out of the salaryman's dead girlfriend's body; and the culminating battle with the two of them rushing through the streets on rocket-propelled heels in stop-frame action, battling with writhing coils of wires and hands that drop away to become flame-throwers; and their mutual metamorphosis into larger and larger piles of scrap metal eventually absorbing each into the other's mass.
The final image is their fusion into a giant scrap metal mountain with the downbeaten salaryman at the bottom and the fetishist atop waving a gun as he sets out to turn the whole world into metal. This is genuine guerrilla filmmaking, an assault on convention and sensibility – even the musical score is deliberately an underground one. A masterpiece.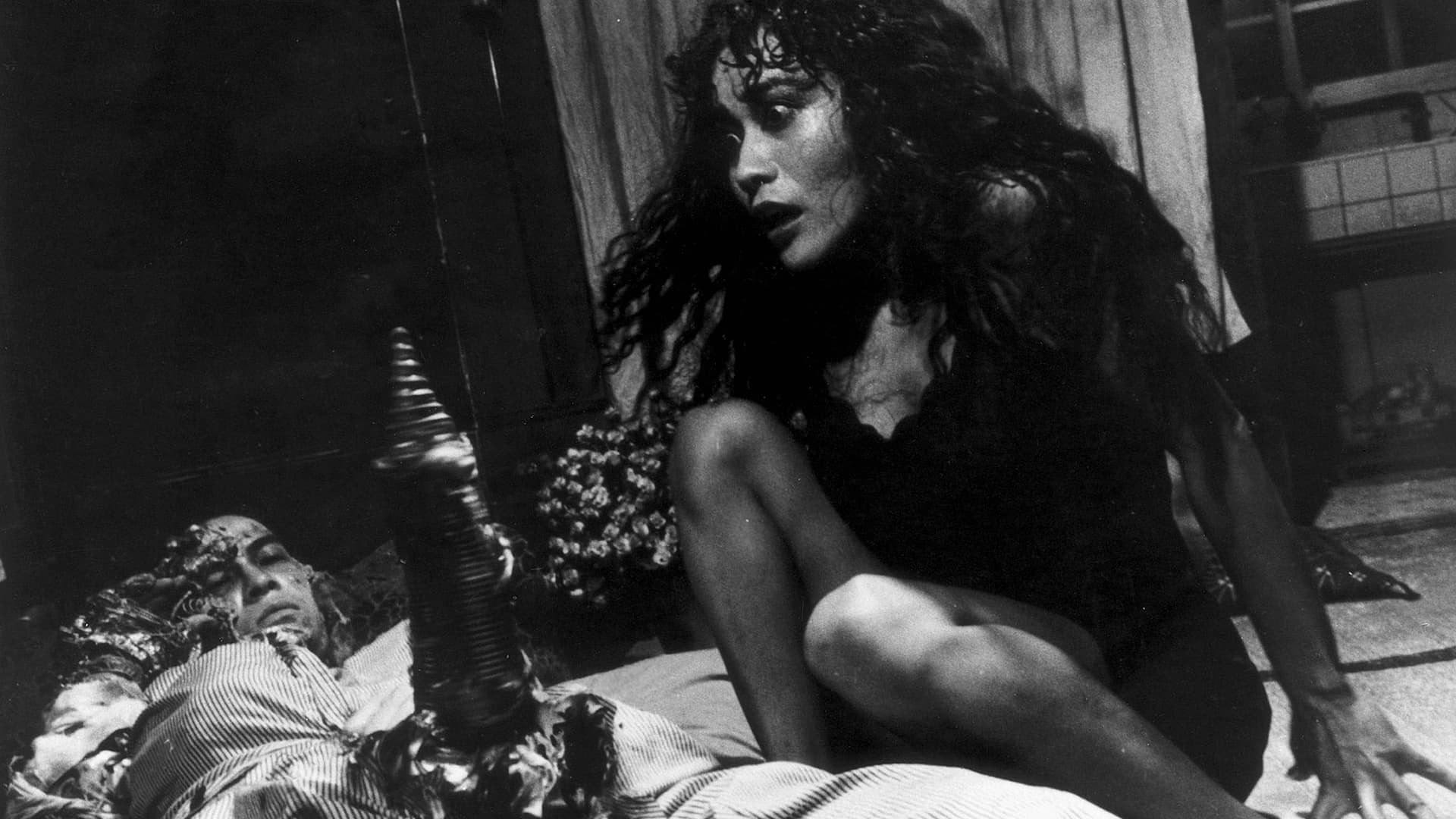 The underlying theme of much of Shinya Tsukamoto's work is similar to that in the films of David Cronenberg – flesh has become a mutable battleground where the age-old Manichean debate has finally found its warring ground. In Tetsuo – The Iron Man, flesh represents the downbeaten self, which is engaged in a war with machinery. Tsukamoto sexually fetishizes machinery – pistons, oil, the gleam of chromium, jagged edges, tangled wires – and equates it with wildly repressed desires – it is constantly trying to burst from inside human skin, run rampant and absorb everything into its mass. What more potent an image can such a regimented society as Japan have produced than that of a white-collar worker engaged in a battle of wills to stop his flesh being taken over by machinery that insists on erupting from within?
Since Tetsuo – The Iron Man, director Shinya Tsukamoto has gone onto direct a number of other films, none of which have had the raw impact of Tetsuo. Tsukamoto made two better budgeted but lesser sequels Tetsuo II: Body Hammer (1992) and Tetsuo: The Bullet Man (2009). Tsukamoto's other films are:- the demon-hunting film Hiruko the Goblin (1990); Tokyo Fist (1995), a film about boxing that repeats Tsukamoto's unique flesh and machinery fetishism; Bullet Ballet (1998), which plays the flesh and machinery fetishism out on a more literalistic level where a man becomes obsessed with obtaining a gun; the twin drama Gemini (1999) where a doctor's upstanding life is invaded by a malevolent doppelganger; A Snake of June (2002) where a woman gains erotic liberation from a blackmailer; Vital (2004) wherein an amnesiac man begins to re-examine his life; Haze (2005) about a man trapped in an allegorical maze; Nightmare Detective (2006) and Nightmare Detective 2 (2008) about a man who can enter into dreams; and Kotoko (2011) about a woman suffering hallucinations.
---
---