(Akumu Tantei 2)
Japan. 2008.
Crew
Director – Shinya Tsukamoto, Screenplay – Hisakatsu Kuroki & Shinya Tsukamoto, Photography – Takayuki Shida & Shinya Tsukamoto, Music – Chu Ishikawa & Shinichi Kawahara. Production Company – Movie Eye Entertainment/Kaiju Theatre.
Cast
Ryuhei Matsuda (Kyoichi Kagenuma), Yui Miura (Yukie Mashiro), Hanae Kan (Yuko Kikugawa), Miwako Ichikawa (Itsuko Kagenuma), Hatsune Matsushima (Akiko), Wako Ando (Mutsumi), Ryuichi Katsu (Young Kyoichi), Ken Mitsuishi (Takio Kagenuma), Toshiyuki Kitami (Tetsuji Kikugawa)
---
Plot
Kyoichi Kagenuma, the so-called Nightmare Detective, is haunted in his dreams by the memory of how his mother hung herself after finding he could read her thoughts. Teenager Yukie Mashiro comes to appeal for Kyoichi's help. She and two other classmates played a cruel prank on weird classmate Yuko Kikugawa and are now haunted by Yuko in their dreams. Kyoichi turns Yukie away but then her two other friends commit suicide. Kyoichi returns and takes on her case, seeing in it echoes of what happened to his mother.
---
Japanese director Shinya Tsukamoto made an extraordinary debut with the surreal Cyberpunk horror film Tetsuo: The Iron Man (1989). He then went on to explore the same field of repression, sexual fetishism and tortured masochism in a number of other films, including the demon-hunting film Hiruko the Goblin (1990); Tokyo Fist (1995) about boxing and masochism; Bullet Ballet (1998) about a man who becomes obsessed with obtaining a gun; and Gemini (1999) where a doctor's upstanding life is overturned by a malevolent doppelganger, as well as two lesser sequels to his best known work – Tetsuo II: Body Hammer (1992) and Tetsuo: The Bullet Man (2009). The 00s and beyond have been less favourable to Tsukamoto where efforts such as A Snake of June (2002), Vital (2004), Haze (2005) and Kotoko (2011) have failed to gain the acclaim and festival attention of his earlier work. Nightmare Detective (2006), wherein Ryuhei Matsuda played someone with the ability to enter dreams fighting to stop a nightmare-invading serial killer, was one of Tsukamoto's hits during this time.
General preference has it that the sequel, Nightmare Detective 2 here, is a better film than Nightmare Detective. I am not so sure. They are however both very different films. The first film was more of a horror story with Ryuhei Matsuda tracking a dream-invading serial killer. The sequel has a less strong plot – it is about Matsuda coming to the aid of a girl who has her dreams invaded by a classmate that she bullied. (The prank the girls played on Yuko is never explained).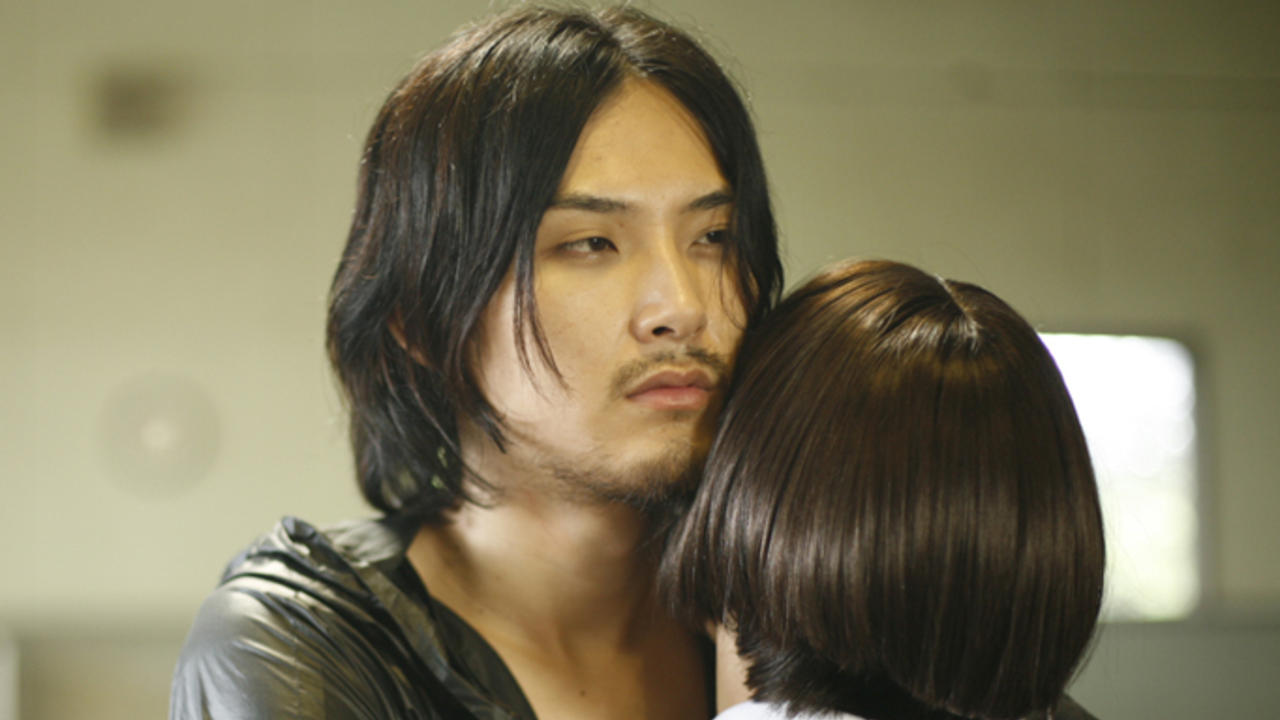 Nightmare Detective 2 was okay. I didn't think it was as strong as the first film in terms of atmosphere. It seems more straightforward as a plot, although the middle sections that takes place in dream leave you unclear about what is happening. The film confusingly seems to indicate that Yuko died – contradictorily, at another point, we see Ryuhei Matsuda racing to save her from hanging herself, although this could also be part of a dream. There is also a B plot about Matsuda coming to terms with his mother's suicide and the fact that it may have been because he was able to read her thoughts (we are not given clear explanation for her reasons for doing so either).
There are one or two moments that stood out – I liked a scene where Yui Miura is in her dream and being approached by Hanae Kan only for Matsuda to force his way out of Yui's body and confront Hanae. And there is another scene where a spooky ghost figure floats horizontally in through a window to harass a terrified sleeping boy. There is also an emotionally satisfying ending where the adult Matsuda sits in his dream as his late mother makes him breakfast.
---
---