---
Crew
Director/Screenplay – David Cronenberg, Producers – David Cronenberg, Andras Hamori & Robert Lantos, Photography – Peter Suschitzky, Music – Howard Shore, Visual Effects/Special Effects Supervisor – Jim Isaac, Digital Effects – Toybox (Supervisor – Dennis Benardi), Makeup Effects – Steven Dupuis, Creature Effects – Kelly Lepowsky, Production Design – Carol Spier. Production Company – Alliance Atlantis/Serendipity Point Films/Natural Nylon.
Cast
Jennifer Jason Leigh (Allegra Geller), Jude Law (Ted Pikul), Willem Dafoe (Gas), Ian Holm (Kari Vinokur), Don McKellar (Yevgeny Nourish), Robert A. Silverman (D'Arcy Nader), Callum Keith Rennie (Hugo Carlaw), Sarah Polley (Merle), Christopher Eccleston (Seminar Leader)
---
Plot
An assassination attempt is made on celebrity virtual reality games designer Allegra Geller as she premieres her new game eXistenZ in a church. She flees, accompanied by her appointed security aide, Antenna Research corporate intern Ted Pikul. Attempting to introduce the Virtual Reality neophyte Ted to her work, she has him implanted with a spinal bio-port that the organic consoles plug into. Once inside eXistenZ, they are drawn into a war between two rival factions who are seeking control of the game, which leaves neither of them sure what is real and what is illusion any longer.
---
If 1998's big theme was asteroid collision and tv-turned-reality movies, 1997's was volcano disaster movies and 1996's was big budget alien invasion films, then 1999's trend of the year turned out to be Virtual Reality movies – what with The Matrix (1999), eXistenZ, The Thirteenth Floor (1999), Chris Carter's short-lived tv series Harsh Realm (1999-2000), even a Christian Biblical End Times film about Virtual Reality with Revelation (1999) and the very obscure Dreamtrips (1999).
Premiering only a couple of weeks after The Matrix, eXistenZ was the second of 1999's Virtual Reality movies. Certainly, jumping on the Virtual Reality trend, or any type of bandwagon, is never something you could accuse Canadian director David Cronenberg of doing. David Cronenberg is probably one of the genre's most unique and original voices. His body of work – which ranges from Stereo (1969), Crimes of the Future (1970), Shivers/They Came from Within/The Parasite Murders (1975), Rabid (1977), The Brood (1979), Fast Company (1979), Scanners (1981), Videodrome (1983), The Dead Zone (1983), The Fly (1986), Dead Ringers (1988), Naked Lunch (1991), M. Butterfly (1993), Crash (1996), Spider (2002), A History of Violence (2005), Eastern Promises (2007), A Dangerous Method (2011), Cosmopolis (2012), Maps to the Stars (2014) and Crimes of the Future (2022)– is something that rings with a voice of startling originality.
Throughout David Cronenberg's work runs a fascination with bodily horrors – he could be accused of being the first Manichean horror filmmaker. Cronenberg regularly crafts striking metaphoric images – be it a woman's body being taken over by a vampiric organ under her armpit in Rabid; psychological repressions manifesting themselves in flesh form in The Brood; or the scientist slowly melding into a fly in The Fly. Unlike any classic horror film, in David Cronenberg's oeuvre, mutation, indeed the mad scientists themselves, are rarely processes of horror in any established sense – it is something that seems to be welcomed as transformational experiences by the victims. In The Fly, the protagonist welcomes his transformation with captivated scientific fascination; in Videodrome and Crash, we see people integrating with tv's and car crashes in ways that offer perverse new combinations of humanity and technology.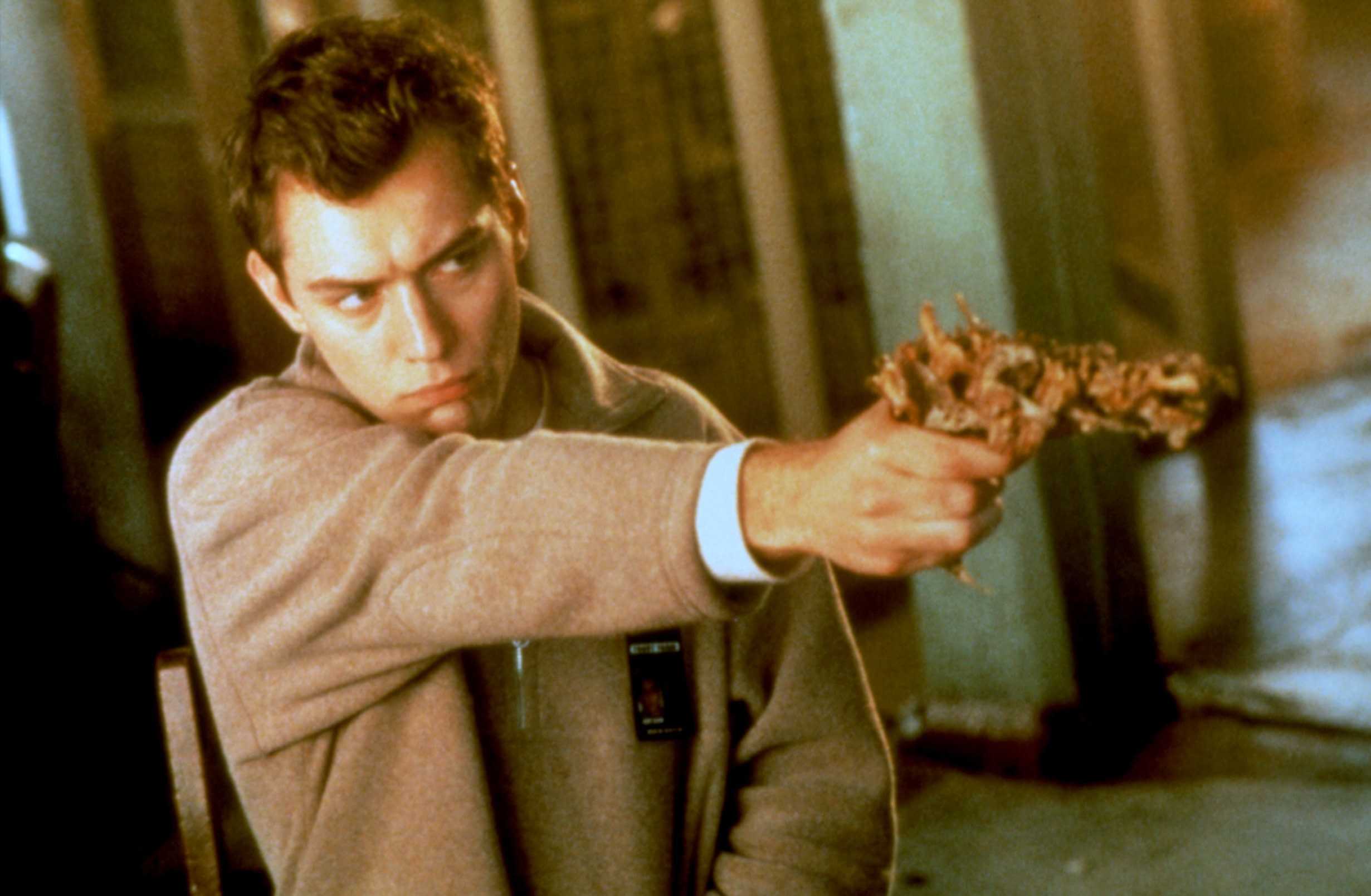 eXistenZ was David Cronenberg's most overtly commercial film in more than a decade. From Dead Ringers onward, Cronenberg has determinedly pushed boundaries, while having left behind any easy pigeonholing as a genre director. His adaptations of Naked Lunch, William S. Burroughs' surreal and plotless ramble through drugs and homosexuality, and Crash, J.G. Ballard's work of 'auto'-eroticism, have been controversial to say the least, being dogged by jittery financiers and distributors, while his mainstream adaptation of the transsexual romance M. Butterfly was a commercial flop. During this time, Cronenberg's career was on such shaky financial ground that he was making ends meet by working as an actor in films such as Nightbreed (1990), To Die For (1995), Extreme Measures (1996) and Last Night (1998).
Amid the dross that is being churned out on in the name of Virtual Reality cinema throughout the 1990s, one greeted eXistenZ with anticipation to see what David Cronenberg's peculiarly carnal fascinations would bring to the subject. His fascination with bio-technology is immediately evident. Instead of keyboards, people manipulate consoles that look like sheep's bladders and are attached via an intestine-like cable to a puckered orifice in the spinal column. Being Cronenberg, the spinal bio-port orifice is naturally played up for maximum sexual imagery with people seen tonguing and fingering it. Meanwhile, assassins wield guns made out of human bone and tissue that fire bullets made of teeth in order to get past metal detectors. The opening of the film with the assassination attempt, the flight and the encounter with Willem Dafoe (in an amusing cameo that in any lesser budgeted film should be mandatorily played by Brad Dourif) is engrossing. It is all aided by a marvellously brooding and oppressive score from regular Cronenberg collaborator Howard Shore.
The first entry into Virtual Entry does not come until nearly 30 minutes into the film and is well led up to. Thereafter however, eXistenZ falls apart. In fact, for the high standards that one expected of David Cronenberg, eXistenZ falls into some of the more disappointingly hackneyed cliches that has dogged the Virtual Reality film. Cronenberg engages in the series of perpetual flips where people are wondering if the game is over yet and what is assumed to be reality is then intruded in upon – Total Recall (1990) (a disappointing treatment of the Virtual Reality theme that incidentally was originally to have been made by Cronenberg) did these types of flips with far greater dexterity than Cronenberg does here.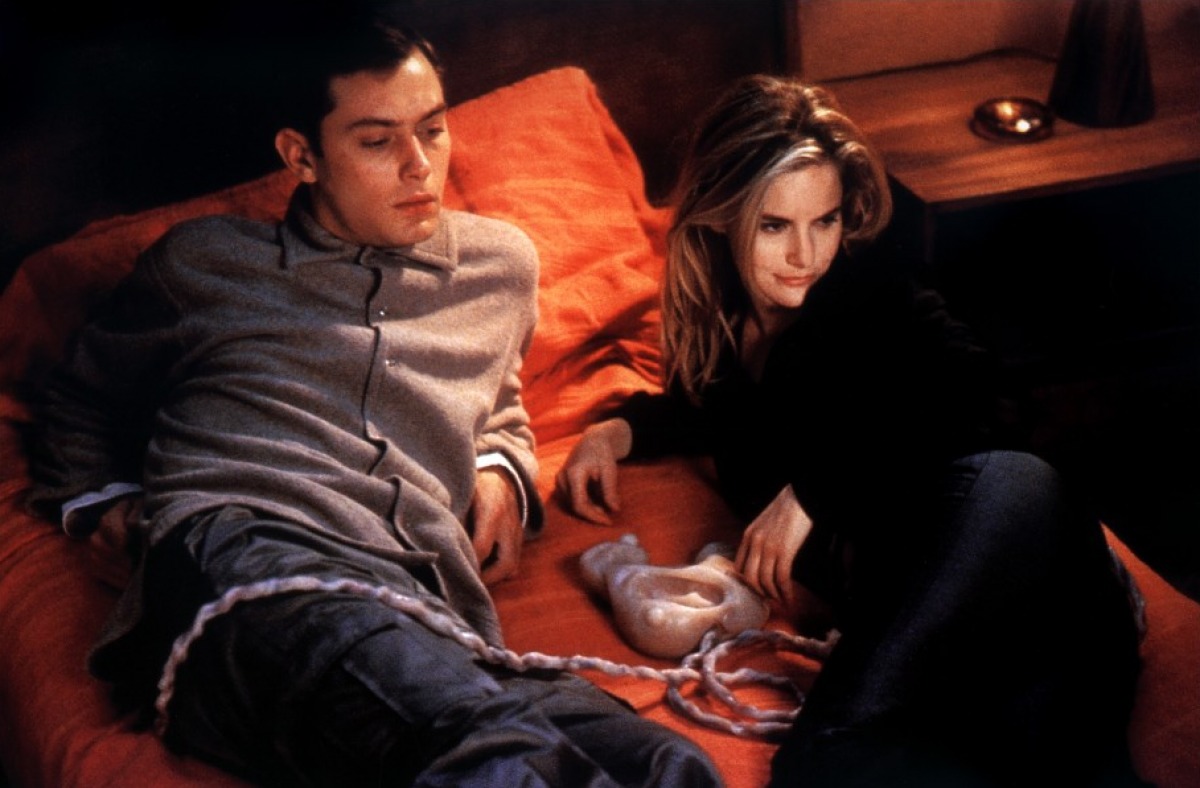 There is a labyrinthine (and never entirely clear) plot – reminiscent of the tv mini-series Wild Palms (1993) – involving two different factions trying, for reasons obscure, to gain control of the game. As one of the characters eventually says "There are too many twists going on to follow." The rules of the Virtual Reality game eXistenZ are never even spelt out. Nor does what happen ever seem particularly game-like – Cronenberg seems to have borrowed a leaf from the book of David Lynch in having people standing about muttering surreal non-sequitirs in arch deadpan. The Virtual Reality sequences are not without their amusements – like when the two leads find themselves controlled by character development and being forced into a gratuitous love scene. When the film ends on what has rapidly become the Virtual Reality equivalent of the old "It was all a dream" twist ending, one wants to yell at Cronenberg at the corniness of the device.
eXistenZ feels like David Cronenberg's least personal and most routine film since his adaptation of Stephen King's The Dead Zone. eXistenZ feels less like a David Cronenberg film than like a film where a by-the-numbers Virtual Reality plot has had a handful of Cronenbergian imagery grafted onto it. When one looks for the characteristically perverse Cronenbergian flourishes, eXistenZ seems conspicuously lacking in any of the vividness of scenes in past Cronenberg films – Samantha Eggar's brood of external foetuses in The Brood; the wonderfully queasy image in Videodrome of James Woods tentatively poking a gun inside the hole in his stomach then losing it; or of James Spader in Crash having sex wherein he treats the wound in Rosanna Arquette's leg as a substitute vagina. Even the most vivid image here of the organic gun seems to be one that Cronenberg has cannibalised from the image of the literal 'hand-gun' fusion in Videodrome.
David Cronenberg's other films are:– Stereo (1969), a little-seen film about psychic powers experiments; Crimes of the Future (1970) set a future where people have become sterile and developed strange mutations; Shivers/They Came from Within/The Parasite Murders (1975); Rabid (1977) about a vampiric skin graft; The Brood (1979) about experimental psycho-therapies; Fast Company (1979), a non-genre film about car racing; Scanners (1981), a film about psychic powers; Videodrome (1983) about reality-manipulating tv; The Dead Zone (1983), his adaptation of the Stephen King novel about precognition; The Fly (1986), his remake of the 1950s film; Dead Ringers (1988), his greatest film, about two disturbed twin gynaecologists; Naked Lunch (1991), his surreal adaptation of William S. Burroughs' drug-hazed counter-culture novel; M. Butterfly (1993), a non-genre film about a Chinese spy who posed as a woman to seduce a British diplomat; Crash (1996), Cronenberg's adaptation of J.G. Ballard's novel about the eroticism of car crashes; Spider (2002), a subjective film that takes place inside the mind of a mentally ill man; the thriller A History of Violence (2005) about a hitman who has taken up a new identity; Eastern Promises (2007) about the Russian Mafia; A Dangerous Method (2011) about the early years of psychotherapy; Cosmopolis (2012), a surreal vision of near-future economic collapse; the dark Hollywood film Maps to the Stars (2014); and Crimes of the Future (2022) set in a future world of surgical performance art. Cronenberg has also made acting appearances in other people films including as a serial killer psychologist in Clive Barker's Nightbreed (1990); a Mafia hitman in To Die For (1995); a Mafia head in Blood & Donuts (1995); a member of a hospital board of governors in the medical thriller Extreme Measures (1996); as a gas company exec in Don McKellar's excellent end of the world drama Last Night (1998); as a priest in the serial killer thriller Resurrection (1999); and a victim in the Friday the 13th film Jason X (2001).
(Nominee for Best Musical Score and Best Makeup Effects at this site's Best of 1999 Awards).
---
Trailer here
Film available online in several parts beginning here:-
---