---
Crew
Director/Screenplay – Shion Sono, Based on the Manga by Santa Inoue, Producers – Yoshinon Chiba & Nobuhiro Iizuka, Photography – Daisuke Soma, Music – B.C.D.M.G., Production Design – Yuji Hayashida. Production Company – Djano Film/From First Production Co.
Cast
Riki Takeuchi (Lord Buppa), Ryohei Suzuki (Mera), Young Dais (Kai Deguchi), Nana Seino (Sunmi/Erika), Shunsuke Daito (Iwao), Takuya Ishida (Kim), Bernard Ackah (Jadakins), Arata Matsuura (Skunk), Yuki Ishii (Hasheem), Makoto Sakaguchi (Yon), Yosuke Kubozuka (Nkoi)
---
Plot
In the future, the streets of Tokyo are ruled by more than a dozen competing gangs. The most powerful leader among them is Lord Buppa. When news comes that the High Priest's daughter Erika is missing on the streets, Buppa sets loose the Wanru who eliminate all the other gang members in the way in their search for her. This unites the gangs to stand up against such wholesale slaughter.
---
Japanese director Shion Sono has become an increasingly interesting name in the 2000s and especially the 2010s. Sono first gained attention with the modest hit of Suicide Club (2002) and went onto its sequel Noriko's Dinner Table (2005). Over the next few years, Sono has made a number of other genre films, including the perversely disturbed Strange Circus (2005); Exte: Hair Extensions (2007) about killer hair extensions; Cold Fish (2010) about serial killings, tropical fish salesman and the reclamation of male pride; Guilty of Romance (2011) about sexual fulfilment and murder; Himizu (2011) about murderous children; The Land of Hope (2012) set in an alternate world; Love and Peace (2015), an awkward romance involving talking animals; the reality blurring Tag (2015); the comedy The Virgin Psychics (2015); The Whispering Star (2015) about an intergalactic delivery android; Tokyo Vampire Hotel (2017), The Forest of Love (2019) and the post-apocalyptic English language Prisoners of the Ghostland (2021), as well as non-genre items such as the gangster film Hazard (2005), the sexual drama Love Exposure (2008) and the hilarious Why Don't You Play in Hell? (2013).
Tokyo Tribe grabs you with the brashness of Sono's approach. In the opening scene, he gives us a tour of the city, much of which takes places in a series of continuous shots that move through different vignettes as characters intersect. Moreover, all of the dialogue in these scenes in delivered in rap with various characters coming on to address the other characters in metre before the camera passes on to another group who come on and do their piece. The originality and energy of such an approach is dazzling.
The milieu, which suggests near future without ever specifically saying so, reminds of a 1980s film like The Warriors (1979) and in particular Streets of Fire (1984) where the city is run by street gangs who are obsessed with rock'n'roll (or in this case rap). In terms of the film's unique style, what you are reminded of is more something like Alex Cox's Revengers Tragedy (2002) that set a highly-stylised approach – in that case, a play in Elizabethan dialogue; here dialogue delivered in hip-hop – amid war between gangs.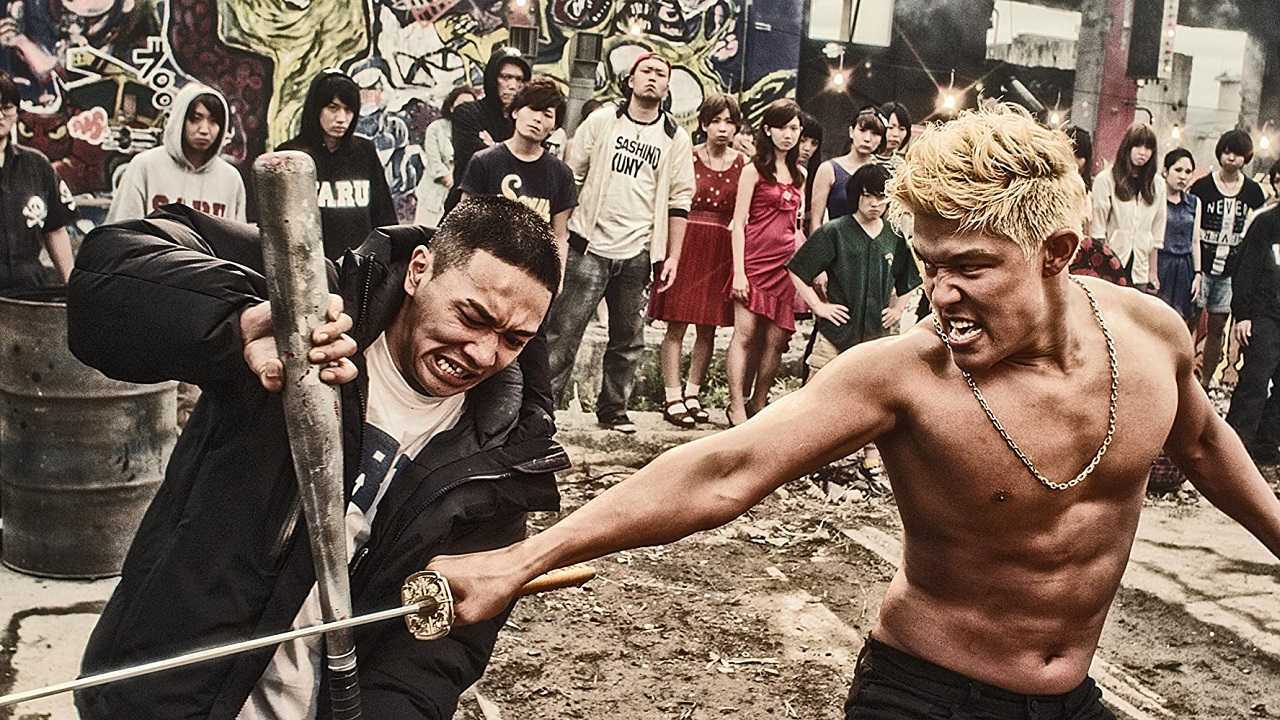 On the other hand, the approach also becomes tiresome. Shion Sono is unable to keep everything fresh and interesting for the entire 116 minute running time and the film falls into much of a muchness after a time. You suspect the problem is that the film suffered from a limited budget and hurried shooting schedule. If Sono were shooting with the sort of budgets and rehearsal time that US studio films get, in all likelihood he would have blown everybody away. This ends up with fight scenes and dance numbers that do not look as polished as they should have been. You also feel as though Sono has allowed some of his actors to indulge themselves, most notably Riki Takeuchi as the gang overlord who plays wildly over-the-top with his entire face contorted into a scowl like a cartoon character.
Also the plot lacks focus. There are so many competing characters and gangs on screen it becomes difficult to keep track of them and you start to lose track who is who and on which side. It is not until after the first hour that the plot starts to kick in with the introduction of the priest's missing daughter and the uniting of the gangs against a common enemy who is determined to wipe them out – a similar plot to the one that drove Streets of Fire and even more so 1990: The Bronx Warriors (1982).
Tokyo Tribe is based on a manga that appeared in 1993, which was expanded out into the much lengthier Tokyo Tribes (1997-2005). The manga was later adapted into the anime tv series Tokyo Tribes (2016).
---
---