---
Canada/New Zealand. 2015.
Crew
Directors/Screenplay – Francois Simard, Anouk Whissell & Yoann-Karl Whissell, Producers – Benoit Beaulieu, Anne-Marie Gelinas, Tim Riley & Ant Timpson, Photography – Jean-Philippe Bernier, Music – Le Matos, Visual Effects Supervisors – Jean-Francois "Jafaz" Ferland & Luke Haigh, Visual Effects – Alchemy FX & Curious, Makeup Effects – Texa FX (Supervisor – Olivier Xavier), Art Direction – Sylvain Lemaitre. Production Company – Epic Pictures Group/Raven Banner Releasing/Fimoption International/EMA Films/T&A Films/Telefilm Canada/NZ Film Commission/Super Channel/Cinepool/Department Camera/Curious/Alchemy 24/Let-RKSS/Quebec Film and Tax Credit/Geston Sodec/Canada Film or Video Production Tax Credit.
Cast
Munro Chambers (The Kid), Laurence Leboeuf (Apple), Michael Ironside (Zeus), Aaron Jeffrey (Frederick the Arm Wrestler), Edwin Wright (Skeletron), Romano Orzari (Bagu), Evan Manoukian (The Kid 7 Years Old)
---
Plot
It is 1997 after the holocaust has occurred. The Kid scavenges among the ruins on his BMX bike. He befriends the strange and kooky Apple. However, the ruins are dominated by the one-eyed warlord known as Zeus. After Apple is captured, The Kid finds a bunker containing a power suit left by a Turbo Warrior, who is a hero in the comic-books The Kid has scavenged. Armed with a power glove and calling himself Turbo Kid, he sets out to take on Zeus and rescue Apple.
---
Turbo Kid is a feature-film debut from the Quebec-based collective known as RKSS (which apparently stands for Road Kill Superstars). This consists of brother and sister Anouk and Yoann-Karl Whissell, as well as Francois Simard who became Anouk's boyfriend after they met in film school. Simard and the Whissells had made some twenty short films since the early 2000s before they made the six-minute T is for Turbo (2011) as an entry in the open submission call section of The ABCs of Death (2012). Although it did not end up in the finished film, this sufficiently impressed ABCs producer Ant Timpson that he gave them the budget to expand it to feature length. The celebrated Canadian actor Michael Ironside signed on, as well as Jason Eisener, another filmmaker who got to spin a mock short film out into a feature with the culty Hobo with a Shotgun (2011). Turbo Kid premiered at Sundance and rapidly gained a word-of-mouth buzz in release at various festivals.
Turbo Kid is a work of retro science-fiction. It gently homages 1980s post-apocalyptic science-fiction. Imagine one of the numerous B-budget copies of Mad Max 2 (1981) made throughout the era – but the joke here is that instead of everybody riding around the post-holocaust landscape in custom-conditioned vehicles and dune buggies they are instead riding about on BMX bikes. (Something that seems far more likely to happen if the holocaust should ever come, given the fact that most supplies of gasoline are likely to quickly run out and car parts rust, whereas bicycles, while a whole less glamorous a mode of transportation, are a good deal more low-tech and durable). The film overspills with 1980s pop ephemera – Rubik's Cubes, Walkmans, 3D viewer glasses and plasma globes. There is even an 80s styled synthesizer score, while all the titles come in Westminster typeface that was regarded as the font of the future back then.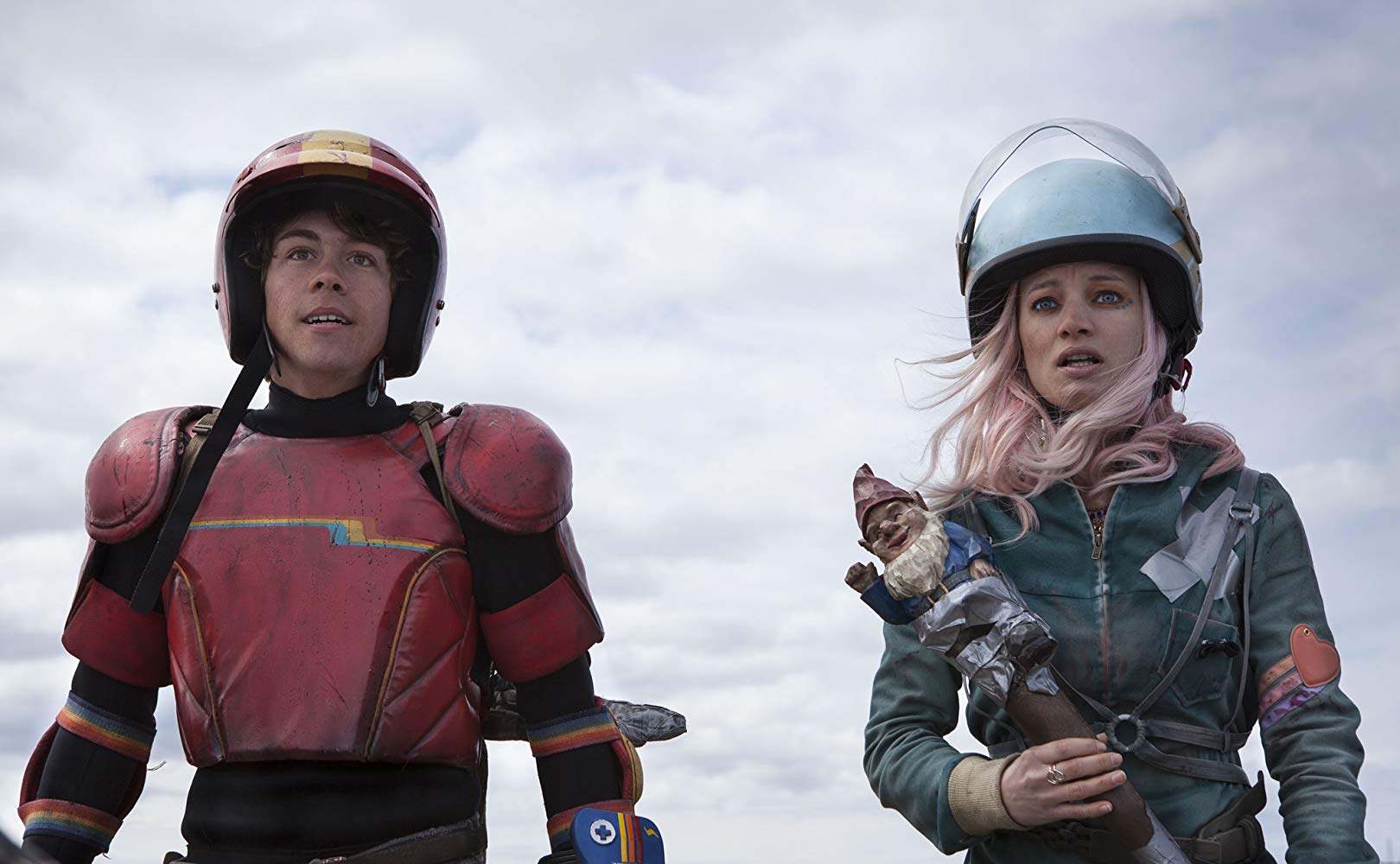 On the other hand, Turbo Kid feels like a fantastic and witty set-up in search of an accompanying film. It is cute for a time watching the characters zip around the ruins on BMX bikes and view the film as a low-tech parody of Mad Max and co. On the minus side, this retro joke on films of the 1980s seems to be all that the film has. I expected more of it – a witty parody of the dialogue and plots, fun poked at the effects and action scenes, the cliches inverted in interesting and clever ways. A perfect example of the film that did this well is Manborg (2011), which was made the next province over in Canada, and bursts with wit, cleverness and inflated posturing.
By contrast, Turbo Kid seems low-tech, low-key and winsomely earnest. It sort of parodies the heroics but never very sharply, there is a vague heroic rescue plot and a showdown with the villain but you kind of wished there was more to it than just seeing things filtered through a lens of 80s nostalgia.
This is the sort of thing that feels cute and clever as a six-minute short but when the film draws it out to feature length it feels like a joke that takes too long in the telling and with not enough to it other than the cleverness of the initial hook. What the film does offer is some very generous helpings of splatter and gore. This offers a certain cartoony amusement but at the same time feel like something that has strayed in from another film altogether and not quite part of the cod-80s SF tone the film is aiming for.
Francois Simard and Anouk and Yoann-Karl Whissell returned to 1980s nostalgia with their next film Summer of 84 (2018) about a group of kids who suspect that a neighbour might be a serial killer.
---
---