---
Crew
Directors – Francois Simard, Anouk Whissell & Yoann-Karl Whissell, Screenplay – Matt Leslie & Stephen J. Smith, Producers – Matt Leslie, Jameson Parker, Van Toffler, Shawn Williamson & Cody Zwieg, Photography – Jean-Philippe Bernier, Music – Le Matos, Visual Effects – Flicker Theory (Supervisor – Austin Andrews) & VFX Cloud, Special Effects Supervisor – Jak Osmond, Makeup Effects – Cayley Ciene, Production Design – Justin Ludwig. Production Company – Gunpowder & Sky/Brightlight Pictures/RKSS.
Cast
Graham Verchere (Davey Armstrong), Judah Lewis (Tommy 'Eats' Eaton), Caleb Emery (Dale 'Woody' Woodsworth), Cory Crüter-Andrew (Curtis Farraday), Tiera Skovbye (Nikki Kaszuba), Rich Sommer (Wayne Mackie), Jason Gray-Stanford (Randall Armstrong), Shauna Johannesen (Sheila Armstrong), Harrison Houde (Bobby Coker), Aren Buchholz (Kyle), J, Alex Brinson (Officer Cole)
---
Plot
Ipswich, Oregon, 1984. Teenager Davey Armstrong has a love of conspiracy theories. After helping his neighbour, local police officer Wayne Mackie, move some furniture, Davey sees the picture of a boy and later finds the boy's face listed as missing on a milk carton. Davey tells his three best friends, Tommy 'Eats' Eaton, Dale  'Woody' Woodsworth and Curtis Farraday, that he believes Mackie might be the serial killer known as The Cape May Slayer. They determine to obtain evidence and start spying on Mackie. In doing so, they find many suspicious things about the way Mackie acts. At the same time, Davey is caught spying on Nikki Kaszuba, the hot girl next door who used to be his babysitter, and this becomes the opportunity for them to develop a mutual attraction.
---
Summer of 84 was the second full-length film from Quebec-based brother and sister Anouk and Yoann-Karl Whissell, as well as Francois Simard who became Anouk's boyfriend after they met in film school. Simard and the Whissells had made some twenty short films before they made the six-minute T is for Turbo (2011) as an entry in the open submission call section of The ABCs of Death (2012). Although this didn't appear in the finished film, it sufficiently impressed ABCs producer Ant Timpson that he backed them to expand it to feature length as Turbo Kid (2015).
Simard and the Whissells have a love for 1980s pop culture. This more than evident in both of their films. Turbo Kid is a spoof of the Mad Max film with BMX bikes. Summer of 84 comes packed with trivia references to the period – discussions about how technologically sophisticated the Ewoks in Return of the Jedi (1983) must have been, namedrops to Gremlins (1984) and the kids sitting down to watch Close Encounters of the Third Kind (1977) on video, while Graham Verchers sits in bed reading Hardy Boys books. All authentic touches from the era.
The film is a standard Coming of Age tale – it feels as though it is a personal story being told by Simard or the Whissells. You could easily imagine it being about one or other or their collective childhoods (most Coming of Age stories are some personal story on behalf of their creators). The only part that doesn't ring true is when nerdy Graham Verchers is caught spying on the hot girl next door, his ex-babysitter Tiera Skovbye, and she comes onto him and romance develops. It feels more like the wish fulfilment fantasy of one of the creators rather than it does a believable relationship.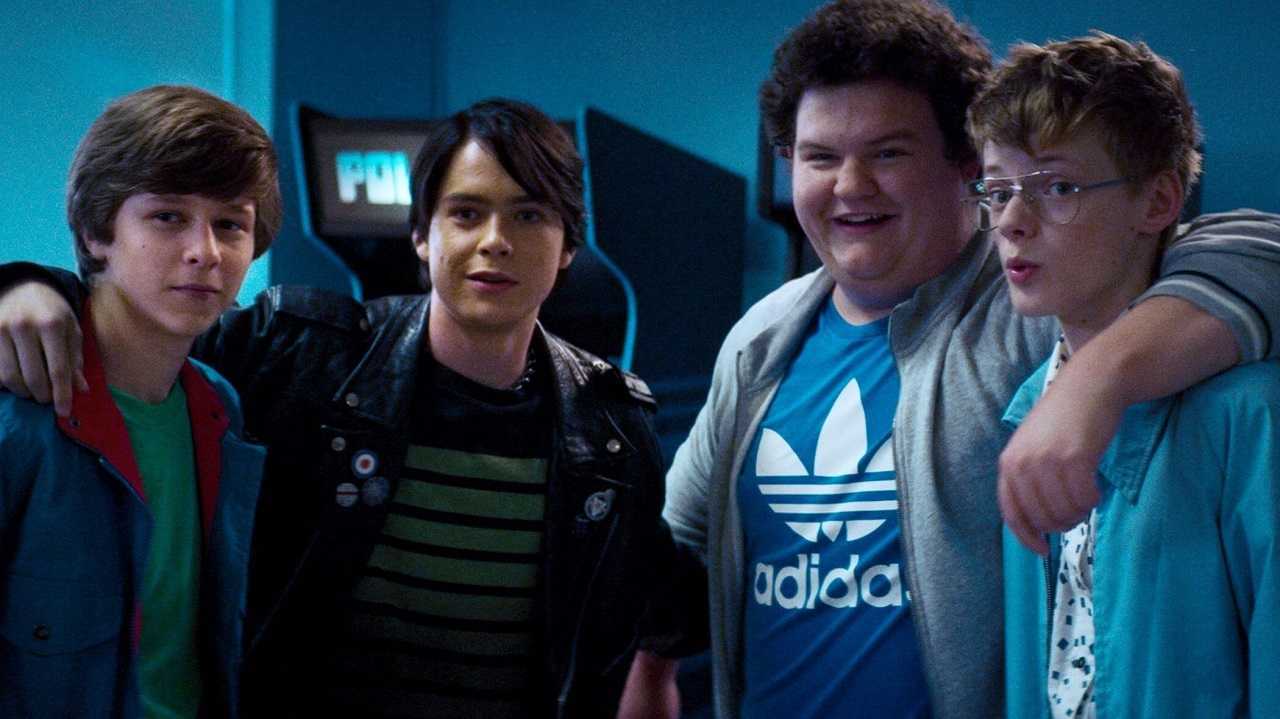 The problem with Summer of 84 is that it came out just after the Netflix hit of Stranger Things (2016– ), which plumbed exactly the same area of 1980s nostalgia and featured a group of kids engaged in an adventure. It is not at all hard to close one's eyes and imagine the plot here being played out by the Stranger Things kids, albeit with a purely mundane serial killer as the menace rather than any extra-dimensional monsters. Indeed, the kids here could easily be rejects from a Stranger Things casting call – while those here by no means give unlikeable performances, the quintet of characters on the tv series pull their performances off with a great deal more natural charisma.
The plot reminds a good deal of Disturbia (2007), which had a teenager on home detention and he and the girl he had the hots for realising that the next door neighbour was probably a serial killer. Indeed, the capsule description you could coin would be "Disturbia recast with the Stranger Things kids." As such, Simard and the Whissells deliver an okay film. The suspense is passable even if the film never delivers any major twists or leaves one feeling uneasy. It engages one up to a certain point but ultimately falls too much in the shadow of Stranger Things.
---
---