---
Crew
Director/Screenplay – Steven E. de Souza, Based on the Capcom Videogame Street Fighter II, Producers – Edward R. Pressman & Kenzo Tsujimoto, Photography – William A. Fraker, Music – Graeme Revell, Visual Effects – International Visual Effects (Supervisor – Steve R, Benson), CGI Effects – Photon Stockman, Special Effects Supervisor – Brian Cox, Production Design – William Creber. Production Company – Columbia Tristar/Edward R. Pressman/Capcom Co Ltd.
Cast
Jean-Claude Van Damme (Colonel William F. Guile), Raul Julia (General M. Bison), Ming Na Wen (Chun Lu Zang), Byron Mann (Ryu Koshi), Damian Chapa (Ken Masters), Wes Studi (Victor Sagat), Kylie Minogue (Lieutenant Cammy), Peter Navy Tuiasosopo (Edmund Honda), Andrew Bryniarski (Zangrief), Grand L. Bush (Balrog), Simon Callow (AN Official), Roshan Seth (Dhalsim), Jay Tavare (Vega), Miguel A. Nunez Jr (TJ), Robert Mammone (Carlos Blanca)
---
Plot
The warlord General M. Bison has invaded the middle-eastern country of Shadaloo and now demands $20 billion or he will kill captured prisoners. Allied Nations forces commander William F. Guile swears he will stop Bison when Bison captures one of his men and uses him as a subject in his experiments to create an army of zombified genetic supermen. To do so, Guile defies AN orders and gathers together a ragtag team of mercenaries and fighters to attack Bison's base.
---
The Japanese-created game Street Fighter first appeared in 1987. Street Fighter was one of the original arcade combat games where two players could battle one another using joystick and button controls that allowed the on-screen characters to fight one another. The game hit its height with the more sophisticated Street Fighter II (1991), which is regarded as one of the all-time great games among gamers. This film came out amid the mid-1990s trend for films inspired by computer and videogames. In the space of about a year-and-a-half we also had Super Mario Bros. (1993), Double Dragon (1994) and Mortal Kombat (1995). Street Fighter was probably the most high profile of these up to that point. It starred Jean-Claude Van Damme and in the director's chair, making his debut, was Steven E. de Souza, the screenwriter of films such as 48 Hrs. (1982), Commando (1985), The Running Man (1987), Bad Dreams (1988), Die Hard (1988) and its first sequel, Ricochet (1991), Judge Dredd (1995) and Blast (2004), as well as the tv adaptation of The Spirit (1987).
The result is just like a videogame come to life – wall-to-wall chop suey, explosions, comic-book heroes and comic-book villains. It is entirely mindless fun. The public hated Street Fighter, although it is not entirely bad, just average. On the other hand, while one could hardly criticize Street Fighter for being exactly what it sets out to be, that unfortunately is the sum total of the film. The action moves but it is mindless popcorn, hardly breathless excitement, nor does it contain the dazzling style of say a Hong Kong action film. [A far better film version of the game, albeit uncreditedly based, was the Hong Kong screwball comedy Future Cops (1993)]. It is a comic-book film but it is only a comic-book, it fails to dig into deep psychological recesses as Batman (1989) did or even enervate the action the way that the Mortal Kombat film did.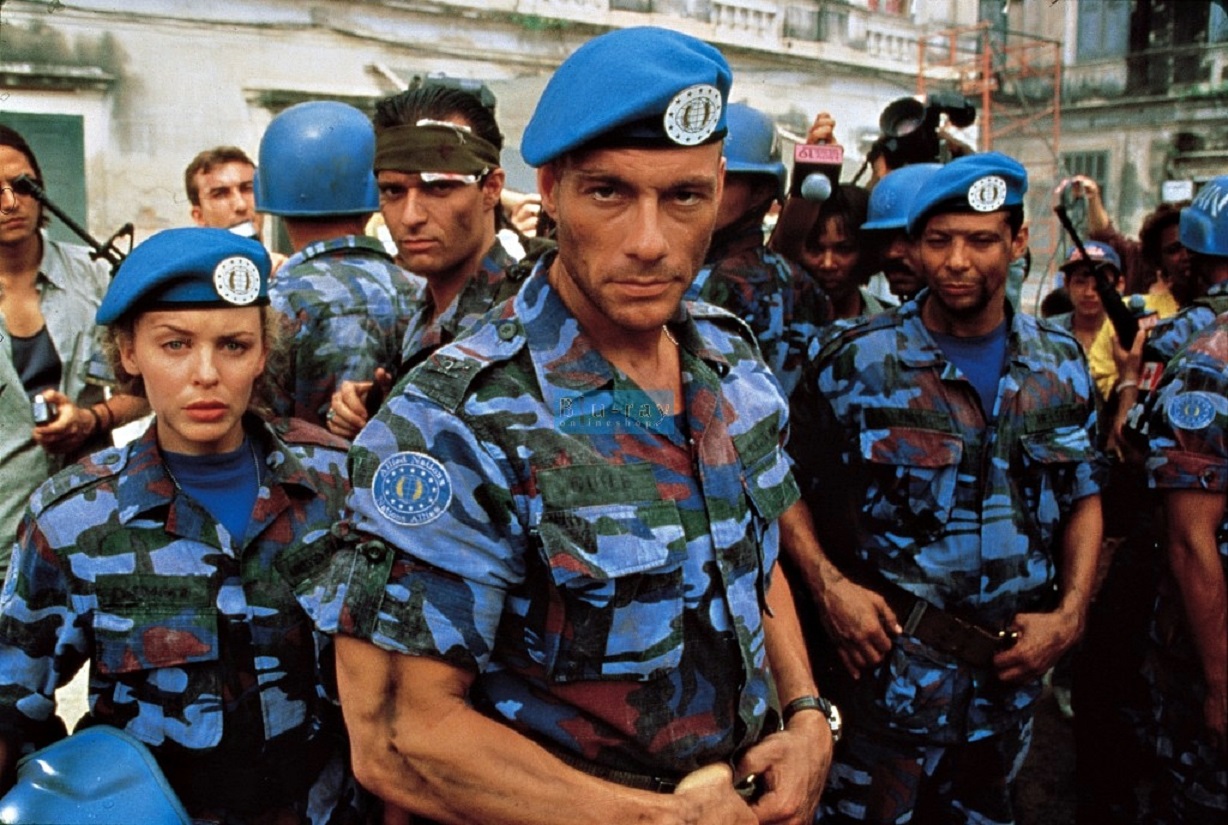 Street Fighter is more interesting for the subtexts that one can read into it – it plays like a rewrite of then-current headlines. For Shadaloo, you could translate Bosnia; for the AN, read the United Nations; for General Bison, read Saddam Hussein. It could read as a wish-fulfilment for an ass-kicking comic-book approach to world politics, one where an identifiably larger-than-life hero on the side of right would get into the arena and kick the asses that clearly need to be kicked rather than allowing wimpy United Nations diplomats to rule the day.
Raul Julia has a ball, giving a performance of rafter-rattling egomania. Julia died two months before the film's release – it was an entertaining coda to go out on and the film is aptly dedicated to him. With every film up to that point, Jean-Claude Van Damme seemed to be improving his acting abilities and gaining an idea of what made Arnold Schwarzenegger appeal to people. Here he seems suited to the role, having almost gotten the idea of tongue-in-cheek delivery. The rest of the cast are not too bad – best is Ming Na Wen, later to become a regular on ER (1994-2009), who comes across lithe, fiercely determined and having put everything she has into the performance as Chun-Li.
Street Fighter: The Legend of Chun-Li (2009) was a further cinematic attempt to revive the series, although functions more as a sequel. There have been a number of animated incarnations of Street Fighter, including the anime film Street Fighter: The Animated Movie (1994) released to coincide with this film; two anime tv series Street Fighter II: V (1995-6) and Street Fighter Zero/Street Fighter Alpha (1999); and an American animated series Street Fighter: The Later Years (2006).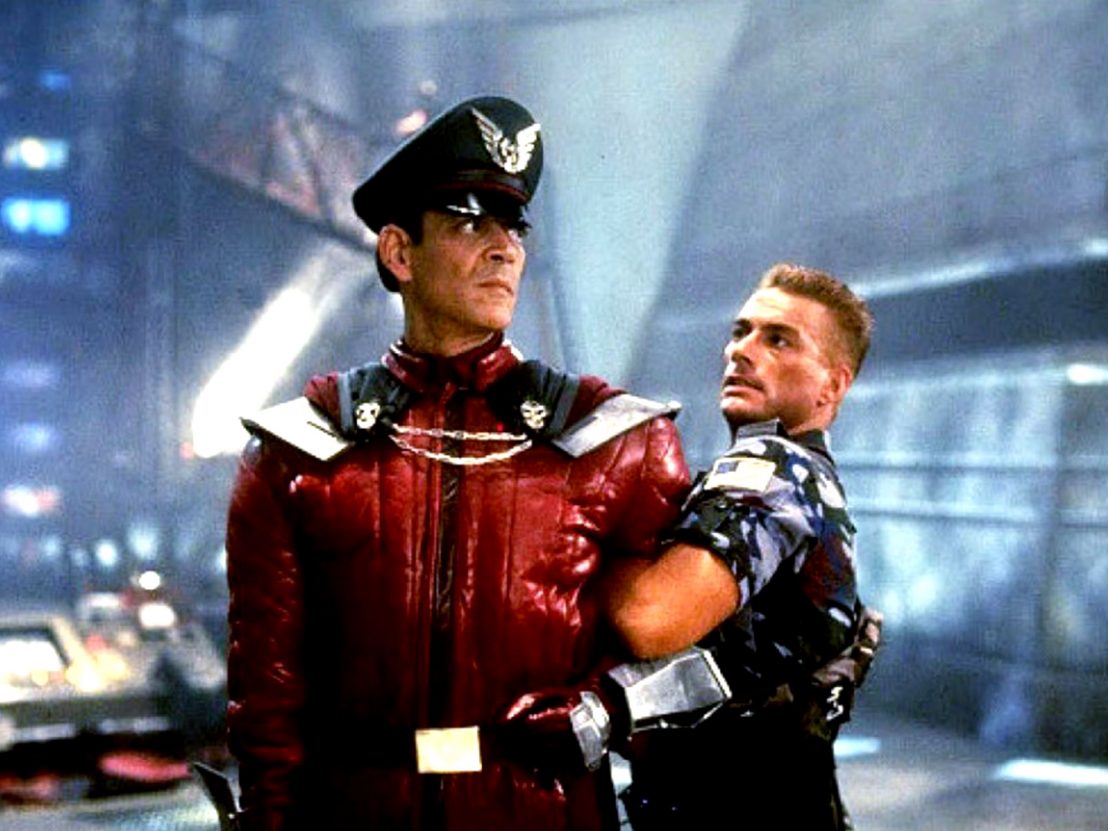 Steven E. de Souza's only other venture into the director's chair so far has been the abysmal demonic possession film Possessed (2000).
Other films adapted from videogames include Super Mario Bros. (1993), Double Dragon (1994), Mortal Kombat (1995), Wing Commander (1999), Final Fantasy: The Spirits Within (2001), Lara Croft, Tomb Raider (2001), Resident Evil (2002), House of the Dead (2003), Alone in the Dark (2005), BloodRayne (2005), Doom (2005), DOA: Dead or Alive (2006), Silent Hill (2006), Hitman (2007), In the Name of the King: A Dungeon Siege Tale (2007), Postal (2007), Far Cry (2008), Max Payne (2008), Prince of Persia: The Sands of Time (2010), Tekken (2010), Dead Rising: Watchtower (2015), Angry Birds (2016), Assassin's Creed (2016), Warcraft (2016), Rampage (2018), Pokemon Detective Pikachu (2019), Monster Hunter (2020), Sonic the Hedgehog (2020), Werewolves Within (2021), the tv series Halo (2022- ), Uncharted (2022), Five Nights at Freddy's (2023), Gran Turismo (2023) and the tv series The Last of Us (2023- ).
(Nominee for Best Supporting Actress (Ming-Na Wen) at this site's Best of 1994 Awards).
---
---