---
Crew
Director/Screenplay – Rockne S. O'Bannon, Producer – Richard Kobritz, Photography – Robert Stevens, Music – Henry Mancini, Special Effects Supervisor – Steve Wolke, Production Design – Joseph Nemec III. Production Company – Vestron Pictures/Thunderhead Productions/The Kobritz-O'Bannon Co
Cast
Ally Sheedy (Cayce Bridges), Pruitt Taylor Vince (Shadow Man), Michael O'Keefe (Jack Hays), Lauren Hutton (Jessica Moreau), Stan Shaw (Detective Webber), Keone Young (Detective Wu)
---
Plot
Cayce Bridges has psychic flashes that allow her to lead police to a serial killer. Five years later, Cayce has found fame on the talkshow circuit after writing a book. She is then asked by police to aid in tracking down another serial killer nicknamed The Shadow Man. As Cayce starts to gain glimpses into the Shadow Man's mind, he becomes aware of her presence and starts to taunt her and kill the people around her.
---
There are a number of sub-genres of fantastic cinema that continue to be played out well beyond the time they have been creatively exhausted – the light comedy afterlife fantasy is one of these, the clairvoyant detective story is another. The clairvoyant story began in  sundry tv movies like Baffled! (1972), The Eyes of Charles Sand (1972), Visions (1972) and then the theatrically released Eyes of Laura Mars (1978). The genre has been virtually killed off through various copies of Laura Mars such as Double Exposure (1981), Cassandra (1987), Murderous Vision (1991), Dead On Sight (1994), Sensation (1994), A Deadly Vision (1997), After Alice (1999), Murder Scene (2000), Troubled Waters (2006), Empathy (2007), The Cell 2 (2009), Let Me Die Quietly (2009) and In/Sight (2011)., none of which have handled the psi powers themes in anything other than the most routine of ways. In more recent years, the genre still plays out in big-budget films like Hideaway (1995), In Dreams (1999) and The Gift (2000). (For a more detailed overview see Films About Clairvoyance and Precognition).
However, there are occasions every now and again where someone manages to breathe new life into tired themes. Fear is one film that does so – it is all that Eyes of Laura Mars should have been, using its psi powers theme as the focus of an exciting thriller plot. Fear grips one right from the start with its eerie flourishes, intrusions of blue-tinted paranormal vision, surprise twists and grasps of insight.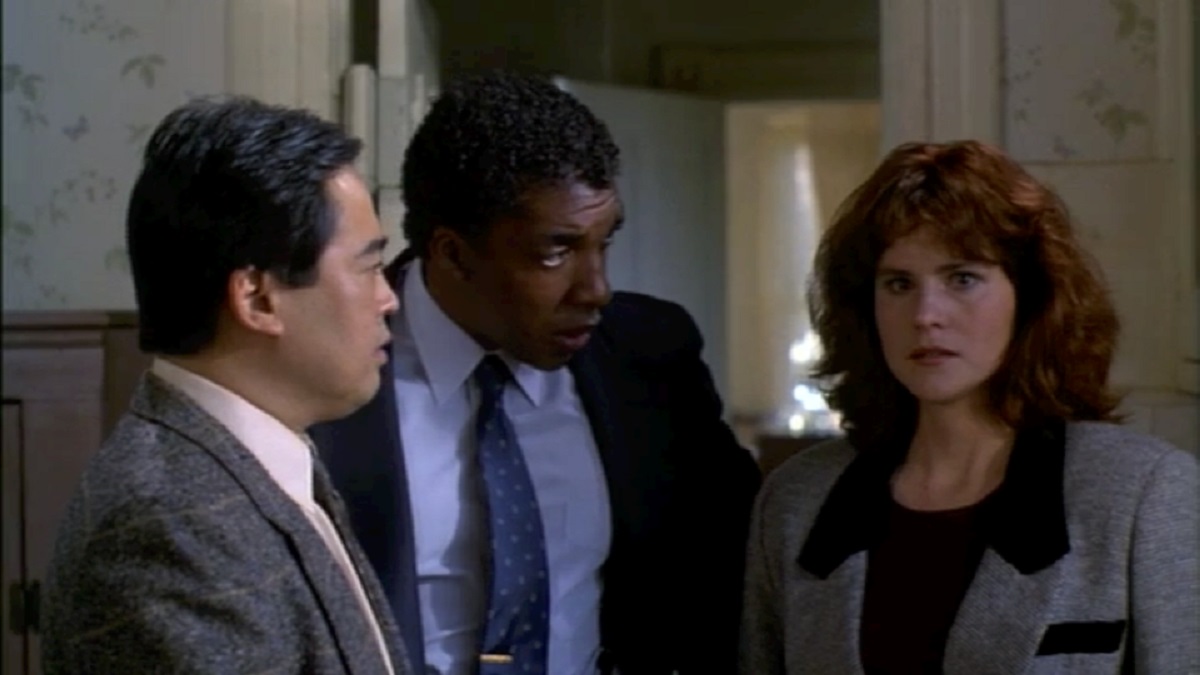 Director-writer Rockne S. O'Bannon constantly keeps the audience on the edge of the seat – the sequence where the killer stalks Ally Sheedy to the airport and taunts her with who he is stalking is excellent. The climax regurgitates the somewhat overdone Hall of Mirrors and fairground chase cliches but Rockne S. O'Bannon is such an assured director this does not worry him at all.
Rockne S. O'Bannon has previously worked as a scriptwriter on films like Alien Nation (1988), as well as writer on and creator of various genre tv series such as The Twilight Zone (1985-7), seaQuest DSV (1993-6), the mini-series Invasion (1997), Farscape (1999-2003), the mini-series The Triangle (2005), Cult (2013), Defiance (2013-5) and Constantine (2014-5), and as a producer on V (2009-11) and Evil (2019- ). In Fear, O'Bannon showed immense promise and one wishes he would get the opportunity at the directorial chair again.
---
---