aka The Hole In 3D
USA. 2009.
Crew
Director – Joe Dante, Screenplay – Mark L. Smith, Producers – Claudio Faeh, David Lancaster, Michel Litvak & Vicki Sotheran, Photography – Theo Van De Sande, Music – Javier Navarrete, Visual Effects Supervisor – John Gajdecki, Visual Effects – 4Ward Productions (Supervisor – Robert Skotak), Special Effects Supervisor – Darren Marcoux, Makeup Effects – Sota F/X Inc (Supervisor – Roy Knyrim), Production Design – Brentan Harron. Production Company – Bold Films/Bender-Spink
Cast
Chris Massoglia (Dane Thompson), Haley Bennett (Julie), Nathan Gamble (Lucas Thompson), Teri Polo (Susan Thompson), Bruce Dern (Creepy Carl), Quinn Lord (Annie Smith), John DeSantis (Monster Dad), Mark Pawson (Dr Travis Newman), Peter Shinkoda (Young Cop)
---
Plot
Susan Thompson moves to Bensonville, Oregon with her two boys, the teenage Dane and the younger Lucas. Dane is resentful about being uprooted but perks up when he meets Julie, the hot girl his own age next door. Dane, Lucas and Julie are drawn in to investigate after finding a heavily padlocked trapdoor in the cellar. They open the trapdoor to discover a hole that seems to go down with no bottom. Something snatches the things they winch down on a line. They then find themselves haunted by sinister clown dolls and a ghost girl. After tracking down the previous owner of the house in search of answers about what is going on, they are given a dire warning that the darkness is coming and will kill them all.
---
Joe Dante became a genre favourite during the 1980s with films such as Piranha (1978), The Howling (1980) and Gremlins (1984). It was with these that Dante essentially invented the genre homage film – one that comes steeped in genre references, cameos, parodies and in-jokes. Dante made a string of films in this vein with Explorers (1985), Innerspace (1987), Gremlins 2: The New Batch (1990) and Matinee (1993), among others – although the complaint that became evident was that Dante's rabid movie fanaticism eventually started to overtake the films themselves. (See below for Joe Dante's other genre films).
Dante has quietened down in the 21st Century, only turning out three films – the reasonably successful Looney Tunes: Back in Action (2003), The Hole and the dvd-released Burying the Ex (2014) – since 2000, in between assorted tv episode work. The Hole was the first film he made in six years and it would be a further five after this until he returned with Burying the Ex. I am not sure if this represents either a fact that Dante is no longer box-office gold and there is less of an interest in his brand of genre comedy as there used to be, or he is just slowing down as he passes the age of 65 what is mandatory retirement age in most other professions. The Hole was also subject to considerable delays in releasing, premiering at the Toronto International Film Festival in 2009, floating around other festivals for the next few years but failing to secure release in anything other than a handful of theatres before being dumped to dvd in 2012.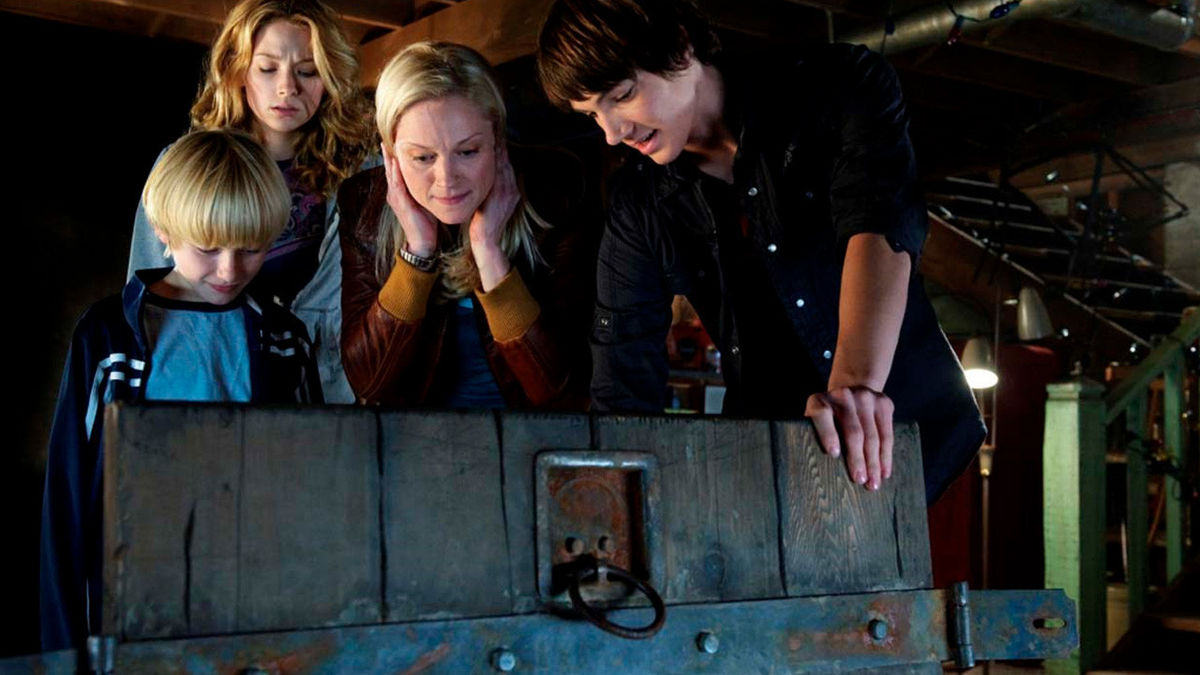 The Hole was made as a 3D film – indeed, even though I was watching a flat dvd release, it is still titled The Hole in 3D. The interesting thing about this is that the film was made before Avatar (2009), which premiered three months later the same year and led to a massive upsurge in 3D that has spread to almost every major studio release since then. Most of the post-Avatar films use 3D solely as a box-office gimmick. However, in the case of The Hole, we have a film that has been conceptually designed as a work for 3D – from the way the hole stretches down into infinity and we see various things dangled/dropped down, the running through the lattice of a rollercoaster, or the climactic scenes with Chris Massoglia being hunted around a mock-up of his childhood house as it is collapsing into the void. You would have thought that this would have made the film a natural one that could be repackaged for the 3D fad in the aftermath of Avatar – a point when studios were hurriedly rejigging films that had been shot flat to release them in 3D – and the mystery is why amid this it continued to be dogged by release hold-ups for several years to a point where when audiences did eventually see it the 3D fad had become so prevalent it was no longer anything remarkable.
Dante makes an enjoyable Coming of Age film, something in the vein of The Goonies (1985) or Dante's own Explorers and Matinee. You could easily imagine it as one of the Goosebumps adventures. And it is a genre for which Joe Dante demonstrates he an affinity and an affection. The kids all give fine performances and Dante seems at ease allowing them to perform. Dante also does well with the horror with there being some quite reasonable scenes with young Nathan Gamble dealing with a malevolent clown doll.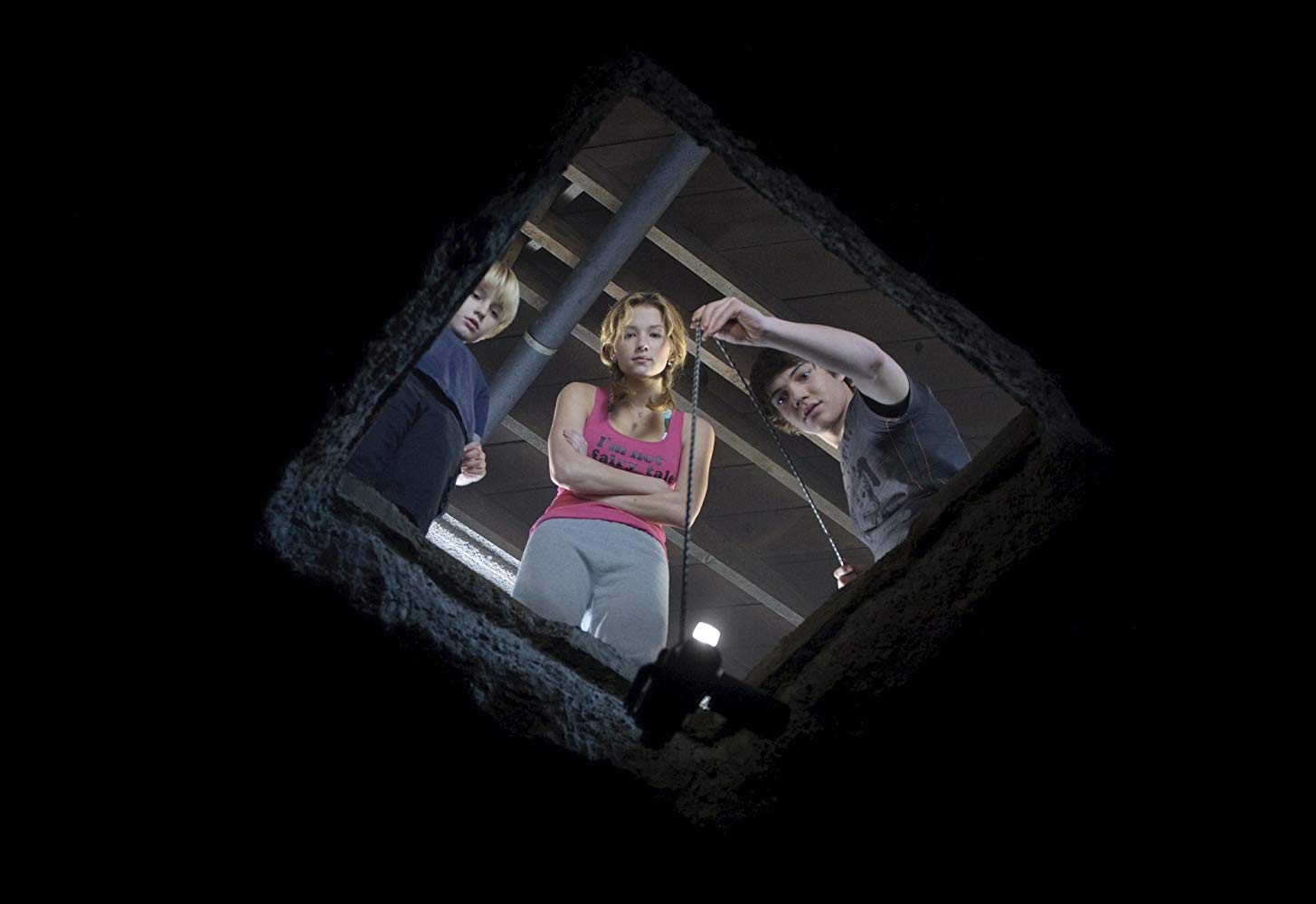 Dante is also much more subdued when it comes to his manic in-referencing and movie homages/in-jokes that frequently take over his other films. There is still his touchstone Dick Miller turning up a pizza delivery guy in one scene (and looking rather long in the tooth these days). You can also spot clips from Gorgo (1961) on tv, while Bruce Dern lives in an Orlac factory presumably named after the classic silent German horror film The Hands of Orlac (1924).
Joe Dante's other genre films are:– Piranha (1978), The Howling (1980), the third episode of the anthology Twilight Zone – The Movie (1983), Gremlins (1984), Explorers (1985), Innerspace (1987), segments of the comedy skit anthology Amazon Women on the Moon (1987), the suburban paranoia black comedy The 'Burbs (1989), Gremlins 2: The New Batch (1990), the excellent Matinee (1993) about a genre fan's childhood, the toy wars film Small Soldiers (1998), the witty toon adventure Looney Tunes: Back in Action (2003), parts of the anthology Trapped Ashes (2006), the children's horror film The Hole (2009), Burying the Ex (2014) about a zombie ex-girlfriend and an episode of the horror anthology Nightmare Cinema (2018). Dante also created the delightful smalltown paranoia tv series Eerie Indiana (1991-2) and produced the short-lived The Osiris Chronicles (1998) and Jeremiah (2002-3), as well as the film adaptation of the comic-book legend The Phantom (1996).
---
---