---
Crew
Director/Screenplay – David Durston, Producer – Jerry Gross, Photography – Jacques Demarecaux, Music – Clay Pitts, Art Direction – Charles Baxter. Production Company – Jerry Gross Organization.
Cast
Bhaskar (Horace Bones), Riley Mills (Pete Bonner), Richard Bowler (Doc Bonner), George Patterson (Rollo Yates), Elizabeth Marner-Brooks (Mildred Nash), Tyde Kierney (Andy), Iris Brooks (Sylvia Bonner), John Damon (Roger Davis), Ronda Fultz (Molly), Jadine Wong (Sue-Lin)
---
Plot
In the small backwoods town of Valley Hills, a group of hippies known as The Sons and Daughters of Satan, led by Horace Bones, attack Sylvia Bonner after she is found eavesdropping on one of their Satanic sacrifices. When Sylvia's grandfather comes after them with a shotgun, they forcefeed him a tab of acid. Sylvia's brother Pete sees this. Later Pete shoots a rabid dog in the woods and then takes a syringeful of the dog's blood. The next day, when the hippies come into the bakery where he helps out, Pete injects some meat pies with the rabid blood and sells them to the hippies. Not long after, the hippies become rabid and go on a killing rampage. A group of construction workers also become infected and clash with the hippies.
---
Jerry Gross had a certain notoriety as a distrbutor of exploitation films. He released the likes of the Mondo Cane series, the original Blaxploitation film Sweet Sweetback's Baadasssss Song (1971) and most notoriously in taking the rape/revenge film initially titled as the more mundane Day of the Woman (1978) and re-releasing it as the notorious I Spit on Your Grave.
I Drink Your Blood was originally conceived as part of a double-bill. Here Gross took an unreleased voodoo film Zombies/Voodoo Blood Bath (1964) and retitled it I Eat Your Skin to come up with one of the great exploitation double-bills of all time. I Eat Your Skin is otherwise dreary but I Drink Your Blood makes for worthwhile rediscovery and its premise of rabid killer hippies has developed it somewhat of a Psychotronic cult.
I Drink Your Blood follows firmly in the footsteps of Night of the Living Dead (1968). Night of the Living Dead introduced America to the social holocaust, of a nightmare being inflicted upon society with random regard without any clear rhyme or reason. Which is just the way it was in America at the time – society in the late 1960s had been turned on its head by public assassinations and student riots, precipitating a period of unparalleled social turmoil. A number of films emulated Night of the Living Dead – I Drink Your Blood follows the same trail but goes so far as to equate Night's living dead directly with the hippie movement – here society is being outrightly torn asunder by out-of-control drug-taking youths.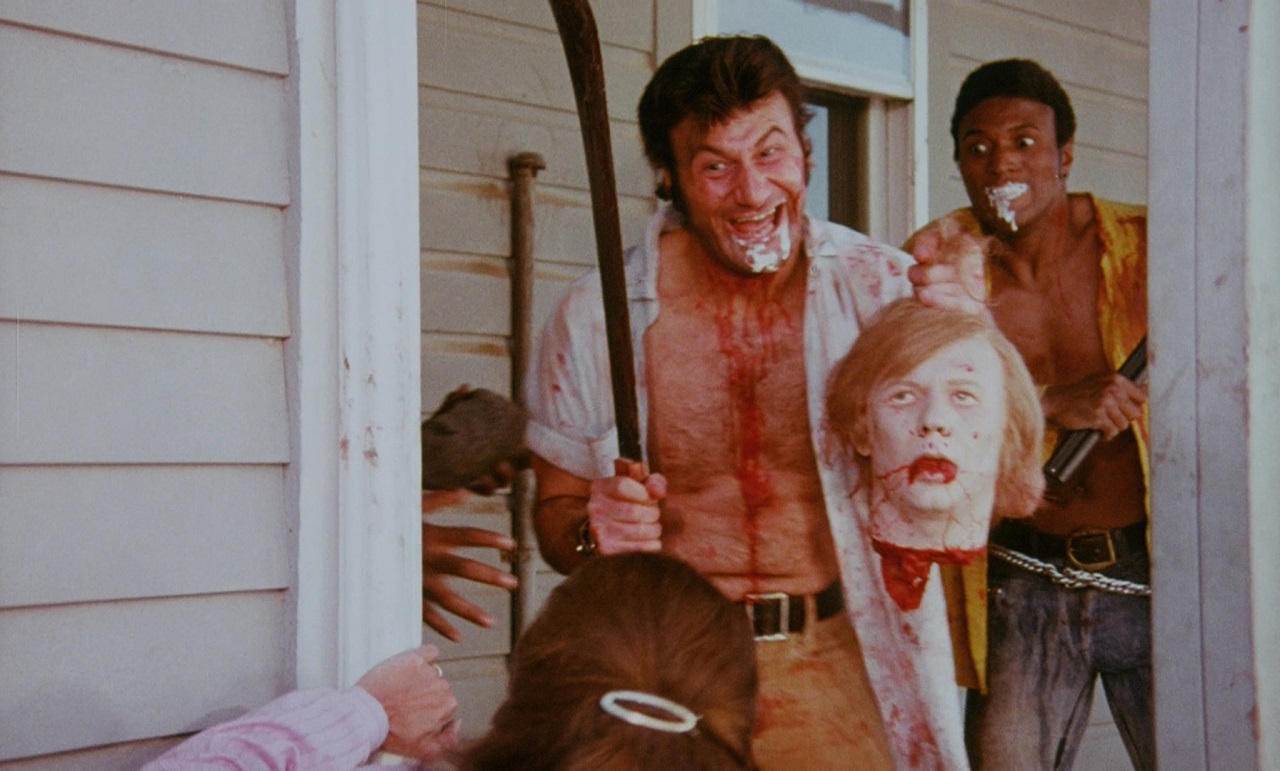 Unfortunately, the film makes mixed messages out of it – in pitting rabid construction workers, surely a clear symbol of conservative redneck manhood, against the rabid hippies, standing in for out-of-control youth, the film leaves us unclear which side it takes and who we are meant to be rooting for at the confrontation. (For that matter, we are never sure how the construction workers came to be infected either). There is also a silly piece about the rabid having a phobia for water, the reasons for which are never explained.
Nevertheless, I Drink Your Blood is a modest effort. It is a well-made B film. It is conducted with a conviction in itself, which is refreshing in contrast to most modern horror that comes tongue-in-cheek. It is surprisingly gory with hands being chopped off with electric carving knives, pregnant women spearing themselves and so on. The film builds to a good siege climax.
---
---