USA. 2013.
Crew
Director – Marc Forster, Screenplay – Matthew Michael Carnahan, Drew Goddard & Damon Lindelof, Screen Story – Matthew Michael Carnahan & J. Michael Straczynski, Based on the Novel by Max Brooks, Producers – Ian Bryce, Dede Gardner, Jeremy Kleiner & Brad Pitt, Photography (3D) – Ben Seresin, Music – Marco Beltrami, Additional Music – Matthew Bellamy (As Performed by Muse), Visual Effects Supervisor – Scott Farrar, Visual Effects – Cinesite Ltd (Supervisors – Matt Johnson & Simon Stanley-Clamp) & MPC (Supervisors – Jessica Norman & Adam Valdez), Additional Visual Effects – Industrial Light and Magic & Lola VFX, Special Effects Supervisors – Neil Corbould & David Watkins, Prosthetic Makeup Designers – Mark Coulier & Frances Hannon, Production Design – Nigel Phelps. Production Company – Plan B/Skydance Productions/Hemisphere/GK Films/2Dux2.
Cast
Brad Pitt (Gerry Lane), Mireille Enos (Karin Lane), Daniella Kertesz (Segen), Fana Mokoena (Thierry Umutomi), James Badge Dale (Captain Speke), Ludi Bokeen (Jurgen Warmbrunn), David Morse (Ex-CIA Agent), Pierfrancesco Favino (W.H.O. Doctor), Peter Capaldi (W.H.O. Doctor), Ruth Negga (W.H.O. Doctor), Moritz Bleibtreu (W.H.O. Doctor), Elyes Gabel (Andrew Fassbach), David Andrews (Captain Mullenaro), Sterling Jerins (Constance Lane), Abigail Hargrove (Rachel Lane), Fabrizio Zacharee Guido (Tomas), Ernesto Cantu (Tomas's Father), Vicky Aracio (Tomas's Mother)
---
Plot
Gerry Lane is a UN special investigator who has retired from the job to spend time with his wife Karin and two daughters in Philadelphia. They are caught in a traffic jam as fleeing crowds are abruptly attacked by zombified figures. The infection rapidly spreads as people are bitten and turned into zombies too. Gerry and his family seek refuge as the outbreak spreads to overtake the whole city. He is contacted by the UN who airlift him out to safety aboard a naval vessel. There he is asked by his superiors to go into the field to track the source of the infection. When he refuses, he is told in no uncertain terms that if he is not helping then he and his family will be sent back to Philadelphia. Gerry agrees to head a team to South Korea in search of the first recorded outbreak. At the US military base there, Gerry learns clues about the source of the infection that starts him on a quest from Jerusalem to Cardiff in search of an inoculation. Everywhere they travel, the zombie outbreak is not far from the door and the journey becomes increasingly perilous.
---
I had mixed feelings about World War Z before it opened. The zombie apocalypse theme has become so overworked by so many imitators since 28 Days Later (2002) and the remake of Dawn of the Dead (2004) that one wonders what there is that anybody could find to say anew about it. Indeed, the zombie genre has become so overrun with entries that it has now dissolved into self-parody or gonzo collusions of incongruous ideas such as Zombie Cheerleader Camp (2007), Zombie Strippers! (2008), Attack of the Vegan Zombies! (2009), Big Tits Zombie (2010), Bong of the Dead (2011) and Cockneys vs Zombies (2012) to name but a handful. Nor did some of the other aspects that were apparent in the trailer – digitally created zombie hordes and the idea of the fast-moving zombie that crept in following the Dawn of the Dead remake – do much to enthuse. I am afraid I'm a traditionalist and like my zombies the old-fashioned way – slow, shuffling packs that devour intestines in bloody detail.
There were however glimmers of promise. The film was co-produced by Brad Pitt's Plan B production company where Pitt has shown a good deal of smarts in some of the other films he has backed – The Departed (2006), Running With Scissors (2006), The Assassination of Jesse James By the Coward Robert Ford (2007), Kick-Ass (2010), The Tree of Life (2011), Killing Them Softly (2012), 12 Years a Slave (2013), Moonlight (2016) and Vice (2018) among others. There is director Marc Forster whose work has left me mostly feeling cold or indifferent – the likes of Monster's Ball (2001), Finding Neverland (2004), and Quantum of Solace (2008) – with occasional oases of cleverness like Stranger Than Fiction (2006). (See below for Marc Forster's other films).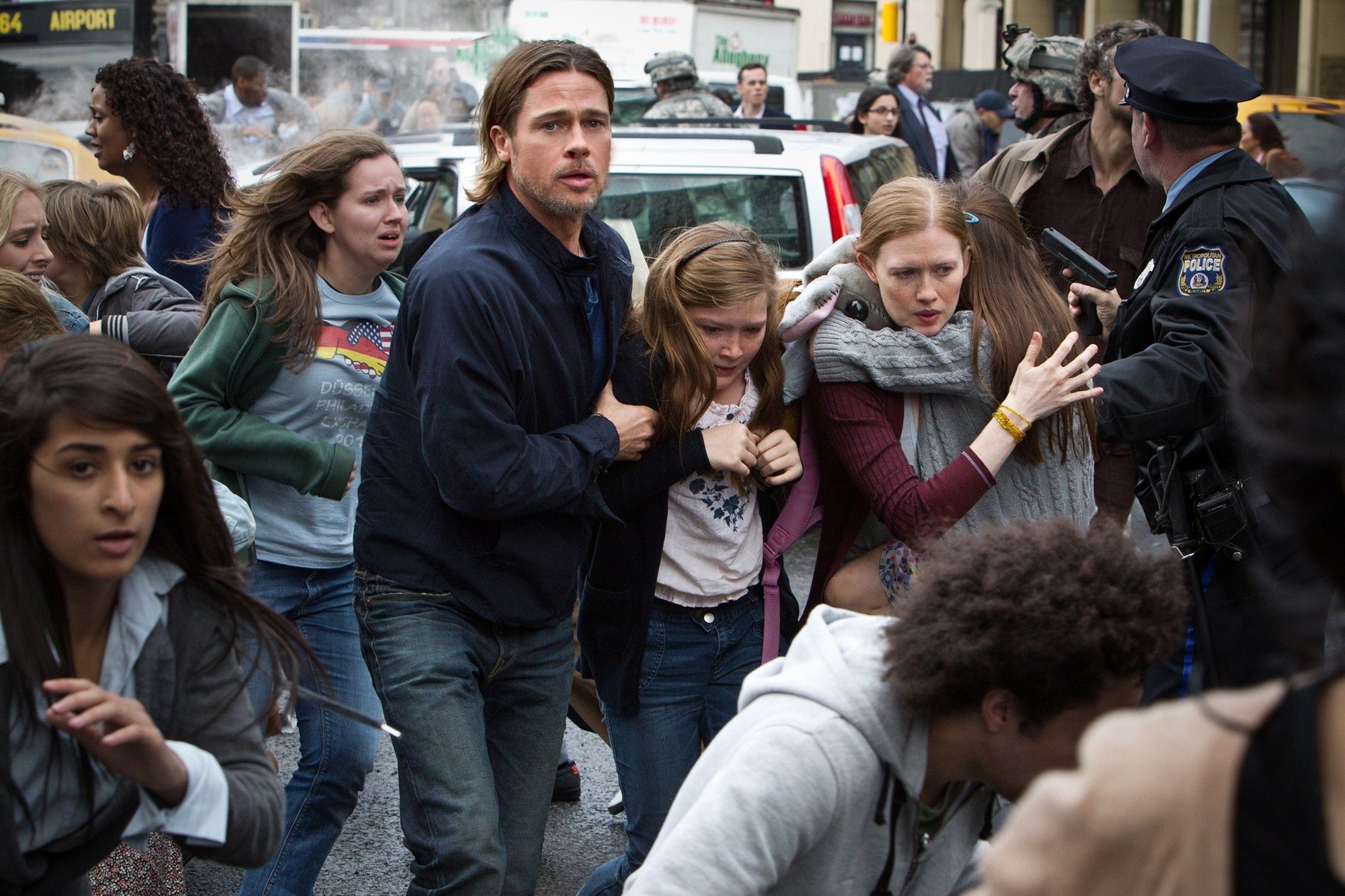 The film is based on the novel World War Z (2006) by Max Brooks. Max is the son of Mel Brooks, the comedy director known for hits like The Producers (1968), Blazing Saddles (1974) and Young Frankenstein (1974). World War Z was a follow-up to Max Brooks' earlier work The Zombie Survival Guide (2003), a book that lists a series of steps for dealing with various types of zombie attack (which has also apparently been optioned by Brad Pitt). For World War Z, Brooks adopted the style of a mock oral history in which the narrator interviews various people and pieces together a story of how the zombie outbreak affects each region of the world. Elsewhere, Max Brooks co-wrote the screenplay for The Great Wall (2016).
The film has assembled a powerhouse of screenwriting names – Matthew Michael Carnahan, the brother of Joe Carnahan, and the writer of The Kingdom (2007), Lions for Lambs (2007), State of Play (2009) and Deepwater Horizon (2016); Drew Goddard, a J.J. Abrams associate who was writer/producer on Alias (2001-6) and Lost (2004-10), the writer of Cloverfield (2008) and The Martian (2015), director of The Cabin in the Woods (2012) and creator of the tv series Daredevil (2015-8); Damon Lindelof, a producer/writer on Lost and other shows, as well as writer of Cowboys & Aliens (2011), Prometheus (2012), Star Trek: Into Darkness (2013) and Tomorrowland (2015); and J. Michael Straczynski, the cult creator/writer/producer of tv's , Sense8 (2015-8) and screenwriter of Changeling (2008), Ninja Assassin (2009) and Thor (2011).
When it comes to the film version, the film is stuck with a book that is not very cinematic in nature – there are no central characters, all that any faithful adaptation of the book would surely end up like would be a mockumentary. The solution has been to keep broad aspects such as the UN investigator narrator and the telling of the story in different locales and graft that onto a standard zombie outbreak story. Needless to say, much of the book's story, which took place over a ten year period in multiple countries, has been abandoned by the film.
Being sceptical about World War Z going in, unenthused about its trailer and wondering whether Marc Forster would strike out or not, I must say I ended up being gently surprised. Firstly, it should be said that World War Z is not a zombie film that reinvents the wheel. It simply takes the basics and gives them a good airing with a reasonable and intelligent screenplay. The digital zombies work surprisingly well. This ends up being one of the few zombie films that delivers everything on a wide scale – or perhaps one should say, one of the few zombie films that has the budget to deliver everything on a wide scale – as we see less individual attacks than entire cities being overrun. Although I was somewhat disappointed in that the film downplays the gore element that is a fixture of almost any zombie film and it emerges as a relatively bloodless effort.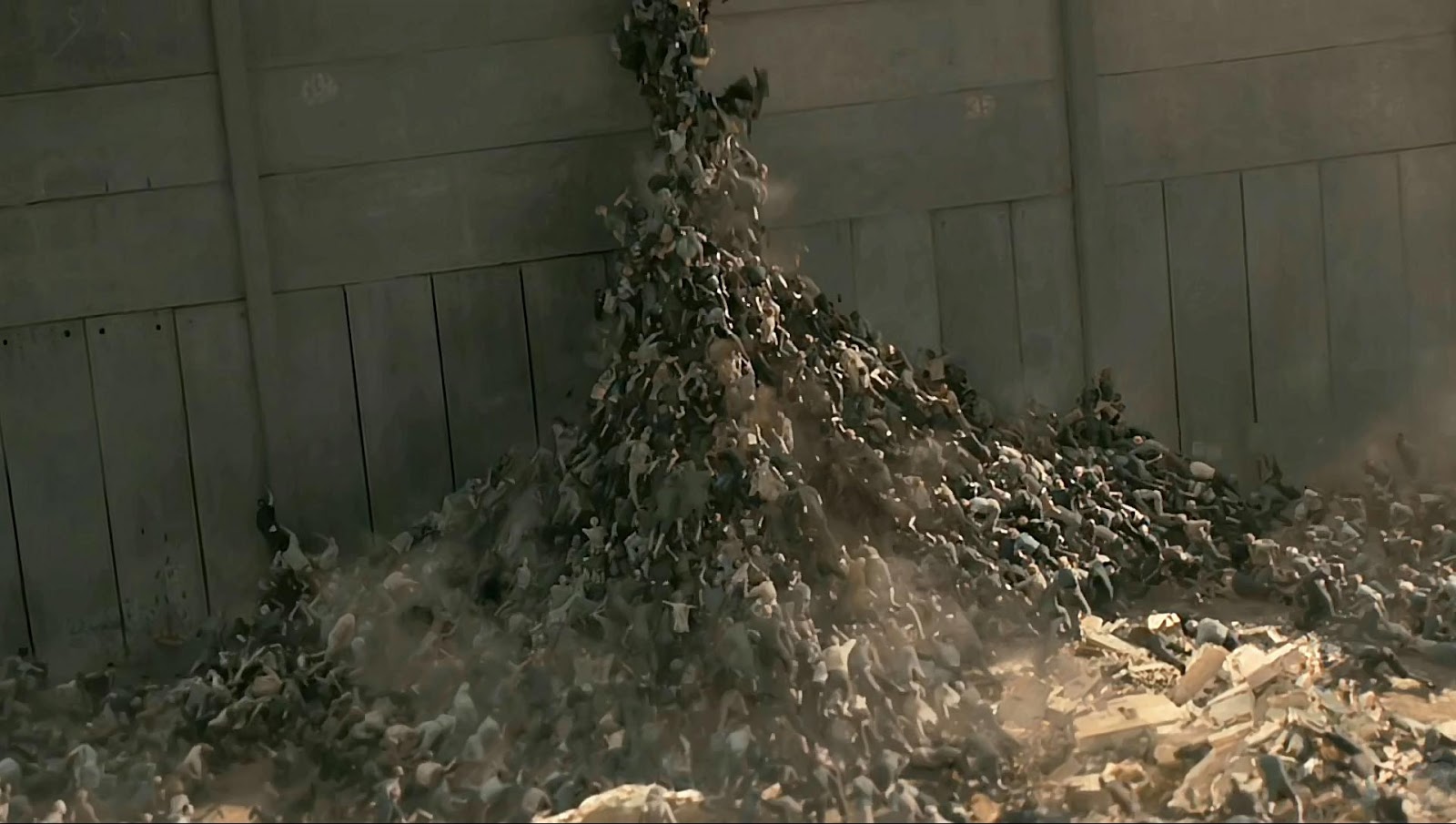 Marc Forster delivers a solid satisfying zombie film. I particularly liked the tightness of the plot and how the international scope of Max Brooks's novel has been spun out into something that resembles one of the big-budget thrillers of the 1970s that used to make a virtue of hopping between exotic locales. Marc Forster delivers something intensive out of the various set-pieces – the opening attack on Philadelphia as Brad Pitt and Mireille Enos try to escape through a traffic jam; the race in the rain to get back to the military plane at the South Korean airfield; the invasion of Jerusalem and Pitt's flight through the streets as the zombie onslaught rapidly spreads. Particularly good are the scenes where the commercial airliner is overrun by zombies in mid-flight and the extended climax where they must venture into the zombie infested laboratories at Cardiff. (Although I must express a certain dubiousness about the sanity of some of the actions – like detonating a hand grenade in an airplane in mid-air or else the seeming point of optimism the end of the film arrives at when the solution to the zombie outbreak seems to be the whole world injecting themselves with fatal diseases, which surely seems a textbook example of the cure being worse than the disease).
One must also commend the film for its fine use of the 3D format, which is particularly evident during the opening credits where the letters of the title form as plates of differing depths. Although while some are calling World War Z the world's first 3D zombie film that is a distinction that belongs to the remake of Night of the Living Dead 3D (2006) and the Norwegian Xombies 3D (2011), which may also have the merit of being the worst zombie film ever made.
A World War Z 2 has been announced for several years, currently to be directed by David Fincher.
Marc Forster's other genre films include Finding Neverland (2004), a biopic of Peter Pan creator J.M. Barrie; the deathdream fantasy Stay (2005); the fine meta-fiction Stranger Than Fiction (2006) in which Will Ferrell discovers that he is a character in a novel; the James Bond film Quantum of Solace (2008); the zombie film World War Z (2013); and the live-action Winnie the Pooh film Christopher Robin (2018).
(Nominee for Best Adapted Screenplay and Best Makeup Effects at this site's Best of 2013 Awards).
---
Trailer here
---