---
Crew
Director/Screenplay – Steve Oedekerk, Producers – Paul Marshal & Steve Oedekerk, Music – John Debney, Animation – Omation Animation Studios, Production Design – Philip A. Cruden. Production Company – Paramount/Nickeloden Movies/O Entertainment/Kumar Mobiliengesellschaft mbH & Co. Projekt Nr. 2 KG.
Voices
Kevin James (Otis), Sam Elliott (Ben), Courteney Cox (Daisy), Danny Glover (Miles), Wanda Sykes (Bessy), Tino Insana (Pig), Jeffrey Garcia (Pip), Cam Clarke (Freddy), David Koechner (Dag), Dom Irrera (Duke), S. Scott Bullock (Eddy), John Di Maggio (Bud), Maurice LaMarche (Igg), Maria Bamford (Nora Beady), Steve Oedekerk (Mr Beady/Snotty Boy)
---
Plot
In Barnyard farm, the animals come to life when the farmer leaves. The leader of the group is the cow Ben who has sworn to protect them from the coyotes that seek to prey on the animals. Ben's greatest worry is his son Otis who takes nothing seriously and is always partying. However, Ben is then killed during an attack by the coyotes. The rest of the animals vote to make Otis the new leader. However, Otis is not ready to give up his partying ways and accept the mantle of responsibility.
---
I must admit to not being a fan of Steve Oedekerk at all. Oedekerk began as a comedy writer, usually for director Tom Shadyac, and has scripted films such as Ace Ventura: When Nature Calls (1995), The Nutty Professor (1996), Patch Adams (1998), The Nutty Professor II: The Klumps (2000), Jimmy Neutron, Boy Genius (2001), Bruce Almighty (2003), Evan Almighty (2007) and Cowboys & Aliens (2011). Oedekerk found his own standing as director with the various Thumb Wars shorts, where he and others enacted parodies of famous movies with all the characters being played by thumbs. Oedekerk's debut as a feature-length director came with the staggeringly unfunny Kung Pow: Enter the Fist (2002) wherein he himself played a hero in a parody of martial arts movies and was digitally inserted into footage from a 1970s Hong Kong film. The animated Barnyard was Steve Oedekerk's second feature film as a director.
With the excruciatingly unfunny experience that was Kung Pow firmly lodged in memory, I had little in the way of hopes for Barnyard. Most of Steve Oedekerk's comedy seems centred around inane physical humour and Kung Pow showed that he had a total inability to know when a gag was funny or not. Grudgingly to Oedekerk's credit, one has to allow him that Barnyard is an improvement over Kung Pow and on its own terms is an amiable film.
Barnyard feels like Steve Oedekerk has conducted a conceptual mix of Animal Farm (1954), the satirical George Orwell novel and animated film about barnyard animals that conduct a revolution against their human owner (while no revolution occurs here, the farmer is sidelined for most of the action and repeatedly knocked out during the rest of it) and Disney's The Lion King (1994) – the son who inherits the crown of rulership over various animals after his much wiser father is killed in a violent animal melee.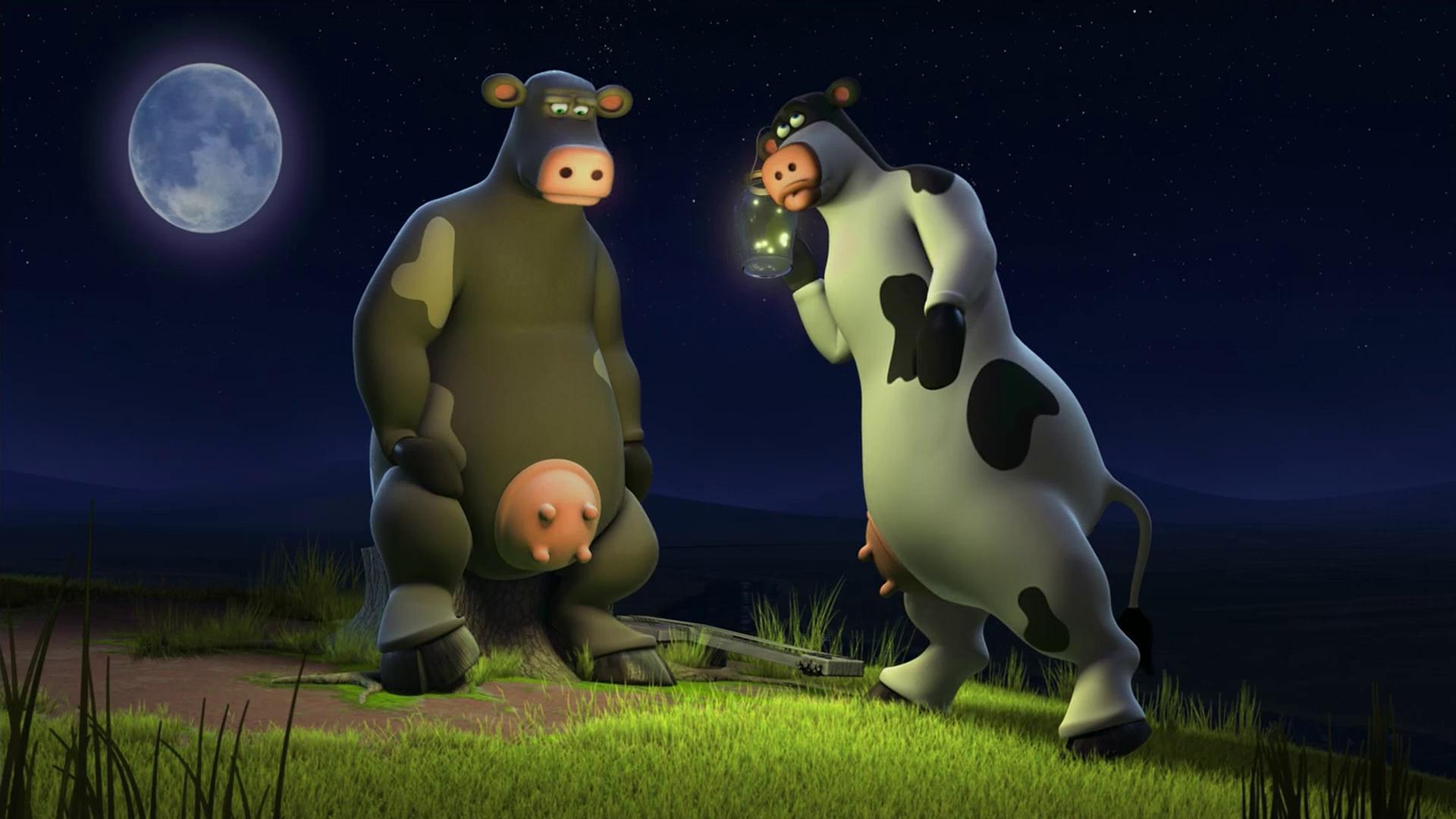 There is not much of a plot to Barnyard. Steve Oedekerk is a gag writer and much of the film is focused around the animals doing silly things. The menace of coyotes seems weakly contrived at times, there whenever the film needs something to drive it along, while the token romance fails to come to life much either.
I have written much about how I hate films that are constantly playing to contemporary audiences with inane gags that rupture the suspension of disbelief, make frequent joke references to contemporary popular culture or have animals behaving in absurdly anthropomorphic ways. This is something of which Barnyard is more than guilty. The film is almost entirely construed around a series of gags with the barnyard animals doing such things as driving cars, riding motorcycles, doing musicals numbers that range from bluegrass to rap and the blues, gags about animals riding a human mechanical bull or chickens throwing darts at a dartboard with Colonel Sanders face on it, and a very silly sequence with Otis and several others skiing down a mountainside on a surfboard that is roped to a block of ice.
Almost every single comment made about Barnyard seems to focus on the anatomical absurdity of the male cattle in the film having udders. This was something that Steve Oedekerk admitted they did deliberately because he liked the ridiculousness of having characters with udders. This is the problem with Barnyard, where Oedekerk has placed much of the focus of the film on gags that have a silliness that goes way beyond description. Barnyard almost redeems itself by driving everything along with an undeniably ebullient energy such that it mostly ducks the usual inanity that dogs these other films.
The film was spun off into an animated series Back at the Barnyard (2007-11).
---
---