---
Canada/USA. 2006.
Crew
Director – Greg Richardson, Screenplay – Elana Lasser & Cliff Ruby, Producers – Jesyca C. Durchin, Jennifer Twiner McCarron & Shea Wageman, Music – Arnie Roth, Themes by Felix Mendelssohn, Animation Directors – Conrad Helten & Carleen Lay, Production Design – Walter P. Martishius. Production Company – Mattel Entertainment/Mainframe Entertainment.
Voices
Kelly Sheridan (Genevieve), Catherine O'Hara (Duchess Rowena), Chantal Strand (Lacey), Nicole Oliver (Ashlyn/Twyla), Jennifer Copping (Blair), Lalainia Lindberg (Courtney), Kathleen Barr (Delia), Chiara Zanni (Edeline), Adrienne Carter (Fallon), Ashleigh Ball (Hadley/Ilsa), Britt McKillip (Janessa), Maddy Capozzi (Kathleen), Shawn MacDonald (Derek), Christopher Gaze (King Randolph), Garry Chalk (Desmond), Peter Kelamis (Brutus), Gabe Kouth (Felix), Mark Oliver (Fabian/Royal Doctor)
---
Plot
King Randolph has twelve unruly daughters. He decides to bring his cousin Duchess Rowena in to teach them proper manners and etiquette. Under Rowena, the twelve princesses are given strict orders regarding what they can and cannot do and punishments meted for the smallest infractions. Forbidden from dancing, the princesses find that clues left in a series of books from their late mother reveal that the stones set in a pattern in their bedroom floor open the gateway to a magical world when danced on in the correct order. There, with their wishes granted by the magical blooms, they spend their nights dancing freely. This infuriates Rowena who determines to find where they are going and put a stop to it. Rowena meanwhile has been slowly poisoning their father and turning him against the princess, all to steal the throne for herself.
---
Barbie in The 12 Dancing Princesses was the seventh of the animated films based on Mattel's girl's doll from Canadian computer animation firm Mainframe Entertainment (later to become Rainmaker Entertainment). Others of these Barbie films include Barbie in the Nutcracker (2001), Barbie as Rapunzel (2002), Barbie of Swan Lake (2003), Barbie as The Princess and the Pauper (2004), Barbie Fairytopia (2004), Barbie and the Magic of the Pegasus in 3D (2005), Barbie Mermaidia (2006), Barbie as The Island Princess (2007), Barbie Fairytopia: Magic of the Rainbow (2007), Barbie & the Diamond Castle (2008), Barbie in A Christmas Carol (2008), Barbie Mariposa (2008), Barbie and the Three Musketeers (2009), Barbie Presents Thumbelina (2009), Barbie: A Fashion Fairytale (2010), Barbie in a Mermaid Tale (2010), Barbie: A Perfect Christmas (2011), Barbie: A Fairy Secret (2011), Barbie: Princess Charm School (2011), Barbie in a Mermaid Tale 2 (2012), Barbie: The Princess & The Popstar (2012), Barbie and Her Sisters in a Pony Tale (2013), Barbie in The Pink Shoes (2013), Barbie Mariposa and the Fairy Princess (2013), Barbie and the Secret Door (2014), Barbie: The Pearl Princess (2014), Barbie and Her Sisters in the Great Puppy Adventure (2015), Barbie in Princess Power (2015), Barbie in Rock'n'Royals (2015), Barbie and Her Sisters in a Puppy Chase (2016), Barbie Spy Squad (2016), Barbie Star Light Adventures (2016), Barbie: Dolphin Magic (2017) and Barbie: Video Game Hero (2017).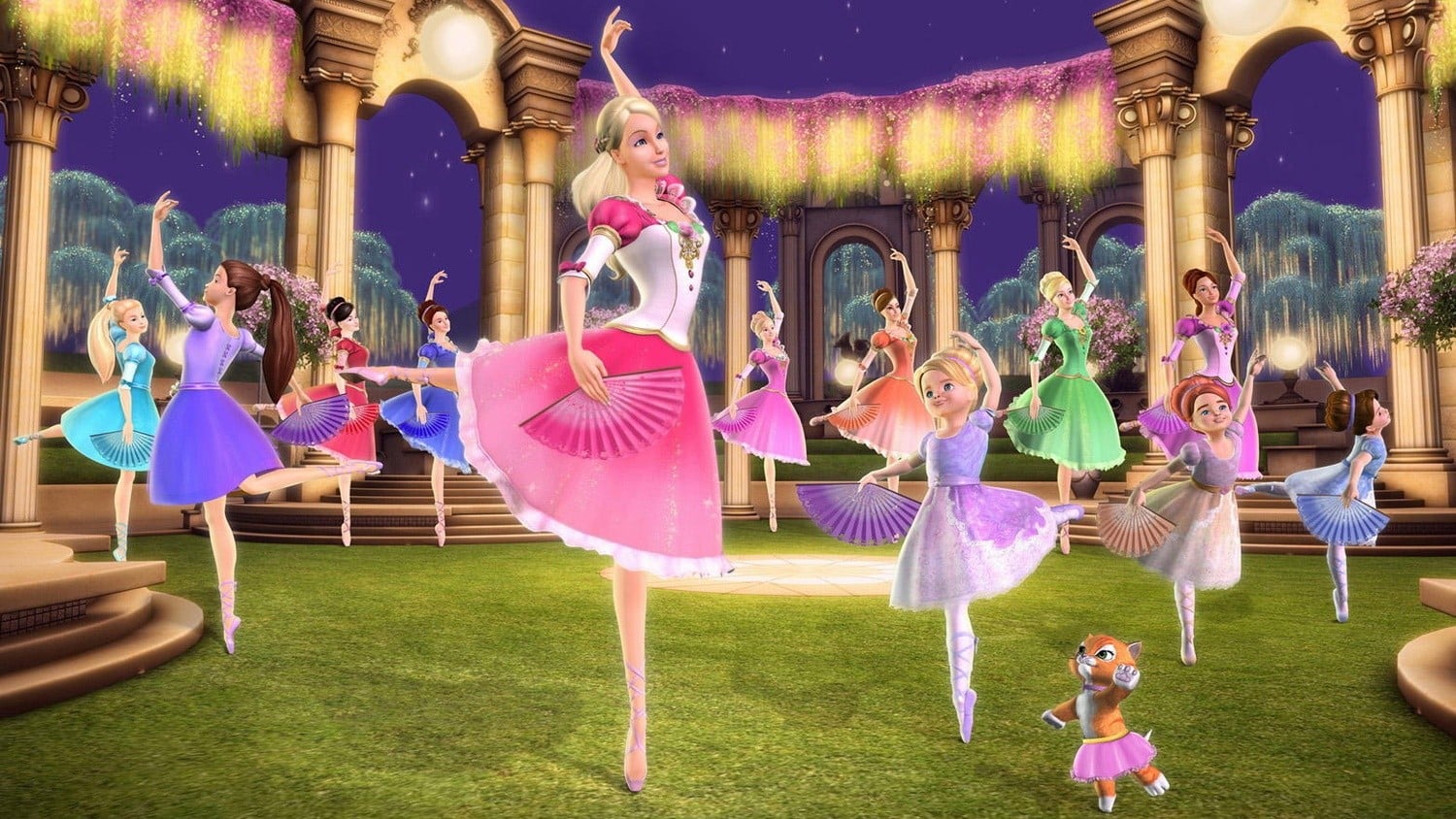 Barbie in The 12 Dancing Princesses is fairly typical fare for what Mainframe was putting out in the mid-2000s – the animation has a flat and limited blankness and is not that sophisticated. (Certainly, their work made improvements in the next few years). The Barbie films are ditty upbeat fantasies for young girls – Pollyanna fantasies that leave you going away certain that all you need to conquer life is an unrelentingly positive outlook. A number of the early Barbie films seemed to have artistic pretensions (something that was dropped soon after this) – and here the animators have rotoscoped the work of dancers from the New York ballet and adapted the score from themes by classical composer Felix Mendelssohn.
Even though Barbie in The 12 Dancing Princesses is not based on a fairytale, the script wheels various of the tropes familiar to the animated fairytale – the evil usurper of the father's affections (not quite a witch or a wicked stepmother but as near as it is possible to get), the downtrodden princess(es) who find a magical token that allows them to release their true passion, the talking animals sidekicks (which are actually the most appealing and lively characters in the film), the happy ever after romantic ending. The story is entirely lightweight to the point that it feels like the filmic equivalent of regarding cotton candy as an actual meal.
---
---