aka The Wild Life
---
Crew
Directors – Vincent Kesteloot & Ben Stassen, Screenplay – Lee Christopher, Domonoc Paris & Graham Welldon, Based on the Novel by Daniel Defoe, Producers – Gina Gallo, Mimi Maynard, Domonic Paris, Ben Stassen & Caroline Van Iseghem, Photography (3D) – Barbara Meyers, Music – Ramin Djawadi, Animation Supervisor – Dirk De Loose, Art Direction – Vincent Kesteloot & Anthony Leveque. Production Company – Illumanata Pictures/nWave Pictures/uFilm.
Voices
Yuri Lowenthal (Robinson Crusoe), David Howard (Mak/Tuesday), Doug Stone (Aynsley), Joey Carmen (Scrubby), Colin Metzger (Carmello), Michael Sorich (Cecil), Debi Tinsley (May), Jeff Doucette (Mal/Pango), Sandy Fox (Epi), Lindsay Torrance (Kiki), Dennis O'Connor (Long John Silver), Laila Berzins (Rosie), B.J. Oakie (Rufus)
---
Plot
Robinson Crusoe is rescued from a desert island by a pirate ship. On board, his parrot tells the story of what happened to the two ship's rats. Crusoe was on board another ship that was wrecked and he was washed up on the island. The various animals that lived there were fearful of who this stranger was. Two conniving cats that had also been on board the ship contrived to turn the animals against Crusoe. Only Mak, the parrot who firmly believed in the existence of a world beyond the island, ventured to befriend Crusoe who named him Tuesday. The cats were driven from the island and Crusoe gradually befriended and won the animals over. Together they helped him build a treehut and he attempted to teach them the basics of civilisation. However, the two cats, who had by now spawned a litter, plotted revenge.
---
The Daniel Defoe novel Robinson Crusoe (1719) is a literary classic. It is the story of an Englishman who is shipwrecked on an unnamed desert island and improvises the basic amenities of life from items salvaged from the shipwreck or built from the island around him. He is also joined by a prisoner he rescues from a cannibal tribe and makes his manservant, calling him Man Friday.
Robinson Crusoe has been filmed numerous times. The IMDB lists some thirty odd film versions, although the majority of these have been foreign-language productions and surprisingly few have been made in the English language. There were seven different versions in the silent era alone, even a 1954 version from no less than Luis Buñel, while other takes include an updated comedy version Lt. Robin Crusoe U.S.N. (1966) with Dick Van Dyke and Robinson Crusoe (1997), a tv mini-series with Pierce Brosnan. You could easily argue that Robert Zemeckis's Cast Away (2000) with Tom Hanks was a Robinson Crusoe film in all but name. It should be noted that none of these other versions, nor the Defoe book, hold any fantastic content. There has however been a science-fiction version of the story with Robinson Crusoe on Mars (1964).
Robinson Crusoe is a principally Belgian production. It comes from nWave Pictures, a Brussels-based animation company that have been active since 1994. Under director Ben Stassen, they have specialised in ride and IMAX films. They had previously made the feature-length animated films Fly Me to the Moon (2008), Sammy's Adventures (2010) and its sequel Sammy's Adventures 2 (2013), The House of Magic (2013) and the subsequent The Son of Bigfoot (2017) and its sequel Bigfoot Family (2020), and The Queen's Corgi (2019). Robinson Crusoe was the first of nWave's film to get a wide US release where it was redubbed and for some reason retitled The Wild Life.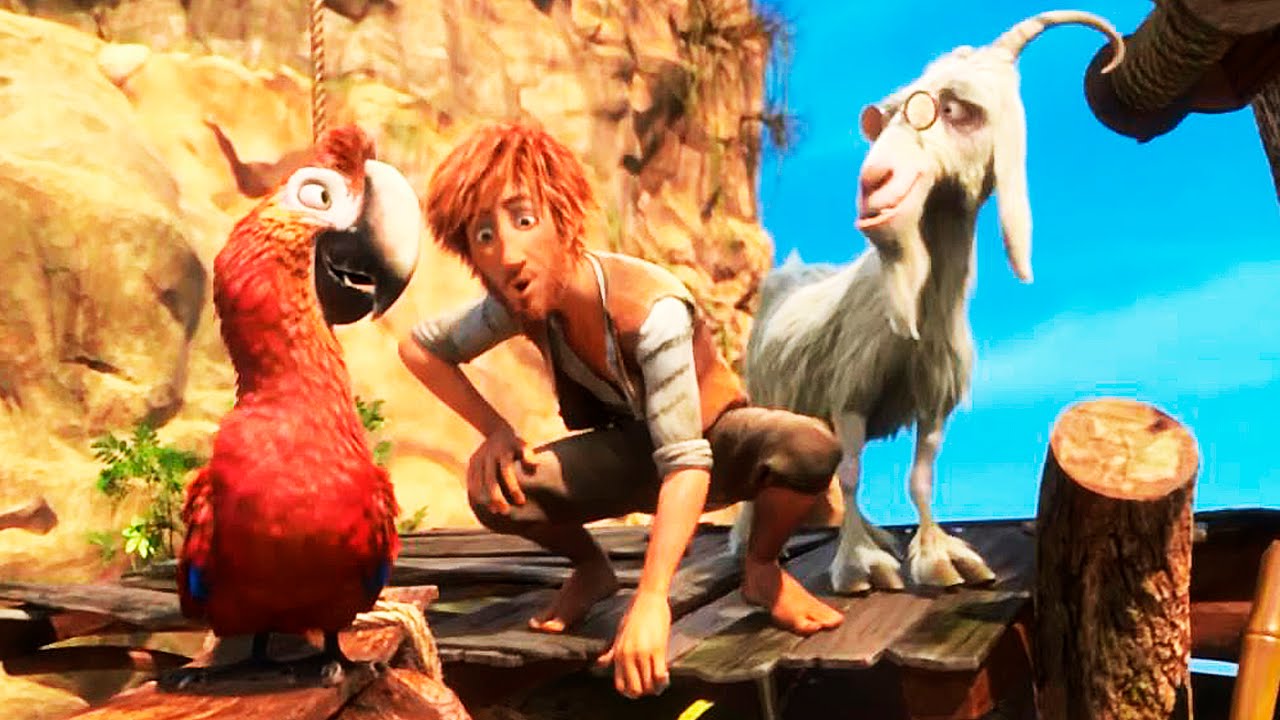 nWave's take on the Robinson Crusoe story is one of the most variant and wacky versions of the tale so far – one in which the island is inhabited by talking animals who befriend Crusoe and help him build his treehut. Man Friday now becomes a parrot named Tuesday. There are no cannibals; where their role has been replaced by a vicious litter of cats from the shipwreck (someone involved in the film clearly doesn't like cats, which are all portrayed as irredeemably malicious and evil).
Robinson Crusoe/The Wild Life is an amiable film. It is clearly the Belgians trying to emulate the success of American mainstream animated fare. At such, Robinson Crusoe did minor box-office towards the end of the summer 2016 season. Now the story has been focused less on Crusoe's struggle for survival than the talking animals. Indeed, Crusoe is regarded as an amiable bumbler and fails to get his treehut built until the animals pitch in and help him (amid much in the way of slapstick shenanigans).
The animals are the typical characters that appear in commercial family-friendly animation. Naturally, much of the film is centred around their antics – even more so than the film is ever concerned with Crusoe's survival drama, which is given fairly minimal focus bar the scene where the animals help build his house. The film's big set-piece is a vigorous scene with the animals fending off an attack by the litter of cats in and around the treehut. It all amounts to an amiable but lightweight and instantly forgettable film.
By curious coincidence, a far better Belgian animated film about desert island castaways befriending animals turned up the same year with the Studio Ghibli co-production The Red Turtle (2016).
---
---