---
Crew
Director – Brian Henson, Screenplay – Todd Berger, Story – Todd Berger & Dee Austin Robertson, Producers – Ben Falcone, Jeffrey Hayes, Brian Henson & Melissa McCarthy, Photography – Mitchell Amundsen, Music – Christopher Lennertz, Visual Effects Supervisor – Sam Nicholson, Visual Effects – Stargate Studios, Special Effects Supervisor – Ron Trost, Puppets – Jim Henson's Creature Shop, Production Design – Chris Spellman. Production Company – On the Day Productions/Henson Alternative.
Cast
Melissa McCarthy (Detective Connie Edwards), Maya Rudolph (Bubbles), Elizabeth Banks (Jenny Peterson), Leslie David Baker (Lieutenant Banning), Joel McHale (Agent Campbell), Michael McDonald (Ronovan Scargle), Cynthy Wu (Brittenie Marlowe)
Puppet Performers
Bill Baretta (Phil Philips), Dorien Davies (Sandra White), Victor Yerrid (Larry 'Shenanigans' Philips), Kevin Clash (Bumblypants/Lyle), Drew Massey (Goofer/Vinny)
---
Plot
Puppets live alongside humans but are treated as a minority class. Phil Philips was the first puppet detective on the LAPD but was forced to quit when it was discovered he could not shoot a fellow puppet. Now working as a private detective, he is hired by the sexy puppet Sandra to find who is blackmailing her. The trail leads Phil to a puppet porn store. However, while he is out the back looking for evidence, someone enters and massacres everybody in the store. During the police investigation, Phil encounters his former human partner on the force Detective Connie Edwards. That evening, Phil's actor brother Larry is torn apart and killed after someone lets dogs into his home. Phil realises the first killing was not a robbery but that someone is attempting to eliminate every member of the defunct puppet tv series The Happytime Gang. He and Connie are forced to partner up again to investigate the trail of murders.
---
Brian Henson is the son of legendary puppeteer Jim Henson, the creator of the Muppets. Following Jim's death in 1990, Brian inherited his father's empire and managed The Jim Henson Company through a series of very variable films and tv shows mostly banked on exploiting his father's name and past successes. Brian stepped behind the camera as director for two inferior Muppet movies, The Muppet Christmas Carol (1992) and Muppet Treasure Island (1996), as well as the tv mini-series Jack and the Beanstalk: The Real Story (2001). The one exception in Brian Henson's uneven oeuvre is the fine Battleground segment of the tv mini-series Nightmares & Dreamscapes: From the Stories of Stephen King (2006) with William Hurt fighting an army of toy soldiers.
With The Happytime Murders, Brian sets out to fairly much trash his father's legacy – and in so doing, actually makes his most interesting film yet. It is a film that has been conceived as nothing more than a glimpse of all the unwholesome things that the puppets get up to that you never saw on The Muppet Show (1977-81). Jokes about such have circulated ever since the series aired. Brian leaps into this sordid underside with gusto, He gives us puppet sex scenes (the scene between Phil and Sandra even manages to spray an entire office in jizz), puppet porn stores, puppet drug addicts and flophouses, even a puppet parody of the Basic Instinct (1992) leg crossing scene. The most outrageous scene is one where a porn film is being shot and we see a cow puppet's udders being masturbated.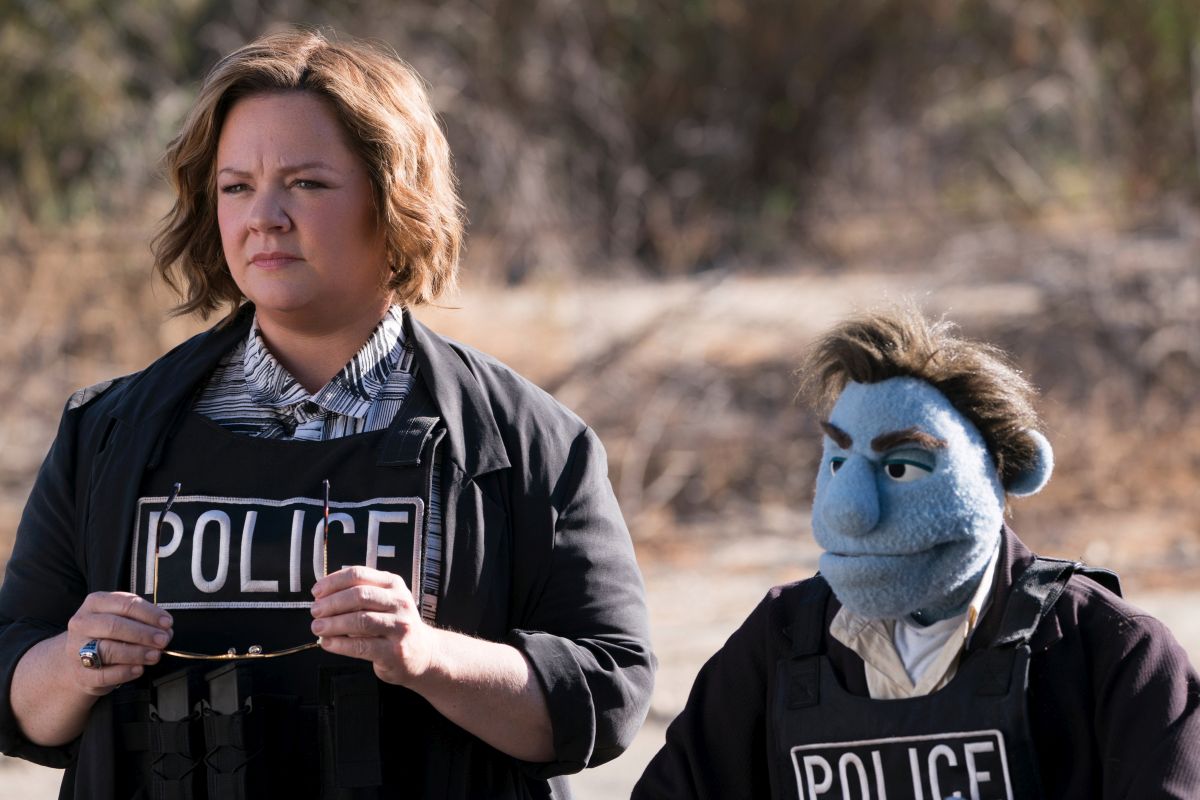 The surprise is that none of these things about puppets behaving in adult ways is new – it was done nearly three decades earlier by Peter Jackson with his second film Meet the Feebles (1990) wherein Jackson pushed things to an even more of an outrageous extreme that Brian Henson does. Around the same time, there was also the equally outrageous Belgian-made Marquis (1989) – while not quite as well known, this featured a dog hero conversing with his penis and assorted scenes of puppet sex (including one scene that predated the cow udder masturbation scene here). And before either of these there was Let My Puppets Come (1976), a pornographic film featuring puppets. The human and puppet buddy cop idea had even been done before in the short-lived tv series The Fuzz (2014).
The script for The Happytime Murders comes from Todd Berger, the member of a comedy troupe who has another career as a director with the hilarious Found Footage parody The Scenesters (2009) and the End of the World comedy It's a Disaster (2012). Berger has also made ends meet by turning out scripts for various Smurfs and Kung Fu Panda short films for tv – as with Brian Henson's turn to the dark side here, you get the impression that the family entertainment niche either brings out people's twisted sides or causes them to start contemplating unwholesome alternatives to their bread and butter fare.
In his script. Todd Berger essentially appropriates the gonzo buddy cop story. A number of commentators pointed out the similarity between The Happytime Murders and Bright (2017), which featured a similar pairing between a human cop and an orc dealing with an L.A. underworld peopled by beings from a fantasy setting. There is an undeniable similarity in that they are essentially similar stories where one features puppets and the other fantasy creatures. What is not said is that both films draw on the earlier Alien Nation (1988), which featured a curmudgeonly human cop and an alien investigating a murder that took place in an alien ghetto. The Happytime Murders has even more in common with Who Framed Roger Rabbit? (1988), which had a human private eye paired with a cartoon character investigating murder(s). (The Happytime Murders conducts an interesting juggle in managing to both be a private eye and a buddy cop film).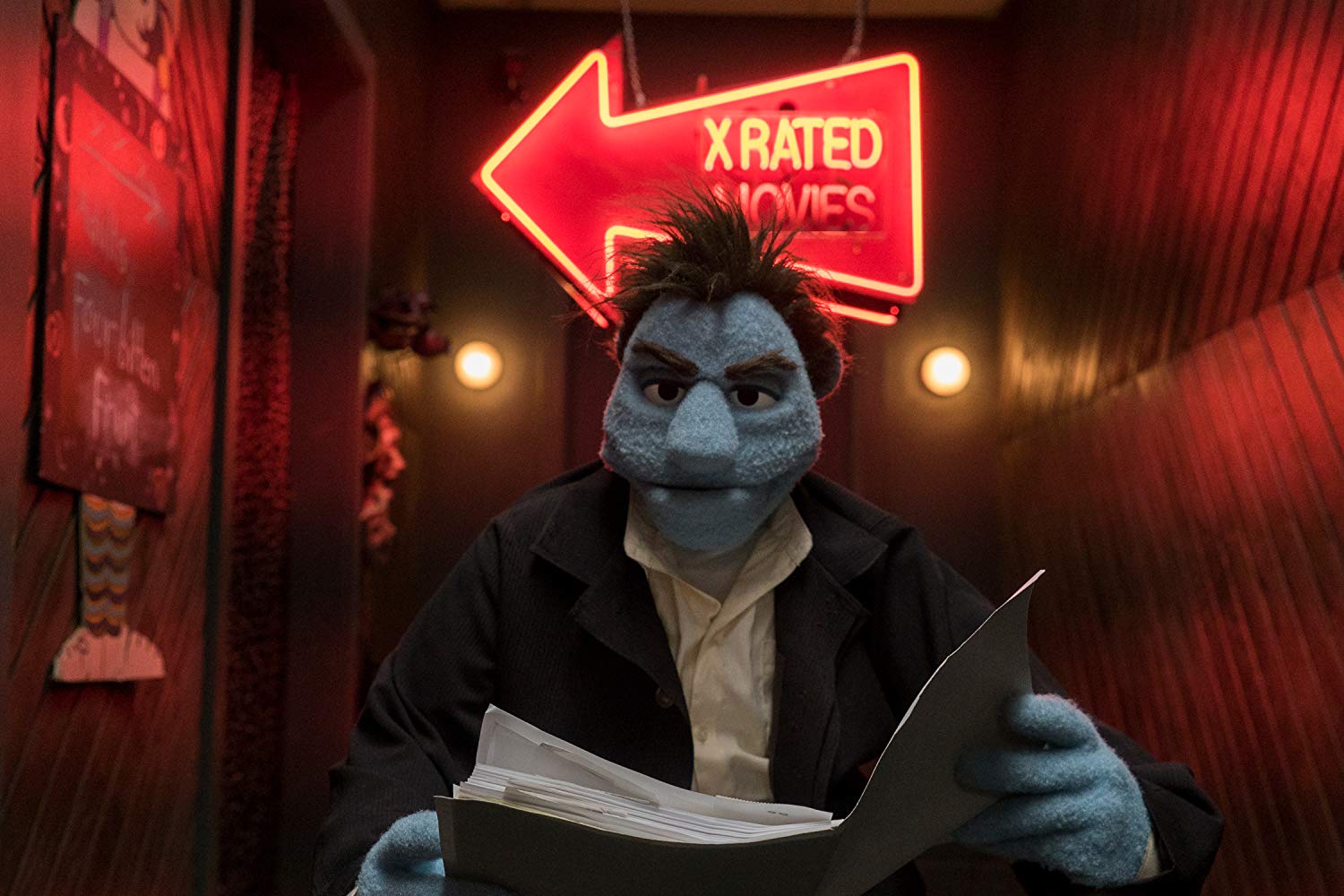 Even aside from that, The Happytime Murders taps into the spate of films that came out for several years afterwards following the success of Lethal Weapon (1987), which seemed in a competition to pair human cops with the most outlandish of partners. This includes such pairings as cop and alien – The Hidden (1987); cop and split personality – Loose Cannons (1989); cop and zombie – Dead Heat (1988); cop and gnome – Upworld/A Gnome Named Gnorm (1991); cop and vampire – tv's Forever Knight (1992-6); even cop and dinosaur in Theodore Rex (1995).
The Happytime Murders is enjoyable if it is never a great work. The idea readily builds on where Meet the Feebles went before – and more scatologically – nevertheless the film is fun in its various outrages. Brian Henson does create the idea of a modern world where puppets are just taken for granted as part of the scenery well – it is often worth watching the background of the street scenes for the puppets that have been digitally added in amongst the people. As to be expected, the puppetry (from most of the usual Henson collaborators) is top notch.
---
---