---
Crew
Director – Henry Koster, Screenplay – Leonard Bercovicci & Robert E. Sherwood, Based on the Novel by Robert Nathan, Producer – Samuel Goldwyn, Photography (b&w) – Gregg Toland, Music – Hugo Friedhofer, Music Supervisor – Emil Newman, Photographic Effects – John Fulton, Art Direction – Perry Ferguson & George Jenkins. Production Company – The Samuel Goldwyn Co.
Cast
Cary Grant (Dudley), Loretta Young (Julia Brougham), David Niven (Bishop Henry Brougham), Monty Woolley (Professor Wutheridge), Karolyn Grimes (Debby Brougham), Elsa Lanchester (Mathilda), James Gleason (Sylvester)
---
Plot
As Christmas nears, the weary and overworked Bishop Henry Brougham prays for help and is startled when an angel appears before him. The angel, Dudley, helps him stand up against a rich dowager who is financing his new cathedral and demanding it built the way she wants, while showing him how he has been neglecting his wife and daughter.
---
In all regards, The Bishop's Wife is the same familiar Hollywood light fantasy comedy that Hollywood was churning out a good deal of during the late 1930s/early 40s – see the likes of Topper (1937) and sequels, Here Comes Mr Jordan (1941) et al. This was just after Word War II where it seemed going by the films that they watched at least that audiences of the day wanted some gentle, untroubling assurances of the existence of an afterlife.
In its favour, The Bishop's Wife does offer the decidedly offbeat casting of Cary Grant as an angel. In every other respect, it comes with a singular blandness that fails to distinguish it in any way – it is not that it is a bad film, just bland. Its sentiments are overdone, its moral points obvious and the inspirational lesson to be learned a yawn. Nevertheless, it has become a Christmas perennial, along with other films from the era such as It's a Wonderful Life (1946) and Miracle on 34th Street (1947) and is well regarded by many.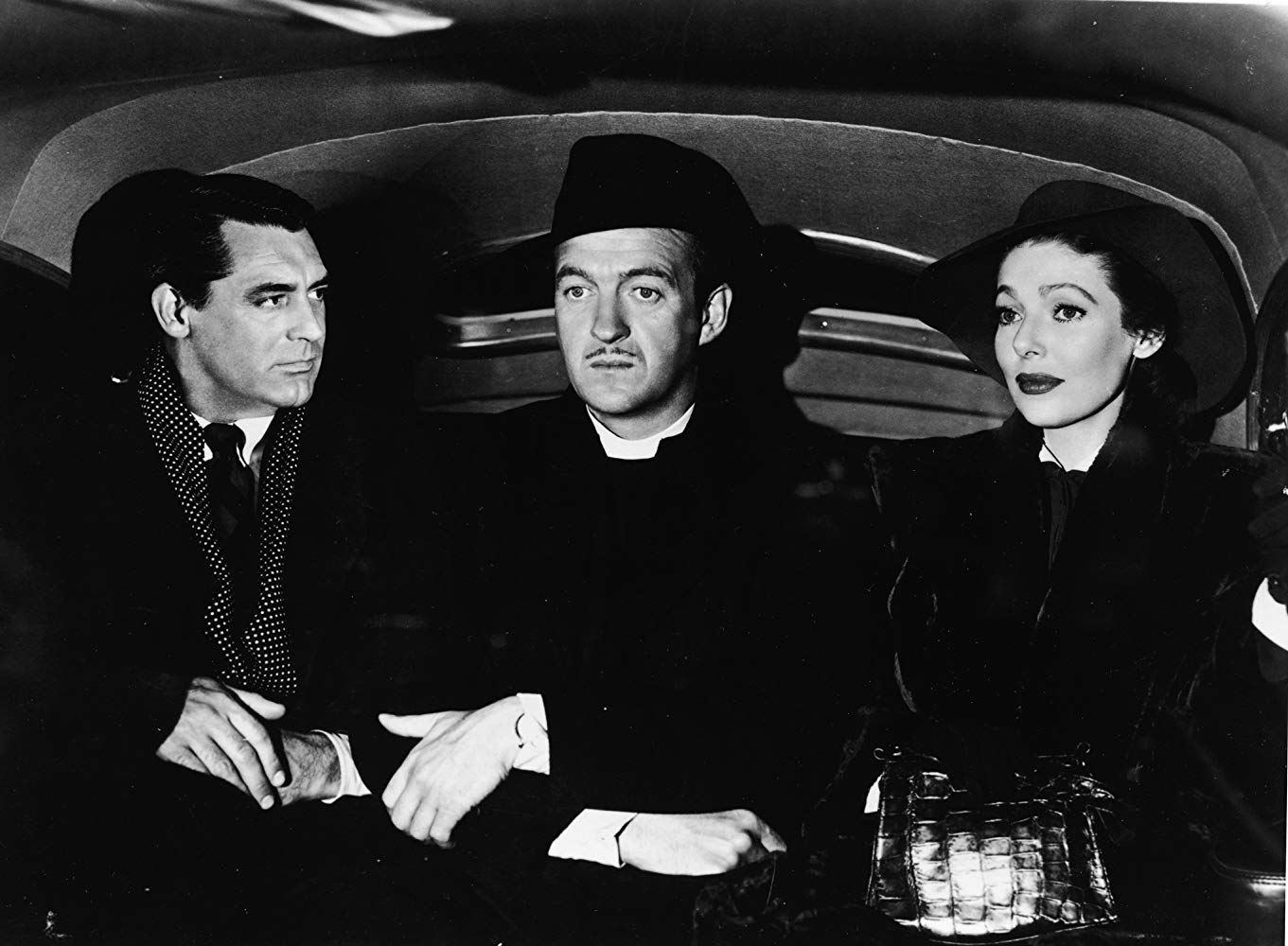 Dudley is not one of Cary Grant's better performances. As the bishop, David Niven overdoes the neurotic performance, although adds a couple of moments of droll humour the film could have done with more of. Elsa Lanchester gives a nicely downtrodden performance as the maid.
The film underwent a more ecumenical remake – a conversion from Catholicism to Protestantism – as well as an all-African American cast as a vehicle for singer Whitney Houston with the rather drab The Preacher's Wife (1996), which featured Denzel Washington in the Cary Grant role.
---
---