---
Crew
Director/Producer – Clarence Brown, Screenplay – Dorothy Kingsley & George Wells, Story – Richard Conlin, Photography (b&w) – Paul C. Vogel, Music – Daniele Amfitheatrof, Special Effects – A. Arnold Gillespie & Warren Newcombe, Makeup – William Tuttle, Art Direction – Edward Carfagno & Cedric Gibbons. Production Company – MGM.
Cast
Paul Douglas (Guffy McGovern), Janet Leigh (Jennifer Paige), Donna Corcoran (Bridget White), Spring Byington (Sister Edwitha), Keenan Wynn (Fred Bayles), Bruce Bennett (Saul Hellman)
---
Plot
Woman's magazine writer Jennifer Paige is assigned to write a piece on the abysmal season being had by the Pittsburgh Pirates baseball team. She lays all the blame at the feet of the team's brawling, foul-mouthed coach Guffy McGovern. Guffy is then spoken to by an angel, which tells him that if he cleans his act up then the heavenly baseball team will aid the Pirates. When Guffy does so, the Pirates' season markedly changes. Next, when Bridget White, a young girl from a Catholic orphanage, says she can see the angels on the field this causes a huge stir in the papers.
---
Angels in the Outfield is one of many such light fantasy films that were produced in the late 1930s and 1940s, a period that also produced classics such as Topper (1937), Here Comes Mr Jordan (1941), A Guy Named Joe (1943) and It's a Wonderful Life (1946), among others. It is a film that has a sort of but not quite classic status – one that rests more on people's warming to its good-naturedness than it is a particularly great film.
Angels in the Outfield is a film where you can where everything is going in big, easy strokes. On one hand, it seems 'pitched' at sports fandom, tying in and shooting at the stadium of the real Pittsburgh Pirates, and featuring cameos from baseball greats like Joe DiMaggio and Ty Cobb. However, this is wed in a somewhat ungainly way to the fantasy themes. No angels appear throughout – the most fantastique the film ever gets is a falling feather.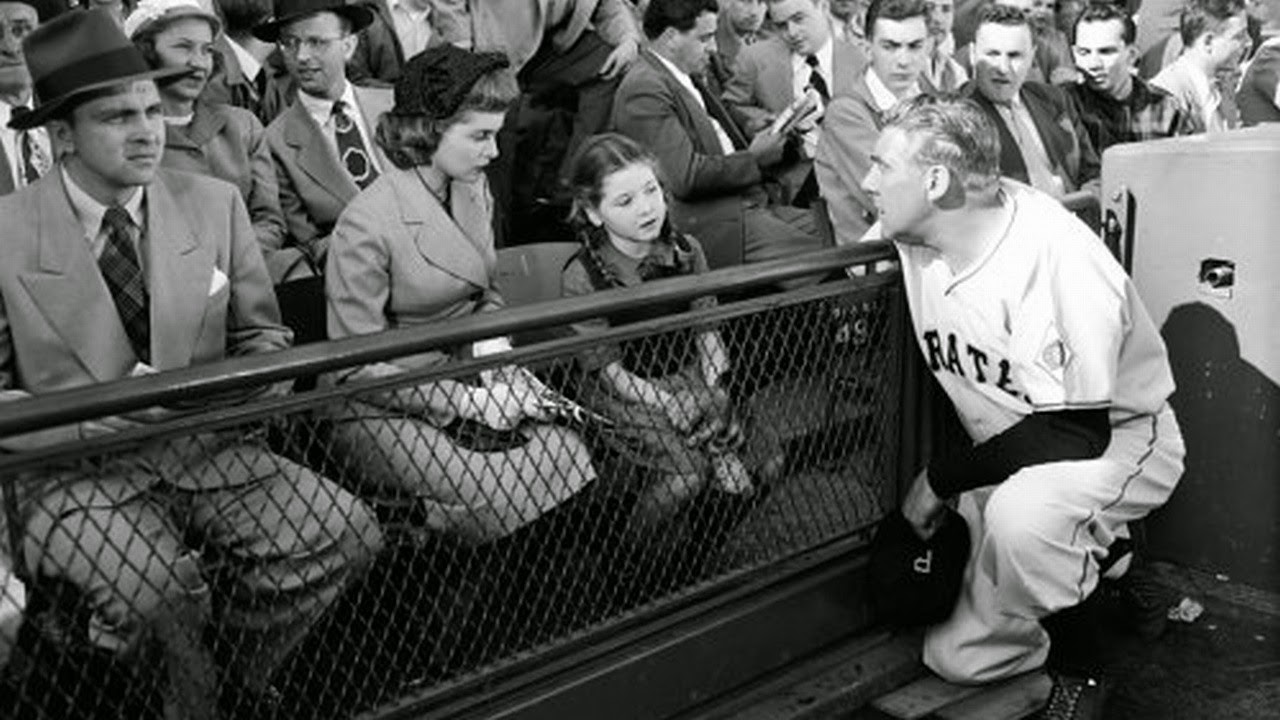 They seem fairly petty angels too – rather than come to heal the sick or help the downtrodden, their mission is merely to help a baseball team having a bad run. The most objectionable sin according to the film appears to be not murder, theft or greed … but the use of foul language. As one can see, this is a banal cosy comedy, rather than a challenging work of faith. It borrows from the much superior Miracle on 34th Street (1947), which was a success several years earlier. Angels in the Outfield contrivedly swings the situation to set up a courtroom debate about the existence of angels akin to Miracle on 34th St's debate about the existence of Santa but this is a caricatured debate and set up to essentially slap psychiatry in the face for not having any faith.
Angels in the Outfield fares better as comedy than theology. Lugubrious, ungainly Paul Douglas has some fine moments spouting Shakespeare in lieu of foul language and accidentally cooking Janet Leigh's shoes, while she brings the virtue of fine, deadpan comic timing. The film's problem though is that it never initially pits them off in a prickly sparring match-come-eventual romantic connection. He cleans up his act far too quickly and easily. In all, it is not entirely a negligible film though. The final scene with Paul Douglas looking up to the angels "You're getting a good man" is momentarily poignant.
The film was remade as Angels in the Outfield (1994).
---
---