(Mugen no Junin)
---
Crew
Director – Takashi Miike, Screenplay – Tetsuya Oishi, Based on the Manga by Hiroaki Samura, Producers – Shigeji Maeda, Misako Saka & Jeremy Thomas, Photography – Nobuyasu Kita, Music – Koji Endo, Visual Effects Supervisor – Kaori Ohtagaki, Visual Effects – Drawiz, Flux, Nice+Day (Director – Tatsuya Kageyama), OLM Digital, Inc. & TMS Jinnis (Director – Ingbok Hwang), Production Design – Toshiyuki Matsumiya. Production Company – Warner Bros. Pictures Japan/TV Asahi Corporation/Kodansha/J Storm/Recorded Picture Company/CJ E&M/OLM/KEN ON Inc./GYAO.
Cast
Takuya Kimura (Manji), Hana Sugisaki (Rin Asano/Machi), Sota Fukushi (Anotsu Kagehisa), Ebizo Ichikawa (Eiku Shizuma), Hayato Ichihara (Shira), Kazuki Kitamura (Sabato Kuroi), Erika Toda (Makie Otonotachibana), Yoko Yamamoto (Yaobikuni), Min Tanaka (Kagmura Habaki), Shinnosuke Mitsushima (Taito Magatsu), Tsutomi Yamazaki (Kensui Ibane)
---
Plot
Manji is a samurai who has rebelled and killed his master. For this, there is a price on his head. He faces off against a hundred men in his village and kills them all, not before the leader kills his beloved young sister Machi. As Manji lies dying, the mysterious Yaobikuni comes and places bloodworms is his body that restore him to life. Fifty years later. Rin Asano's father runs a samurai training school. They receive a visit from Anotsu Kageshisa, leader of the Itto-ryu who is moving across Edo determined to forcefully unite all the schools under his control. Anotsu faces down and kills Rin's father, while her mother is taken to be used by his men. Burning with vengeance, Rin is directed to find Manji who has remained immortal due to the bloodworms. She persuades him to help her, he agreeing to do so because she reminds him of Machi. The two set out, determined to eliminate Anotsu and every fighter he sends against them.
---
Japan's Takashi Miike is a cult director. Miike made a name for himself with films like Audition (1999), Ichi the Killer (2001) and Visitor Q (2001) that were celebrated for audiences because of the extremes he went. Miike has been extremely prolific since the early 1990s, putting out 3-4 films per year, sometimes twice that (Blade of the Immortal had the distinction of being his 100th film).
Miike has made samurai films before with Zatoichi (2007), 13 Assassins (2010) and Hara-Kiri: Death of a Samurai (2013) and the work this most resembles Izo (2004), which also featured an immortal samurai. Blade of the Immortal is based on a manga that ran between 1993 and 2012 in Afternoon magazine. The manga was previously filmed as the anime tv series Blade of the Immortal (2008).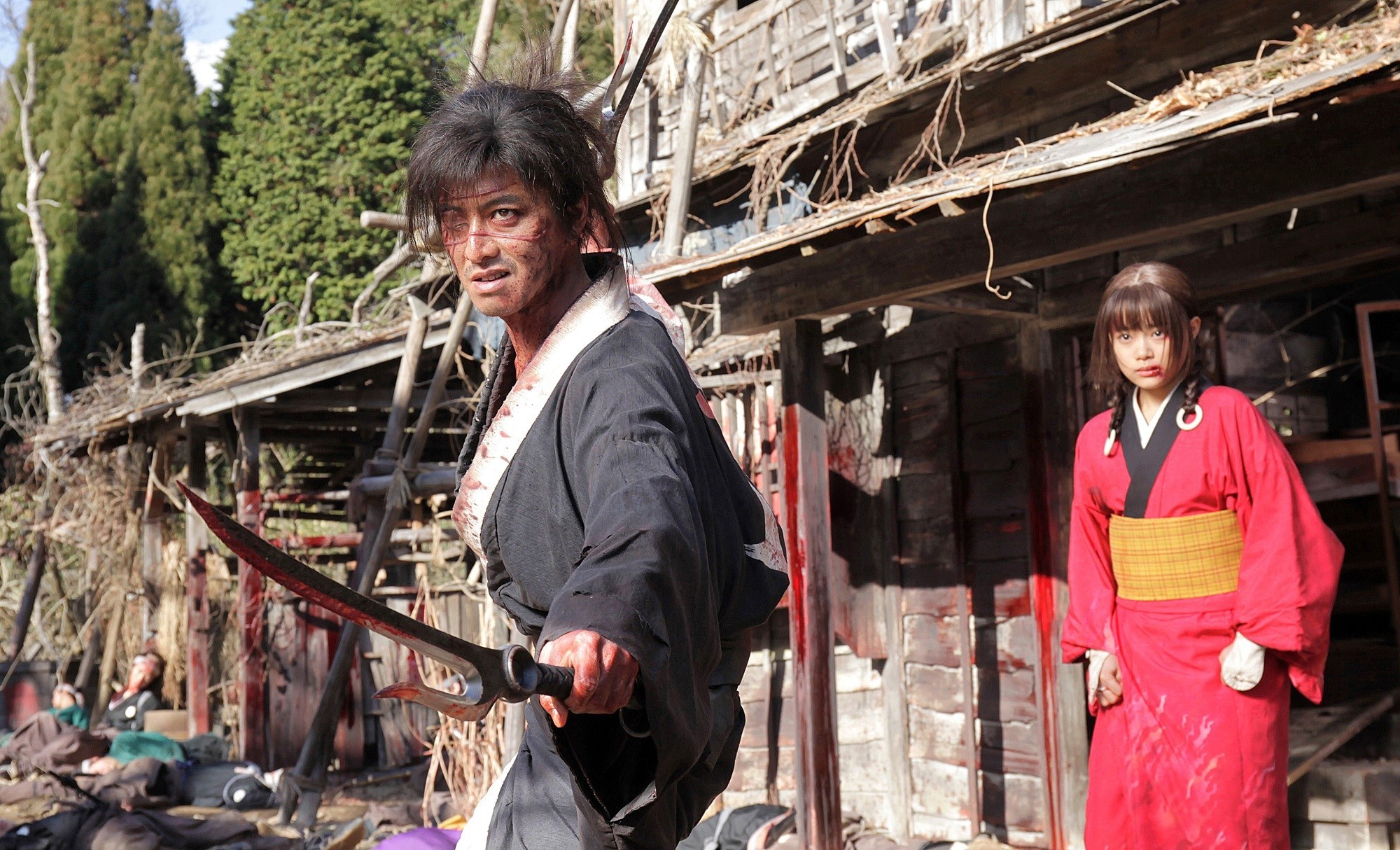 Blade of the Immortal gained Miike one of his most high-profile releases to date – the film was co-produced by Warner Brothers Japan and given a reasonable release internationally at numerous film festivals and then in arthouses. The fact that the film comes with such a big push gives Blade of the Immortal more expectation than many of Miike's other works. It does have to be said that some of Miike's films in recent years – see the head-scratching likes of Big Bang Love, Juvenile A (2006), God's Puzzle (2008) and Yakuza Apocalypse (2015) – have been suffering from a raggedness – a lack of attention or care in the story department, a randomness where there seems to be the thinking that Miike's cult appeal as a supremely weird director will carry the film where it might not elsewhere.
Miike works far better when his work is more controlled than when he does not. Here there is the determination, as in 13 Assassins, to create a work set in an authentic-seeming period setting. This gives Blade of the Immortal a sobriety of tone that his other more wacky efforts do not always have. There is a great opening scene where Miike seems to be channelling something of the classic samurai films of Akira Kurosawa – The Seven Samurai (1954), Throne of Blood (1957), Yojimbo (1961) – in a black-and-white shot scene where Takuya Kimura faces off and kills a hundred combatants singlehanded. It's the sort of thing that you watch samurai films for.
On the other hand, the film slows down after that point. It has a 140-minute runtime. Miike does a reasonable job building up the relationship between Manji and the girl and provides a good line-up of villains and assorted hired killers to pit against them. It is just that there is never much else to the film than a series of episodes where Manji goes up against a variety of different hired killers and invariably defeats them.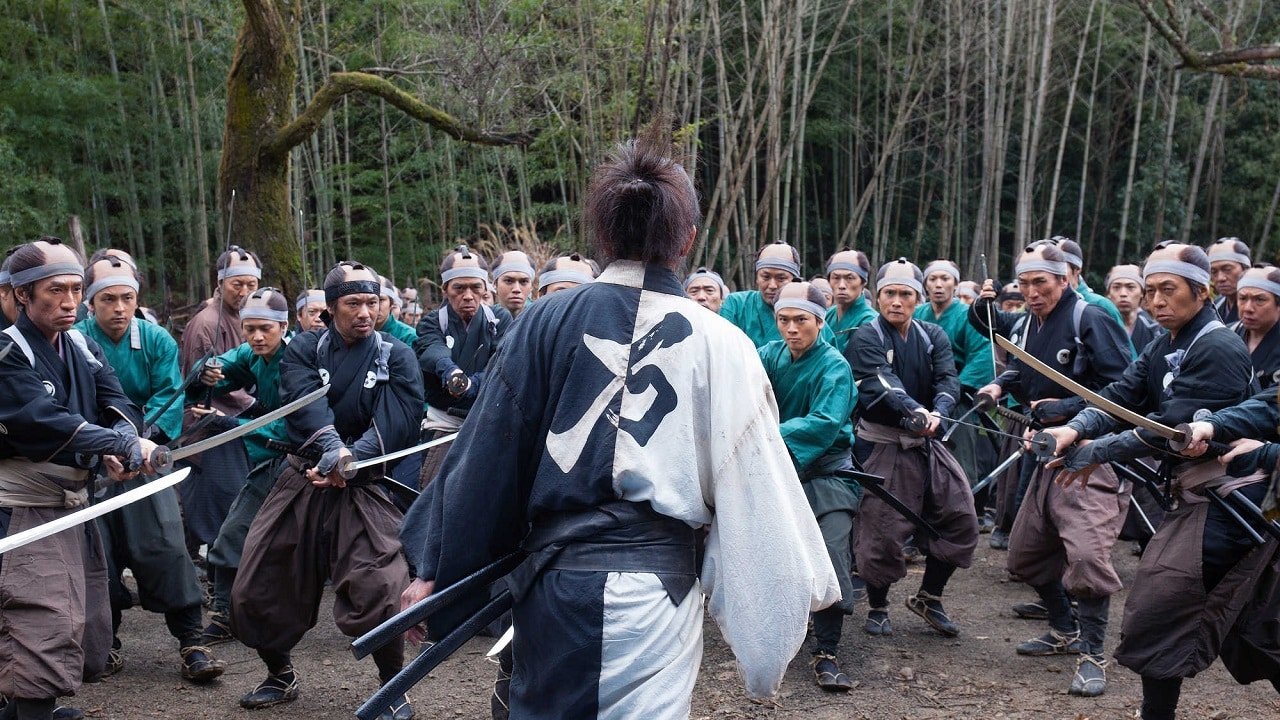 Miike does a not too bad job choreographing the sequences but after awhile there are only so many ways that you can watch opponents cross swords with one another before it starts to slip into a sameness. Miike does get it all together for another epic-sized climax with Manji against a hundred or so opponents and slaughtering all of them. Bookended between the beginning and end sequences though, you kind of wish there had been more to the film than that.
Takashi Miike's other genre films are:– Full Metal Yakuza (1997), a yakuza/cyborg film; the teen film Andromedia (1998) about a schoolgirl resurrected as a computer program; The Bird People in China (1998) about the discovery of a lost culture; Audition (1999); the Yakuza film Dead or Alive (1999), which comes with a totally gonzo sf ending; the surreal Dead or Alive 2 – Birds (2000); the six-hour tv mini-series MPD Psycho (2000) about a split-personalitied cop tracking body-hopping terrorists; the surreal black comedy The Happiness of the Katakuris (2001); Ichi the Killer (2001), a Yakuza film with some extreme torture scenes; the controversial taboo-defying Visitor Q (2001); the outrightly science-fictional, future-set Dead or Alive: Final (2002); the surreal Yakuza film Gozu (2003); One Missed Call (2003) about ghostly cellphone calls; the ultra-violent Izo (2004) about a cursed, immortal samurai; an episode of the horror anthology Three … Extremes (2004); the superhero film Zebraman (2004); the fairytale Demon Pond (2005); the supernatural fantasy epic The Great Yokai War (2005); Big Bang Love, Juvenile A (2006), a prison murder mystery with SF elements; the SF film God's Puzzle (2008); YatterMan (2009), a gonzo live-action remake of a superpowered anime tv series; Zebraman 2: Attack on Zebra City (2010); the videogame adaptation Ace Attorney (2012); Lesson of the Evil (2012) about a murderous high school teacher; As the Gods Will (2014) with high school students being slaughtered by a doll; Over Your Dead Body (2014) wherein the roles in a ghost story play come to replay themselves in the lives of the actors; the gonzo horror film Yakuza Apocalypse (2015); Terra Formars (2016) about giant mutated cockroaches on Mars; JoJo's Bizarre Adventure: Diamond is Unbreakable – Chapter 1 (2017); Laplace's Witch (2018); and The Great Yokai War: Guardians (2021).
---
---