---
Crew
Director – Edwin L. Marin, Screenplay – Hugo Butler, Based on the Novel by Charles Dickens, Producer – Joseph L. Mankiewicz, Photography (b&w) – Sidney Wagner, Music – Franz Waxman, Makeup – Jack Dawn, Art Direction – Cedric Gibbons. Production Company – MGM.
Cast
Reginald Owen (Ebenezer Scrooge), Gene Lockhart (Bob Cratchit), Leo G. Carroll (Jacob Marley), Ann Rutherford (Ghost of Christmas Past), Lionel Braham (Ghost of Christmas Present), Barney Mackay (Fred), Kathleen Lockhart (Mrs Cratchit), D'Arcy Corrigan (Ghost of Christmas Future)
---
Plot
It is Christmas Eve. Miserly Ebenezer Scrooge sneers "humbug" at all Christmas spirit. That night he receives a visit from the ghost of his late business partner Jacob Marley who warns Scrooge of the afterlife in store for him if he does not repent of his ways. Throughout the night three ghosts, of Christmases in the Past, the Present and To Come, arrive to show Scrooge the joys of Christmas he has forgotten and the consequences of his unheeded selfishness.
---
Among the numerous film and tv adaptations of Charles Dickens's much loved, much revived fable A Christmas Carol (1843), this is one version that has great charm in its telling of a nowadays overly-familiar tale. Most people prefer the British Scrooge (1951) with Alistair Sim as the definitive version but cinematically this is superior. More than any other adaptation, it retains a literacy in its understanding of the possibilities of Scrooge's future and in capturing the haunted doom in Marley's warnings.
Best of all is Scrooge himself, played as a wonderful curmudgeon and with a genuine malice and acerbity by Reginald Owen, unlike most of the stagy airings of the role by other actors. The familiar dialogue placed in his mouth comes with a wonderfully caustic bite. There is charm and loss that one can feel to the eager twinkling as Owen looks in through windows on what are sometimes shamelessly woolly sentimental Christmas tableaux. Another plus is the stentorious basso score that heralds Scrooge's fate with great effect.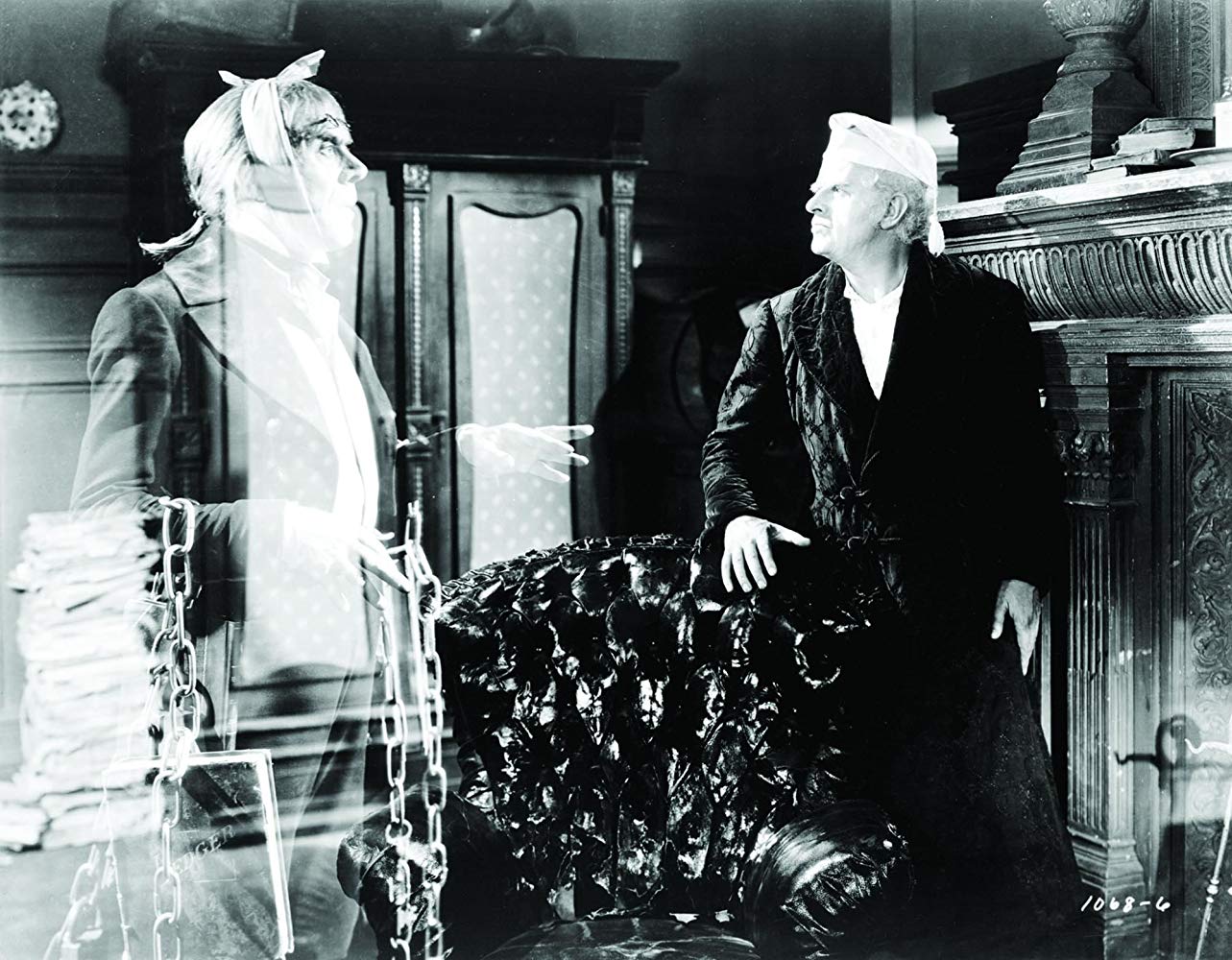 Director Edwin L. Marin was a steady director of Westerns and comedies throughout the 1930s and 40s. His only other venture into genre material was the Invisible Man sequel Invisible Agent (1942).
Other adaptations of A Christmas Carol include:– a number of lost silent adaptations made respectively in 1901, 1908, 1910, 1913, 1916, 1923 and 1928. Sound versions include:– Scrooge (1935), a British sound version with Seymour Hicks as Scrooge; a Spanish adaptation (1947); Scrooge (1951), a British production starring Alistair Sim; Scrooge (1970), a British-made musical adaptation starring Albert Finney; a short animated version A Christmas Carol (1971) from animator Richard Williams; Mickey's Christmas Carol (1983), a 25 minute animated short from Disney where the Scrooge role was played by Scrooge McDuck and Mickey Mouse was cast as Bob Cratchit; the modernised updating Scrooged (1988) with Bill Murray; The Muppet Christmas Carol (1992), which enacted the tale with the Muppets and starred Michael Caine as Scrooge; a British-German animated adaptation Christmas Carol: The Movie (2001); the conservative-backed An American Carol (2008) where a liberal filmmaker is persuaded of their ways; the animated Barbie in A Christmas Carol (2008); and Robert Zemeckis's motion-capture animated A Christmas Carol (2009) starring Jim Carrey. TV adaptations include A Christmas Carol (1943), a 60 minute live version, which was apparently one of the first ever experimental tv broadcasts; The Christmas Carol (1949), a half-hour American adaptation starring Taylor Holmes; A Christmas Carol (1950), a British adaptation starring Bransby Williams; A Christmas Carol (1953), a half-hour American adaptation starring Noel Leslie; a German production (1960); Carol for Another Christmas (1964), a production written by Rod Serling as a United Nations Special that updated the tale as an anti-war parable; a Canadian production Mr Scrooge (1964); A Christmas Carol (1977), a British production starring Michael Hordern; Scrooge (1978), a Canadian production starring Warren Graves; Rankin-Bass's one-hour animated adaptation The Stingiest Man in Town (1978); An American Christmas Carol (1979), starring Henry Winkler, which updated the story to the Depression era; Skinflint: A Country Christmas Carol (1979), starring Hoyt Axton, a bizarre American adaptation populated entirely by Country and Western singers; A Christmas Carol (1981), an American adaptation starring William Paterson; A Christmas Carol (1982), an American adaptation starring Richard Hilger; A Christmas Carol (1984), a lavish British-made production starring George C. Scott; a French tv adaptation (1984); Blackadder's Christmas Carol (1988), a sardonic take on the story using the characters from the popular British tv series Blackadder (1983-9); Scrooge: A Christmas Sarah (1990), a British version that cast Scrooge as a woman (Sarah Greene); A Christmas Carol (1994), a British-made ballet adaptation; A Christmas Carol (1997), an American-made animated adaptation; Ebenezer (1997), a bizarre American adaptation that recast the tale as a Western starring Jack Palance; Ms. Scrooge (1997), an American version that also cast the role with a woman (Cicely Tyson); A Christmas Carol (1999), an American production starring Patrick Stewart; A Christmas Carol (2000), a modernised adaptation where Scrooge (Ross Kemp) was a petty loanshark; A Diva's Christmas Carol (2000) with Vanessa Williams as a self-absorbed pop singer; Scrooge and Marley (2001), a one-hour adaptation starring Dean Jones; Hallmark's sex-reversed A Carol Christmas (2003) starring Tori Spelling; Hallmark's musical adaptation A Christmas Carol (2004) with Kelsey Grammer; the Italian-made A Christmas Carol (2004); the modernised Karroll's Christmas (2004) starring Tom Everett Scott; the Doctor Who tv special A Christmas Carol (2010) where a time-travelling Doctor becomes the Ghosts of Christmases Past and Present to intergalactic miser Michael Gambon; the low-budget Canadian-made A Christmas Carol (2015); and the dark adult BBC mini-series A Christmas Carol (2019) starring Guy Pearce. Also of interest is The Man Who Invented Christmas (2017) about Charles Dickens and the writing of A Christmas Carol.
---
---