---
Crew
Director – Walt Becker, Screenplay – Blaise Hemingway, David Ronn & Jay Scherick, Story – Justin Malen & Ellen Rapoport, Based on the Books by Norman Bridwell, Producers – Jordan Kerner & Iole Lucchese, Photography – Peter Lyons Collister, Music – John Debney, Visual Effects Supervisor – Blair Clark, Visual Effects – MPC Film (Supervisor – Richard Little), Special Effects Supervisor – Devin Maggio, Production Design – Naomi Shohan. Production Company – Scholastic Entertainment/Kernan Entertainment Company.
Cast
Darby Camp (Emily Elizabeth Howard), Jack Whitehall (Casey), Izaac Wang (Owen Yu), Tony Hale (Zac Tieran), Sienna Guillory (Maggie Howard), John Cleese (Bridwell), David Alan Grier (Packard), Horatio Sanz (Raul), Paul Rodriguez (Alonso), Russel Wong (Mr Yu), Siobhan Fallon Hogan (Petra), Russell Peters (Malik), Tovah Feldshuh (Mrs Crullerman), Keith Ewell (Mr Jarvis), Bear Allen-Blaine (Mrs Jarvis), Jessica Keenan Wynn (Colette), Ty Jones (Police Chief Watkins), Yasha Jackson (Meter Maid/Officer Zapatero)
---
Plot
In New York City, Emily Elizabeth Howard's mother has to go away on work. Emily is left in the charge of her Uncle Casey, a screw-up in most areas of his life who lives in a van. While out, they come across a tent in the park that is the animal shelter of the strange Bridwell. Amid many of Bridwell's strange denizens, Emily is taken by a red puppy but Casey decides it best she doesn't adopt it. Back home, Emily finds the puppy has snuck inside her bag. She names it Clifford and Casey allows her to keep it overnight. However, Emily wakes in the morning to find that Clifford has grown to giant-size. Clifford promptly wreaks havoc in the apartment and earns them an instant eviction notice from the landlord. Video clips of Clifford are seen by Tiean, CEO of Lyfegro, who has been unsuccessfully trying to find a means to create giant animals. Tieran becomes ruthlessly determined to have Clifford and mobilises the police and media to declare Clifford a dangerous animal and claim it as Lyfegro's property, while turning Emily and Casey into fugitives as they try to protect Clifford.
---
The Clifford the Big Red Dog books were a creation of Norman Bridwell. It all began with a sketch of a big red dog and a little girl that Bridwell had drawn, one of several that he presented to Scholastic, the children's and educational publishers. They chose that and told him to develop it. The first of the books was Clifford the Big Red Dog (1963) telling the adventures of Emily Elizabeth (named after Bridwell's own daughter) and her giant dog. Bridwell wrote a total of eighty Clifford books, the last being released posthumously in 2015 after his death in 2014. There were three animated tv series Clifford the Big Red Dog (2003-3), Clifford's Puppy Days (2003-6) and Clifford the Big Red Dog (2019- ), while the first of these had a film spinoff with Clifford's Really Big Movie (2004).
Since the advent of the CGI revolution in the 1990s, there have been ongoing efforts to resurrect and given CGI life to various children's and cartoon properties. Clifford the Big Red Dog joins the likes of 101 Dalmatians (1996), Dr. Dolittle (1998), Stuart Little (1999), Garfield (2004), Charlotte's Web (2006), Yogi Bear (2010), The Smurfs (2011), Paddington (2014), The Jungle Book (2016), The Lion King (2019) and Tom and Jerry (2021), among others.
Most of these films focus around slapstick frolics and/or talking animals characters wildly tossing off pop culture quotes. The absolute nadir of these was the series of films beginning with Alvin and the Chipmunks (2007), which led to three sequels, and the recent version of Peter Rabbit (2018). At best, one suspected that Clifford might come out with the inoffensive amiableness of something like Beethoven (1992) or Homeward Bound: The Incredible Journey (1993) or perhaps even more so the more obscure British film Digby the Biggest Dog in the World (1974).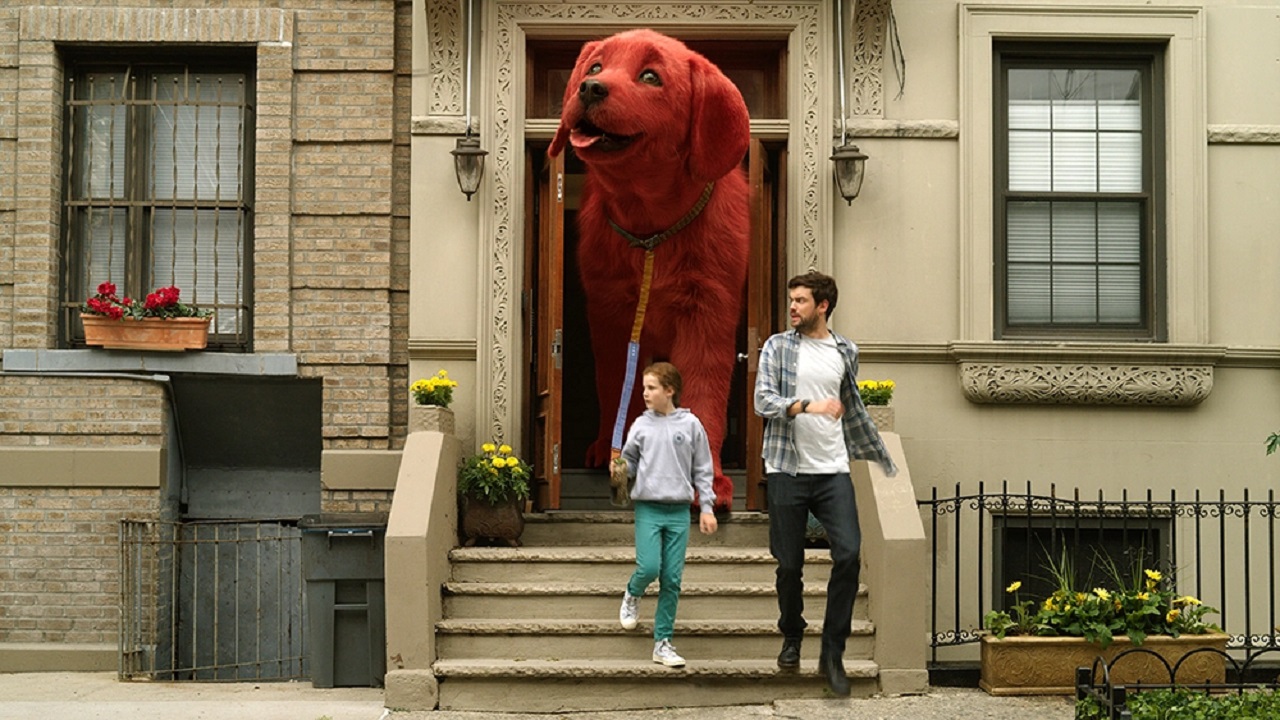 Clifford the Big Red Dog is certainly a formula film. There's a hissable black hat corporate villain (Tony Hale who resembles a middle-aged Mark Zuckerberg). There's a cute girl and a message about her standing up against bullies and accepting being unique and individualistic. She seems to have that adorable radiance where she is on friendly terms with everyone in the neighbourhood and they are willing at the drop of a hat to come to her aid and defy law enforcement to protect her. There's a mysterious magician figure who runs a circus of seemingly magical creatures (an 82 year-old John Cleese looking awkward doing the cuddly grandfather role – a dry sarcasm occasionally drops into his lines as though he really wanted to open up with more of this).
And there are cute puppy scenes – by the bucketload. Even if the CGI Clifford here looks too much like regular dog died a ruby red rather than the highly anthropomorphic dog in bright candy red we had in the books and cartoons. And there are plentiful slapstick scenes – Clifford chasing people in inflatable bubble balls; romping around the apartment and causing chaos; Darby Camp and Jack Whitehall trying to hide Clifford as cantankerous super David Alan Grier visits; Clifford trying to hide inside the back of a truck almost as big as it is; and so on. The silliest is actually a non-animal one Jack Whitehall and various pursuing government agents fighting with baking supplies inside a bakery.
The surprise about all of this is it emerges as far more likeable and engaging than one expected it to be. It's a formula film the entire way – you can place bets on seeing the bad guys get their comeuppance, that Darby Camp will win out over her bullies; that screw-up uncle Jack Whitehall will learn the error of his ways. But it all happens with quite a reasonable level of engagement. Jack Whitehall, a British comedian who previously turned up in Good Omens (2019) and Jungle Cruise (2021), does a very engaging run of comic improvisation. Darby Camp is appropriately cute and determined. And a large supporting ensemble made up in good part of stand-up comics provides able support.
Director Walt Becker had previously made comedies like Van Wilder (2002) and Wild Hogs (2007). He previously ventured into CGI talking animals with Alvin and the Chipmunks: The Road Chip (2015).
---
Trailer here
---