---
USA. 2010.
Crew
Director – Eric Brevig, Screenplay – Brad Copeland, Joshua Stemin & Jeffrey Ventimilia, Based on the TV Series The Yogi Bear Show, Producers – Donald De Fine & Karen Rosenfelt, Photography (3D) – Peter James, Music – John Debney, Visual Effects – Entity FX (Supervisor – Mat Beck) & Rhythm & Hues (Supervisor – Betsy Paterson), Animation Supervisor – Alex Orrelle, Special Effects Supervisor – Ken Durey, Production Design – David Sandefur. Production Company – Warner Bros. Pictures/Sunswept Entertainment/De Line Pictures/Rhythm & Hues.
Cast
Tom Cavanagh (Ranger Smith), Anna Faris (Rachel Johnson), T.J. Miller (Ranger Jones), Andrew Daly (Mayor Brown), Nathan Corddry (Chief of Staff)
Voices
Dan Aykroyd (Yogi Bear), Justin Timberlake (Boo Boo)
---
Plot
Yogi Bear is a talking bear who lives in Jellystone Park with his sidekick Boo Boo. Yogi prides himself on being smarter than the average bear and is constantly contriving schemes to steal picnic baskets from visitors. This has made him a thorn in the side of Ranger Smith. Meanwhile, the conniving Mayor Brown is seeking to fund a campaign for governor. He comes up with the scheme to sell Jellystone Park for real-estate redevelopment, citing to Ranger Smith a piece of legislation allowing the selling of city property that is not making a profit. Joined by nature documentary filmmaker Rachel Johnson who is making a film about Yogi, Ranger Smith tries to come up with a plan to save the park. Mayor Brown attempts to sabotage this by appealing to Smith's lieutenant, Ranger Jones, who comes up with the idea of unleashing Yogi in the midst of everything.
---
Yogi Bear is one of the most famous cartoon characters to come from the stables of Hanna-Barbera, the creators also of The Flintstones (1960-6), The Jetsons (1962-3), Jonny Quest (1964-5), Scooby Doo, Where Are You? (1969-72) and Josie and the Pussycats (1970-4). Yogi Bear's first appearance was in Hanna-Barbera's second animated series The Huckleberry Hound Show (1958-62), which followed the habit during the era of splitting a half-hour show up into three segments featuring different cartoon characters. Yogi was quickly granted his own show The Yogi Bear Show (1961), which followed the same format of featuring multiple cartoon segments. The basics of Yogi Bear consisted of him and his sidekick Boo Boo as they contrived various schemes to steal picnic lunches and thwart Ranger Smith (who was conceived as much more of a standard buffoon villain than the relatively friendly character here). The name Yogi Bear was intended as a pun on New York Yankees star baseball player Yogi Berra.
Though The Yogi Bear Show ran for only 35 episodes, the character proved popular and was revived by Hanna-Barbera in several other series such as Yogi's Gang (1973), featuring various Hanna-Barbera characters flying the world in an ark; Yogi's Space Race (1978), clearly inspired by the post-Star Wars (1977) science-fiction boom where Yogi and others engage in a series of spacegoing races; Yogi's Treasure Hunt (1985-6) where he and other Hanna-Barbera characters took place in a series of weekly treasure hunts; The New Yogi Bear Show (1988); and Yo Yogi! (1991-2), a series presented in 3D that featured teenage equivalents of familiar Hanna-Barbera characters as detectives; as well a theatrical animated feature Hey There, It's Yogi Bear (1964) and three animated tv movies.
Here Yogi Bear is one of a host of animated tv series that have been revived as live-action films in an ongoing fad that started in the 1990s. Others among these include The Flintstones (1994), George of the Jungle (1997), Mr Magoo (1997), Dudley Do-Right (1999), Inspector Gadget (1999), The Adventures of Rocky and Bullwinkle (2000), Josie and the Pussycats (2001), Scooby-Doo (2002), Fat Albert (2004), Alvin and the Chipmunks (2007), Transformers (2007), Underdog (2007), Speed Racer (2008), Dragonball: Evolution (2009), The Last Airbender (2010), The Smurfs (2011) and Jem and the Holograms (2015).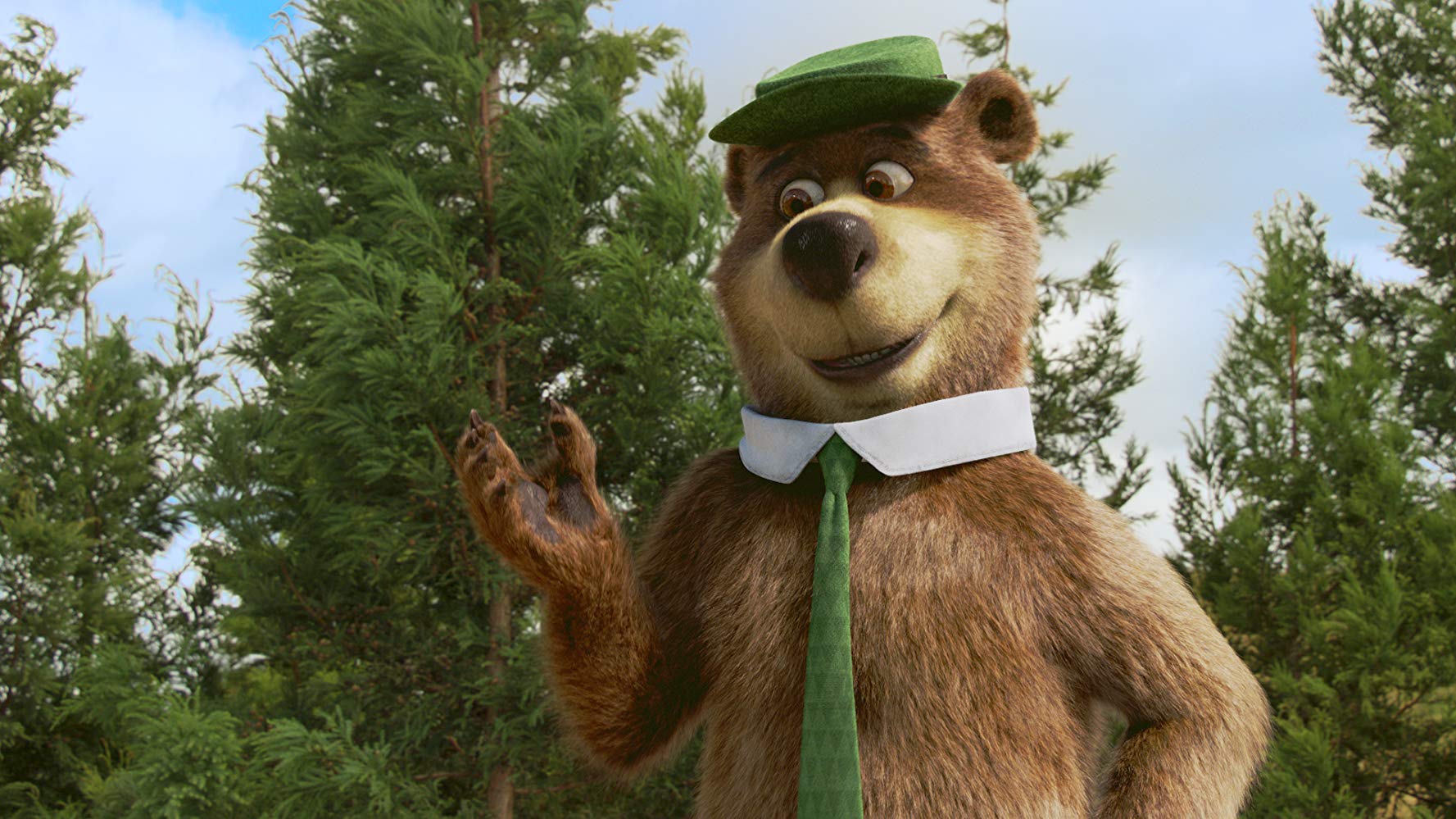 Direction has been given to Eric Brevig, a former Industrial Light and Magic visual effects supervisor who headlined the effects for high-profile films such as The Abyss (1989), Total Recall (1990), Hook (1991), Men in Black (1997), Wild Wild West (1999), Pearl Harbor (2001) and The Day After Tomorrow (2004). Yogi Bear was Eric Brevig's second feature-film as director following his debut with Walden Media's Journey to the Center of the Earth 3D (2008), although he has yet to return to the director's chair subsequent to this.
The live-action Yogi Bear film has been almost entirely premised around a series of slapstick gags. A good many of these involve Yogi's wacky inventions such as spring-loaded picnic tables or a ramshackle flying machine, or of sequences with him water-skiing and causing chaos as he accidentally triggers a fireworks display; he handcuffed to a sapling; he and Boo Boo running amok in a shopping trolley or else trying to jump on board a train. These sequences are regarded as the film's dramatic highs and there is rarely anything more to the film than that. No particular problem with any of this as this is exactly what the original animated series did and the film is doing no more, no less than accurately replicating the tv series.
That said, Yogi Bear is a film that is construed solely in terms of amusing audiences in the single-digit age range to the extent that it actively eschews any content that requires you to switch on your brain. Invariably the original has been colonised by modern humour – the film's worst part is a grating twice-repeated gag about Yogi waggling his butt to Baby Got Back (1992), a rap song that originally caused controversy because of its blatant sexual references – and a certain degree of questionable vulgarity that would never have been allowed in the Hanna-Barbera heyday. To the film's credit, it is never something as annoyingly obnoxious as the Alvin and the Chipmunks films or as awful as the similar Furry Vengeance (2010); it has an amiability of sorts in its big, lugubrious way. This is something that helps disguise what is essentially a cynical marketing tool designed to strip-mine pop culture history for the modern family season dollar.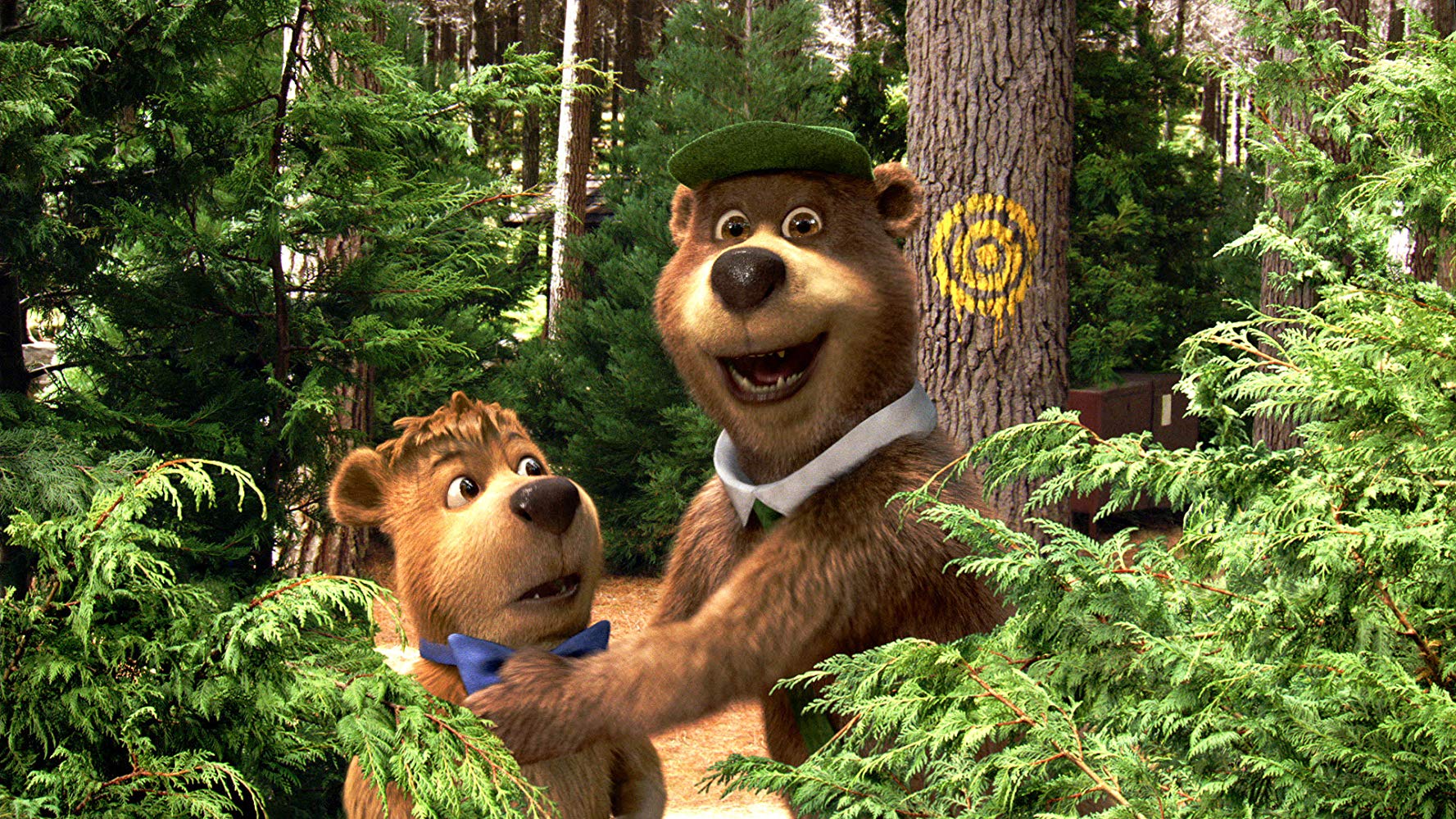 The film throws in a cliche black-hearted villain who is (amusingly enough) associated both with environmental despoliation and exploiting the bankruptcy of ordinary people for his own personal gain (a post-2008 Recession villain if there ever was one). The cast go through their comic routines passably. Anna Faris turns up as the female lead but as always seems determined to play the part as a blonde airhead who seems about a single brain cell up the evolutionary ladder from Paris Hilton. The CGI effects representing the bears are competent but often seemed rushed – the reactions between the actors and the two CGI bears sometimes do, sometimes do not match.
Dan Aykroyd does a fair imitation of Daws Butler's original voicing of Yogi Bear in the various Hanna-Barbera series. Of all people, teen popster Justin Timberlake turns up as the voice of Boo Boo. 2010 seemed to be Justin Timberlake's year of breakout as an actor with Yogi Bear and The Social Network (2010) in theatres within months of one another – two films where Timberlake's roles and the quality of the films could not be more at opposing poles from one another.
With tedium-inducing ubiquity, Yogi Bear is another film of 2010 that has been shot in 3D, exploiting a fad that seemed full of promise twelve months earlier with the release of Avatar (2009). At least, Yogi Bear is not one of the films that has been converted to 3D in post-production but was in fact shot that way. Moreover, it comes from Eric Brevig whose Journey to the Center of the Earth was one of the films that paved the way for the current 3D fad. Despite this, there seems something frustratingly unnecessary about Yogi Bear as a 3D film – it provides precisely nothing that a standard 2D screening would not have offered. Unless you can count the dubious benefits of watching mouthfuls of water and popcorn being spat out the 3D screen, or Yogi snorting a bug out of his nose.
---