---
Crew
Director – David Frankel, Screenplay – Allan Loeb, Producers – Anthony Bregman, Brad Dorros, Kevin Frakes, Allan Loeb & Michael Sugar, Photography – Maryse Alberti, Music – Theodore Shapiro, Visual Effects – Mr. X Gotham, Special Effects Supervisor – Steve Kirshoff, Production Design – Beth Mickle. Production Company – Anonymous Content/Overbrook Entertainment/Palmstar Media/Likely Story.
Cast
Will Smith (Howard Inlet), Edward Norton (Whit Yardshaw), Kate Winslet (Claire Wilson), Michael Peña (Simon Scott), Helen Mirren (Brigitte), Keira Knightley (Amy), Naomie Harris (Madeline), Jacob Latimore (Raffi), Kylie Rogers (Allison Inlet), Ann Dowd (Sally Price), Mary Beth Peil (Whit's Mother), Michael Cumpsty (Chairman of the Board)
---
Plot
Ever since the death of his daughter three years earlier, Howard Inlet, the head of a successful Manhattan advertising company, has fallen apart mentally and no longer seems to be engaged or to care. Howard's partner Whit Yardshaw has received a buyout offer but is unable to sell because Howard owns sixty percent of the company's stock. Whit receives sudden inspiration from Amy, an actress who has come to audition for a commercial, and follows her to the theatre where she and two others are rehearsing a play. After a private investigator returns with evidence that Howard is writing letters to Death, Time and Love about his anger with them, Whit comes up with the idea of hiring the three actors to play each of these roles to confront Howard. The ruse goes ahead with others hired to give the impression that nobody but Howard can see them. As Howard starts to respond, Whit has everything filmed so that the actors can be digitally erased giving the impression that Howard is talking to nobody with the intention of having him declared legally incompetent and he can sell the company.
---
Will Smith is without a doubt a massive box-office star. The films he has been in – Bad Boys (1995), Independence Day (1996), Men in Black (1997) – have been massive successes. Since the late 2000s, Smith, via his Overbrook Entertainment production banner, has been pushing films that fall into the arena of positive thinking dramas with the likes of The Pursuit of Happyness (2006), Seven Pounds (2008), After Earth (2013) and Concussion (2015), the latter three of which also must be said are among the worst received of his films. Collateral Beauty opened on Christmas 2016 where it was critically trashed and received the worst box-office of Will Smith's career.
This may have been due to the script, which comes from Allan Loeb who is mostly known for light comedy material such as The Switch (2010), The Dilemma (2011), Just Go With It (2011) and Here Comes the Boom (2012), as well as the Young Adult space drama The Space Between Us (2017) that came out a couple of months after Collateral Beauty opened.
It is hard to imagine how Collateral Beauty managed to get greenlit as a script. The film comes with one of the most ridiculous set-ups in recent memory. Allan Loeb seems to have wanted to make something like a variant on It's a Wonderful Life (1946) by way of Charles Dickens' A Christmas Carol (1843) – as a positive inspirational drama about grief!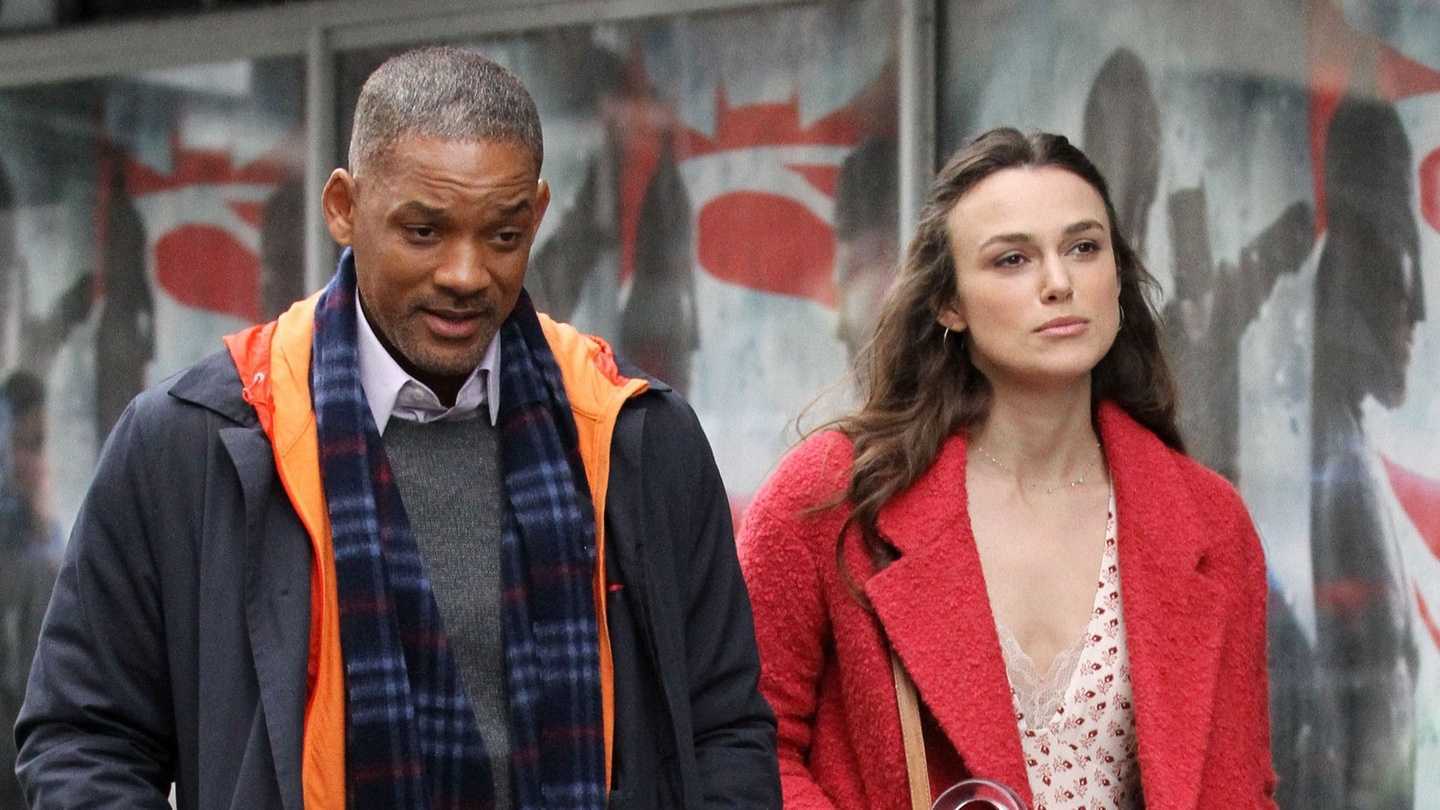 In the preposterous plot, Edward Norton wants to conduct a hostile acquisition of Will Smith's shares by having him declared mentally incompetent. One of the most absurd parts of Norton's scheme involves him hiring three actors to pretend to be abstract entities and start having conversations with Will. He then secretly has these videotaped and has hired an effects company to digitally erase all trace of the actors so as to give the impression that Will is talking to himself.
There are just a few problems with this scenario. Not that least of which is that it requires a level of digital effects technology that is beyond even most top of the line contemporary effects houses – any decent defence lawyer would have demanded access to the original tapes and conducted a forensic examination where it would easily be ascertained that they had been digitally altered. And okay you can argue that Will is not in his right mind and didn't think to legally contest the takeover but there is no way that Edward Norton would have known he would act that way. (Not to mention that in any real world setting, Edward Norton should be sent to jail for fraud and embezzlement, something that not a single character who is in the know seems to raise the slightest objection to anywhere throughout).
Furthermore, the entire scheme hangs on Will not only buying the charade but interacting with the actors in a public place where they must convince him that nobody else can see them. Put it another way – the whole scheme hangs on no other passerby bumping into the actors or even having to step around them on a busy street whereupon the plausibility of the entire scheme would evaporate. Or for that matter none of the actors ever going on to become famous and having Will see them in a tv show one day or even they bumping into Will on the street and he suddenly recognising them. Edward Norton first meets Keira Knightley when she comes to an audition for a commercial – what if she or one of the others, who are after all meant to be struggling actors, were to turn up at a subsequent audition?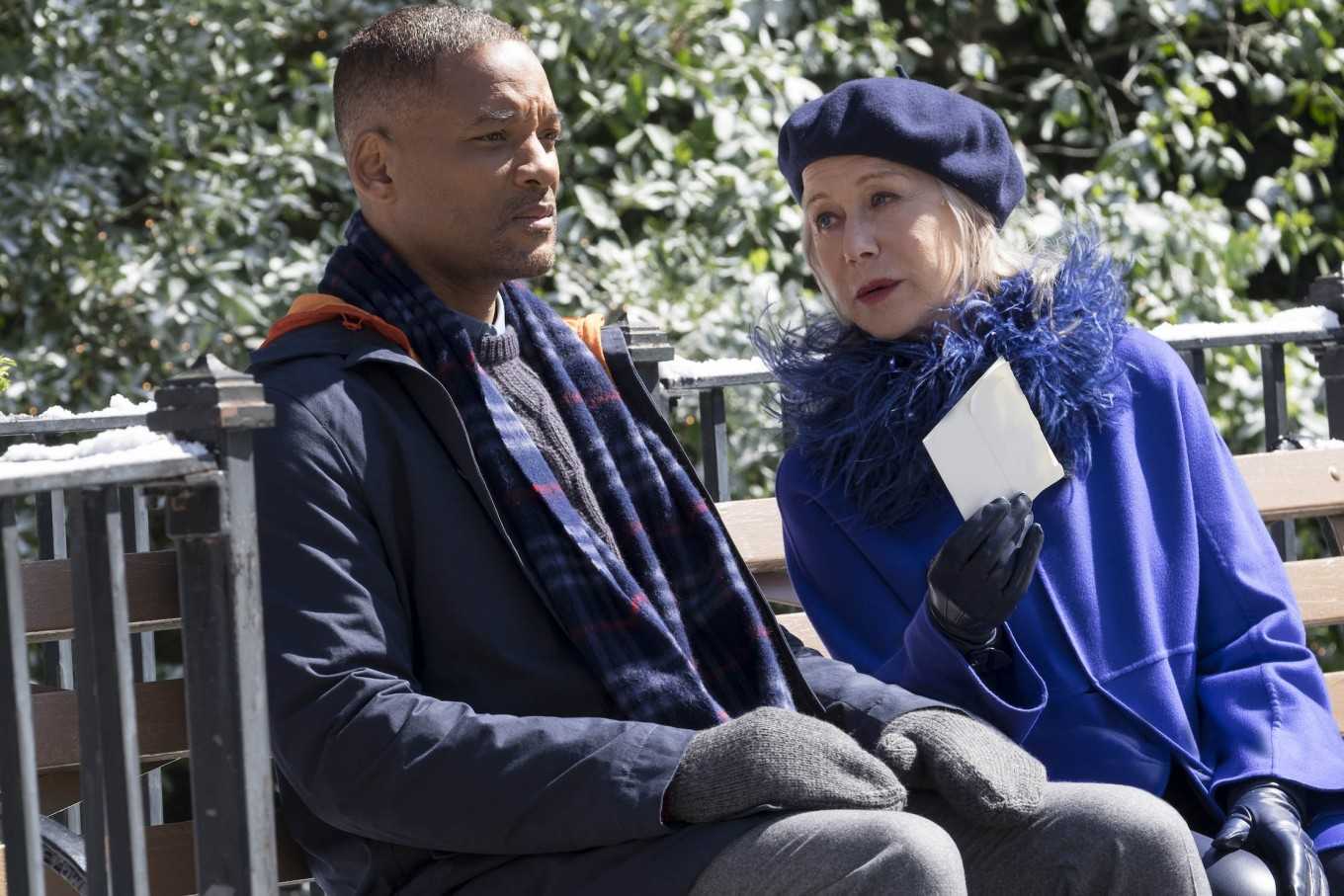 The other part that gets is me is the pretentious meaningless of Allan Loeb's dialogue and the pseudo-profound phrases he tosses at us throughout. Naomie Harris has a speech where she explains what the film's title phrase 'collateral beauty' means. Even after watching the scene, I can still say I have no idea what she is talking about. Helen Mirren tells Kate Winslet: "You see, children don't come from you, they go through you," which I am sure holds some deep insight into motherhood but I have no idea what the heck she actually means. Edward Norton describes the birth of his daughter with the line "It wasn't that I felt love, it was that I felt like I had become love," where again I can honestly say I have no idea what it is that he is talking about. Later Helen Mirren consoles the dying Michael Peña: "Nothing really dies if you look at it right." (I think a lot of people would be offended if you tried to tell them that the death of a loved one is merely a matter of them changing their point-of-view and presto "Oh your father/mother/husband/wife is not really dead at all but is still alive").
By the time the film arrives at the scene where [PLOT SPOILERS] Will Smith realises that grief counsellor Naomie Harris is really his wife but he has been wandering around in some bizarre fugue state and has not recognised her, or the ambiguously fantastic ending where the actors disappear and you realise that maybe they were the real Death, Time and Love, the film is well on its way to one of the most ridiculous screenplays of all time.
The thing about Collateral Beauty is that, aside from a moronic script, it is actually a well-made film. Will has managed to get a very impressive cast list to sign on, all of whom acquit themselves perfectly well in their respective roles. And they seem to be working hard to make a ridiculous premise seem convincing. It is just that as soon as Edward Norton opens his mouth to explain the scheme to everyone, the film's credibility collapses like a house of cards.
---
---