USA. 2016.
Crew
Director/Screenplay – Jeremy M. Inman, Producer – David Michael Latt, Photography – Rafael Leyva, Music – Mikel Shane Prather, Visual Effects Supervisor – Joseph J. Lawson, Makeup – Morgan Marinoff, Production Design – Jason Thirlaway. Production Company – The Asylum.
Cast
Johnny Del Riaz (Rumpelstiltskin), Christina Licciardi (Alice), Lindsay Sawyer (Goldilocks), Talia Davis (Gelda), Isaac Reyes (Piper), Fiona Rene (Carabosse), Trae Ireland (Blue Beard), Nick Principe (Death), Joseph Harris (Big Bad Wolf), Aaron Moses (Tweedledum/Tweedledee), Randall Yarbrough (Hatter)
---
Plot
In modern-day Los Angeles, Piper and Goldilocks are successful in apprehending Rumpelstiltskin. Rumpelstiltskin is taken to Looking Glass, the prison for fairytale villains that Alice runs. The opening of the worlds that Rumpelstiltskin has conducted has allowed Death free. Alice now needs to assemble some of the worst fairytale villains to tackle this threat. Included in their line-up are Rumpelstiltskin; the Big Bad Wolf; the woman-killer Blue Beard who keeps the souls of his victims in his knives; Gelda, the Queen of Hearts, Rumpelstiltskin's love; and the cannibal witch Carabosse who is secretly in cahoots with Death.
---
The Asylum is a low-budget production company who coined the term 'mockbuster' to describe their output. Beginning when Steven Spielberg announced his version of War of the Worlds (2005), they opportunistically leapt on the fact that the H.G. Wells novel was in public domain to serve up their own low-budget copy War of the Worlds (2005) and released it one day before Spielberg's film hit theatres. They have been responsible for a great many low-budget films with copycat titles designed to ride on the success of popular hits. These include the likes of The Da Vinci Treasure (2006), Snakes on a Train (2006), AVH: Alien vs Hunter (2007), I Am Omega (2007), Transmorphers (2007), Allan Quatermain and the Temple of Skulls (2008), The Day the Earth Stopped (2008), 100 Million BC (2008), Sunday School Musical (2008), The 18 Year Old Virgin (2009), Almighty Thor (2011), Battle of Los Angeles (2011), Age of the Hobbits (2012) and Atlantic Rim (2013), among others.
The Asylum also enjoyed some success in the early 2010s with their various fairytale adaptations, including Grimm's Snow White (2012), Hansel & Gretel (2013), Jack the Giant Killer (2013), Sleeping Beauty (2014) and Hansel vs Gretel (2015), most of which came out on the back of high-profile Hollywood retellings. In time for Marvel's Avengers: Age of Ultron (2005), they released Avengers Grimm (2005), featuring a team-up of characters from various fairytales. Sinister Squad is a loose sequel to Avengers Grimm and features a team made up of fairytale villains. It was similarly released in time to capitalise on DC's super-villain team-up film Suicide Squad (2016). This was followed by a further sequel Avengers Grimm: Time Wars (2018).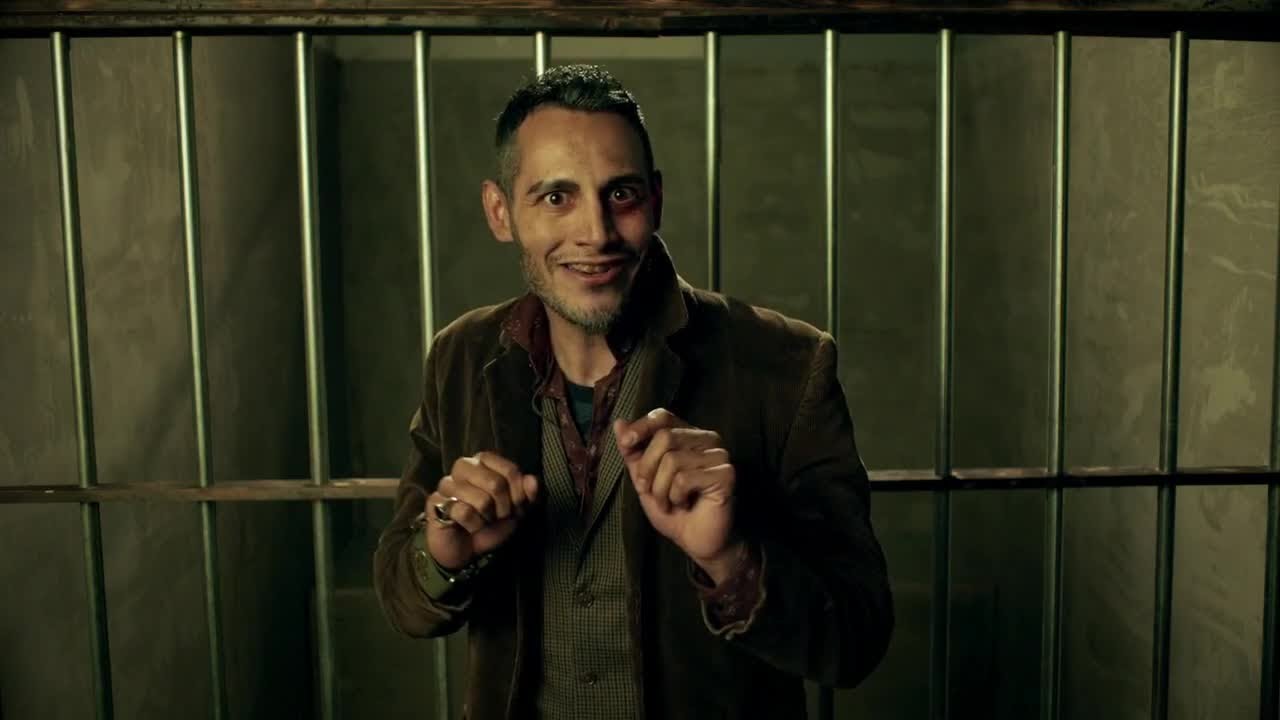 Sinister Squad comes from Jeremy M. Imman who also made Avengers Grimm and plummets to a similar level of near-unwatchability. As in Avengers Grimm, Imman throws most of the customary fairytale characterisations up in the air and plays mix and match with them. Traditionally, Bluebeard is no more than a wife murderer who kills his wives after they annoy him and then keeps their bodies preserved; here he has become a supernatural serial killer who keeps the souls of his murdered victims in his knives, referring to them as his wives. The Pied Piper's pipe has developed a handy ability to fire blowdarts. Both Rumpelstiltskin and the Wicked Witch seem to have now developed mind control powers.
Equally, you would not recognise Alice in Wonderland (who is strictly not a fairytale character), played by one of the film's no-name actresses who is well into her thirties with an incredibly fake British accent. Or else Goldilocks who gets to charge into battle at the climax with a gun in either hand.
The film is shot contemporary – and even there most of the action seems to take place in a warehouse – with a vague explanation about how Rumpelstiltskin's meddling has changed reality. It is very confusing trying to follow what is actually going on. The plot seems to involve Death having been unleashed, although it is not clear what Death is up to, while some members of the team are also conspiring with Death for their own ends. All of the no-name actors, men and women alike, use the opportunity to campily posture with complete abandon.
(Winner in this site's Worst Films of 2016 list).
---
---