---
Crew
Director – Kenneth Branagh, Screenplay – Ashley Edward Miller, Don Payne & Zack Stentz, Story – Mark Protosevich & J. Michael Straczynski, Based on the Marvel Comic-Book The Mighty Thor Created by Jack Kirby, Stan Lee & Larry Lieber, Producer – Kevin Feige, Photography (3D) – Haris Zambarloukos, Music – Patrick Doyle, Visual Effects Supervisor – Wesley Sewell, Visual Effects – Buf (Supervisors – Nicolas Chevallier & Fabrice Lagayette), Digital Domain (Supervisor – Kelly Port), Evil Eye Pictures (Supervisor – Cameron Neilson), Fuel VFX (Supervisor – Paul Butterworth), Luma Pictures (Supervisor – Vincent Cirelli), Whiskeytree Inc (Supervisor – Jonathan Harb), Special Effects Supervisor – Daniel Sudick, Frost Giants – Legendary Effects, Production Design – Bo Welch. Production Company – Paramount/Marvel Entertainment/Marvel Studios.
Cast
Chris Hemsworth (Thor), Natalie Portman (Jane Foster), Tom Hiddleston (Loki), Anthony Hopkins (Odin), Stellan Skarsgård (Erik Selvig), Kat Dennings (Darcy Lewis), Clark Gregg (Agent Phil Coulson), Idris Elba (Heimdall), Colm Feore (Laufey), Ray Stevenson (Volstagg), Jaimie Alexander (Sif), Josh Dallas (Fandral), Tadanobu Asano (Hogun), Rene Russo (Frigga), [uncredited] Samuel L. Jackson (Nick Fury)
---
Plot
In Norway in 965 A.D., the god Odin leads a war that defeats the Frost Giants. Afterwards, Odin retreats to Asgard with the other gods, banishing the Frost Giants to Jotunheim and confiscating the casket that provides their power. In the present, Odin is about to appoint his eldest son Thor the king when several Frost Giants invade Asgard, trying to recapture the casket. Afterwards, an angered Thor, his brother Loki and four friends, makes a decision to defy Odin and invade Jotunheim to confront the Frost Giant menace. Instead, Thor's hot-headed impetuousness brings the two races to the brink of war and Odin must intervene. Angered, he banishes Thor to Earth. Thor falls from a wormhole in the sky and lands in the desert in New Mexico where he is hit by a vehicle driven by physicist Jane Foster. He is taken to hospital but is confused in trying to adjust to Earth culture. Mjolnir, the Asgardian hammer of power, is found in the desert near where Thor emerged from the wormhole but is unable to be picked up or moved. Jane then has all of her research confiscated as S.H.I.E.L.D. cordons off the area around the hammer. Jane helps Thor break in to get the hammer and comes to believe the extraordinary claims he makes about who he is. Meanwhile, Odin discovers that Loki was the traitor that let the Frost Giants into Asgard. He also reveals that Loki is not his son but an orphaned Frost Giant child. After Odin collapses into a coma, Loki quickly claims the throne and makes plans to free the Frost Giants and loose them on Asgard.
---
Thor was the twenty-third film to be adapted to the big screen from Marvel Comics since 1998 (with at least another five films either shooting or awaiting release as Thor hits theatres). These have included Blade (1998), X-Men (2000), Spider-Man (2002), Daredevil (2003), Hulk (2003), The Punisher (2004), Elektra (2005), Fantastic Four (2005), Man-Thing (2005), Ghost Rider (2007), Iron Man (2008), Captain America: The First Avenger (2011), The Avengers (2012), Guardians of the Galaxy (2014), Ant-Man (2015), Deadpool (2016), Doctor Strange (2016), Black Panther (2018), Venom (2018), Captain Marvel (2019), with sequels to almost all of the listed, not to mention a series of animated films released to the home dvd market, as well as the tv series' Agents of S.H.I.E.L.D. (2013-20), Daredevil (2015-8), Agent Carter (2015-6), Jessica Jones (2015-9), Luke Cage (2016-8), The Defenders (2017), Inhumans (2017), Iron Fist (2017-8), The Punisher (2017-9), Runaways (2017-9), The Falcon and the Winter Soldier (2021- ), Hawkeye (2021- ), Loki (2021- ), WandaVision (2021- ), Moon Knight (2022- ), Ms Marvel (2022- ) and She-Hulk: Attorney at Law (2022- ). These Marvel Comics' films have been enormously successful and have given new life to comic-book superheroes on the big screen with almost every one of the abovementioned and their sequels hitting the top of the box-office lists in their respective years.
Thor is adapted from Marvel Comics' The Mighty Thor, co-created by Marvel's principal creative force Stan Lee and cult comic-book artist/writer Jack Kirby. Thor first appeared in the anthology comic-book Journey Into Mystery #83 in 1962 and continued to appear in that title until it was renamed Thor/The Mighty Thor in 1966. It was Stan Lee's idea to go one step beyond their standard superheroics and conceive of a superhero who was a god. Thor's origin story in print differs somewhat from the one that we get in the film. Originally, Thor was banished from Asgard by Odin but placed into the body of medical student Donald Blake who discovered the hammer Mjolnir in a cave while holidaying in Norway.
Donald Blake gets a namedrop here, although the double identity is dropped and Donald Blake is merely the name of Jane Foster's ex whose clothes Chris Hemsworth is given and whose identity Stellan Skarsgård appropriates to get him out of S.H.I.E.L.D. custody. In the comic-book, Thor worked as a doctor while in Blake's body where Jane Foster was a nurse he fell for rather than a physicist. The most notable difference is the design of Thor's costume where the filmmakers, clearly concerned that such would be laughed off the screen, have stripped him of the cliched winged Viking helmet he always wears (something that Vikings apparently never wore historically but have been associated with ever since Richard Wagner's operas). The writers do retain the comic-book's blend of fantasy and science-fiction, regarding Asgard more as an alien planet than a supernatural realm (although, as with the comic-book, one finds it hard to conceive of a definition of science-fiction loose enough to work here – at least the writers get full marks for namedropping Arthur C. Clarke and his Third Law as wave of the wand justification).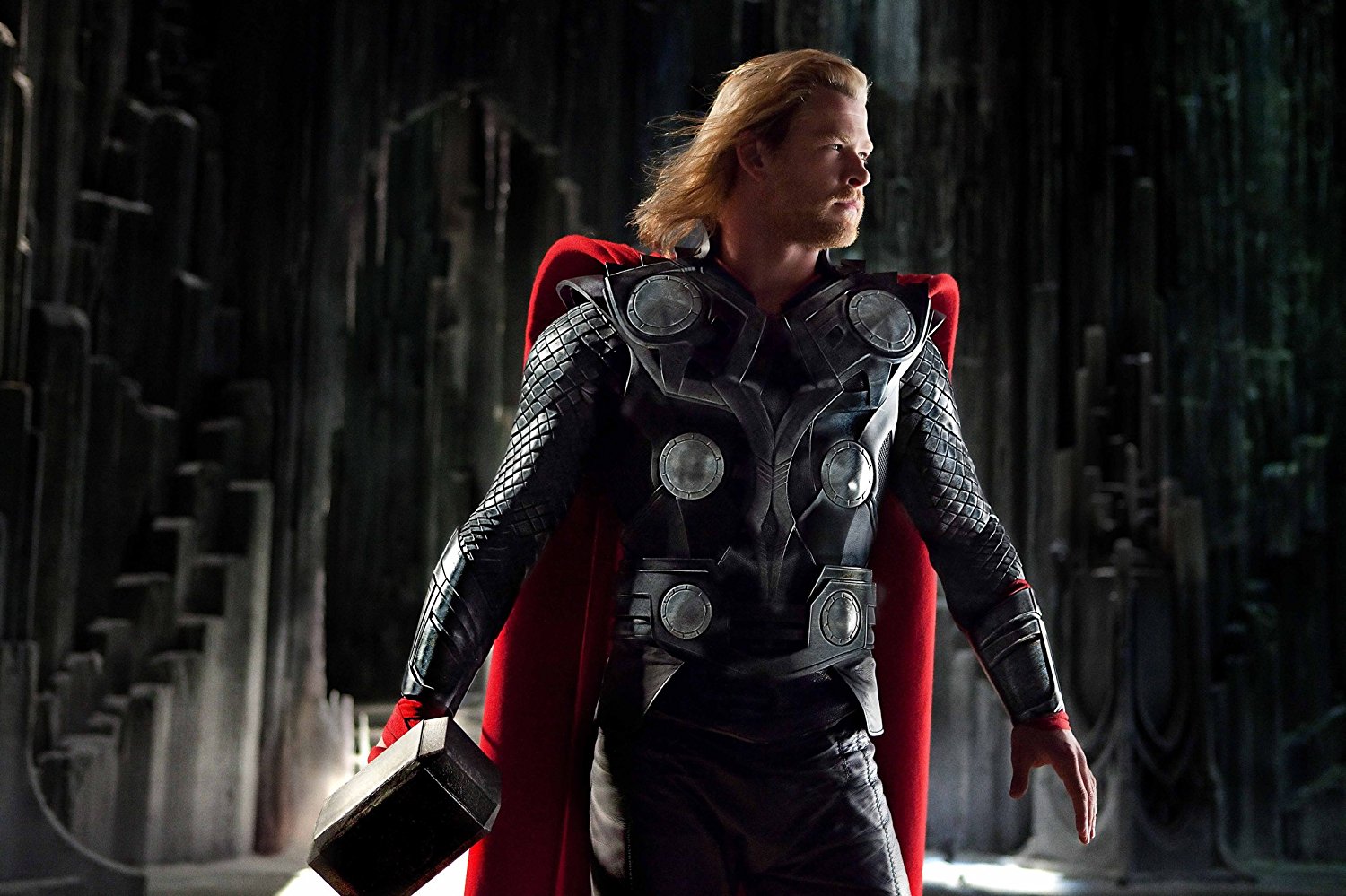 Thor had made a number of appearances on screen before. He turned up in the first of the Incredible Hulk spinoff tv movies The Incredible Hulk Returns (1988), where he was played by Eric Kramer. This in fact came closer to the origin story and look of The Mighty Thor than this film does. Thor also turned up in a number of the Marvel animated tv series throughout the 1990s and several of the Marvel animated films Ultimate Avengers (2006), Ultimate Avengers II (2006), Next Avengers: Heroes of Tomorrow (2008), Hulk Vs (2009), as well as his own animated film Thor: Tales of Asgard (2011) released the same time as this. (The latter should not be confused with Almighty Thor (2011), a cheap copy from low-budget company The Asylum).
The script for Thor comes from a line-up of names who have a fair list of genre credentials under their mutual belts, including Ashley Miller and Zack Stentz, who wrote Agent Cody Banks (2003) and wrote/produced/story edited such tv series as Andromeda (2000-5), Terminator: The Sarah Connor Chronicles (2008-9) and Fringe (2008-13), as well the screenplay for Marvel's X-Men: First Class (2011); Don Payne, a writer for The Simpsons (1989– ) who previously ventured into superheroics with My Super Ex-Girlfriend (2006) and Fantastic Four: Rise of the Silver Surfer (2007); as well as a story co-written by Mark Protosevich who wrote The Cell (2000), Poseidon (2006), I Am Legend (2007) and Oldboy (2013); and most interestingly J. Michael Straczynski, the cult writer/producer of tv's , co-creator of The Wachowskis' Sense8 (2015-8) and screenwriter of Clint Eastwood's Changeling (2008), Ninja Assassin (2009), Underworld: Awakening (2012) and World War Z (2013).
The most head-scratching name on the credits is none other than director Kenneth Branagh. Born in Ireland, Branagh rose through the ranks of the Royal Shakespeare Company, making his name as an actor on British television during the 1980s and then exploding out onto cinema screens with his dynamic adaptation of William Shakespeare's Henry V (1989), which saw him nominated for Oscars as both Best Director and Best Actor for no less than his directorial debut. Branagh has been a frontline name as an actor since then and has made twelve films as a director, returning to Shakespeare several times with the likes of Much Ado About Nothing (2003), Hamlet (1996), Love's Labor Lost (2000) and As You Like It (2006), as well as other works such as the remake of Sleuth (2007), the reboot of the Tom Clancy spy series Jack Ryan: Shadow Recruit (2014) and the remake of Murder on the Orient Express (2017). Branagh has ventured into genre material on several other occasions with the reincarnation thriller Dead Again (1991), the lavish remake of Mary Shelley's Frankenstein (1994), his adaptation of Cinderella (2015) and the Young Adult adaptation Artemis Fowl (2020). Most of Kenneth Branagh's directorial work has been in what would normally get classified as arts programming – he has even made a modernised adaptation of the Mozart opera The Magic Flute (2006). All of which makes his selection as someone to helm a big-budget special effects driven superhero film something that seems at almost opposite remove from the work that he is usually associated with. Mindedly, this is a directorial choice not dissimilar to when Ang Lee, another director primarily associated with arthouse work, took up the reins of Hulk. (Branagh also claims to have been a fan of the comic-book as a boy).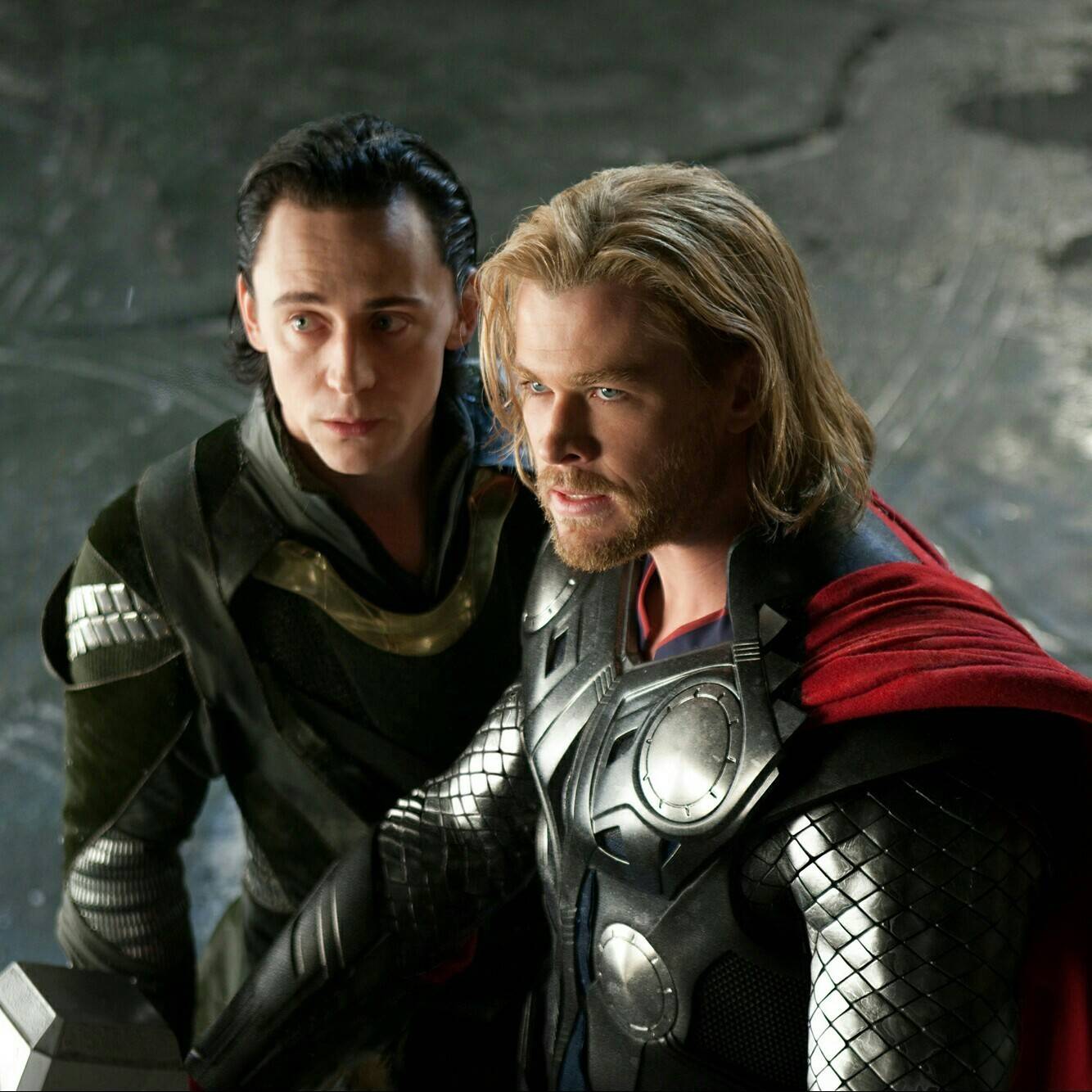 Thor gained some impressive advance word of mouth with some calling it the best Marvel Comics screen adaptation to date. It naturally rocketed to the top of the box-office charts and was enormously popular. All of which made my own feeling of disappointment puzzling. It feels like an okay adaptation of a comic-book but no more, no less than that. Maybe I am just suffering from what a recent Vanity Fair article termed "superhero ennui" (a wholly subjectively term that would seem to be based on the article writer's own feelings of tedium that any audience reaction let alone box-office response).
Kenneth Branagh has made big-budget films before – Mary Shelley's Frankenstein, Hamlet – but mostly his work is modestly budgeted and driven more by character and story. The problem when Kenneth Branagh takes on a big-budget effects driven superhero film here is that all the dramatic passion he brought to his Shakespearean work and other films disappear under the technology of the genre. This makes what is on display no different directorially than any of the other special effects driven Marvel Comics adaptations that we have seen. Rarely does Branagh invest the numerous effects or action set-pieces with anything standout. Indeed, the superheroic action scenes are surprisingly run of the mill. There is a passable battle with the Frost Giants on Jotunheim but other sequences like where Chris Hemsworth breaks into the S.H.I.E.L.D. encampment singularly fail to come together with any dramatic kinesis. The one sequence where Thor emerges out of the strictly routine is the one near the end where Chris Hemsworth takes on the Destroyer as it demolishes most of the New Mexican town. The one thing that Kenneth Branagh does do well is use the sets – a feature of several of his other films – making the halls of Asgard in particular look epic in scale.
Nor do the mundane scenes come together with any more life than the superheroic action scenes do. When you compare these to the soul of the superhero films we have had with the likes of Batman (1989), Batman Returns (1992) or The Dark Knight (2008), the teenage angst of Marvel's Spider-Man films or the fun being had by Robert Downey Jr in Iron Man, Thor does little to make its characters seem interesting. There is some comic playing off Thor's lack of familiarity with Earth customs – Chris Hemsworth smashing coffee cups on the floor and demanding a waitress bring more, walking into a pet store and demanding "I need a horse" – but nothing that ever creates a belly laugh.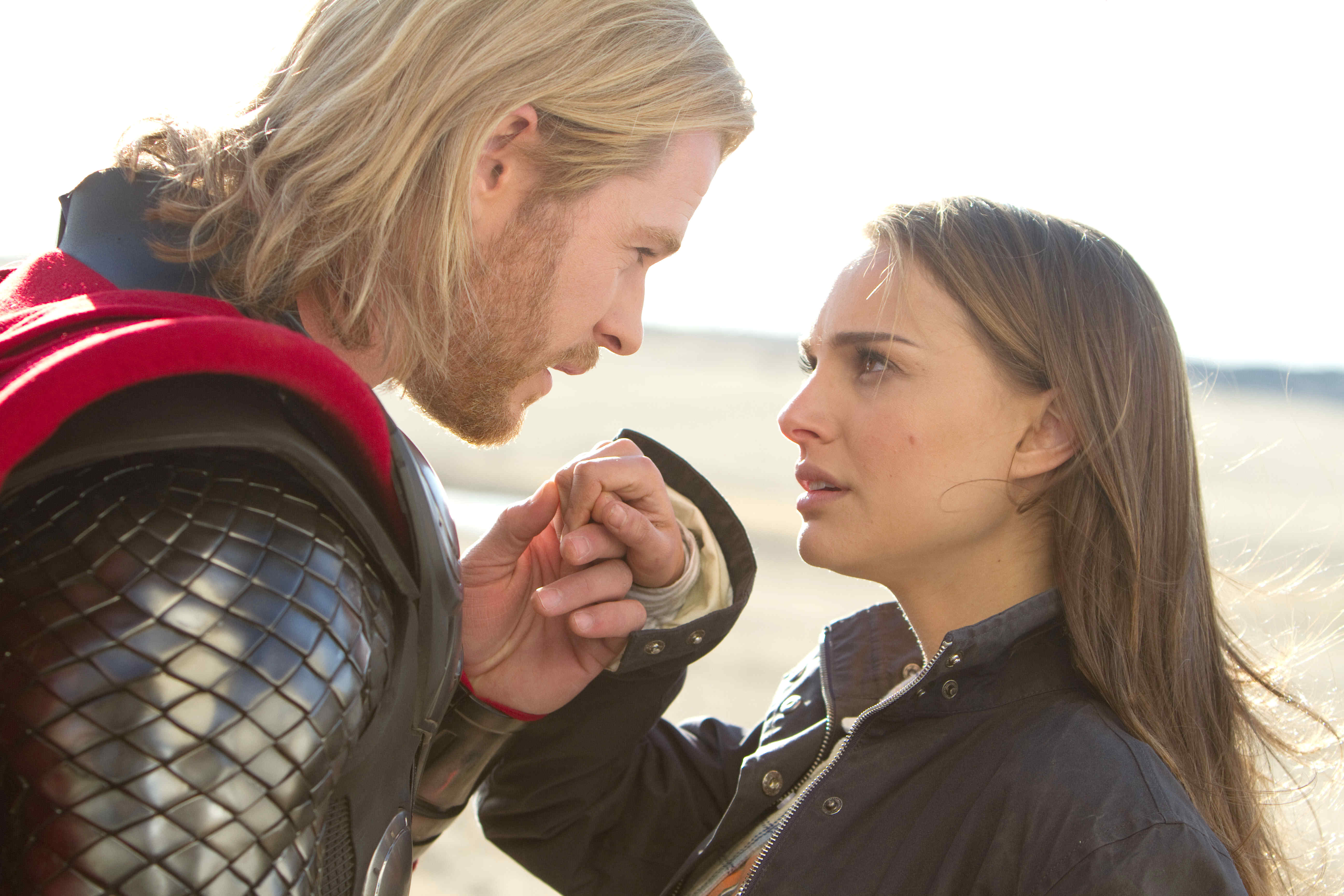 Thor was billed as Australian actor Chris Hemsworth's big breakout role but the jury remains out. Hemsworth is handsome but looks awkward when it comes to the superheroic stuff. The most comfortable Hemsworth seems is when he puts on a plaid shirt and you suddenly realise that the place where he would be perfectly at home would be with his long blonde hair beneath a baseball cap and in a redneck bar. That said, Hemsworth did settle into the role with much greater ease in his subsequent appearances as Thor.
Natalie Portman comes to Thor off the back of her Academy Award Best Actress win in Black Swan (2010) but going by her subsequent choice of roles in Your Highness (2011) and here, you would hardly guess it. The character she is given – the one-dimensional part of a woman scientist who lounges about awkwardly lovestruck and … no more depth than that – is the sort of role that Sandra Bullock does in her sleep but where Portman seems ill at ease. Kat Dennings is a brightly talented rising name – see Defendor (2009) and Daydream Nation (2010) – and Thor brings her to deservingly prominent focus, only to cast her in a part that is written as the vacant airhead of the show. Kat Denning has a natural sparkle and sexiness – you can guarantee that she would have given Thor far more life if she had been cast in the Natalie Portman role.
Thor also falls into what has now been termed the Marvel Cinematic Universe. This began when Jon Favreau threw in a cameo from Nick Fury as an Easter Egg for Marvel fans who waited all the way through the credits of Iron Man. This had a sequel shortly after when Robert Downey Jr's Tony Stark made a similar surprise cameo after the credits of The Incredible Hulk (2008). This quickly grew out into an ambitious plan where Marvel announced that they were knitting all of their characters together into one shared milieu that merged in The Avengers. Iron Man 2 (2010) also featured an after credits coda that had Clark Gregg in the desert at the site where Thor's hammer is discovered. There are various pieces of fanservice tossed off throughout Thor – Stellan Skarsgård saying how he wants to contact an old colleague, the originator of the gamma ray experiments (ie. Bruce Banner), to get advice on dealing with S.H.I.E.L.D.; Clark Gregg asking "That's not one of [Tony] Stark's is it?" when the Destroyer first appears; an uncredited cameo from Jeremy Renner as Clint Barton aka Hawkeye, the costumed super-archer who becomes a member of The Avengers, as Clark Gregg employs him to stop Thor's rampage through the encampment. There is also the by-now-requisite scene after the end of the credits where Stellan Skarsgård's scientist is introduced to Samuel L. Jackson's Nick Fury at S.H.I.E.L.D. headquarters and shown a piece of alien equipment that we learn is the Cosmic Cube, a device of unimaginable reality-bending power that turns up throughout the Marvel universe, as all the while Loki (now apparently inside Stellan Skarsgård's head) looks on, telling him what to say.
Chris Hemsworth and most of the principal cast returned in Thor: The Dark World (2013), Thor: Ragnarok (2017) and Thor: Love and Thunder (2022). Chris Hemsworth also returned as Thor and Tom Hiddleston as Loki in The Avengers, Avengers: Age of Ultron (2015), Avengers: Infinity War (2018) and Avengers: Endgame (2019), playing alongside other Marvel superheroes. Tom Hiddleston's Loki received a surprise fan following and appeared in several other Avengers films, before receiving his own tv series with Loki (2021- ).
(Nominee for Best Production Design at this site's Best of 2011 Awards).
---
---