---
Crew
Director – Terry Gilliam, Screenplay – Richard LaGravenese, Producers – Debra Hill & Lynda Obst, Photography – Roger Pratt, Music – George Fenton, Special Effects Supervisor – Dennis Dion, Production Design – Mel Bourne. Production Company – Columbia.
Cast
Jeff Bridges (Jack Lucas), Robin Williams (Parry/Henry Sagan), Mercedes Ruehl (Ann Napolitano), Amanda Plummer (Lydia Sinclair)
---
Plot
Jack Lucas is a high-flying host of a New York radio talkback show. However, when Jack says, during one of his on-air rants, that Yuppies are so disgusting they should all be wiped out, he is shocked to discover that his caller has subsequently gone and blown away a bar full of Yuppies with a shotgun. Following this, Jack becomes a burned-out emotional wreck. One night, Jack decides to end it all but is saved by a homeless man Parry. Jack is drawn into Parry's bizarre world where he rants about the Holy Grail and has hallucinations of being pursued by a giant Red Knight. Jack gives Parry help to win Lydia, the girl of his dreams. In so doing, Jack starts to rediscover himself again. However, when Parry falls into a coma, Jack realises that to save his life he must find Parry's sought-after Holy Grail.
---
The idea of a modern reworking of the quest for the Holy Grail re-enacted with homeless on the streets of New York has an eccentricity that is perfectly in line with the bizarre sense of humour of Terry Gilliam. Indeed, Gilliam had already conducted his own eccentric version of the Grail Quest several times before, having co-directed Monty Python and the Holy Grail (1975) and then gone onto satirically skewer the chivalric quest in his first solo film Jabberwocky (1977). Also of great interest is the documentary Lost in La Mancha (2000) about Gilliam's disastrous attempt to make a film of Don Quixote and the eventual film version  The Man Who Killed Don Quixote (2018), which is all about misguided knightly quests and deals with the same trompe l'oeil imagery of ordinary objects perceived as being dragons that The Fisher King does].
One goes into The Fisher King expecting the dark, pessimistic lashings of black humour and plunges into wild fantasy that characterised previous Terry Gilliam films like Time Bandits (1981), Brazil (1985) and The Adventures of Baron Munchausen (1989). The surprise about The Fisher King is that it is far more than that, that it is not merely a novelty eccentricity film. Possibly because he is not writing this time out, many of the dark lashings of humour and gaudy, sprawling indulgences that mark Gilliam's previous films have been united into a singularly controlled vision. This is something that would be even more the case in Gilliam's subsequent Twelve Monkeys (1995).
Gilliam does allow his fantastic visions occasional full flow with hallucinatory visions of giant Jabberwocky-esque red patchwork knights belching flame, and one charmingly whimsical shot that momentarily turns the business-suited crowds at Grand Central Station into a giant choreographed dance, but these are subordinate to the story.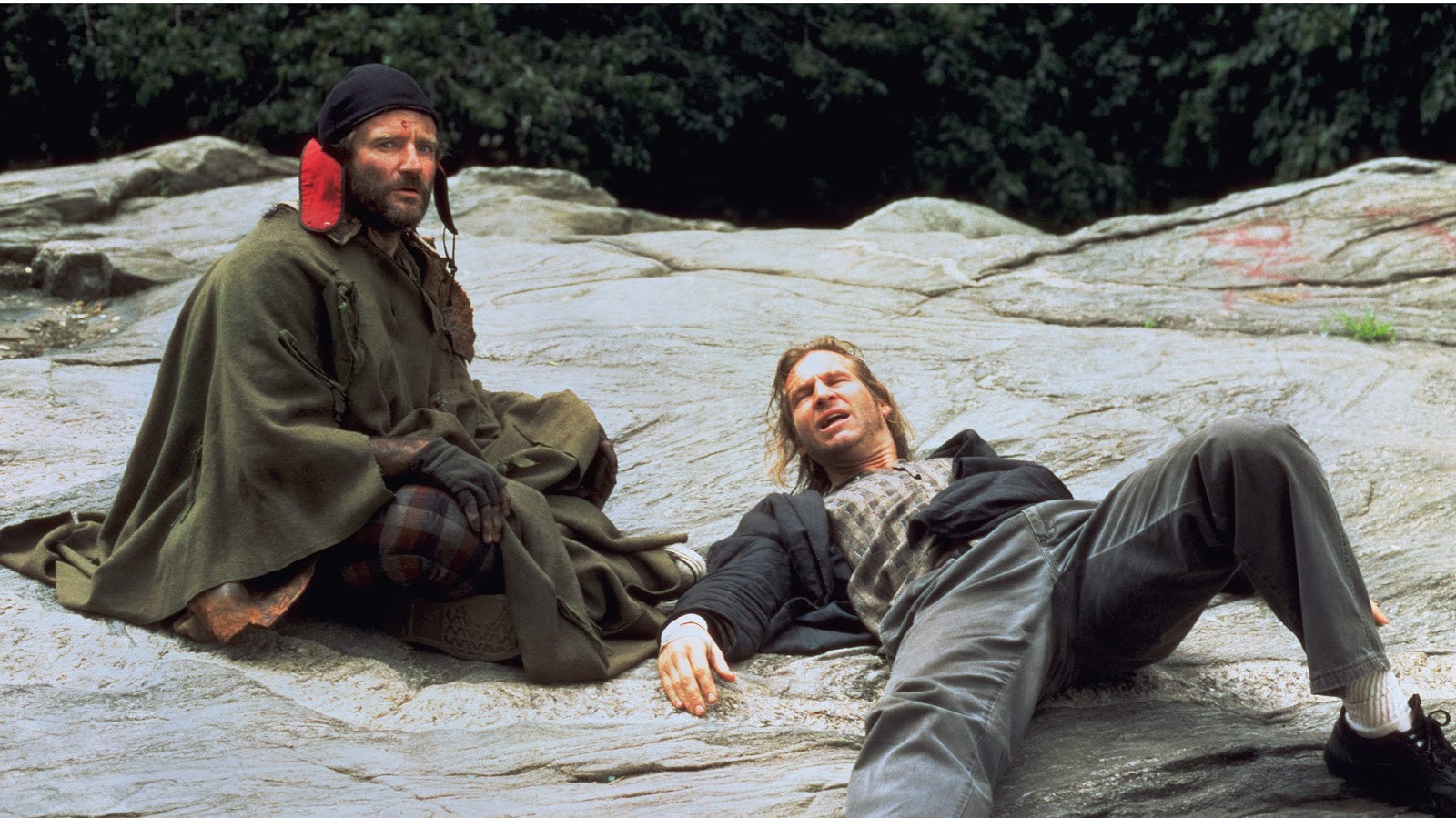 In fact, the prime cause of eccentricity on screen is Robin Williams who enters the film so whacked and spun out it seems almost inconceivable that the film will ever straighten out into a relatively coherent telling of the Grail story without resorting to some kind of Noh interpretation.
Gilliam shoots in a series of ugly, glaring closeups and frequently akilter angles that certainly make The Fisher King a demanding film to watch visually. However, there is the point where the film suddenly evens out and moves beyond its bizarre capering to discover a transforming emotional substance.
What one remembers most about it are the genuinely moving pieces – Jeff Bridges and Mercedes Ruehl's reconciliation where he grudgingly admits he loves her; the telling of story of the Fisher King with Jeff Bridges and a naked Robin Williams lying in the middle of Central Park; Williams's recitation of a bawdy limerick and the merry-go-round with the rotating table in the Chinese restaurant; and most of all the scene where Robin Williams explains to Amanda Plummer, who expects he is just wanting a one-night stand, that he is in love with her.
Screenwriter Richard LaGravenese, later specialised in Chick Flicks such as The Bridges of Madison County (1995), The Mirror Has Two Faces (1996), The Horse Whisperer (1998) and Beloved (1998), as well as directing Living Out Loud (1998), Freedom Writers (2007) and P.S. I Love You (2007), as well as one venture into fantasy with Beautiful Creatures (2013).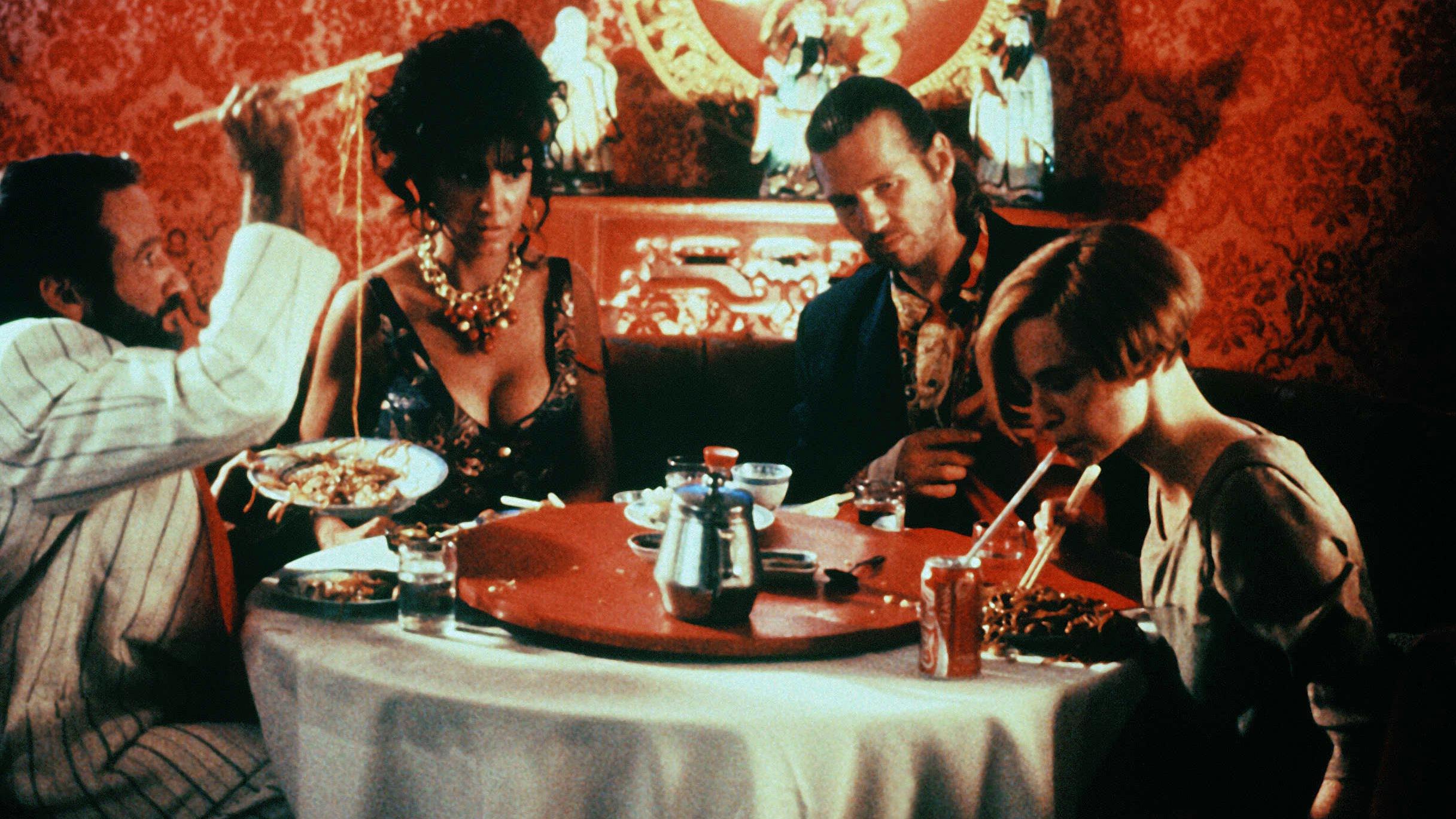 Here LaGravenese proves a master of characterisation and Gilliam provides him with an ensemble cast that work beautifully together. The character of Lucas dredges the depths of despair with searing effect – Jeff Bridges is perfectly cast – such that the film's only hope is to redeem him. And that's what the film does – plain and simple as that. And it works perfectly.
Terry Gilliam's other genre films as director are Monty Python and the Holy Grail (1975), co-directed with Terry Jones; the satiric knight's quest Jabberwocky (1977); the oddball time adventure comedy Time Bandits (1981); The Crimson Permanent Assurance segment of Monty Python's The Meaning of Life (1983); the dystopian future satire Brazil (1985); The Adventures of Baron Munchausen (1989) about the world's greatest liar; the time-travel/paradox film Twelve Monkeys (1995); the surreally drug-hazed Fear and Loathing in Las Vegas (1998); The Brothers Grimm (2005); Tideland (2005) set in a world of childhood imagination, which has many similarities to The Fisher King; The Imaginarium of Doctor Parnassus (2009) about a magical circus; the dystopian The Zero Theorem (2013) and The Man Who Killed Don Quixote (2018). Gilliam also executive produces the Quay Brothers's The PianoTuner of EarthQuakes (2005). Also of great interest is Lost in La Mancha (2002), a documentary concerning Terry Gilliam's disastrously failed film The Man Who Killed Don Quixote.
---
---