---
Crew
Director – Tony Scott, Screenplay – Richard Kelly, Story – Richard Kelly & Steve Barancik, Producers – Tony Scott & Samuel Hadida, Photography – Dan Mindel, Music – Harry Gregson-Williams, Visual Effects Supervisor – Marc Varisco, Special Effects Supervisor – Rob Hinderstein, Production Design – Chris Seagers. Production Company – Davis-Films/Domino 17521 Inc/Scott Free Productions.
Cast
Keira Knightley (Domino Harvey), Mickey Rourke (Ed Mosbey), Edgar Ramirez (Choco), Delroy Lindo (Claremont Williams), Mo'nique (Lateesha Rodriguez), Lucy Liu (Taryn Miles), Christopher Walken (Mark Heiss), Brian Austin Green (Himself), Ian Ziering (Himself), Jacqueline Bissett (Sophie Wynn), Mena Suvari (Kimmie), Stanley Kamel (Anthony Cigliutti), Dabney Coleman (Drake Bishop), Rizwan Abbasi (Alf), Dale Dickey (Edna Fender), Kel O'Neill (Francis Cigliutti), Lew Temple (Locus Fender), Tabitha Brownstone (Domino Age 8), Joseph Nunez (Raul), Macy Gray (Lashandra Davis), Shondrella Avery (Lashindra Davis), Jerry Springer (Himself), Tom Waits (Wanderer)
---
Plot
While being held and questioned by the FBI, bounty hunter Domino Harvey tells her story. She was born in England, the daughter of actor Laurence Harvey, and grew up in Beverly Hills. She dropped out university and a modelling career and took a course on bounty hunting run by bail bondsman Claremont Williams. There she fell in with bounty hunters Ed Mosbey and Choco. Under their tutelage, she became the country's top bounty hunter. Trouble began when Claremont conceived a complicated scheme to obtain money to pay for his girlfriend's grandchild's operation. Claremont had sidelined in armoured car operations and when a $10 million haul that belonged to a Vegas casino owner had been robbed en route, he despatched Domino, Ed and Choco, who by this point had a reality tv camera crew in tow, to track down the robbers. What Domino and the others did not realise is that gang of armed robbers contained the two sons of a Mafia mobster and that they had been set up by Claremont's girlfriend to avoid the rap for a Department of Motor Vehicles scam. After being apprehended, the framed robbers were killed by the casino owner's goons. This placed Domino and co, who were entrusted with returning the money, into the midst of an operation that was starting to go badly wrong.
---
Domino is ostensibly a biopic of true-life bounty hunter Domino Harvey. As the beginning of the film recounts more or less faithfully, Domino was the daughter of actor Laurence Harvey, who is probably best known as Raymond Shaw in The Manchurian Candidate (1962). Laurence Harvey died when Domino was four years old; she grew up in England but moved to Beverly Hills in 1988. She is reputed to have done everything in her early years from running a dance club to working as a runway model and a fire-fighter, before in the early 1990s taking a course in bounty hunting. She then teamed up with Ed Martinez (Mickey Rourke's Ed Moseby in the film) and began working for bail bondsman Celes King III (Delroy Lindo's Claremont Williams in the film) where she enjoyed a great deal of success, capturing some fifty wanted fugitives.
It is after about this point (about a third of the way in) that the film starts to depart from biographical detail and becomes complete fiction. Perhaps the major detail that the film omits to mention was Domino's considerable usage of drugs, her various dalliances with rehab and an arrest for possession of crystal meth in 2003. In early 2005, the FBI arrested Domino Harvey in Mississippi and charged her with conspiring to distribute $2 million of methamphetamine, a charge she vigorously denied. She was placed under house arrest at her home in Hollywood but was found dead in the bath in June of 2005 from an overdose of painkillers. The film is dedicated to her memory.
Director Tony Scott had become interested in Domino Harvey's story after reading a newspaper article about her. Scott met Domino in 1995 and purchased the rights to her life story for $360,000. Scott laboured to make the film for many years, finally bringing the financing together in 2004. Despite considerable rumour that came out before the film's release, Domino (while liberal with Domino's life story to the point of being almost complete fiction) is not something that Domino Harvey herself was unhappy with. Tony Scott used her as a frequent on-set consultant and widespread stories that she was unhappy about the film portraying her engaged in heterosexual sex when she was a lesbian are untrue. In fact, she was reported just before her death to be considering suing various tabloids for starting such rumours.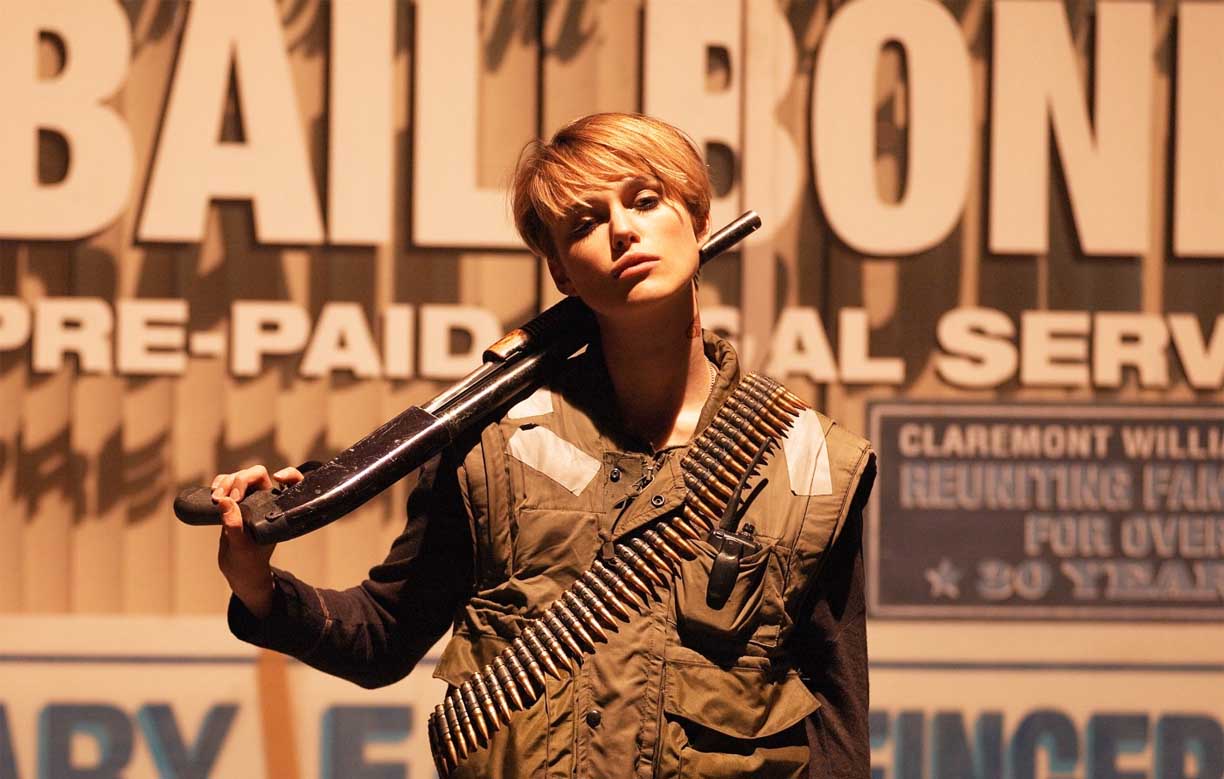 Tony Scott was a director who has had an interestingly uneven career. Tony is the younger brother of Ridley Scott of Alien (1979), Blade Runner (1982) and Gladiator (2000) fame. Tony Scott's first film was the underrated chicly arty vampire film The Hunger (1983). Alas, The Hunger was a flop when it came out and Scott was forced to forsake artiness for more commercial filmmaking. He next signed up with producers Jerry Bruckheimer and Don Simpson to make the blatantly commercial Top Gun (1986), which was an enormous hit. Tony Scott made several other films for Bruckheimer and Simpson – Beverly Hills Cop II (1987), Days of Thunder (1990), Crimson Tide (1995) and Enemy of the State (1998), as well as other works such as Revenge (1990) and Spy Game (2001). Most of these are slickly produced and eminently forgettable. In the mid-1990s, Tony started to regain his feet again with films like the highly enjoyable The Last Boy Scout (1991), the Quentin Tarantino-scripted True Romance (1993), the submarine drama Crimson Tide – which is probably his single best film, the psycho-thriller The Fan (1996), the brutal revenge drama Man on Fire (2004), the time travel film Deja Vu (2006), the remake of The Taking of Pelham 1 2 3 (2009) and Unstoppable (2010).
Throughout these films, though commercial projects, Scott increasingly flexed his artistic strengths, building a style that involves a dense weave of roving camerawork, random soundtrack noise, colour saturations and lashings of ultra-violence. This often seems style-conscious to the point that the scripts that support Scott's visuals are not able to carry the film, as in the case of The Fan and Man on Fire. If anything, while brother Ridley has abandoned the dense textural and chiaroscuro lighting style of his early films for a cleaner commercial style these days, Tony went the other way, abandoning commercial filmmaking for a great deal of artistic experimentalism.
If these films show Tony Scott wanting to experiment with visual style, then Domino is an opportunity he takes to go completely mad with it. He shoots with blurred camerawork, split screen, the whole film saturated with a suffusion of green and yellow colour tints, the lighting and film stock washed out in a way that unglamorously highlights the pallor of the cast's skin, action that is constantly retelling a scene from different angles or is sped-up and slowed-down, narrative that flips back and forward into flashbacks and rewinds, novelty title cards. The colour and lighting schemes of the film alone are utterly amazing, unlike anything one has seen in any major commercial release before. If Domino had not been a film that had been sold squarely to the commercial multiplexes, then it could almost have been an art film. Indeed, the visual games that Tony Scott pulls off are even more out there and daring than those that Lars von Trier conducted in Zentropa (1991). Maybe if there is one film that comes anywhere near Tony Scott's stylistics here, it is that madcap visuals that Oliver Stone achieved in Natural Born Killers (1994).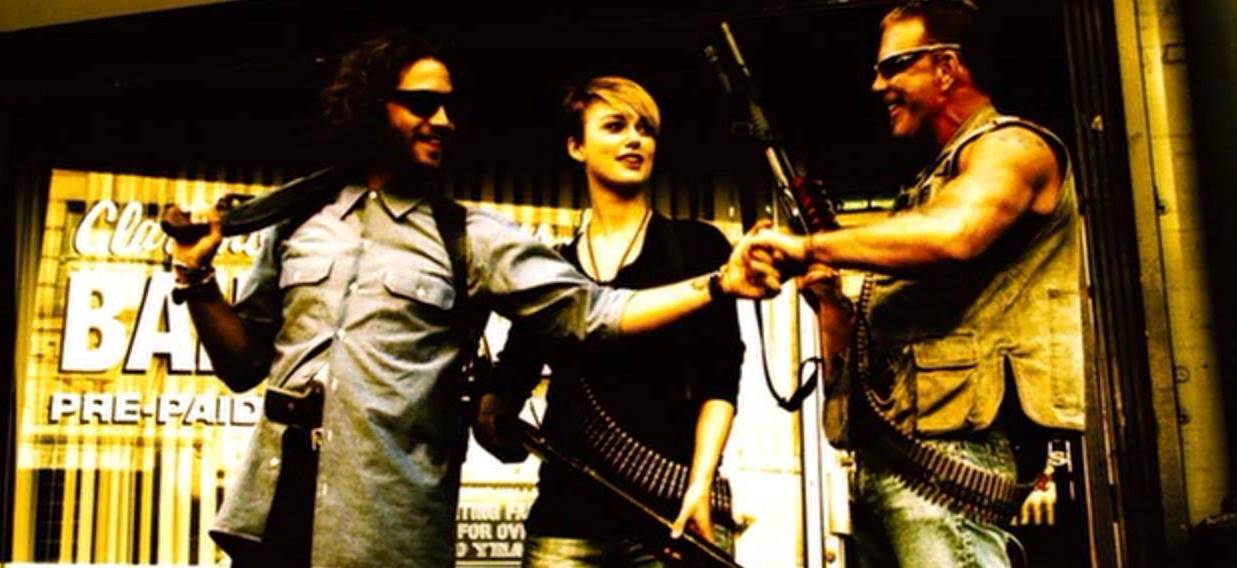 Alas, Tony Scott never seemed to know when his visual trickery is not supported by the film he is telling. Domino has a sprawling and at times incoherent script. Scott's visual trickery tends to seem like overkill, particularly during the early scenes. One suspects that Domino might have worked much better as a Quentin Tarantino film, which it is obviously aspiring to be. If Tarantino had taken the director's chair, out would have gone most of Tony Scott's arty stylism and the film would have been directed surely as a sparse, minimalistic work where the emphasis would have been on the sarcastic dialogue and sharp twists of story (neither of which are Tony Scott's forte).
Even aside from Tony Scott's wildly arty visual experimentalism, Domino has a total bizarreness as a film. It helps if one throws all notion of Domino being a biography of Domino Harvey out the window, at least after about a third of the way in. As the opening credits say "This is based on a true story" and then in the next title card adds "Sort of". And in truth, these biographical scenes, which come buried under Scott's direction, are the least interesting scenes in the film and it is not until Richard Kelly's main story kicks in that Domino starts to develop any life.
The film has a completely out-of-control story, which actually becomes enjoyable in its sprawlingly bizarre incoherence. That this comes from Richard Kelly, the man who wrote and directed the completely baffling Donnie Darko (2001) and The Box (2009), is no particular surprise. If one can imagine a version of El Topo (1970) or Fear and Loathing in Las Vegas (1998) crossbred with a Quentin Tarantino film, then you might have some idea of the whacked insanity that is Domino.
It is the last two-thirds of the film where the DMV/truck hijacking story takes over that Domino develops a spectacularly out of control lunacy that is kind of like watching a train wreck in the process of happening. But how is it possible not to enjoy a film that manages to wind in a parody of Beverly Hills 90210 (1990-2000) that features 90210 stars Brian Austin Green and Ian Ziering playing themselves, before being turned into 'celebrity hostages'; Mo'Nique and her scene-stealing fingernails; a mock-up of an episode of The Jerry Springer Show (replete with a cameo from Jerry Springer himself) with Mo'Nique conducting an hilarious spiel about mixed race heritage; a reality tv show camera crew following the bounty hunters around; showdowns with the Mob; the blowing up of a casino tower; much ultra-violence, including a hostage who has his arm blown off with a shotgun because it has the password to a safe on it; an armoured truck robbery by a group wearing masks of the Ex-President's wives; a vehicle crash in the desert, followed by hallucinatory drug-induced sex scenes, all as a result of mescaline-spiked coffee; a demented Afghan bomber; lots of plot twists and turns; not to mention Tom Waits as a man in an open-topped coupe who turns up in the desert to aid the group while delivering a message seemingly from God as to how Domino and cohorts must work to save the life of a child and put their own lives on the line (the reason for Domino's inclusion here as fantasy).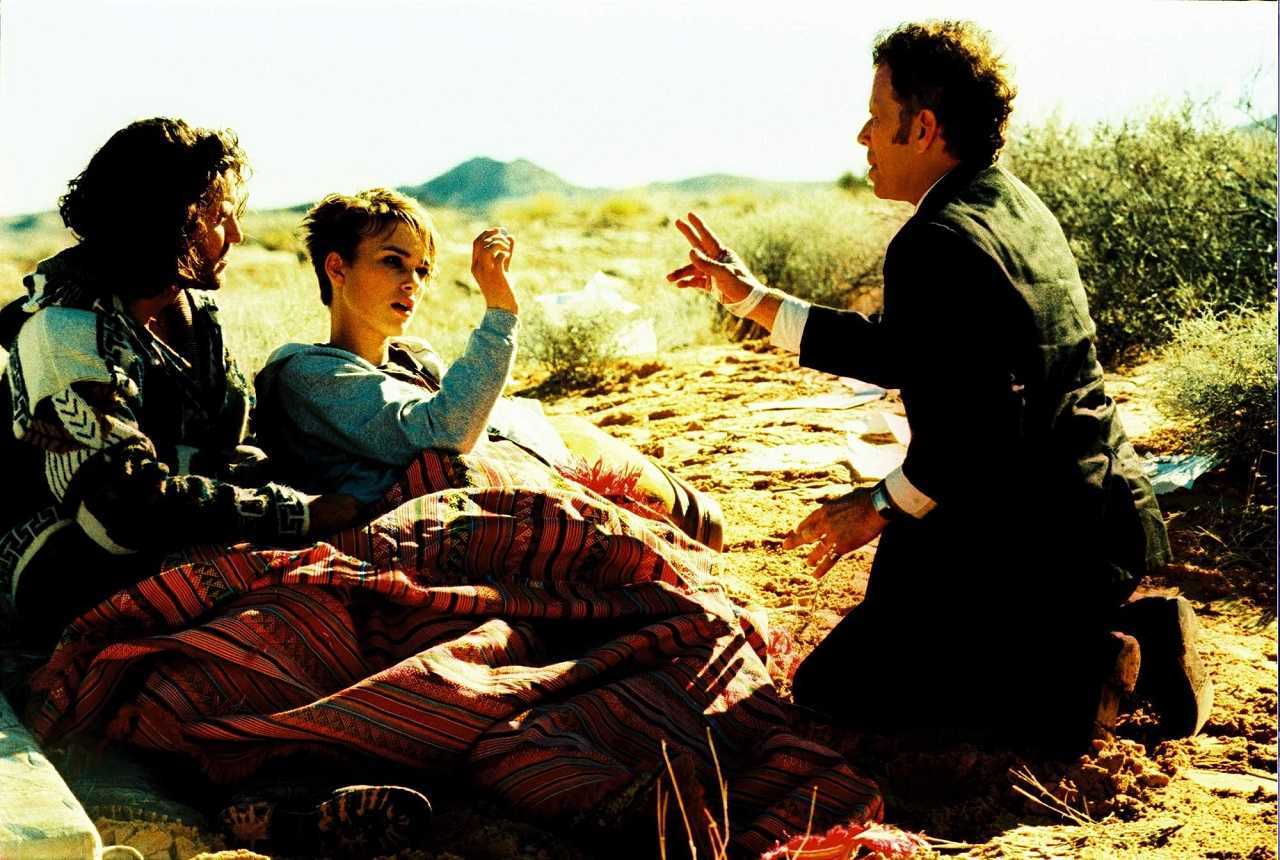 The departure from anything resembling a biopic to out-and-out dementia, yet Tony Scott's blithe determination that he is telling a true story throughout, makes for a totally barmy film. Most critics ended up hating Domino, but it is one of those films, not unlike Hudson Hawk (1991), where you have to celebrate it for its entirely out-of-control lunacy. I predict in a decade's time that Domino is going to be revived as a psychotronic classic.
Tony Scott has also managed to wind in a truly amazing cast. This includes Mickey Rourke, who has been treading the comeback trail in impressive ways in the last couple of years, most notably with Sin City (2005) and The Wrestler (2008); Black radio host/comedian/actress Mo'Nique (Imes-Jackson) as a corrupt DMV clerk; Beverly Hills 90210 stars Ian Ziering and Brian Austin Green in full self-parody mode; R&B artist Macy Gray as one of Mo'Nique's co-conspirators; Lucy Liu as a hardass FBI agent interrogating Keira Knightley; 1970s star Jacqueline Bissett as Domino's mother; Christopher Walken as an hilarious ratings-obsessed reality tv producer, with Mena Suvari as his assistant; and Tom Waits as the mysterious messenger who brings a prophetic augury.
Although, one of the biggest weaknesses of Domino is Keira Knightley in the title role. I have enjoyed watching Keira Knightley's star rise in recent years through performances in films like Bend It Like Beckham (2002), Pirates of the Caribbean: The Curse of the Black Pearl (2003) and Pride and Prejudice (2005). Knightley has talent and star class but seems to lack the presence to carry the film when it comes to Domino. She has a few moments pulling guns and doing lap dances but rarely kicks ass the way that one expects Domino should. Moreover, Tony Scott tends to treat her more like an inflatable rubber sex doll, as someone who is hauled around to lap dance here, strip for a sex scene here, dress provocatively here, pull gun here. There is no sense of Domino as a character, rather she is a guy movie pose of an ass-kicking chick.
Tony Scott's other genre films included:- the chic vampire film The Hunger (1983); the submarine thriller Crimson Tide (1995) about the tension leading up to an outbreak of nuclear war; the psycho-thriller The Fan (1996) featuring Robert De Niro as a psychopathic baseball fan; and the time travel film Deja Vu (2006). Tony and Ridley maintained their own production company Scott Free Productions. The two produced the cable series The Hunger (1997), an anthology series of erotic horror stories; the psycho black comedy Clay Pigeons (1998); the mediaeval adventure Tristan + Isolde (2006); the tv mini-series remake of The Andromeda Strain (2008); the modernised Edgar Allan Poe adaptation Tell-Tale (2009); the tv mini-series remake of Coma (2012); the tv mini-series Labyrinth (2012) about the quest for the Holy Grail; and the horror film Stoker (2013).
(Winner for Best Cinematography at this site's Best of 2005 Awards).
---
---