---
Crew
Director – Brad Peyton, Screenplay – Steve Bencich & Ron J. Friedman, Producers – Polly Johnsen & Andrew Lazar, Photography (3D) – Steve Poster, Music – Christopher Lennertz, Visual Effects Supervisors – Blair Clark & Richard R. Hoover, Visual Effects – C.O.R.E. Digital Pictures (Supervisor – Terry Bradley) & Sony Pictures Imageworks, Character Animation/Visual Effects – Tippett Studio, Special Effects Supervisor – Tony Lazarowich, Animatronics – Romaire Studios, Production Design – Rusty Smith. Production Company – Warner Brothers/Village Roadshow/Mad Chance/Polymorphic Pictures.
Cast
Chris O'Donnell (Shane Larson), Jack McBrayer (Chuck the Magnificent), Malcolm Stewart (Captain Flemming), Kiernan Shipka (Little Girl)
Voices
James Marsden (Diggs), Nick Nolte (Butch), Christina Applegate (Catherine), Bette Midler (Kitty Galore), Katt Williams (Seamus), Neil Patrick Harris (Lou), Sean Hayes (Mr Tinkles), Wallace Shawn (Calico), Roger Moore (Tab Lazenby), Michael Clark Duncan (Sam), Joe Pantoliano (Peek), Michael Beattie & Jeff Bennett (The MacDougall Twins)
---
Plot
Canine intelligence face a new threat from Kitty Galore, a former agent for the feline intelligence agency MEOWS, who has gone crazy after losing her fur in a toxic vat. She has now hatched a plan to unleash Call of the Wild, a broadcast signal that will turn all dogs against humans. Canine intelligence need a new agent and so recruit Diggs, a police dog that has been suspended for not following orders after his actions caused a mad bomber to blow up a used car lot. Diggs is paired with Butch and the two sent on the trail of the pigeon Seamus who appears to be a vital part of Kitty's plan. During the course of rescuing Seamus, they cautiously befriend the MEOWS agent, the cat Catherine. Despite their hatred of cats, canine intelligence agrees to work together with MEOWS to stop Kitty Galore. Diggs, Butch, Catherine and Seamus are now paired up to find Kitty as she prepares to launch her signal.
---
Cats & Dogs (2001) was one of the first films to come out exploiting the fad for live-action talking animals films created by Babe (1995). It felt like a conceptual collision between Babe and Austin Powers, International Man of Mystery (1997) and its spoof take on the James Bond films. Cats & Dogs was enjoyable in the cuteness of its concept – of seeing various talking animals going into action with spy gadgets. It was a reasonable success, earning nearly $100 million at the box-office.
Cats & Dogs: The Revenge of Kitty Galore clearly hopes to find that same audience. The question that arises is – has The Revenge of Kitty Galore come along too late to capitalise on the success of Cats & Dogs? Cats & Dogs is rarely a film that sticks out in people's memory or is fondly referenced and gives all appearance of being a passing five-minute amusement at the time and forgotten soon after. More important, the greatest audience the film found was in the single digit age set. Coming nine years later, most of those who enjoyed the original are likely to be heading on towards college.
I suspect also that if Cats & Dogs were made today, I would not have enjoyed it as much as I did then. Cats & Dogs came at a point when the live-action talking animals fantasy was relatively new and still a novelty. Unfortunately, what immediately came after was something that turned it into an irritatingly cutsie sub-genre dominated by talking animals quoting pop culture, spouting hip one-liners, numerous fart/poop jokes and an all-round level of wearisome inanity. In the period between Cats & Dogs and The Revenge of Kitty Galore, we have had to endure the generally excruciating likes of Garfield (2004), Racing Stripes (2005), Alvin and the Chipmunks (2007), Underdog (2007), Beverly Hills Chihuahua (2008), G-Force (2009), Furry Vengeance (2010), Yogi Bear (2010), Hop (2011) and Zookeeper (2011), which have all but ground the initial novelty of Babe into something that anyone over the age of twelve grits their teeth through.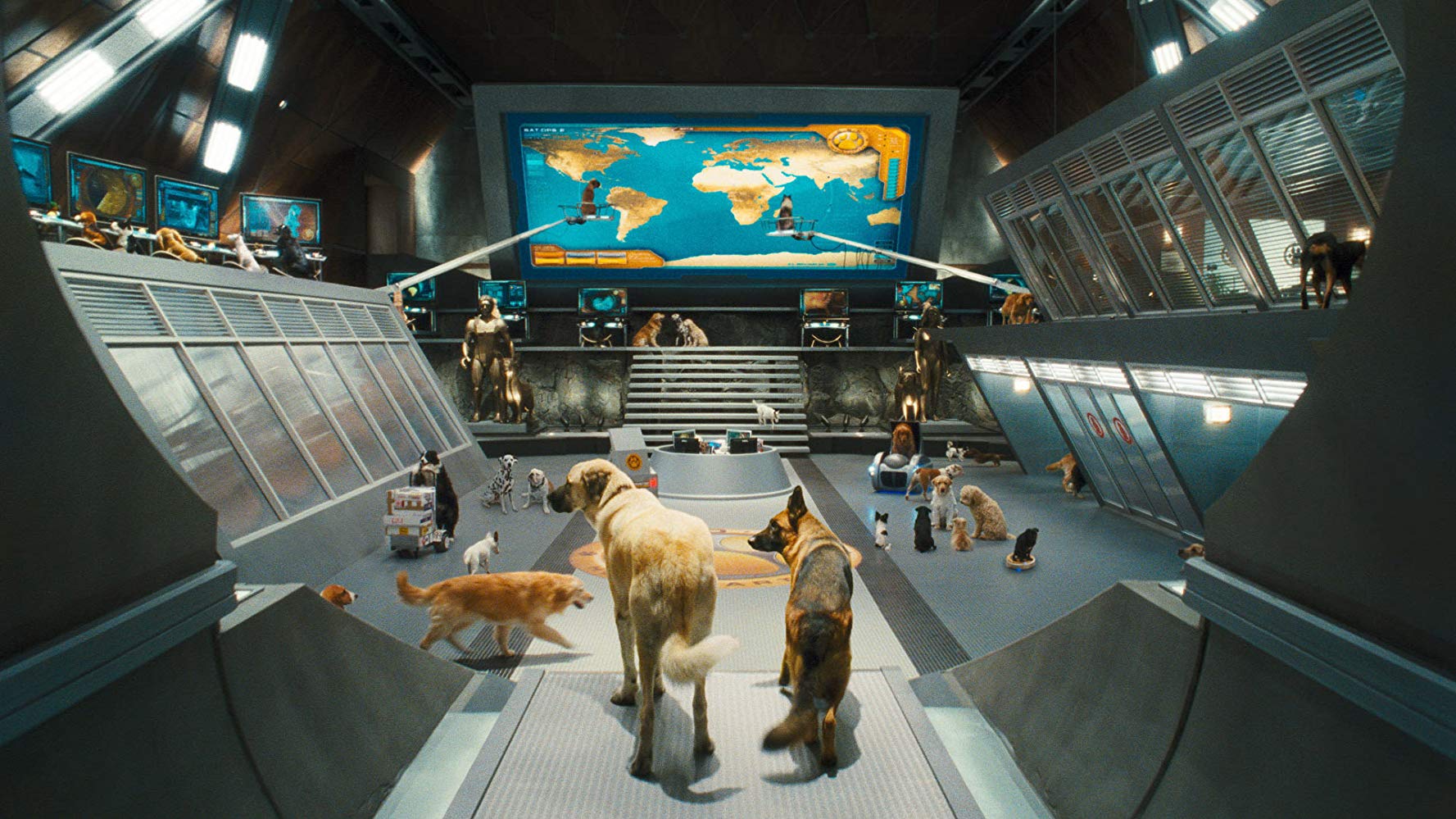 Cats & Dogs: The Revenge of Kitty Galore certainly falls prey to all the things that have come to dominate the genre since the original. There are animals making numerous pop culture references – to Dr Phil, Braveheart (1995), about getting free HBO, even an elaborate parody of The Silence of the Lambs (1991) featuring a return appearance from Mr Tinkles. The soundtrack is filled with quick shorthand use of popular songs – most wincingly George Thorogood's Bad to the Bone. The animals are provided with hip one-liners – the worst of these being a pigeon voiced with a streetwise Black accent. In fact, while the original film was balanced between animal and human scenes, this film has become almost entirely animal scenes. The humans feature only peripherally and in the case of the single one we engage with – Chris O'Donnell as Diggs' human carer – he seems so much an afterthought to the main action that he could have been written out with little difference.
Everything also comes in this year's rapidly becoming fatigued fad of 3D. This means numerous items and dog snouts being poked out of the screen and a series of vertiginous scenes where the animals engage in a high-speed chase through the skies and buildings on rocket backpacks. At least, unlike an annoying bunch of other films out there, Cats & Dogs: The Revenge of Kitty Galore is not in fake 3D that has been retrofitted after shooting and has been intended as a 3D vehicle from the outset.
On the whole, Cats & Dogs: The Revenge of Kitty Galore emerges not too badly. It lacks the freshness of the concept that the first film had but does a passable job of following on from this. There is a cute amusement to some of the gadgets – notably a tank built out of a cat carry cage or a death trap that buries everybody in kitty litter. The complaint about newcomer Brad Peyton's direction might be that he hurries each scene by too fast to drink in the parodistic background detail, particularly when we visit the canine and feline spy agency headquarters. Most of the voicing, apart from Katt Williams' annoying attempts to sound like Chris Rock, are okay with the standout being Bette Midler as Kitty Galore. It has been some time since Midler has chewed scenery as entertainingly over-the-top as this and she steals the show whenever she is on screen.
This was followed by a further sequel Cats & Dogs 3: Paws Unite (2020).
Brad Peyton subsequently went onto direct Journey 2: The Mysterious Island (2012), the disaster movie San Andreas (2015), the possession film Incarnate (2016) and the videogame adaptation Rampage (2018).
---
Trailer here
---