---
Crew
Director – Tommy O'Haver, Screenplay – Laurie Craig, Jennifer Heath, Karen McCullah Lutz, Kirsten Smith & Michele J. Wolff, Based on the Novel by Gail Carson Levine, Producer – Jane Startz, Photography – John de Borman, Music – Nick Glennie-Smith, Visual Effects – Cinesite (Europe) Ltd, Double Negative Ltd, The Moving Picture Company & Nexus Visual Effects, Miniatures – Cutting Edge, Animatronics – Neil Scanlan Studio, Special Effects Supervisor – Kevin Byrne, Production Design – Norman Garwood. Production Company – Jane Startz/Enchanted Productions/World Entertainment 2000 Ltd.
Cast
Anne Hathaway (Ella of Frell), Hugh Dancy (Char/Prince Charmont), Cary Elwes (Sir Edgar), Aidan McArdle (Slannen), Lucy Punch (Hattie), Minnie Driver (Mandy), Jimi Mistry (Benny), Steve Coogan (Voice of Heston), Jennifer Higham (Olive), Joanna Lumley (Dame Olga), Vivica A. Fox (Lucinda Periweather), Parminder Nagra (Arieda), Eric Idle (Narrator), Jim Carter (Nish), Alvaro Lucchesi (Koopooduck), Heidi Klum (Brumhilda), Patrick Bergin (Sir Peter), Donna Dent (Ella's Mother)
---
Plot
After the baby Ella is born, her mother and the household fairy Mandy try to hide her as the bad-tempered fairy Lucinda arrives. Lucinda decides that Ella is not submissive enough and places a spell of obedience on her that requires her to obey everything that is asked of her. Ella's mother dies when she is in her teens but first gives Ella an order that she must never tell anybody about the spell. Her father remarries the vain Dame Olga who moves in with her daughters Hattie and Olive. Hattie soon discovers that Ella can be ordered to do anything and uses it to humiliate her. Hattie also leads the adoring fan club for Char, the handsome prince heir to the kingdom. However, Ella leads protest against Char over the suppression of the elves, giants and ogres of the kingdom and Char is taken with her forthrightness after he accidentally bumps into her. Ella decides that she must set out to find Lucinda and get her to remove the spell. Char happens by and saves her as she is captured and about to be cooked by ogres. He joins her on the journey, during which the two become attracted to one another. Char announces his intention to marry her. However, his scheming uncle Sir Edgar, who desires the crown for himself, discovers about the spell and uses it to order Ella to kill Char at midnight.
---
The Guinness Book of Film Facts and Feats (1985) lists Cinderella as the most filmed story ever. Versions have been made fairly much ever since cinema itself began. A number of these are listed on this site – Disney's animated adaptation Cinderella (1950) and various musical adaptations such as The Glass Slipper (1955) and The Slipper and the Rose (1976). Ella Enchanted joins a host of modern revisionist variations on the story that include If the Shoe Fits (1991), EverAfter (1998) and A Cinderella Story (2004).
Revisionist takes on classic fairytales have been appearing on screens since the 1980s. These have ranged from The Company of Wolves (1984), which turned Little Red Riding Hood into a dark Freudian parable about blooming sexuality; the surprisingly dark and adult likes of Snow White: A Tale of Terror (1997) and Red Riding Hood (2011); Francois Ozon's Criminal Lovers (1999) and Matthew Bright's Freeway (1996) and Freeway II: Confessions of a Trickbaby (1999), which joltingly updated classic tales into modern stories about troubled teenagers; as well as spoofs like The Princess Bride (1987), Shrek (2001) and Enchanted (2007).
These revisions and deconstructions serve a variety of purposes – they take the elements of the original story and either write modern attitudes over them to see what will happen (the feminist revision of Cinderella in EverAfter); transplant the innocent original into something more dark and adult (as in The Company of Wolves and Snow White: A Tale of Terror); or find amusing parallels by retelling the story in modern day as in A Cinderella Story, Sydney White (2007) and Matthew Bright's films.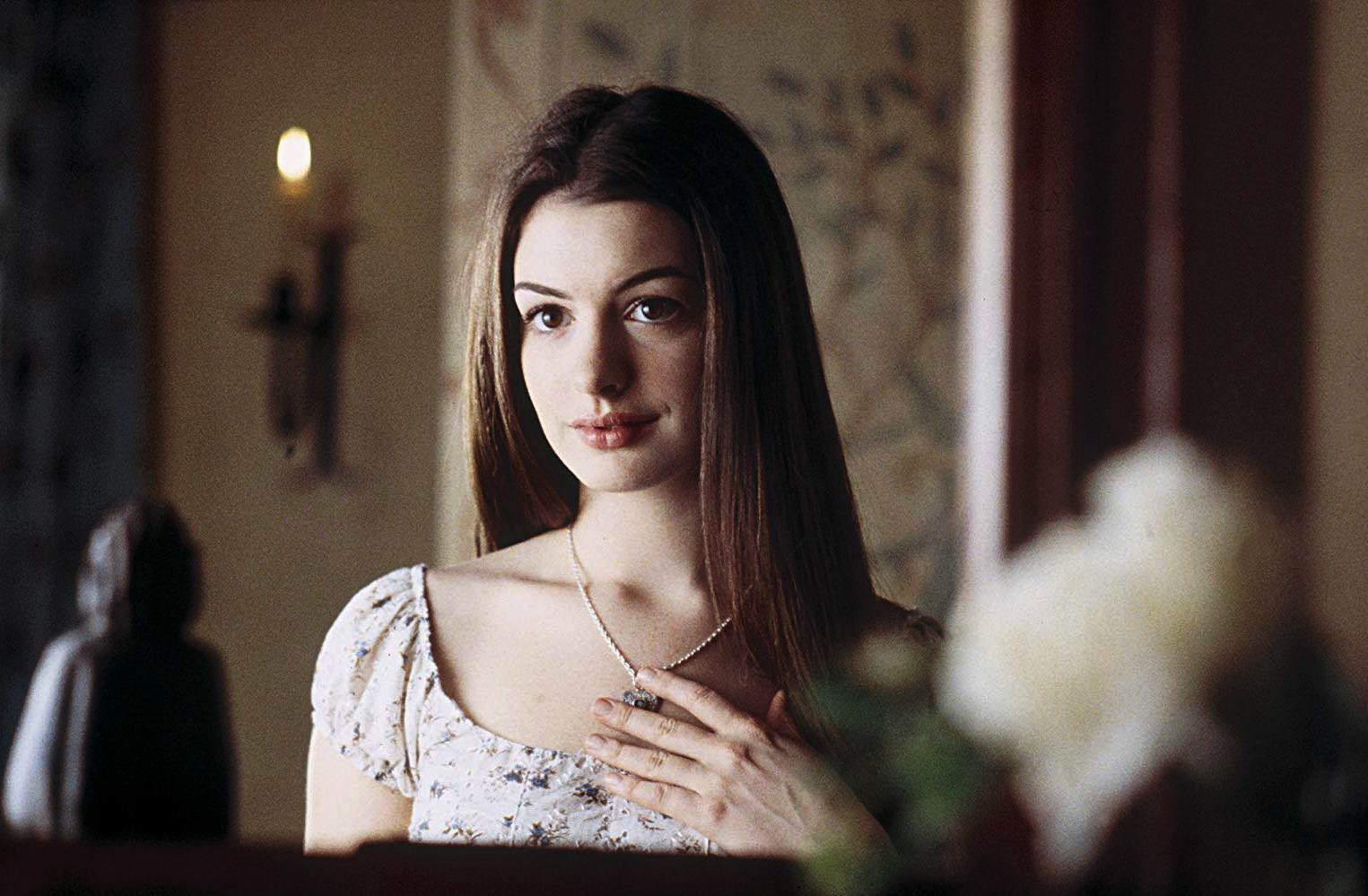 When it comes to Ella Enchanted, you sit scratching your head wondering what purpose the filmmakers had in mind in revising Cinderella. The modestly effective A Cinderella Story, which came out four months later the same year, had the ingenuity of translating Cinderella into modern Beverly Hills high school terms. Ella Enchanted has an excruciating banality that feels like someone has tried to go the other way – that of translating a contemporary American high school drama into fairytale terms. If anything, Ella Enchanted comes out resembling a film like A Knight's Tale (2001) or the recent animated likes of DreamWorks' Shrek 2 (2004), Shark Tale (2004), Hoodwinked! (2005) and Happily N'Ever After (2006).
In all of these, the filmmakers take a fantasy story and overrun it with an irritating array of modern pop culture in-jokes and references to brand names. Ella Enchanted feels exactly like a live-action run through of Shrek 2's Far Far Away Land, which became a parody of Beverly Hills. We get endless contemporary jokes – Joanna Lumley gets a 'bat-ox' beauty injection; Minnie Driver has a copy of Spells for Dummies; there is a chain mail recycling bin outside the castle; Eric Idle appears as a mediaeval newspaper boy, while Patrick Bergin scans the mediaeval equivalent of Situations Vacant; the prince's adoring women are screaming pop groupies and plant pin-ups on their walls; everyone sings cover versions of modern songs; the village has slaves cranking a wheel to make an escalator of stairs and so on and so on. Characters do not in the remotest way sustain suspension of disbelief – they are simply contemporary characters dressed in mediaeval dress (and even then the prince's fan contingent wear T-shirts, while Ella whips away her ball gown to reveal a mini-skirt and moon boots underneath at the climax).
To be frank, I am starting to hate this type of fantasy filmmaking. The purpose of a good fantasy is to transport one's imagination away into a land where the impossible can happen. It is about the suspension of disbelief. On the other hand, films like Shrek 2 and Ella Enchanted do exactly the opposite of suspension of disbelief. What they do is not transport us to a land where the impossible is true but drag the fantasyland back to the here and now.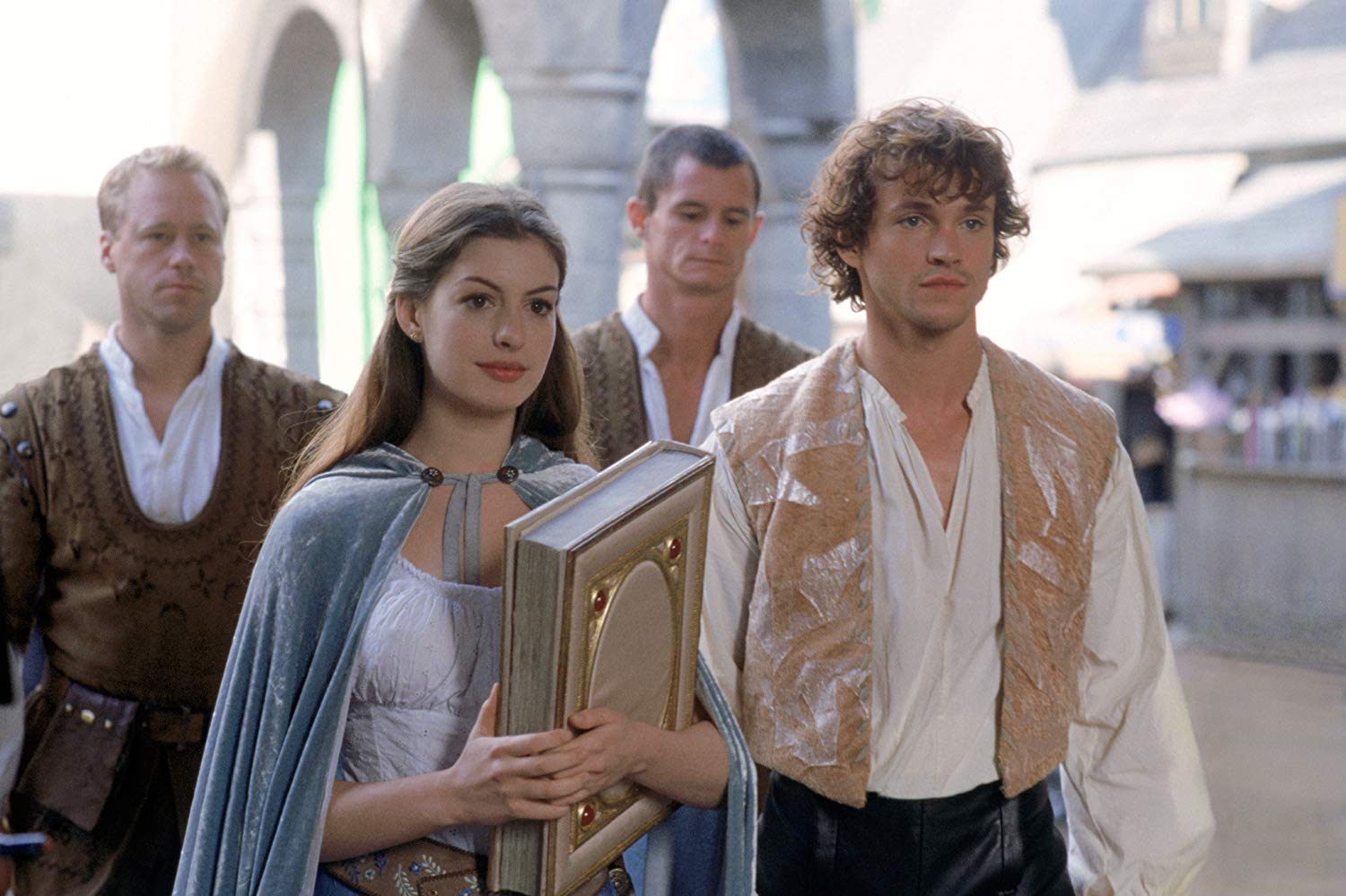 Moreover, they constantly puncture the suspension of disbelief by telling us that we cannot dream of the impossible without ever having some referents to the contemporary world as a handhold. They refuse to take the world they create seriously. They are fairytales that have become infected by an adult cynicism – of adults who no longer believe in the fairytale they are trying to tell and of marketers who believe that nobody has the imagination to be interested in anything that does not relate to our spoonfed mall mentality and MTV surround-sound culture.
Both the immense success of Peter Jackson's Lord of the Rings trilogy and even, for all that I do not like them much, the Harry Potter films, show that this can be done to great success without having to dilute their fantasy for contemporary audiences. Imagine Lord of the Rings if we went to Rivendell and saw elf equivalents of Starbucks and McDonalds in the background, or the Fellowship were cracking jokes about how this would never be a problem to someone like Arnie as they went into battle. The upshot of this, one suspects, is that Lord of the Rings has a timelessness that is going to be revived for decades to come while Shrek 2 and Ella Enchanted in pandering to audiences of the moment will be forgotten beyond next week by all except those tuning into reruns in the wee small hours.
There is nothing to Ella Enchanted other than this in-jokey reworking of the fairytale. It is not even a parody as Shrek was, as there is surprisingly little in the film that is funny or even seems to have been intended as comedy. It is even hard to work out with what purpose people set out to make the film. You can watch it for the changes it tries to ring up on Cinderella – a quest has been added to the middle of the film; there is no longer any fairy godmother, pumpkin coaches and mice horsemen, even the going to the prince's ball in disguise and dropping the glass slipper part of the story has been eliminated.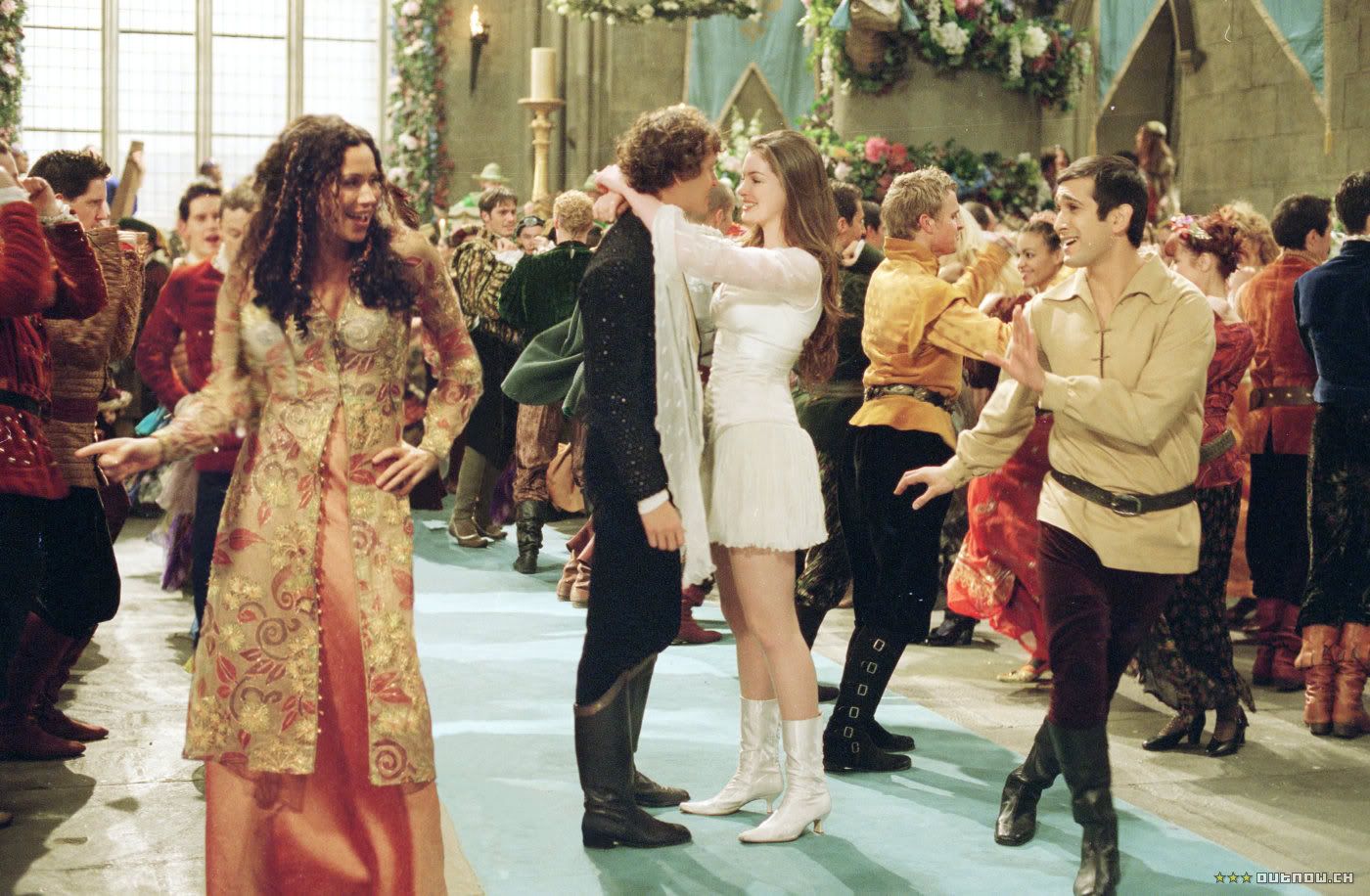 The story is now hamstrung with an improbable plot device where Cinderella has a spell placed on her that makes her obey everything she is told to do. Out has gone all suggestion that Cinderella is forced into serfdom to the stepmother and sisters, now she is just ordered to obey their every whim. Indeed, the enmity between Ella and the sisters seems to have less to do with her being treated as a servant than it seems like a game of bitchy high-school rivalries.
The film's plus is some lush Irish location photography, although landscapes that have clearly been digitally touched up. Anne Hathaway had a natural beauty and was a rising name of much promise at the time but here her performance seems flat and by the numbers. (This was still a couple of years before she rebranded herself as a serious actress and started to accrue awards nominations). Opposite her, Hugh Dancy has a naturally handsome charisma but everybody else is more than evidently enacting one-dimensional roles.
Tommy O'Haver subsequently went on to direct the true crime film An American Crime (2007) and the biopic The Most Hated Woman in America (2017).
(Winner in this site's Worst Films of 2004 list).
---
---