---
USA. 1993.
Crew
Director – Harold Ramis, Screenplay – Harold Ramis & Danny Rubin, Story – Danny Rubin, Producers – Harold Ramis & Trevor Albert, Photography – John Bailey, Music – George Fenton, Special Effects Supervisor – Tom Ryba, Prosthetic Makeup – Art Anthony, Production Design – David Nichols. Production Company – Columbia.
Cast
Bill Murray (Phil Connors), Andie McDowell (Rita), Chris Elliott (Larry), Stephen Tobolowsky (Ned Ryerson), Marita Geraghty (Nancy Taylor), Robin Duke (Doris)
---
Plot
TV weatherman Phil Connors accompanies a camera crew to cover the Groundhog Day spring festival, which is held every February 2nd in the small town of Punxsutawney. Phil greets this assignment with abject tedium. In Punxsutawney, they are snowed-in and forced to spend the night. However, when Phil wakes in the morning he finds it is February 2nd and that the events of the previous day are repeating themselves all over again. The same happens the next day and the one after that and so on. Even though he can affect the outcome of what happens that day, no matter what Phil does, including killing himself, makes any difference to the fact that every day he wakes is still the same February 2nd. Greeting his situation variously with the freedom to do whatever he likes and then suicidal despair, Phil then begins to use the opportunity to learn everything he can about and perfect the ultimate date with his producer Rita.
---
Groundhog Day takes at face value an idea that might have served as any episode of The Twilight Zone (1959-64). It could equally have played as a horror-fantasy vignette – man perpetually trapped inside the same day – but instead director Harold Ramis uses it as the basis of a delightful romantic comedy.
In the film, Harold Ramis plays out the same scenario but places it through an amazing series of variations that range from black comedy to heartfelt romance. The variations and the lengths that Ramis twists them around – like the endless attempts on Bill Murray's part to work out Andie McDowell's likes and dislikes and his frustrating attempts to build the perfect date, or the truly amazing scene where he tries to convince her he is a god and proves his point by pulling back to tell her details about the lives of every single person in the diner – are wonderful to watch.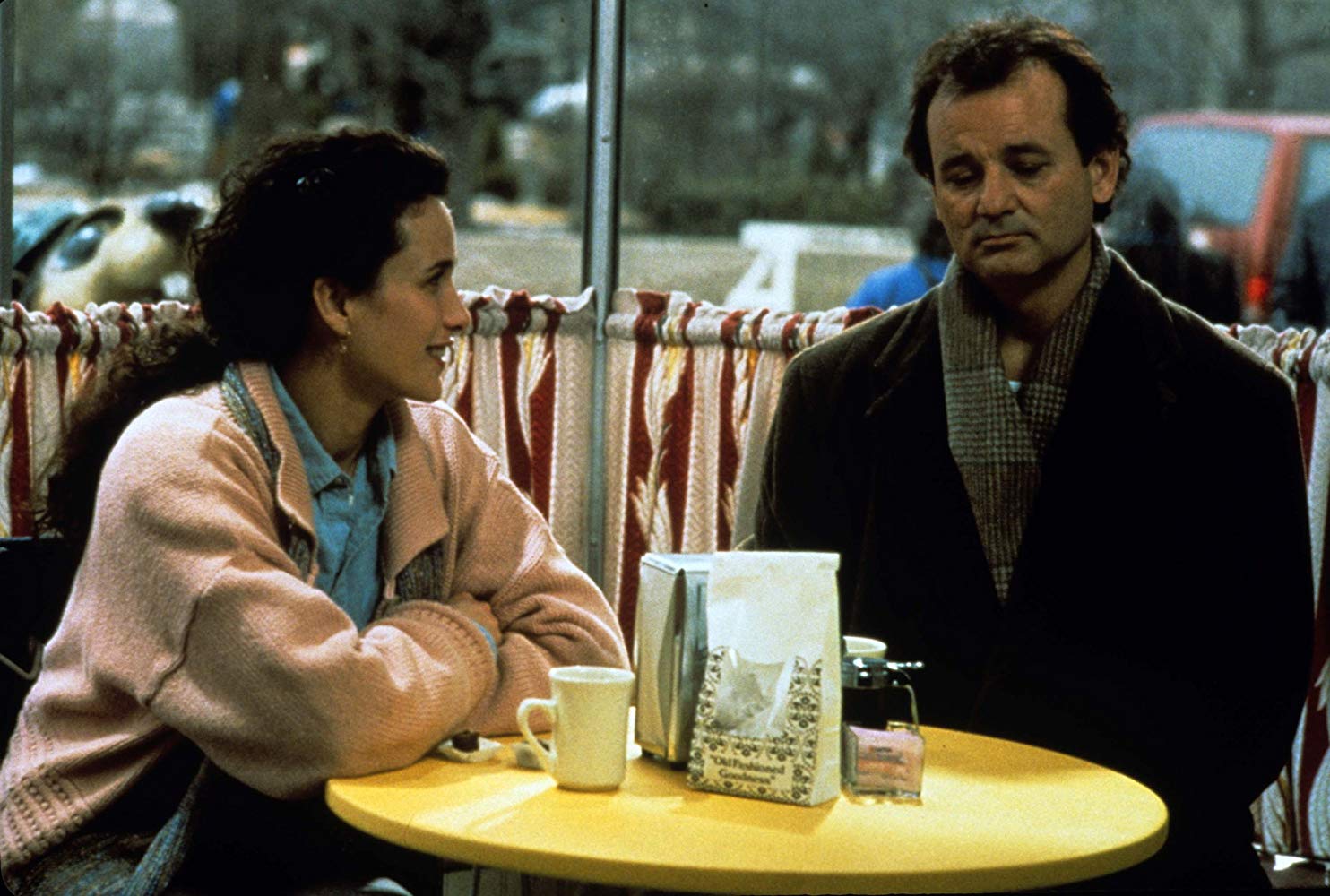 Groundhog Day is also an extremely touching romantic story – Bill Murray's line of endless failures is affecting, and the scenes with he trying to tell Andie McDowell what she means to him are enchanting. Bill Murray is cast in fairly much his usual sarcastic comic persona but for once the script gives his character a worthwhile emotional workout. One wondered how the film was going to end but it does gently surprise one. (The film originally did have an ending where Bill Murray was revealed to have had a curse placed on him by a former girlfriend but this was cut). The film never bothers to explain why any of the events happen but that is not important – and the nonchalant ending makes delightful sense in its own way.
Groundhog Day's timeloop scenario was subsequently played in a number of other films with the likes of 12:01 (1993), Retroactive (1997), Run Lola Run (1998), Naken (2000), The Last Day of Summer (2007), Repeaters (2010), Source Code (2011), Edge of Tomorrow (2014), ARQ (2016), Before I Fall (2017), Happy Death Day (2017), Naked (2017), Boss Level (2020), Palm Springs (2020) and The Map of Tiny Perfect Things (2021), even two entire tv series with Day Break (2006-7) and Russian Doll (2019- ). For greater detail see Timeloop Films.
Director Harold Ramis began as a comic on SCTV (1976-81) in the 1970s and branched out as an actor in films like Stripes (1981), Ghostbusters (1984) and Ghostbusters II (1989). Ramis also wrote National Lampoon's Animal House (1978), Meatballs (1979), Caddyshack (1980) and both Ghostbusters films. Ramis's directorial career began with Caddyshack and the first of the interminable National Lampoon's Vacation (1983) series. Following Groundhog Day, Ramis went on to direct the cloning comedy Multiplicity (1996), Analyze This (1999), the remake of Bedazzled (2000), Analyze That (2002), The Ice Harvest (2005) and the caveman/Biblical comedy Year One (2009). Disappointingly, these other films slip into too much of a comfortable mainstream ease and Groundhog Day remains the only of Harold Ramis's films that runs on full cylinders. Ramis also helped to co-create the animated film Rover Dangerfield (1991).
---
Trailer here
---